Section 5.10: Optimizing Google Shopping Campaigns
Google Shopping optimization schedule & checklist
In this video, you're going to learn how, when, and what to optimize regularly in your Google Shopping campaigns.
After launching, you can't just leave your campaigns them and expect them to rake in thousands of profits. You need to do work on your campaigns on a daily, weekly and monthly basis to scale your them.

🎥 How to fix Product Disapprovals in Google Merchant Center ➤ Watch here
🎥 Dealing with Google Merchant Center Suspensions ➤ Watch here
🎥 Manual Bidding Optimizations for Google Shopping ➤ Watch here
🎥 What are Negative Keywords and how to use them for Google Shopping ➤ Watch here
🎥 Product Feed Optimizations ➤ Watch here
🎥 Bidding adjustments (location, schedule, device, audiences) ➤ Watch here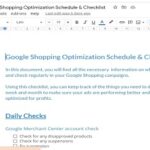 Download your Optimization Schedule and Checklist now!
Download the checklist we follow to optimize our campaigns on a daily, weekly and monthly basis
Add Your Comments & Questions Below