Section 4.5: Creating Google Shopping Campaigns
Google Shopping launch checklist
Before you hit the "Launch" button, here are the things you need to check before your campaigns go live. Make sure you don't skip this pre-launch check to ensure that your campaigns are set up for maximum profits and to avoid wasting money with silly mistakes.
🎥 How to make your Google Shopping Campaigns Profitable ➤ Watch here
🎥 Making your website compliant ➤ Watch here

🎥 How to set up Conversion Tracking with Google Analytics for Shopify and Google Ads ➤ Watch here

🎥 How to run Promotions in Merchant Center for Google Shopping ➤ Watch here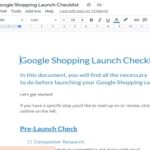 Download your Google Shopping Launch Checklist now!
Download the exact checklist template we use to conduct a pre-launch check on all our campaigns.
Add Your Comments & Questions Below