Section 5.4: Optimizing Google Shopping Campaigns
Manual bidding optimizations for Google Shopping
What is manual bidding and why do we recommend starting your campaign with this bidding strategy? Learn about that and more in this video.
🎥 How to set up Conversion Tracking with Google Analytics for Shopify and Google Ads ➤ Watch here
🎥 How to make your Google Shopping Campaigns Profitable ➤ Watch here

🎥 How to Segment Your Products in Google Shopping ➤ Watch here

🎥 Not enough Sales ➤ Watch here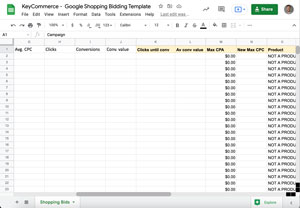 Download your Bidding Template now!
Download the exact bidding template we use to start and scale profitable Google Shopping campaigns.
Add Your Comments & Questions Below