You are now able to link Google Merchant Center to Google Analytics 4. Additionally, Advertisers will now be able to see conversions from free product listings by connecting your Merchant Center and GA4 property.
A benefit of linking the GA4 to Google Merchant Centre is that you can see analytics on free listing products. Rich insights such as user behavior, pages visited, actions taken, and sales data from the free listings will now be visible. In addition, you can now make comparisons between traffic and free listing for individual products. Given GA4's new features and capabilities, valuable insights can be pulled down to individual products.
Before going setting up GA4, You need to have the following;
Admin Access – to be able to enable the GA4 linking to GMC, you must have admin access
Auto Tagging Enabled – Auto-tagging must be enabled to track conversion data in GA4. Auto-tagging is a feature that allows you to use third-party tracking tools like Google Analytics to track conversions for your free product listings. For the Merchant Center, currently, you only track conversion data of listings on Google Shopping.
How To Enable Auto Tagging
Log in to your 

Merchant Center account

Navigate to "Settings" and click on "Conversion settings."

Click the Enable the auto-tagging switch

Link Merchant Centre to GA4 Instructions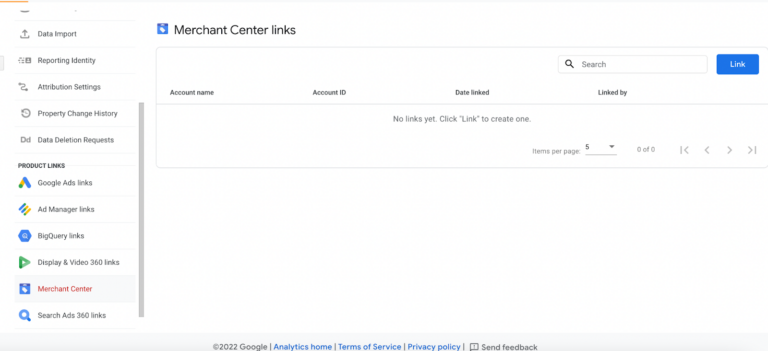 Sign into your Google Merchant Center Account

Click the settings icon under "Settings" and then "Conversion settings."

Enable the "Auto-tagging" option to link to Google Analytics if you haven't done so. 

Click "Link Google Analytics Properties."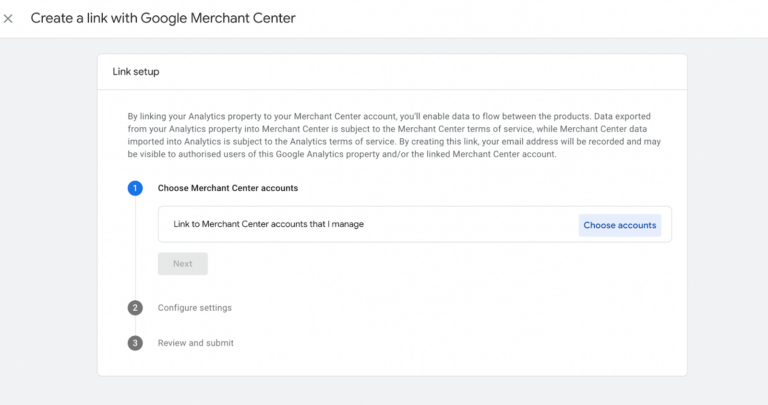 5. Click the option "Link existing property" (it'll be selected by default).
Select the correct property ID, then click Next.

Existing properties are linked individually.

You need to accept the terms of service acceptance for each one that you link.

You may see your Google Analytics Classic properties, but you must upgrade them to GA4 to allow linking.
6. If you can't find the item you wish to link, choose "Request to link your existing property manually."
Enter the correct property ID.

You can only link the property if it's a GA4 property and you have admin rights on the GA account where the property exists.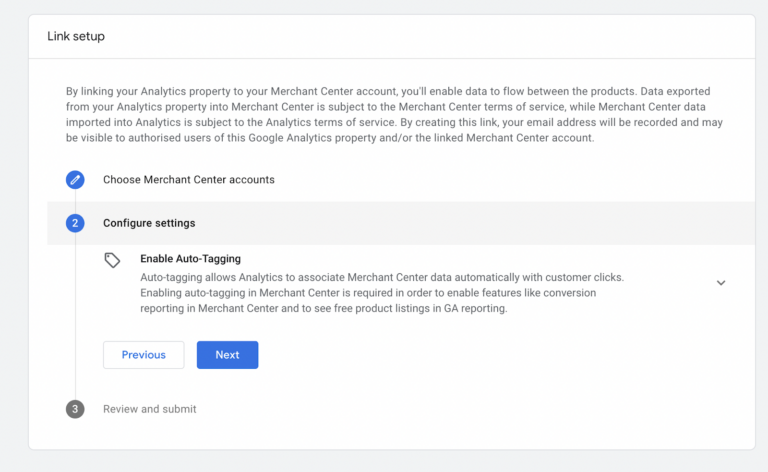 8. Review the "Terms of Service" and click "Accept."
9. You should see the linked property on the "Conversions settings" page.