When you search for anything on Google, you'll get a page with a lot of information. All of this is user-generated content that individuals or businesses have submitted. It can include text, images, videos, comments, profiles, votes, usernames, likes, hearts, or other media. 
Google content submissions are ranked according to various criteria. However, the search engine's primary goal is to provide the searcher with the most relevant information or solution to match their search query.
Content positions on Google
Google places your content across its channels depending on the type of information you provide. So let's take a closer look at the different types of content and where you'll find it.
Google Search ads are text-rich content titles and descriptions that allow you to display your website listing on the search results page. These listings aim to drive more traffic to your website. 
The information shown on the search engine results page ranks according to the strength of keywords chosen by the advertiser. As an ecommerce business, you'll pay on a cost-per-click (CPC) basis if you run a search ad. 
Google charges you only when someone clicks on the link and goes to your website. You'll notice that the paid ads have a small box on the top left of the listing that says 'Ad.'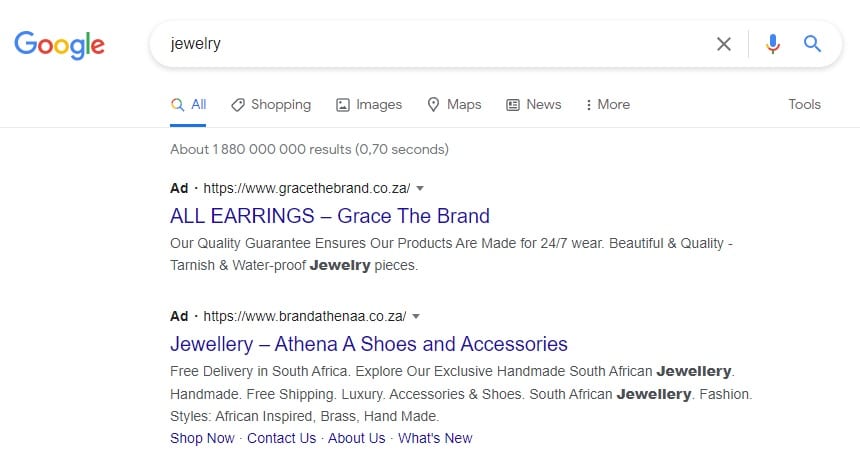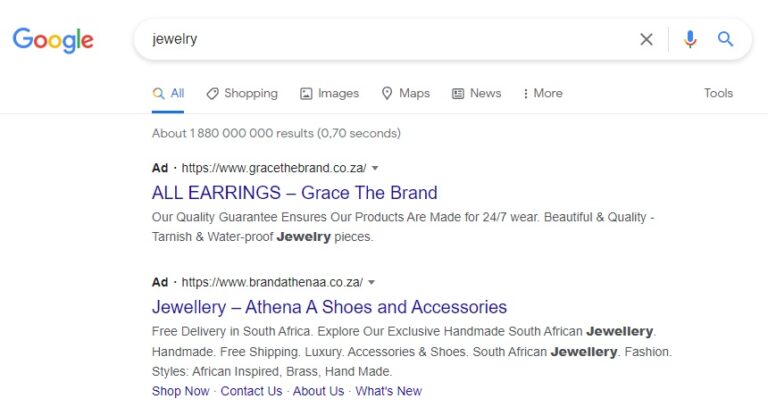 Google images are photos or images that are displayed when a user searches for a specific item or keyword.Users see a preview image, attribution details, and a headline on the Google content results page. They can click on the picture to view more information on the image. 
If the image is a product or part of a recipe, which has been listed using structured data, Google will show this information as such. Pictures can also display as part of the traditional web search results. 
The search engine suggests several best practices for getting the most out of your images. The most important is whether the image is relevant to your business and if it adds value to your website and users.  
This vision-based search functionality allows web surfers to browse using a photo or image from their device. Google Lens compares objects in your picture to others based on the relevance and similarity of the items within the image. 
It also uses your picture as a reference to understand what you're looking for and help you get the relevant results. The Lens algorithm is designed to return as much helpful information as possible and isn't affected by ads or other commercial agreements. Instead, the return results rely on the ranking algorithm of the product or information listing.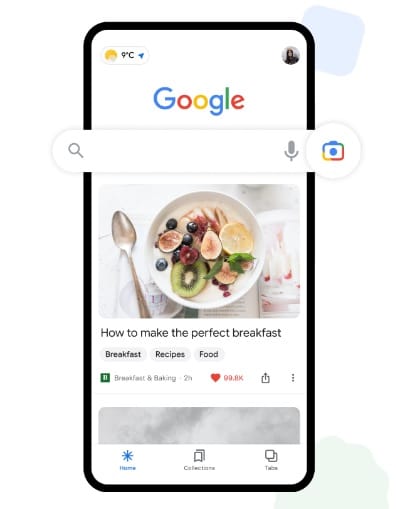 For ecommerce stores, Google shopping ads are ideal for promoting their online stores. It helps to boost traffic to the website and generate leads. These listings are image-driven and have extra information, such as price, title, ratings, and store name. 
It may also show a sales tag if you're running a promotion on your online store. Other information may include whether you offer free shipping and product attributes, such as brand, color, material, etc.
Providing Google content for a business profile allows you to manage how your business shows across various platforms such as Maps or Search. 
If you run a physical store, this service will let customers in a particular location find you quickly. In addition, businesses that are verified on Google are twice as likely to be considered reputable. 
The profile can tell people important information such as trading hours, phone number, location, email, etc. It also helps you interact with customers by letting you post pictures of your business and collect reviews. In addition, you can direct potential customers to your website for more information.
Marketing on Google maps requires you to submit relevant information to your business profile that can appear on the search engine's map results page. 
When someone is looking for a particular business on Google maps, and you are in their vicinity, you may appear on the map with a marker that shows your exact location. 
The user can also see your hours of business and customer reviews from the Google maps search. Ranking higher in the results can drive revenue and increase brand recognition through visibility.
Top tips for Google ecommerce content submissions
When you submit Google content for any of the positions, there are a few guidelines the search engine has that will help you stand out from your competitors. 
Describe your company story and what is behind your business. Modern online shoppers care about who they purchase from and like to shop from companies they can relate to. 

Use special offers to draw in potential customers. Seasonal sales and special days are popular with customers who will go online during important holidays to seek bargains, such as Mother's day or Halloween. 

Show that you're interested in matching customers with their needs by offering in-depth merchant product reviews of the products you sell. 

Ratings and customer reviews also help shoppers better understand your products. Consider listing them on your website. 

Make use of informative product descriptions to match search terms used by shoppers. You can also have category descriptions to cover less specific queries. 

If it's relevant to your business, run educational workshops or lessons that increase customer engagement. For example, a material shop can run a sewing course. 

Create ecommerce content

to meet differing customer needs based on demographics or product functionality. 

To engage with customers, you can hold interactive live stream sessions where you show your products, explain how they work, and answer any questions from customers. 

Make sure you have all the necessary service information on your website. Be clear about your shipping, returns, discounts, and any other important terms and conditions that your customers might need to know.
Google content is ecommerce gold
Let's face it; Google is the number one search engine currently available. It's gotten so big that people use its name as a verb. Need a question answered? Just Google it. 
Keeping that in mind, it's crucial for ecommerce businesses to have their information submitted across as many channels as possible for more prominent exposure and increased traffic. Use Google's tips to ensure your content is relevant and valuable for searchers. 
Submit specific information that answers a question that your customers may have. The better the answer to the question, the more likely you'll get traffic, and the higher Google will rank your business for that query.