This post will break down these two main types of Google Ads, so you can choose the best type of ads to run for your ecommerce store.
If you want to make more money with your Google Ads, then read on.
What Are Google Search Ads?
Google Search Ads are text-based ads. That means there are no product images included here, so you're relying on your ad copy to make sales.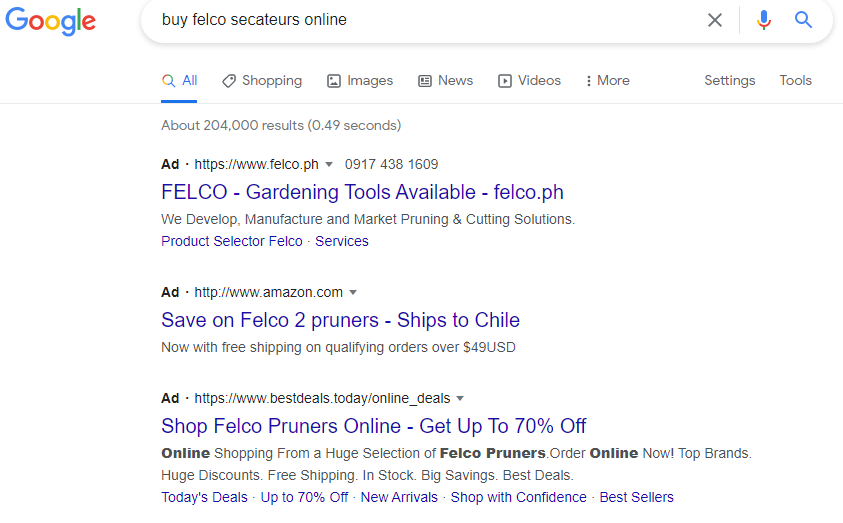 You have to choose which keywords to target and be intuitive in using keyword match types. If you haven't used them before and you're going to be running Google text ads, be sure to read Google's breakdown of the different keyword match types.
Although, in many cases, these ads aren't as great as Google Shopping Ads, they can do great if you're working with a small budget. On top of that, you don't have to wait for them to pick up speed to show results – you start seeing results almost instantly.
What Are Google Shopping Ads?
Shopping ads, previously known as product listing ads, are shown in the Google Shopping tab. They are image-based ads that show a picture of your product with some essential information like the name, price, reviews, and a special offer. 


 People can click on the product, stay on the Google platform, and read more information like a description and more features about your product.
A big difference between Google Shopping Ads and Google Search Ads is that shopping ads don't involve bidding on keywords. You put together a product feed, which Google's algorithm will then analyse. Google then decides which keywords will trigger your products to appear in a user's search results.
Why Shopping Ads Outperform Google Text Ads
For many reasons, shopping ads come out on top when comparing Google Shopping and Google Search ads.
Shopping ads generally deliver a higher volume of sales and get better results compared to Search ads.
People can see what your product looks like even before they click on your ad.
Not only do shopping ads carry a cheaper cost per acquisition, but they get a higher conversion rate over time.
When you're targeting the bottom of the funnel traffic, shopping ads do a much better job of getting people to convert than search ads.
Shopping ads are also a lot easier to scale. Google's algorithm already knows what works best, so all you have to do is optimise your ads and adjust your budget efficiently.
What Sucks About Google Shopping Campaigns?
You might have realised now that we're leaning more towards shopping ads. But that doesn't mean they're perfect. There are a couple of things that suck about them too.
Number one is the setup. Setting up your Google Shopping campaign is incredibly confusing and tedious, especially for beginners. 
Above all, you'll be setting up your product feed which requires a lot of data about every product you want to advertise. There are ways to streamline this process (e.g. using specialised tools and software), but it takes a while nonetheless.
Another reason why shopping ads could sometimes suck is that your Google Merchant Center account and products are prone to getting suspended and disapproved.
This is what so many Ecom store owners complain about. Google has very strict rules and guidelines, and violating them could result in errors in your Google Merchant Center account. Or worse, getting your account suspended.
When this happens, your Google shopping campaigns will automatically stop running, which means you will not be getting any clicks, conversions, and sales. 
When Should You Use Search Ads?
For now, let's set aside the negatives associated with search ads and talk about a few cases where it's a good idea to use search ads.
Search campaigns can start out the gate with a large traffic volume, so you don't need to wait for them to ramp up as you do with shopping campaigns.
So your search ads are limited by what keywords you choose, which is good and bad for Ecommerce. It's good because it means you have a lot of control over when you want your ads displayed. If you have a tight budget, this can work well.
You can also do some really cool things with search campaigns for your Ecom store, like targeting different products, running RLSA campaigns, targeting top-of-funnel keywords, and sending people to a valuable resource like a blog.
When Should You Use Shopping Ads?
Likewise, there are cases where you'd get more out of running Google Shopping ads. If you're just starting with Google Ads and you've got a flexible budget, Google Shopping is definitely the platform to use.
Google Shopping ads convert really well because people can see your products first, and you'll get a good amount of search data from this. After just a week of running ads, your search terms report will be packed with valuable data. And from there, if you're interested in running a search campaign, you can see which terms are worth bidding on.
It's not unheard of to use search ads and shopping ads in tandem. As we said above, running shopping ads is a good idea if you're just starting out.
Since you're running an Ecommerce store, it's usually worth focusing most of your attention on shopping campaigns. They allow you to show your products on Google and entice customers with great product images.
If you want to build an email list for your store or even just advertise your content, running search ads on the side is ideal.
Both Shopping Ads and Search Ads are great for Ecommerce. But they are still very different and can get significantly different results for your store.

Hopefully, you can now decide between these two Google Adss campaigns, or maybe you've realised that using both would be advantageous for your Ecom store. 
They can benefit your marketing efforts in several ways; sometimes, they may slow you down. But now that you've read our guide, you can use your judgement to determine which platform will benefit your business the most.