Break-even ROAS is a crucial metric for assessing the financial viability of your Google advertising campaigns. It allows you to determine the point at which your advertising efforts become profitable. By calculating your break-even return on ad spend, you can make informed decisions about optimizing your budget and setting realistic campaign goals.
What is the formula for break-even ROAS?
To calculate your break-even ROAS, you use the following formula: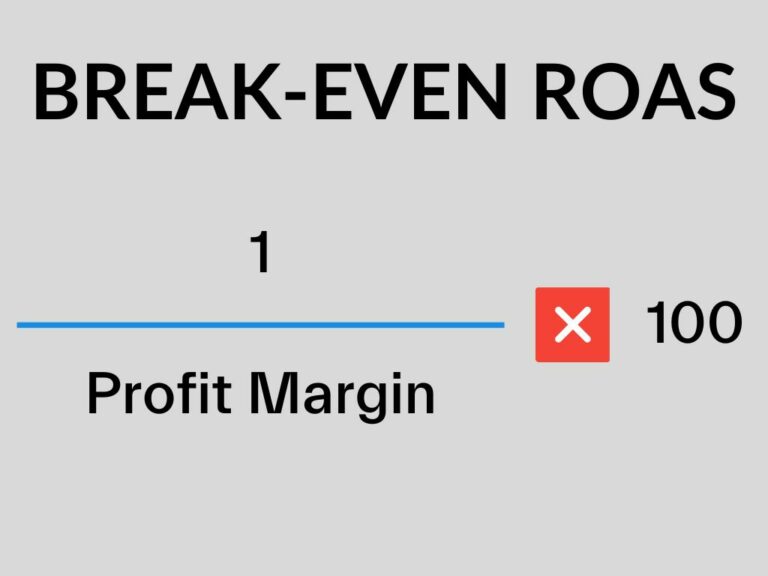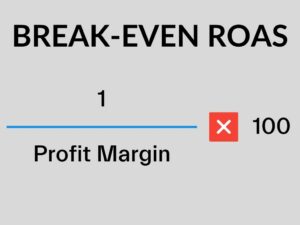 By analyzing your historical data, you can determine the revenue generated from your ads and calculate the corresponding advertising cost. This data can help you identify the minimum ROAS needed for advertising expenses.
Example:
Let's say you run an ecommerce store selling handmade jewelry. 
If your profit margin is 50%, your break-even ROAS would be 200%. 
Break-Even ROAS:
OR
What this means is that for every 1$ invested, you need to get 2$ back to break even.
Why break-even ROAS important?
This metric helps you understand the minimum return on advertising required to cover your ad costs. It lets you set realistic campaign goals and optimize your ad spend. By tracking your actual ROAS against the break-even, you can assess the profitability of your advertising efforts.
Strategies to improve break-even ROAS
Optimize your targeting: Refine your audience to reach the most relevant and valuable users likely to convert.

Improve your ad relevance: Craft compelling ad copy and visuals that resonate with your target audience and increase the likelihood of conversions.

Enhance your landing page experience: Create optimized landing pages that align with your ad messaging and provide a seamless user experience, leading to higher conversion rates.

Test different ad formats: Experiment with various ad formats, such as text ads, display ads, or video ads, to find the ones that deliver the best results for your business.

Continuously monitor and optimize: Regularly analyze your campaign performance. You can also work to identify areas of improvement and make data-driven optimizations to

maximize your ROAS

.
Keep in mind that your break-even figure is not a static metric and should be recalculated periodically as your business and advertising costs evolve. To fully understand your advertising profitability, you need to consider other factors. These include customer lifetime value (CLTV), profit margins, and market conditions.
What is a good ROAS for Google ads?
The average ROAS for Google Ads varies by industry, but it is typically between 200% and 300%. Some industries, such as e-commerce, can achieve 500% or even higher figures. However, other sectors, such as lead generation, may have a lower figure. 
A "good" ROAS for your business will depend on several factors, including your industry, target audience, and advertising goals. For example, if you are an e-commerce business that sells high-margin products, you could achieve 400% or higher.
What if my actual ROAS is lower than the break-even ROAS?
If your actual ROAS is lower, your advertising efforts are not generating enough revenue to cover the advertising costs. Focus on optimizing your campaigns or re-evaluating your targeting and messaging.
Should I solely focus on achieving break-even ROAS?
While break-even ROAS is an important metric, aiming for profitability beyond the break-even point is essential and will help your campaigns generate profits.