You may have heard the term, but are you still wondering: What are Google Ads callouts? Reason to find out what they are, how to set them up, and why you should consider using them in your Google Ads listings.
What are Google Ads callouts?
Google Ads callouts are bits of text that appear below your ads description. They were previously called "Callout extensions" but have since been renamed by Google to "Callouts," which fall under their "Assets" grouping. 
You can add them at three levels: account, campaign, or ad group. These snippets let you include additional information about your products, services, or business. For example, if you have unique offers to promote, like free shipping or 24-hour service, then callout extensions are the best way to show that to users. It also helps you differentiate yourself from your competitors.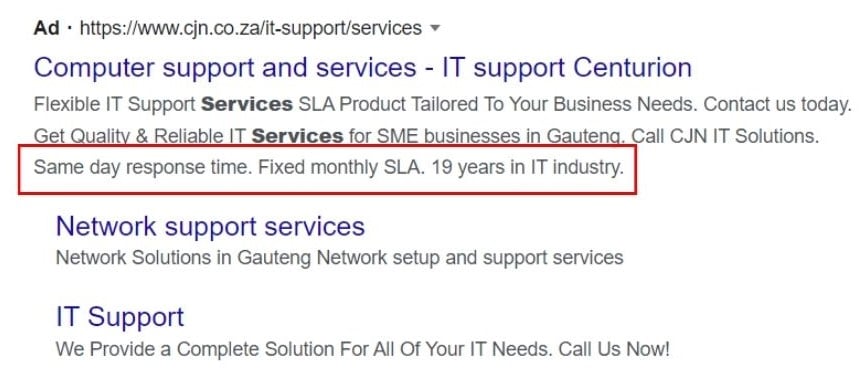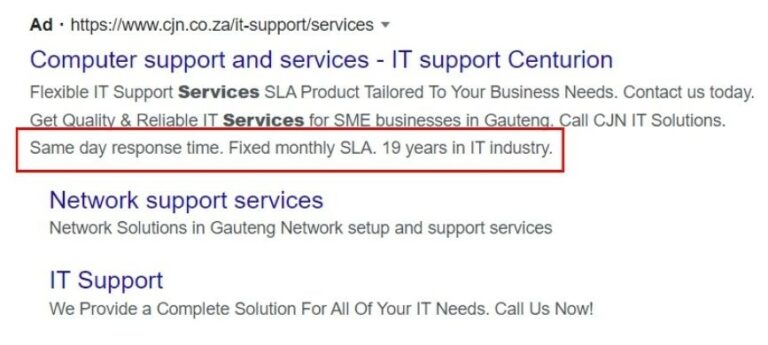 Benefits of using callouts
Using callouts can increase your click-through rate (CTR). The reason is that it takes up more real estate on the search engine results page (SERP). In addition, Google Ads callout extensions often bring attention to discounts, key points, value propositions, and actions.
This additional information pushes users toward a decision or the next action step. The terms aren't clickable, so adding them won't cost you any extra, and you can improve your results without stretching the budget.
The process of creating callout extensions is similar to that of Google sitelinks. Follow along with the instructions below for a hassle-free implementation. 
Log in to your Google Ads account and navigate to the left-hand menu. Next, click on "Ads & assets," then "Assets." When the "Assets" screen opens, it displays all the active extensions you have set up.

Click on the big blue plus button to add a new asset. A list of available extensions will appear. Choose "Callout" from the list.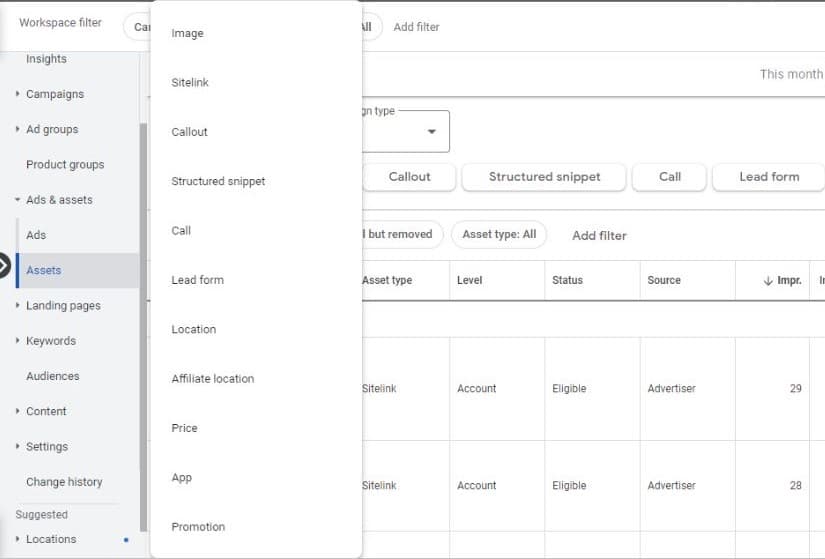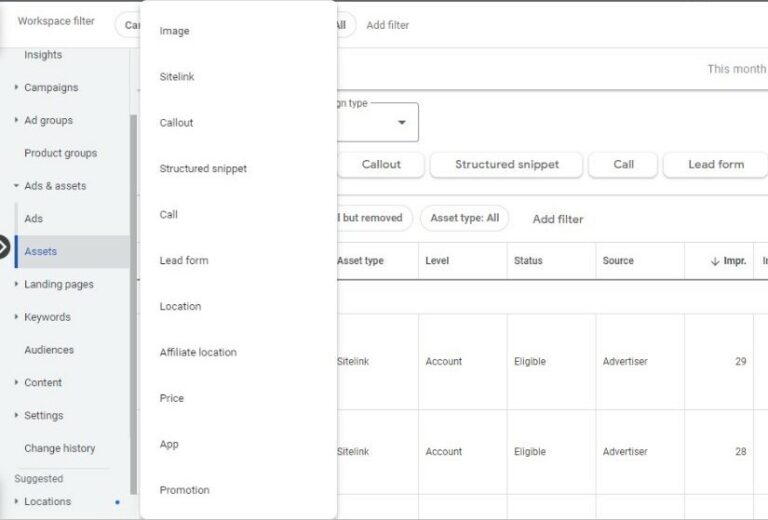 On the new page, you'll see a form on the left-hand side to fill in your callout details, and on the right-hand side of the screen, there is a preview of your layout. At the top of the page is an option to switch between mobile and desktop views. You can create a new callout or use an existing one.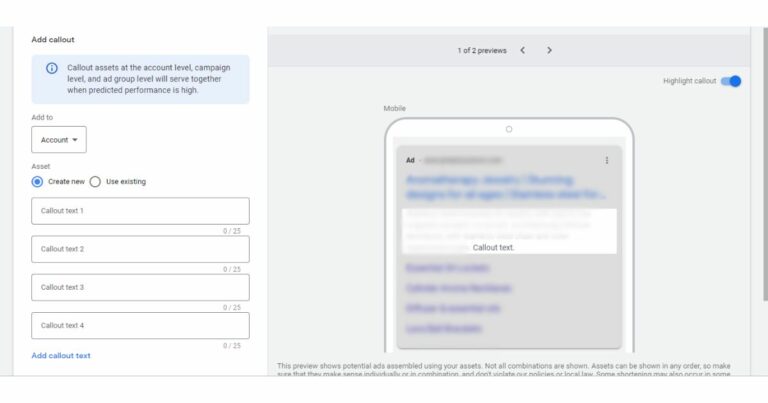 Click on the "Add to" list, which activates the dropdown list. Here you can decide if you want to add the callout at the account, campaign, or ad group level.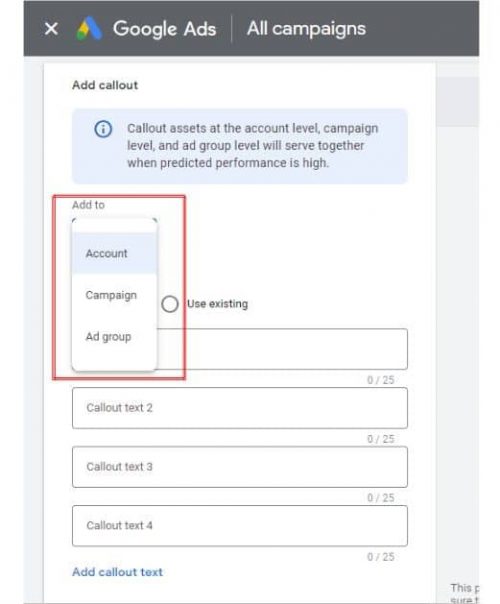 If you add the callout at the campaign level, a new window opens with a list of available campaigns.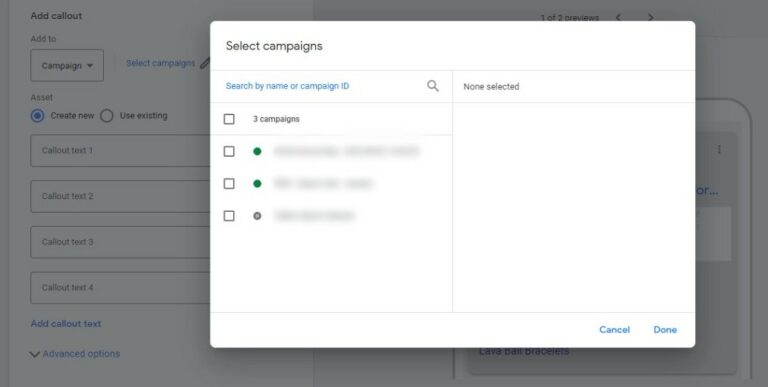 If you want to schedule your callouts, click on "Advanced options," where you can set the time of day, start and end dates for your Google Ads callouts.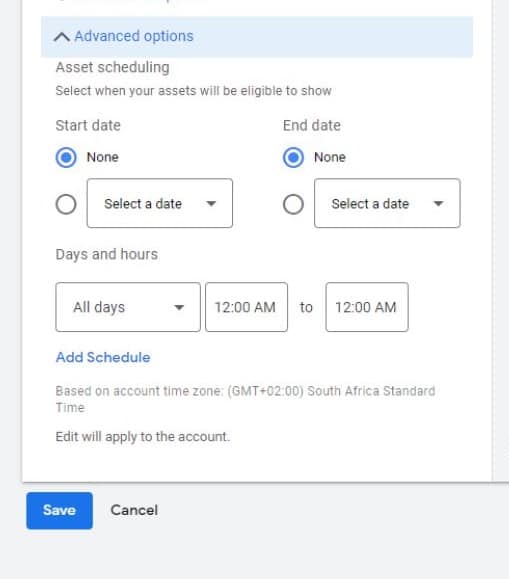 Once you've added all the details you want, click "Save." You'll now see the callouts listed on the main "Assets" page.
Top tips for effective Google callouts
Using callouts within your Google Ads listings is an easy way to increase the chances of more clicks. Keep the following in mind when creating callouts.
When you write the copy for your callouts, be creative. You want them to stand out, so consider using symbols or numbers in your callout assets. Most marketers only use letters, but you can include characters such as %, &, and + to grab attention. 

Only show crucial information in short blurbs that prompt people to act and click on the ad. You can use the space to highlight features, benefits, or specials. 

Use the Google Ads statistics dashboard to track your callouts' performance. 
Add these assets at the ad group level for best results. If you add them at the campaign or account level, Google can use them with any ads within campaigns or ad groups. If you had them at the ad level, then Google would use them specifically for that set of ads.   
Examples of extensions for ecommerce
Ecommerce searches usually have similar pain points. These include shipping costs, product availability, product offerings, and pricing. Most of the callouts that will cover these queries will fit into the available space. Here are some examples of callout assets that work well for ecommerce businesses.
Quality guaranteed.

Satisfaction Guarantee

Attractive & Affordable

25% Off Clearance Items

Customization leader

1-2 day shipping

Free shipping

Spring Arrivals are Here

Shop Best Sellers

Top Designer Collections

Price Matching
Of course, you can tweak the above suggestions to fit within your product or brand. For example, seasonal callouts work well for stores that sell products specifically for certain times of the year, for example, beach towels in summer. 
Stating that you are a licensed brand reseller is a great way to establish credibility and entice people to click through if you sell legitimate branded products. In addition, if you offer free shipping, include this in the callouts. It's one of the most common assets used by the majority of ecommerce stores. 
The Google Ads platform has a plethora of tools available to help boost your ad listings, and it would be foolish to ignore them. Since many of them enhance your ad space and don't cost extra, it only takes some creative thinking to boost CTR but not break the budget. Plan your callouts, and include details highlighting product benefits or unique information that will prompt users to click on your listing.