Seasonal and special holiday Google promotions are especially effective when set up correctly via your Google Ads and Google Merchant Center account.
Promotions are special offers or price discounts that you run on your ecommerce site to increase conversions. Google promotions allow you to distribute your offers across channels such as Google Search, Shopping, Chrome, and others. 
When you add a unique offer link to your products, shoppers will see it displayed on the various Google networks.
What is the difference between Google Ads Promotions and GMC Promotions?
Google Ads are where your shopping campaigns are housed. It's also your working platform to set budgets, manage bids, make optimizations and gain insights. Google Merchant Center (GMC) is where you upload your product feeds and shipping and sales tax details.
 Regarding promotions, Google Ads covers everything except shopping ads, whereas GMC focuses only on Shopping Ads. Therefore, when you run special offers of any kind, you should set up promotions on both platforms.
Even though promotions seem simple enough, you need to plan your ads to get the most out of your campaign efforts. Use our special occasions calendar to help you prepare your seasonal specials. 
It would be best if you had the following information ready before creating any Google promotions. 
Promotion start date

Promotion end date

Promotion information

Promotion types include a fixed amount, percentage discount, gift, or free shipping.

Items – Is it a sitewide promotion? Or are only certain products or categories affected?

Link to promotion page if applicable; this includes promotion rules or requirements. If you have a banner showing the promotion details, then a dedicated page is not necessarily required, but it is recommended. 

Coupon code –

A coupon

code is

optional for

 

Google Merchant Center (Shopping Ads) promotions

, as well as

 

for Google Ads promo extensions.
Google Ads is an essential platform for running campaigns to increase revenue. Potential customers that arrive at an ecommerce site from paid ads are 50% more likely to buy than those that come through from an organic link.
Keep that in mind when planning and designing your campaigns' creative assets.
According to statistics, more than 80% of advertisers already use or plan to use Responsive Search Ads, which means a lot of competition to be at the top of SERP.
To make your ads pop and get noticed by potential customers, you can use promotion assets highlighting your special offers to people searching for the best deals. They appear below your ad in an easy-to-read format that draws the attention of potential customers.
If you choose a special occasion such as "Mother's Day," a bold label will appear next to your promotional text. The asset can also show up to 2 lines of text with details about your offer. Potential customers can easily spot the image and text as they stand out from the main ad text. If someone clicks on the offer ad, they go directly to your site's specific product or promotion. 
Special events and holidays such as Black Friday or Back-to-school sales are a great time to use promotion assets to attract customers looking for a deal. For example, you can offer a percentage discount or a monetary value for your products or services. You can also make coupons time specific or cap them at a certain spending limit. 
To be eligible to serve, Google branding assets, which are occasion specific, must be created within six months of their start date. 
There are a few reasons why you might want to consider using promotion assets in your Google Ads account:
Easy to update, and you can choose from a list of pre-populated occasions. 

You can edit your promotion assets without having to reset the performance statistics. 

You have complete control over when you want your promotional assets to show.
You can add the assets at the ad group, campaign, or account levels. When you add promotion assets at different levels, Google ads use the most specific ones. Ad group level assets override campaign or account level, and campaign trump's account level assets. So if you create an account-level promo extension, it shows up in all available campaign types.   
Adding the assets is free, and you only get charged for the clicks when people click on your extension/ad. In addition, the cost of promotion asset clicks is the same no matter which link in the advertising someone uses. So even though promotion assets offer more opportunities for clicks, you won't get charged more than two clicks per ad impression. 
Google has an extensive list of occasions that you have the option to choose from for your promotions. Plan so that you can take advantage of the ones that are most pertinent to your audience. You can schedule when you want to show an extension to prepare early. 
You can apply seasonality adjustments if you expect an increase in conversion rates during a big promotion. 
Go to "Tools and Settings," "Shared Library," "Bid strategies," "Advanced controls,"Seasonality adjustments." You can name the adjustment, add a short description, and set the start and end times.
You can select to apply it to all campaign types, certain campaign types, or one specific campaign. There is also the option to choose devices or isolate computers, mobile phones, and tablets. You can also adjust the conversion rate accordingly. For example, if you have a conversion rate of 10% and expect it to reach 15%, then increase the rate by 50%.
How to create a Google Ads promotion
Sign in to your Google Ads account. Go to the "Ads & Assets" page menu, and click on "Assets" in the subpage menu.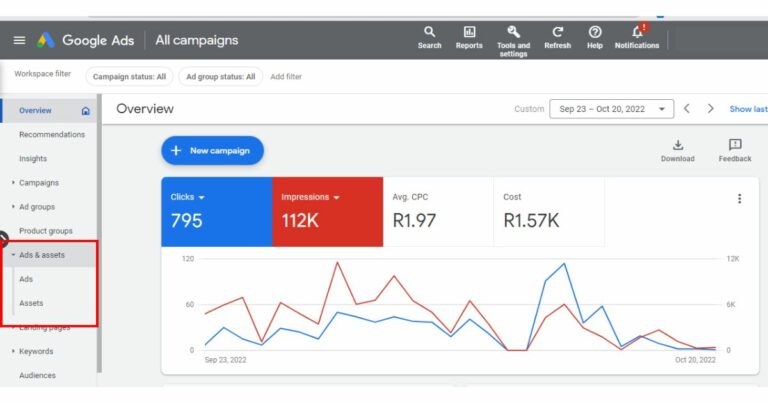 Click the "Plus" button, and select promotion assets.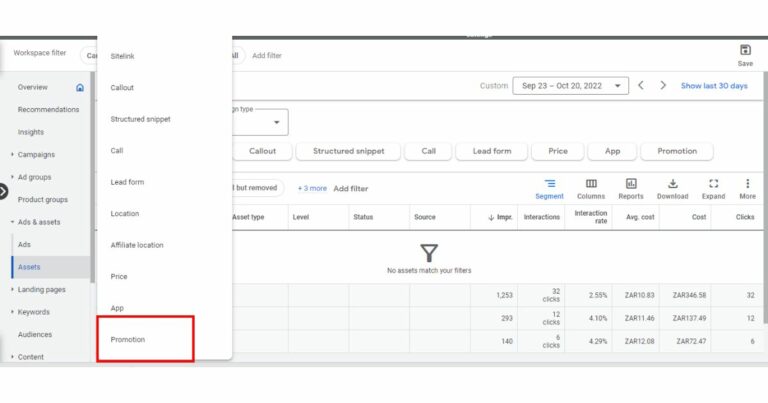 Add the promotion asset and decide if you want it to be ad group level, campaign level, or account level.
Select the applicable occasion which will appear in your ad asset. Next, pick the language and currency of your promotion.
Then choose to show a percentage discount or fixed amount as your promotion type. Enter the name of the product you're offering and the final URL that will show on your ad. The dates for the occasion are when your asset will be eligible to show. You can narrow the date range using "Advanced Options."
Finally, select the type of offer and add any specific requirements for your advertisement, such as a coupon code or spending limit. Under promotion dates, you can enter the details if you would like to show them in your ads.  
You can add promotional headlines and descriptions if you have search campaigns running in your Google Ads account. Just remember that if you edit any ads with existing data (clicks, impressions, conversions), it will get erased and reset to zero. So the best practice is duplicating the live ad and adding changes to the copy.
Performance Max campaigns and promotions
Since a Performance Max campaign works differently than standard Google Ads, it can be challenging to include it in promotional ads. Google relies on AI algorithms to place your ads in front of the right audience at the right time. 
Tips for PMax promotions:
Consider YouTube and Discovery campaigns (with a feed). 

Send your traffic to landing pages with products that will be on special for Black Friday or other sales holidays. 

Remove target CPA or ROAS to be more aggressive in spending and increase site traffic.  

There is the option to start a new campaign or duplicate an asset group and change the headlines and descriptions. The problem is that PMax takes a long time to evaluate performance. 

Some experts suggest changing your asset group headlines won't be too detrimental to your existing Performance Max campaign. This strategy is only advisable if you aren't running a low-spend campaign. Consider adding 1-3 promo headlines, long headlines, and descriptions.
You can create new ad groups with promotion-focused assets for an existing display campaign. By attaching a feed, Google Merchant Center promotions might also appear in the feed ads. Try using remarketing or outbound to cold audiences for Google promotions. We suggest adding a promo-centric ad group to the Dynamic Display Remarketing campaign. 
Make your sales as evident as possible for visitors. 

Some quick ideas are replacing the existing homepage and creating sitewide banners with sales, dates, discounts, and codes. 

Create a dedicated page for the sale period if your Google promotions aren't sitewide. This method can help reduce bounce rates and be used as a landing page for the ads. 

Make sure you submit your promotions to Google Merchant Center at least three days before any big sales day, such as Black Friday. Plan for Cyber Monday at the same time as Black Friday since it will be too late to create campaigns in time after Black Friday. 
Google Merchant Center promotions
Google Merchant Center promotions let you show special offers in the Shopping Ads channel. For example, you can create offers such as discounts or free shipping for specific products.
The benefits of a Google Merchant Center promotion include the following:
A boost in clickthrough rates.

Increased conversions with enticing offers for shoppers.

Multi-screen traffic exposure since Google shows special offer links on the desktop and mobile devices.
You need to have an active product feed to run promotions on GMC. Once you successfully activate Google promotions, your promotions can show up in Shopping and Performance Max listing ads.
When you build a Google promotion, it needs to be reviewed before going live. Bear in mind that special offers do not affect rankings on Google.  
Google accepts various types of promotions, such as: 
Discounts – Percentage or fixed amount of sales

Free Gifts can be a giveaway product or a gift card for a specified value.

Shipping – Discounted or free shipping.
GMC promotions are only available in the United States, Australia, the United Kingdom, India, France, Germany, and Canada. Therefore, you can only activate the Merchant Promotions program for these countries. 
To enable the promotions program, login into your GMC account and click on "growth" in the left-hand menu, then "Manage programs."
On the promotions box, click on "Enable" to activate it.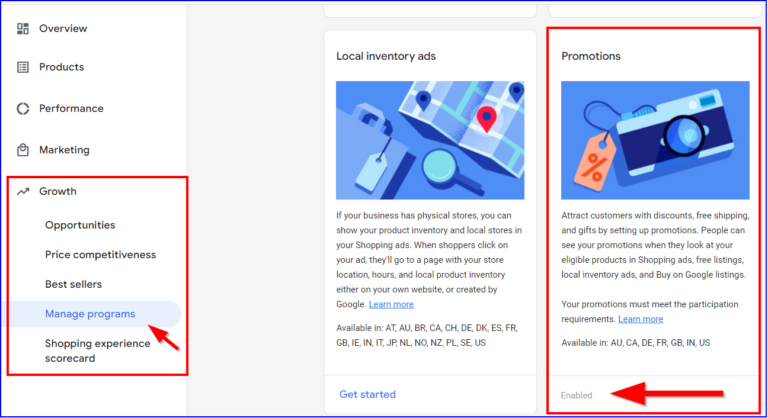 How to Set up Merchant Promotions
Login to your GMC account and click on "Marketing" on the left-hand side, then on "Promotions." Once there, click on the blue "+" button to add a new promotion.
Next, pick the country you want to target.
Then choose the type of promotion you're running. The options available are: amount off, percent off, free shipping, or a free product.
Next, add the details of the specific promotion. For example, you can offer a 10% discount on all orders or free shipping for carts that totals over $150. 
Add the name or title of the promotion and ID if you have one. Then, choose the products that you want to use. You can choose to use all the products or specific ones.
Finally, add the promo code and the start and end dates for the sales. Then, click on "Create promotion" and wait for Google to review and approve your campaign. It takes about 12-24 hours for approval to go through, and once it's done, you'll be able to see it in the promotions dashboard. 
Make sure all your promotional information is ready and live on your website before submitting your GMC promotions campaign. If Google finds that the information presented doesn't match the info on the website, it will disapprove the campaign.

Your promotions must be concise, with specific details on what it is and how it works. It

mustn't mislead the customer

in any way.

Prepare and create your promotions in advance. Google can take up to 1 day to approve, but sometimes it could be longer, so don't wait till the last minute to set up your promotions. You can create them in advance and schedule them to start on the specified date.
GMC Promotion Title Guidelines
The title of your promotion needs to conform to specific requirements for Google to approve it. For example, it needs to have the value of the promotion and must reflect the particular offer applied at checkout. Avoid using generic promotional text such as Father's Day Sales; your advertising must have a specific value and discount. 
The title must be separate from redemption details, and any codes should be entered in the fields designed specifically for them in the feed. Check your spelling, grammar, punctuation, and capitalization for titles, and ensure it falls within the 60 characters allowed.
Creating Google Ads promotions should be more than just a once-off or ad-hoc event. It should be part of your marketing strategy and align with your customer retention strategy. 
Take care in planning the copy and images you will use in your promotional material. Slapping together a few keywords and hastily chosen images will likely result in a disappointing campaign. 
Always keep your customer persona summary close when making advertising plans or decisions. Refer to it often to ensure your message is geared toward the right audience.