It's a beautiful Monday morning and you're ready to do your usual Ecommerce business routine: check your store, process orders, forward orders to your supplier, and check your emails and respond to the most important ones on the list.
And you see this:
You got an email saying your Google Merchant Account is suspended due to misrepresentation of self or product (untrustworthy promotions).
Yes, you've read it right. Google is telling you that they've detected a Google Merchant Center policy violation in your account. Wait, what? Why?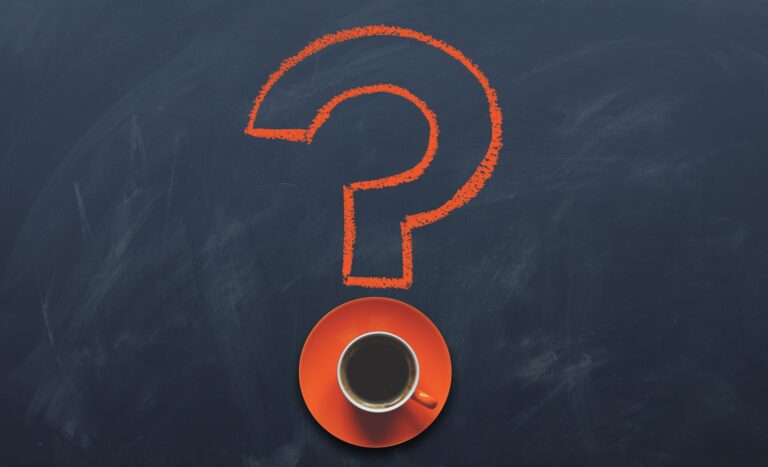 It can only mean your ads will stop running, potential customers won't see your products in Google, there will be less visits in your store, and your conversions will drastically decrease if you only have Google ads as your main source of traffic.
But don't worry. Relax. In this article, I will show you exactly the potential reasons why you're getting this error, how you can fix it, and other tips to avoid getting your Google Merchant account suspended in the future.
Let's get into it!
Misrepresentation of self or product - What is it?
If you're getting this error and your account has been suspended, it's really frustrating and Google doesn't provide much information and help on how to fix this error.
But what you should know is that Google has been banning way more accounts in the last few months, and it looks like they're really cracking down on stores that aren't following their policies and guidelines.
So, what could be the reason why you got the misrepresentation of self or product (untrustworthy promotions) error in your Google Merchant Center account? There could be a lot of reasons and I've broken down the biggest ones in this post.
Basically, you're getting this error because Google thinks you're trying to scam people. Google has set some pretty strict rules, and they require you to follow all these rules to the tee. The frustrating thing is that there are so many rules and you'll also get this suspension if your product feed has problems and you don't fix them immediately.
That is why it's really important to check your Google Merchant Center account for any disapprovals and errors every single day. When you see the notifications in red in your Diagnostics Report, go over them immediately and fix them as soon as possible.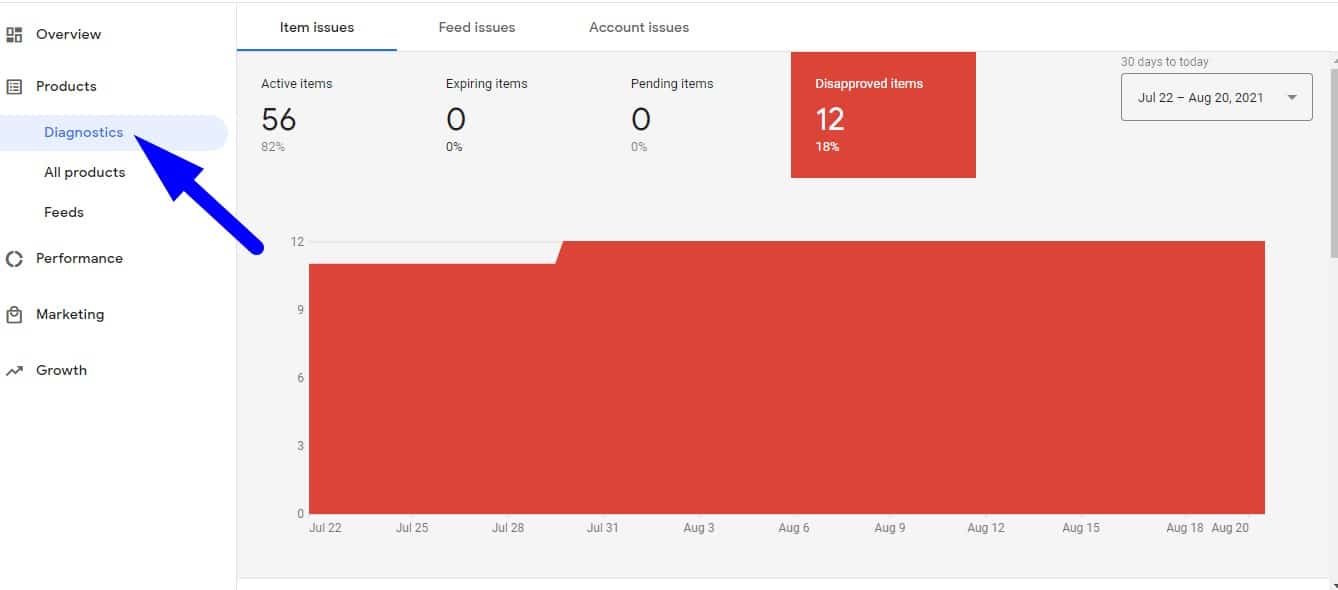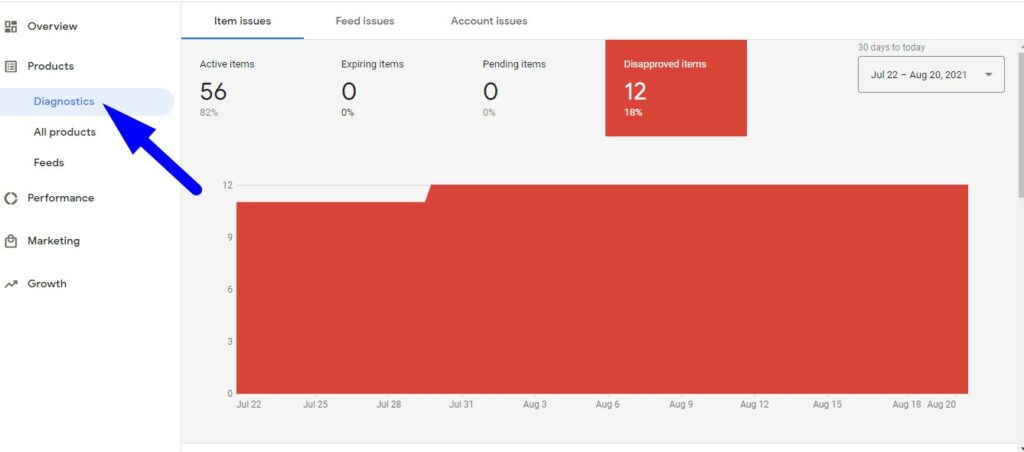 Why Google banned your account for misrepresentation
As I've mentioned earlier, there could be a lot of reasons why Google will ban you for misrepresentation of self or product, and I'm going to go through the biggest reasons below.
Reason 1: Pricing of your products
If the information you've provided here is incorrect, Google will think you're scamming people because you're not telling them the actual price they will be paying for your products. You need to make sure that details you've added in this section match the shipping policy for your store and your products.
If you're selling to US customers, you can tell Google to configure the tax automatically or add in the tax settings based on whatever's applicable to your store and on your country of sale.
Reason 2: Not clearly stating the payment methods people can use
This is self-explanatory and very easy to do but so many Ecom store owners, especially beginners, make the mistake of not adding the payment methods on their website. You need to make sure you clearly list the payment methods your store accepts, such as the following:
PayPal
Google Pay
Credit or debit card
Bank transfer
E-wallets
Mobile payments
You can add these payment methods in the footer of your website, depending on what your store is accepting. Or you can also add them on your Terms and Conditions policy page. 

Reason 3: Promoting out of stock items
Never add products in your feed if they are out of stock on your website.
There's a field in your product feed called "availability."
And if you are using a static feed like Google Sheets, then you must keep this field updated and make sure to remove any items that are out of stock in your website. If you don't do this, Google will suspend your Google Merchant account because Google thinks you're making a terrible experience for users. If your product feed says that this product is still in stock, your ads will still show up, people will go to your website when they click that ad, and they will be disappointed when they see that the product is actually out of stock.
Now, that is a very terrible experience a buyer could go through, and Google hates that so they suspend your Google Merchant Center account.
Reason 4: Deals and promotions that are not available
Are you running any sale or promotion? Then, make sure your customers can actually use it. Don't just have a sale for one subsect of users, and don't let promotions run on your site if people can't use the coupon code anymore.
Google will see this as a scam as you're promising some great deals, but customers can't actually buy the product with the discount code you have provided.
Reason 5: Providing misleading information
You can't make any false statements about your identity and the qualifications of your products. Here are the things you should never do:
Don't tell people that you're a "certified" reseller when you're not.
Don't use a specific brand name to try to drive traffic to a different part of your website.
Don't make false claims about your products.
Don't promise that your products can do things that are highly unlikely, even if this result is possible. This means that you can't use words like "miracle cures" or anything similar.
Don't overpromise.
Don't use all these trust stamps of approval when you are not affiliated with them at all.
Don't use fake images, stamps, and stickers from different associations and brands on your website.
Avoiding all these "don'ts" simply means not being a scumbag. Google will not tell you this, but it's one of the things you should never do when running an Ecommerce store, in general.
Because only scumbags will:
conceal or misstate information about your business or products
lie about their own business.
hide vital information about their store and products
create a fake name, fake business name, and fake contact information
make their website look like another brand
sell products and not actually send them to the customer
Remember: Google's intelligent bots constantly check and crawl your Ecom website to see if you are following their rules and guidelines or if you are trying to deceive your customers.
How to get your Merchant Center account unsuspended
Those are five of the biggest reasons why Google can ban your Google Merchant Center account. Now, let's go through what you can do to get your account approved and running again.
But, first, let me emphasize that it's so important to fix the errors in your Merchant center account as soon as they happen. If you get an error like misrepresentation because of untrustworthy promotions, there is often a period where you can fix it and your whole account won't be suspended. But if you wait and don't fix these errors right away, Google will ban your account and your ads will stop running. And it can take weeks to get your account reinstated.
So, you need to check your account every day for errors and fix your Google Merchant Center suspension as soon as they come up.
Now, let's fix that "Misrepresentation of self or product (untrustworthy promotions)" error in your account.
STEP 1: Go through this list and fix every single error.
Go through your website and Merchant Center account with a fine-tooth comb, and make sure they're clean from all the big issues I've listed above. Sometimes, it's hard to know what the problem is, so go through and check every single thing.
Something a lot of Ecom store owners forget is making sure all their settings in the Merchant Center are set up properly. You need to make sure your business information and shipping and tax settings are set correctly and match what's on your website.
STEP 2: Request a review of your account.
Once you've fixed all the errors, you can send a request to Google to review your account. Follow the steps below:
Log in to your Merchant Center account.
Go to the Products navigation menu then click on Diagnostics.
Click the Account Issues tab. You should be able to find a button to request the review. If you don't see the button, it means there are still errors in your account that have not been resolved yet.
Contacting Google is a very painful process, and review requests can take up to three business days and sometimes even a week or more. Usually, you can get on their chat or even call them if Google still doesn't respond or review your account after a week or two.
STEP 3: Create a new Gmail and Merchant Center Account (LAST RESORT!!!)
This step is only optional and you will only do this if, and only if, you are not able to get your account reinstated after fixing all the errors and requesting for a review.
There is no guarantee that this will work, but I know a few people that have done this and succeeded. Just make sure that you follow ALL of Google's rules, because you don't want to play around too much here. Take this seriously because Google can permanently ban your whole domain again.
#1 Tip to avoid getting suspended in the future
Google Merchant Center suspension can happen to anyone, both new and seasoned Ecommerce merchants. But there are steps you can take and best practices you can follow to avoid getting errors and getting your account suspended.
And the best tip I can give you is to add the required legal policy pages on your website. One of Google's website compliance rules requires Ecommerce websites to have legal pages in their store.
These pages include the following:
Shipping Policy Page
Returns and Refunds Page
Terms and Conditions Page
Privacy Policy Page
Contact Us Page
Make sure you have a page on your site that goes through the whole shipping policy, where you clearly disclose all shipping information including the order processing time, shipping options, and shipping costs,
It would be best to include a link to your shipping policy page in the footer of your website as well as on the product pages. 

So many Ecommerce store owners get their Google Merchant Center account suspended because of this policy page. You need to make sure that you have a page that clearly outlines that you do provide refunds and returns.
On this page, you have to show how customers can get a refund or how they can return an item. Outline your policy clearly, and add an email address under your domain called returns@yourstorename.com so customers can contact you if they want to request for a refund.
Terms and conditions page
You need to make sure your Contact Us page has the all these important details:
Physical address
Telephone number
Contact email address
Contact form like on a contact page
Contact hours and response time
You also need to go over your Google Merchant Center account and make sure that these details match what's actually inside your business settings. Follow these steps:
In your Merchant Center dashboard, click on the settings button.

Select Business information.
Check if all the details in the About your business panel are all correct and match those on your website.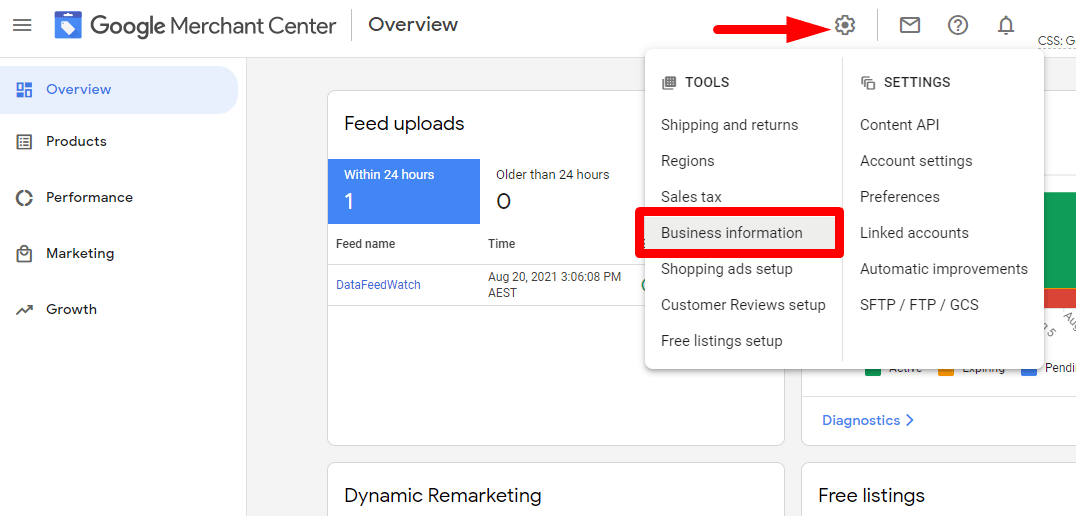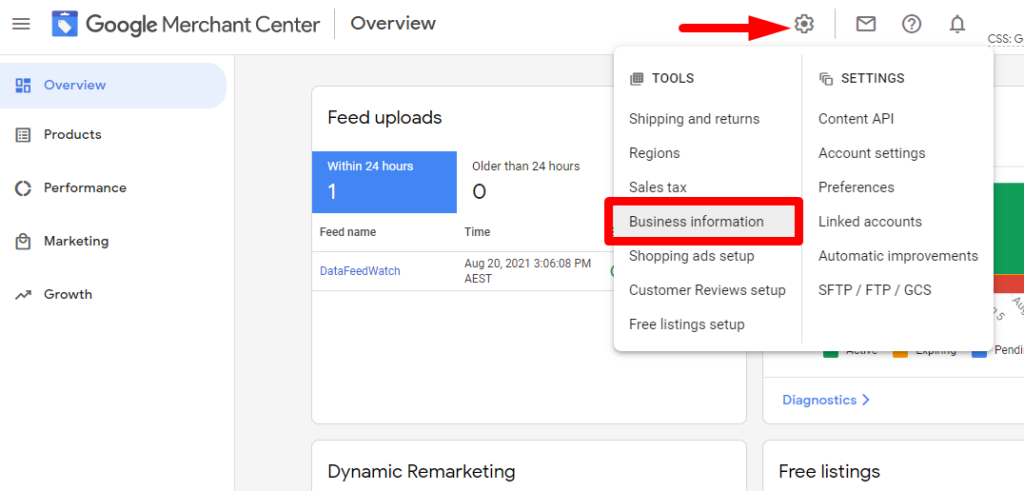 Now, you might ask, "What if I don't have a physical address or a telephone number?"
If that is the case, here are your options:
You can use your home address.
You can get a PO Box or what's called a virtual address. This is where you pay for a service that lets you rent a physical address for a cheap price.
You can also set up a VOIP phone number too.
The thing is, many successful Ecom stores don't have a physical address or a phone number. They do everything by email and don't have an office. Most of these stores are dropshipping stores or they're using 3PL, so they don't have their own address. But their websites are legit, and it's not a scammy-looking general store with no reviews and terrible product photos.
They have all the legal pages set up and they play by Google's rules. You're probably thinking if you can get away with not having a phone number for your store or even a physical address. The answer is YES, but it's more risky. When Google crawls your website and sees that you don't have these pieces of information in your Contact Us page, they can definitely flag this as an error and even suspend your store for Insufficient contact information. 

Fix your Google Merchant Center Suspension
Google is the best search engine platform in the world and, surely, Google wants to keep it that way. They want to offer the best experience to their billions and billions of users. Now to do that, they have outlined all these policies and guidelines for Google merchants to follow by heart. These policies will help keep all the scammers at bay and protect both the users and merchants at the same time.
If you don't have the patience to follow all these rules, then it means Ecommerce is not for you. But if you really want to get your account fixed, our Google Merchant Center suspension guide and checklist will show you all the common causes for your suspension and how to fix them.
Here's what's inside our Google Merchant Center suspension guide: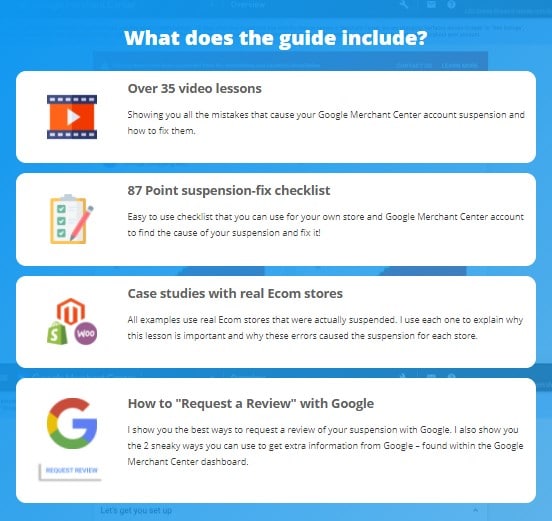 I can't begin to express the feeling of relief and fulfillment when you receive an email from Google that your Google Merchant Center account has been unsuspended. It means your Google Shopping ads will start running again. Google users who are looking for your products will see your ads again, which means more website visits and higher conversion.