Sitelinks are assets that are a great option to help you improve click-through rates and get more potential customers to view your products and services.
What are Google Ads sitelinks?
Sitelinks are the blue links you see under the Google search results. They were previously called "sitelink extensions" but are now called sitelinks and fall under the assets category on the Google Ads dashboard. These link to various pages on your website which feature in the search results.
When users search for specific keywords related to a product or service, relevant ads with their links appear on the search engine results page (SERP). 
You'll see that the links appear for both paid and organic search results. Below is an example of a listing with various site links: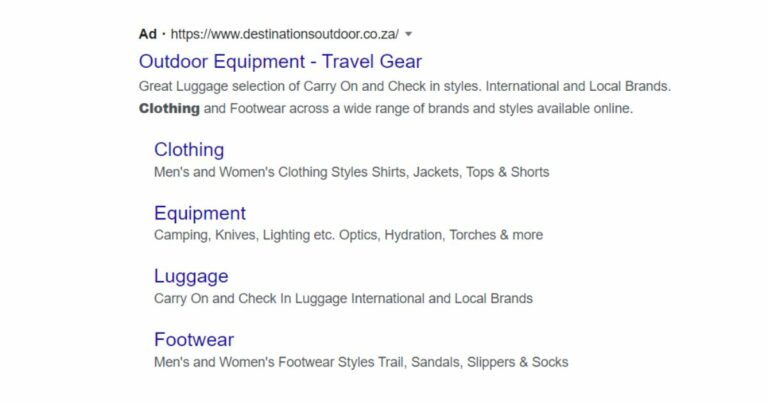 The bolded links give users quicker access to various parts of your website with less navigation. It's a good idea to use sitelinks as it extends the length and real estate of your adverts on SERP.
Google displays sitelinks in various ways and will vary by number or appearance in the search results. For example, some links will show outlines of images and can also appear as carousels or with expander options. 
There are two types of sitelinks:
Search campaigns

– You can add up to six links for desktop search ads and 8 for mobile. Google will show at least two of them underneath your search ads.

Video campaigns

– You can create up to 4 sitelinks for video ads, and at least two will appear beneath your ads on YouTube when displayed on mobile devices.
Log into your Google Ads account and navigate to the "Ads & Assets" on the left-hand side of the page, then click "Assets" from the drop-down.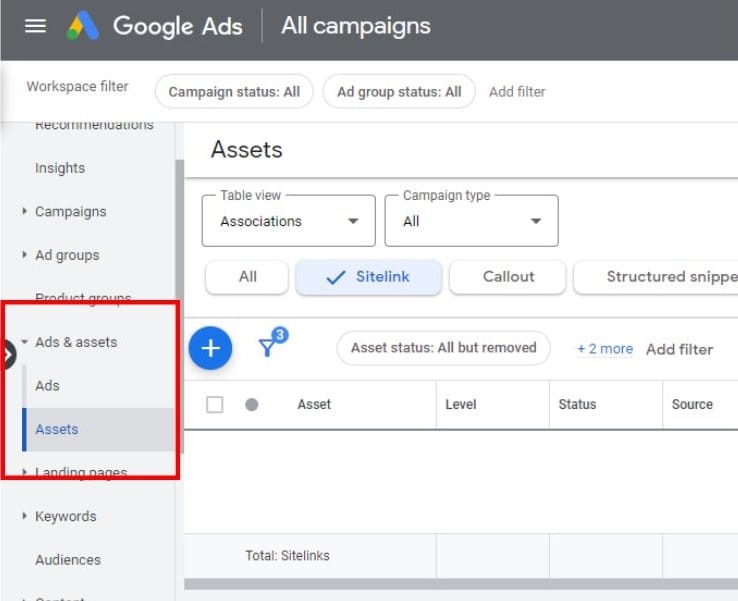 You will see a table with all your assets when the page opens. Click on the blue "plus" button to add a new sitelink.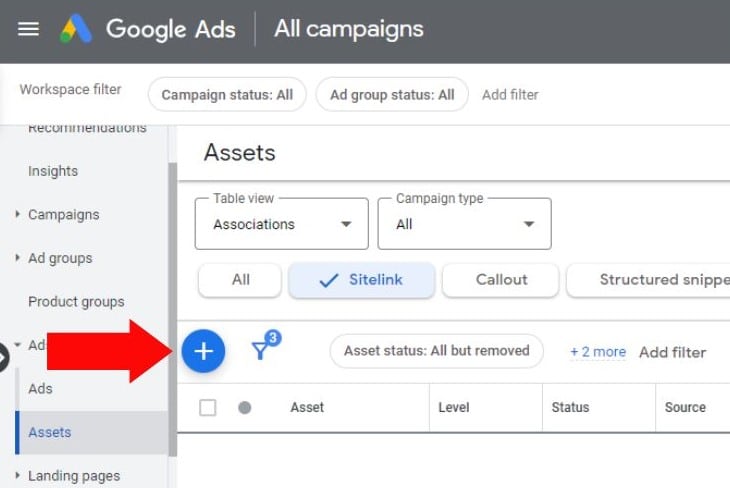 A new screen will appear with the details required to create a sitelink extension. From the "Add to" list, choose at which level you want to add the site link. The options are "Account," "Campaign," and "Ad group."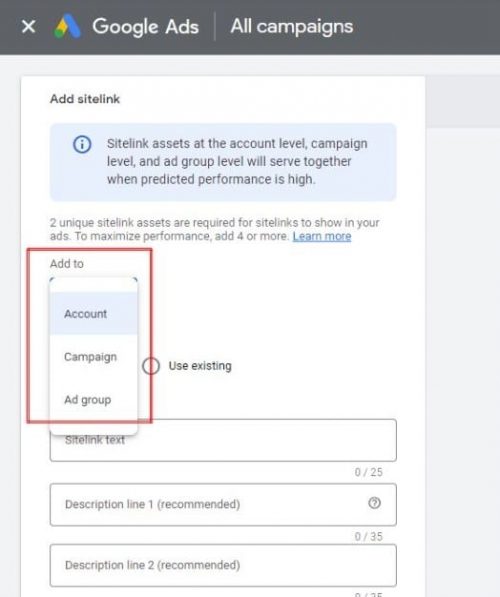 Under "Asset," you can choose to create a new sitelink or use an existing one.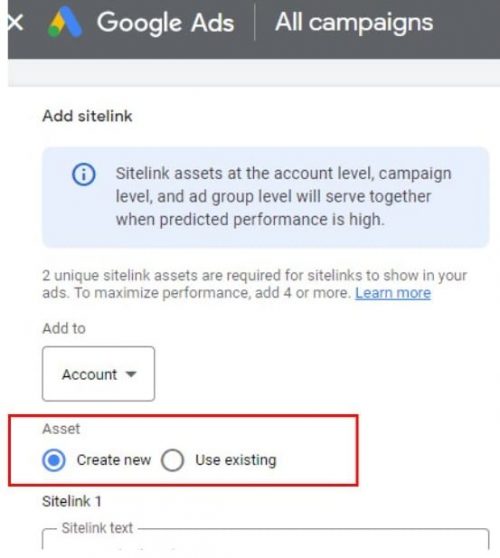 Next, you can fill out the boxes with "Sitelink text," "Descriptions," and destination "URL." As you fill in the details, you'll see what they will look like in the preview window.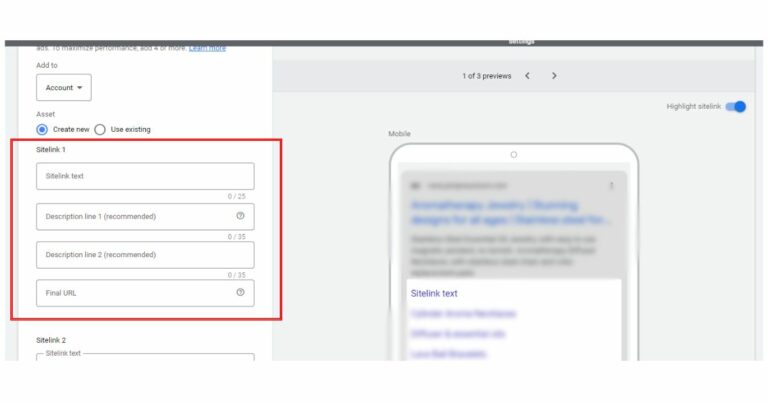 You can add more sitelinks by clicking on the "Add sitelink" text. 
You can also add "Sitelink URL options" for tracking information, and in the "Advanced options" drop-down, you can set schedules for your sitelinks. Both are optional.
Once you're happy with the information you've added, click "Save."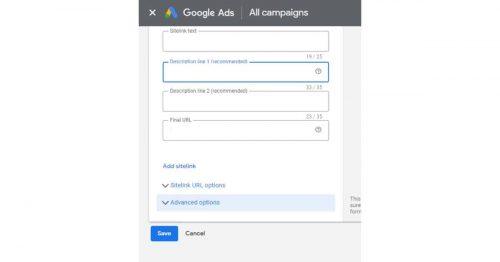 The benefits of using sitelinks
There are several benefits to using sitelinks to boost your Google ads efforts. Some advantages of using sitelink extensions include the following:
Sitelinks increase your ad space and presence on SERP. When used in conjunction with other ad extensions, they can help your ads stand out against your competitors.

Advertisements that contain sitelinks can help improve click-through rates (CTR). By using relevant sitelinks, potential customers can see additional information about your website and the products they might otherwise not know about. 

You can use sitelinks to increase conversion rate by creating search intent-specific landing pages that funnel visitors towards an action result faster. 

No changes in CPC. Sitelinks don't increase your cost-per-click and are free to use. When a user clicks on a sitelink, Google will charge the same amount as if the user clicked on the listed ad's primary headline.
Top tips to create effective sitelink assets
Creating sitelinks for Google Ads is simple, but you can do a few things to enhance their effectiveness. 
You need a minimum of two site links before Google displays them. Ideally, aim for four sitelink assets. There is no limit to the amount you can create; the more you have, the larger your SERP real estate is.

Avoid creating sitelinks on an account level. You can make general URL links such as "Contact us" or "Blog" to show across your account, but your sitelinks should ideally be relevant to your campaign strategy. 

Try not to use the exact link text for several sitelinks, as it can confuse the user. You should also avoid using multiple links that lead to the same landing page.

The text link and landing page content should relate to the ad that is pertinent to the links. 

Use various landing pages to provide your users with different content options directly from SERP.

Don't use too many symbols, emojis, or excessive punctuation.
Sitelink extensions for Google Ads are just another feature that's available to marketers to enhance their online presence. Getting to the top of SERP is no easy feat; it takes hard work and strategic planning to be seen by the right people at the right time. 
So take advantage of Google sitelinks as it gives you an edge that some of your competitors may have missed, and any benefit you can get can go a long way in boosting your rankings.