By following these steps, you can leverage audience segments effectively. It helps you to fine-tune your campaigns, ensuring your ads reach the right audience at the right time. Remember that specific steps may vary based on your platform. So consult platform-specific resources for detailed guidance.
Here's a detailed guide on how to apply audience segments to your Google Ads campaigns
Determine your data segments
Begin by identifying the data segments you intend to utilize for your campaign. These segments could be based on user behavior, demographics, interests, or other relevant criteria.
Choose ad group or campaign-level 
Decide whether to apply the Google Ads audience segments at the ad group or campaign level. This will guide how you manage your audience targeting settings.
Apply data segments
If you opt for ad group-level targeting, remove the audience segments from the ad groups and add them to the campaign settings. If you prefer campaign-level targeting, simply add the data segments to the campaign.
Adjust bids and budgets
Once the data segments are in place, adjust your bids and budgets. Set them according to the targeted audience segment characteristics. It can help maximize your ad's impact.
Craft customized ads
Tailor your ad content to align with your chosen audience segments. Customizing the user experience can enhance engagement levels and conversion rates.
To apply data segments to campaigns in Google Ads, you can follow these steps:
Step 1: Go to your Google Ads account and click the Campaigns icon.
Step 2: Then click Audiences on the left-hand side menu.
Step 3: In the Audiences segment module, click Edit Audience Segments.


Step 5: Click Ad Group and then select a campaign and ad group from the list that appears. You can also search for the campaign or ad group you want to update.
Step 6: Select the audiences you want your campaign to reach.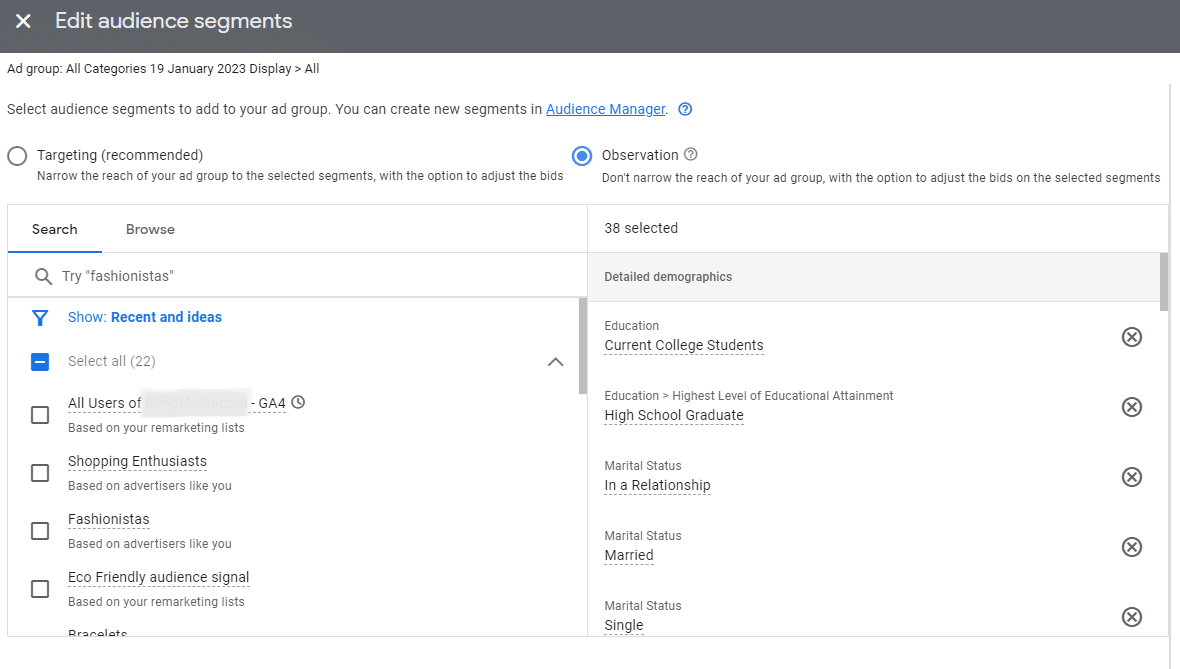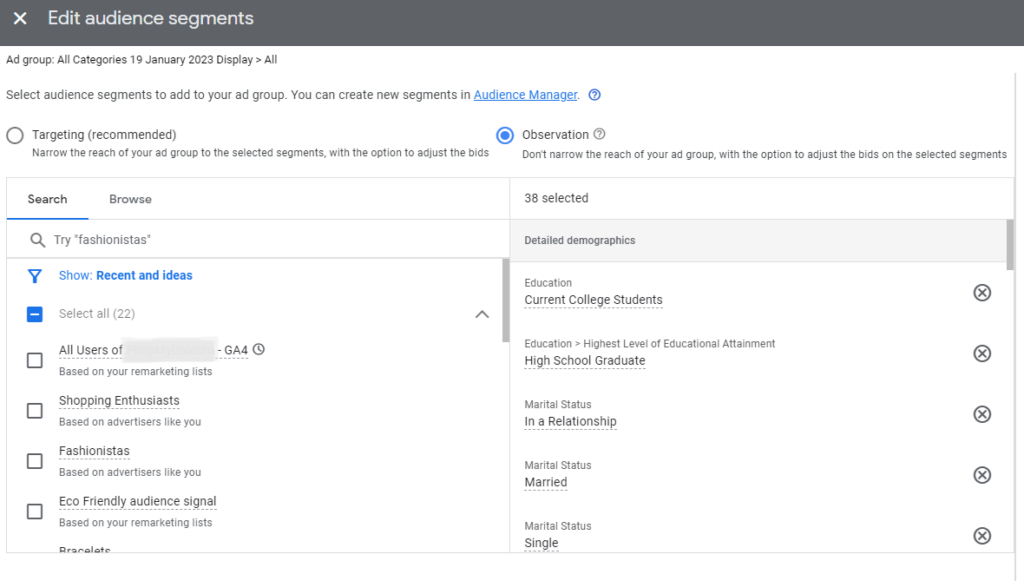 Step 7: Click the checkbox next to the segment you'd like to add. This will add it to your targeting. Then click 'Save'.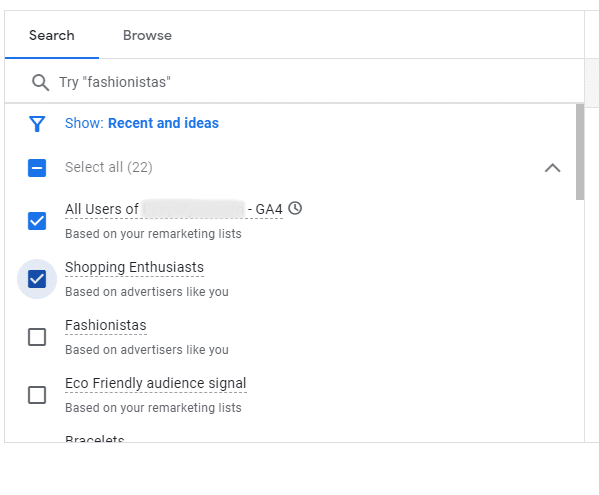 Additional considerations
Multiple Segments:

You can apply multiple data segments to a single campaign or ad group, allowing for refined

audience targeting

.

Observation Setting

: When applying audience segments to campaigns already using keyword targeting, you can set the "Audiences" targeting to "Observation." This setting will show you how that specific segment performs. But be aware that the ad will still be shown to searchers outside the audience segment searching for relevant keywords.

Negative Targeting:

Utilize data segments for negative targeting to exclude users from specific segments to optimize campaign reach.

Manual CPC:

If you're using manual CPC, you can increase and/or decrease the bid adjustment for specific Google Ads audience segments. If you see a segment performing well, add +10% or w/e bid adjustment to boost it even further.