If you're running several Google Ads accounts, you'll undoubtedly want a solution to make the process easier. A Google Ads Manager account is the ideal solution for quickly and efficiently managing several Google Ads accounts. If you're running ecommerce stores, linking that with an advanced Google Merchant Center account makes running your product feeds and campaigns a breeze.
What is a Google Ads Manager account?
A Google Ads Manager Account is a powerful tool provided by Google for efficiently organizing and overseeing multiple advertising campaigns across different Google Ads accounts from a single centralized platform. 
With one central dashboard, you can link and control multiple individual Google Ads accounts, known as sub-accounts, under one umbrella. This setup is handy for businesses or agencies that manage advertising campaigns for multiple clients or have multiple brands or divisions that require separate Google Ads accounts.
Features of a Google Ads Manager Account
Single sign-in: You can access and manage all linked Google Ads accounts through a single login, simplifying switching between accounts.

Consolidated billing: You can set up consolidated billing to manage and pay for all linked accounts from one billing profile.

Account organization: You can create hierarchical structures within the manager account, enabling you to organize sub-accounts into campaigns, brands, divisions, or any other structure that aligns with your business needs.

Access management: You can grant different levels of access to users or teams within the manager account, controlling their permissions and visibility across sub-accounts.

Cross-account reporting: You can generate comprehensive reports that consolidate data from multiple sub-accounts, providing insights and performance metrics at various levels, such as account, campaign, or ad group.

Efficient campaign management: You can implement and manage shared libraries, including audiences, remarketing lists, and conversion tracking, which you can use across multiple sub-accounts.

Simplified campaign implementation: You can simultaneously use manager account features like bulk editing and automated rules to make changes or optimizations across multiple sub-accounts.
Who should use a Google Ads Manager account?
A Google Ads Manager Account is helpful to various types of businesses and individuals who manage or oversee multiple Google Ads accounts.
Here are some examples of who should consider using a manager account:
Agencies that handle multiple clients' advertising campaigns can benefit from a manager account to efficiently manage and monitor the performance of each client's Google Ads account.

Large Businesses with Multiple Brands or Divisions that need to maintain separate Google Ads accounts for each entity while providing centralized control and reporting.

Franchise businesses can utilize a manager account to manage advertising campaigns for multiple franchise locations.

Marketing Departments within companies that run multiple campaigns or handle various product lines.

Independent consultants or freelancers who work with multiple clients on their Google Ads campaigns can use a manager account to switch between client accounts and streamline campaign management efficiently.

Online Marketing Service Providers that offer online marketing services, such as PPC management or search engine marketing.

eCommerce Businesses with Multiple Online Stores. If you operate multiple online stores, a manager account can help you manage advertising campaigns for each store separately while also providing consolidated reporting and billing.
Getting started with multiple Ad accounts
There are three steps to getting yourself sorted with multiple stores on Google Ads and Google Merchant Center. 
Step 1: Register for a Google Ads Manager account in Google Ads.
Step 2: Apply for an advanced GMC account. 
Step 3: Link accounts
We take you through setting up both accounts below.
How to create a Google Ads Manager account
There are several steps to follow to create a Google Ads Manager account. 
Visit the

Google Ads Manager page

.

Click the "Create a manager account" button.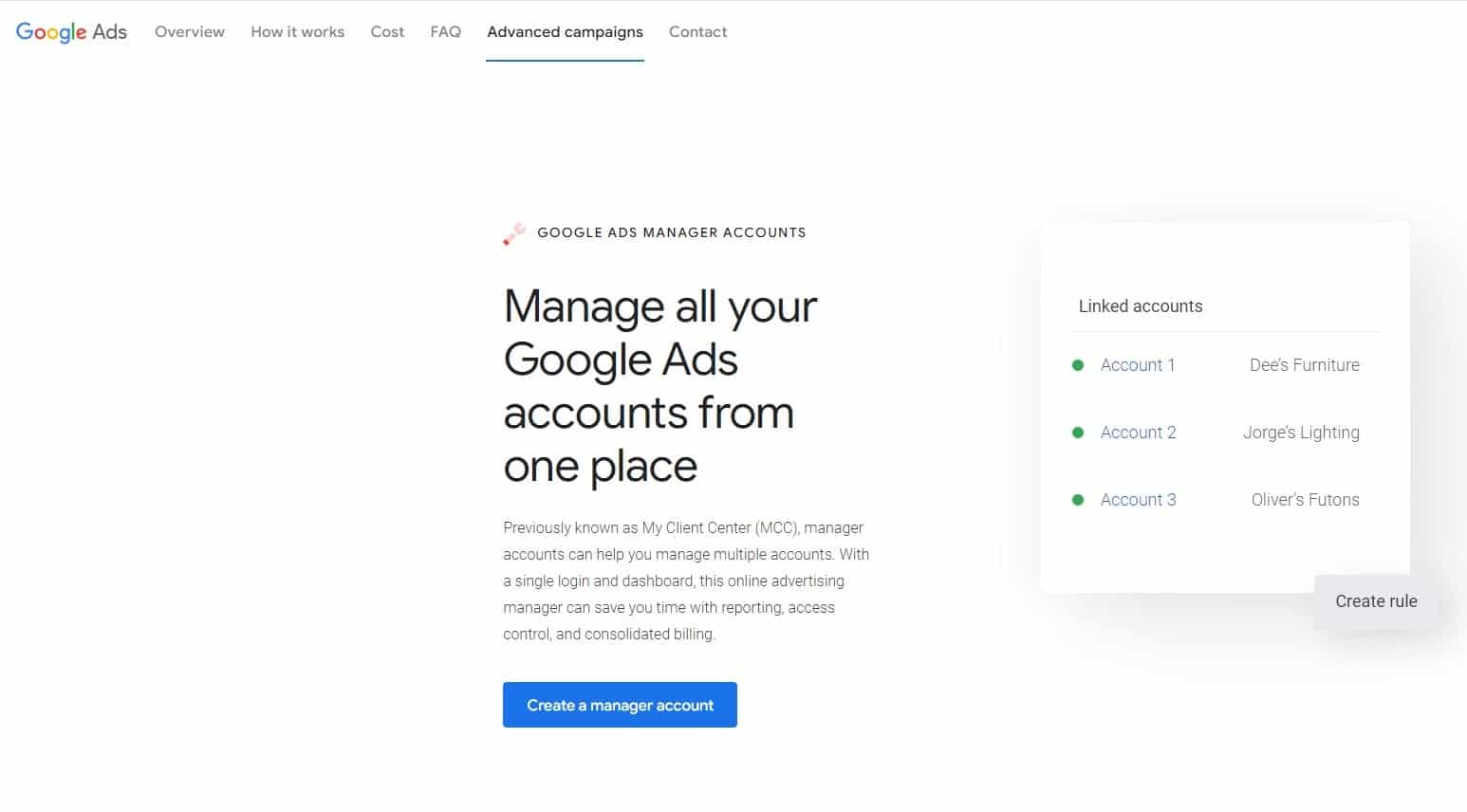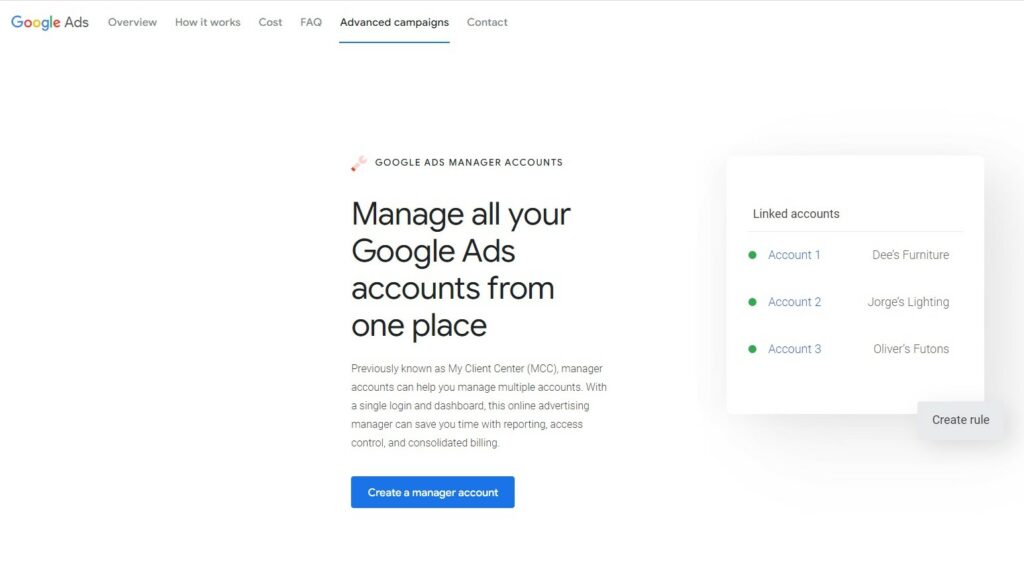 Sign in using the email you'd like to manage your new manager account.

Give your manager account a name. This will be the label that your clients will see on their dashboards.

Submit the required information.

After activating the account, you can invite users (aka other Google Ad Accounts).
Once you have created your manager account, you can manage multiple Google Ads accounts from one place. You can use it to manage campaigns across accounts, make updates across accounts, and track performance. It also allows you to control access permissions to individual accounts.
Adding individual accounts to a Google Ads Manager account
To add other Google Ads accounts to your manager dashboard takes only a few steps.
Step 1: Go to sub-account settings.

Step 2: Click on 'Link existing account.'


Step 3: Add the Google Ads ID of the account/accounts you want to add, then click 'Send request.'


Step 4: Authorize the request or ask the owner of the relevant ad account to authorize the request.


Once your Google ads manager account is created, you can apply to Google Merchant Center for an advanced account. Upgrading your GMC account to an advanced setting allows you to add several ad accounts to the main one to maintain them.
Applying for a Google Merchant Center advanced account
Step 1: Login into your GMC account, and navigate to 'settings,' then 'account settings.'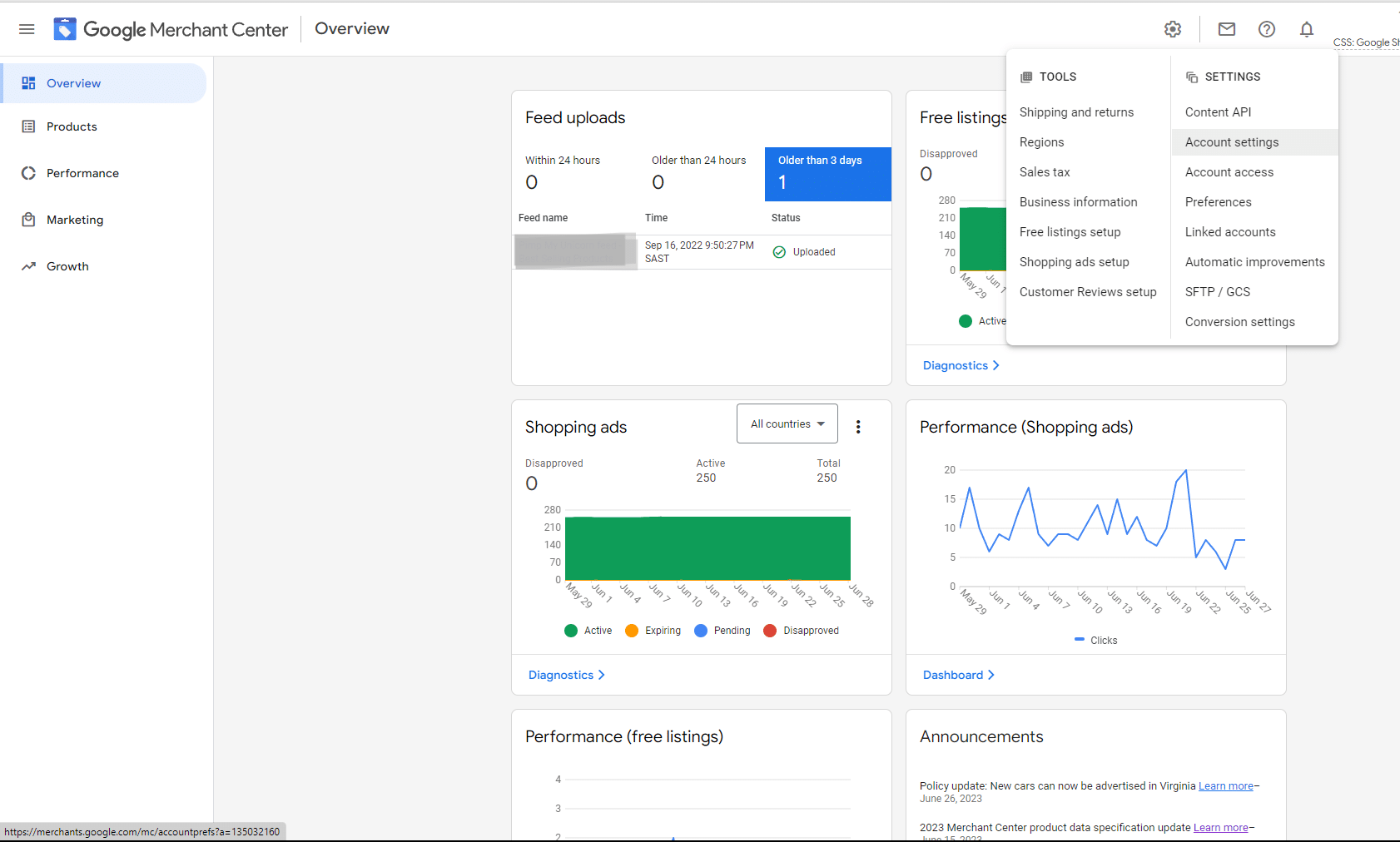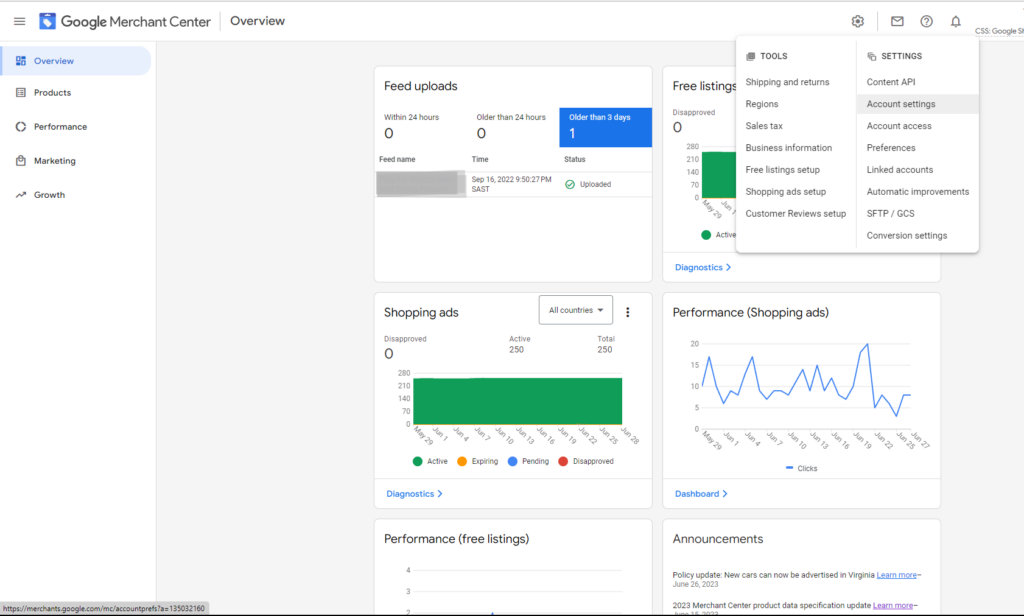 Step 2: From there, scroll down to 'Advanced account setup' and click 'Request conversion.'

Step 3: A new window will open where you can pick from 3 types of retail businesses. Choose the best one for your situation. For purposes of this tutorial, we've chosen 'Merchants.'
Next, another window appears beneath the first one, from which you can choose the correct option that best describes your business.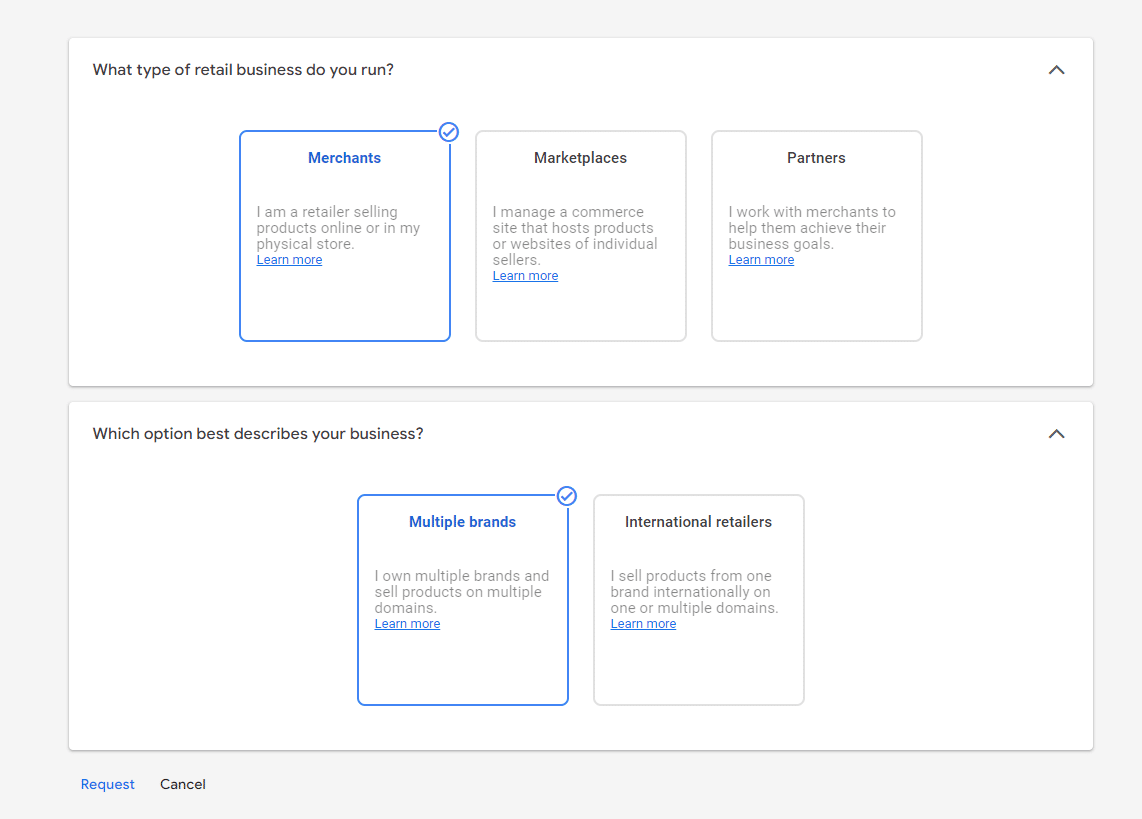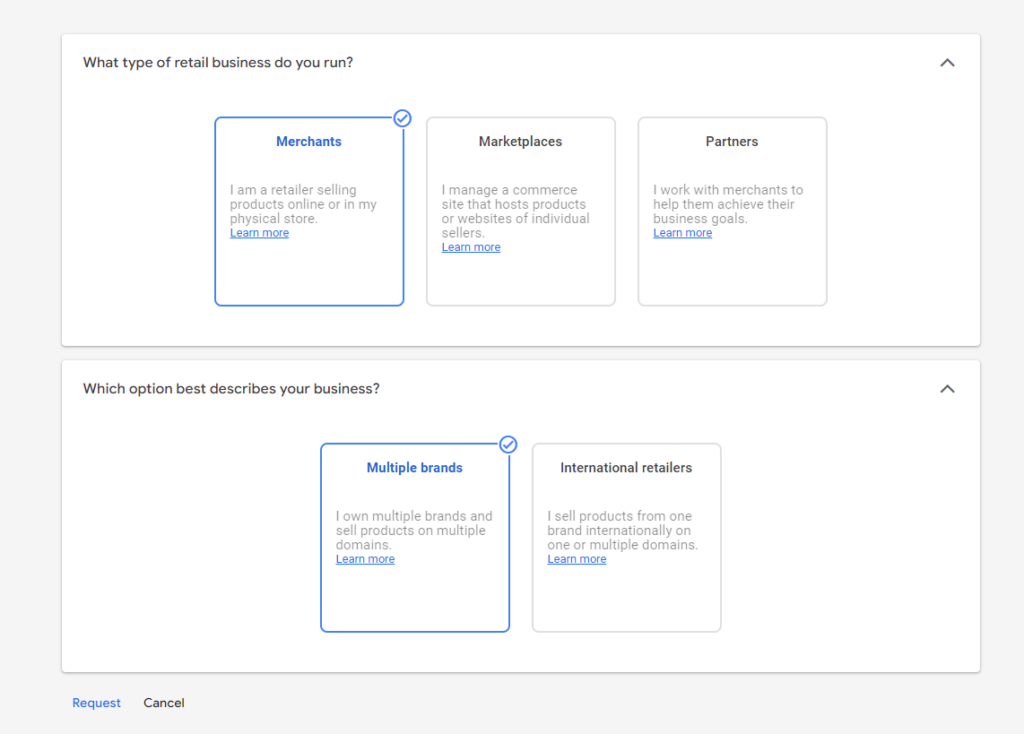 Step 4: Once you've made your choices, a popup will show, confirming the details. If you agree, tick the checkbox and send the conversion request.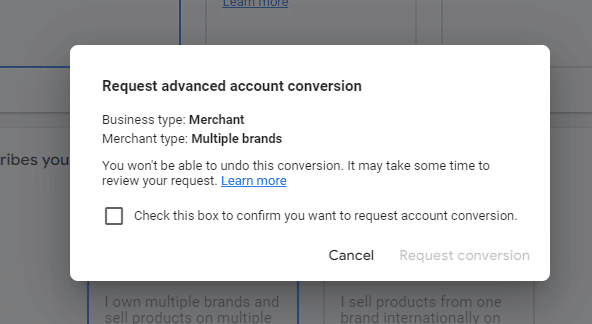 Step 5: You'll receive an email from Google Merchant Center confirming your request, and once it's approved, you'll receive a confirmation email. It may take anything from a few minutes to a few hours.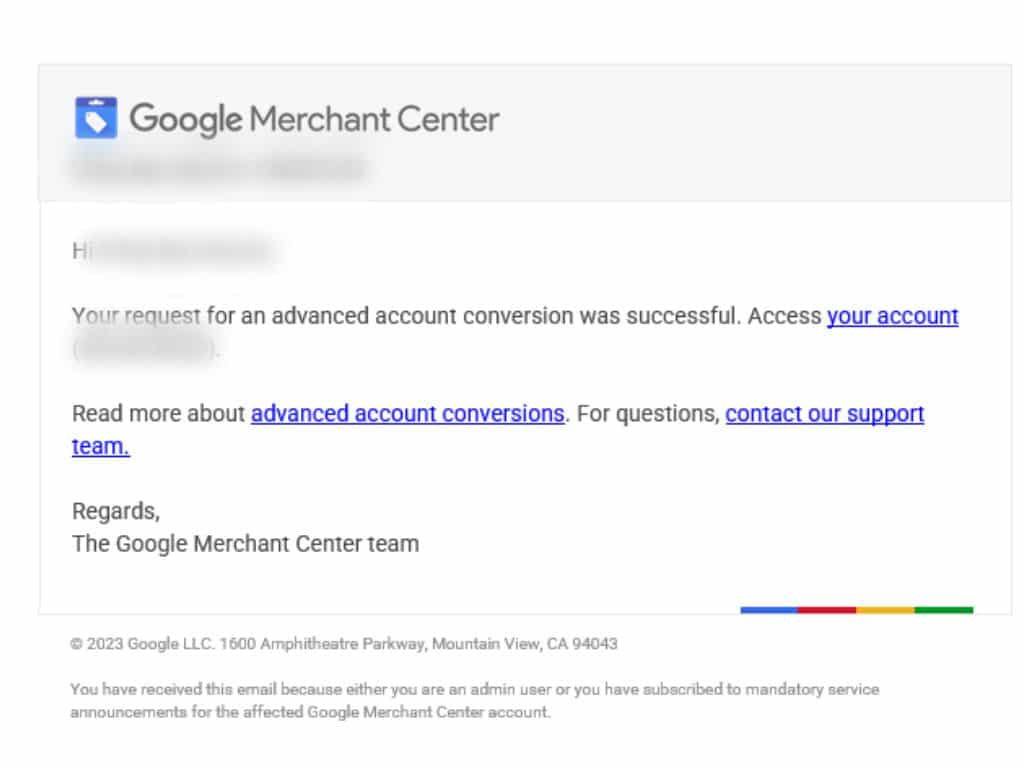 If you're managing multiple accounts, the best way to organize your marketing is by using a Google Manager Account and an advanced Google Merchant Account. This setup will allow you quick access to all your ecommerce accounts from one dashboard, saving you time and the inconvenience of having multiple logins.