eCommerce is one of the fastest-growing industries in the world. 93.5% of global internet users have purchased products online at one time or another. These types of statistics are what draw many people towards ecommerce.
What is eCommerce, and how does it work?
eCommerce is the process of buying and selling tangible products or services online. Buyers can perform transactions on PCs, smartphones, tablets, and other smart devices. It can also be done through more direct means, such as EDI (electronic data interchange) or B2B (business-to-business) exchanges.
eCommerce transactions are typically made through an online store. This browser-based shop allows customers to add items they want to purchase to a virtual cart and then pay for them at checkout.
The most common types of ecommerce businesses are Business to Consumer (B2C) and Business to Business (B2B). The former focuses on selling products to shoppers or end users, whereas B2B targets other businesses with their products.
Different types of ecommerce businesses
One of the reasons for ecommerce's growth is its convenience. With a computer and an internet connection, shoppers can browse a seemingly infinite number of products from the comfort of their homes. 
Another reason for its popularity is its ability to reach a global audience. For example, a business in the United States can sell to consumers in other countries without ever having to leave the office or meet anyone in person. 
What makes an ecommerce business work?
To get started with an ecommerce business, you need a few basic things such as:
Domain name

Website

A way to receive payment

A way to fulfill orders
Let's cover each one in a bit more detail:
Google.com, microsoft.com, and keycommerce.com are all domain names. They're the root address of where your site is on the internet. 
To buy a domain name, you'll need to go to a registrar such as NameCheap, GoDaddy, or Shopify. Each provider will allow you to register your domain name if it's available. 
When deciding on a name, make sure to think of your customers. Ask yourself, is the name easy to spell and recall? Complicated names or strange spellings make it much more difficult for potential clients to remember your website. 
When you choose your domain, you also need to decide on the TLD (top-level domain). The TLD is what you see behind the name .com, .biz, .org, etc. You can choose a general one such as .com, or you might decide to choose one specific to your country. 
Local domain TLD examples are .co.za for South Africa or .pl for Poland. If you're only targeting customers in your country, then a local TLD may be beneficial, but if you're planning on selling worldwide, we recommend a .com. Once you've decided on a name and TLD, you can buy it and link your website to the domain.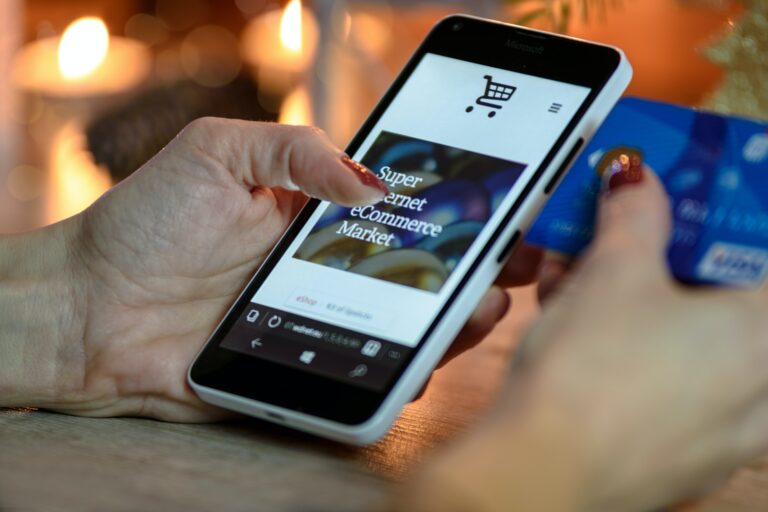 A website is a collection of web pages housed under the same domain name or IP address. They are identified by a common URL and published on at least one server. 
To get started, you'll first buy the domain name and then find somewhere to host your site under the specific name you purchased. Many domain registrars also offer hosting packages. 
Your website is where you'll build your ecommerce store using one of several platforms available. Well-known platforms include Shopify, WordPress WooCommerce, and Magento. If you have the resources, you can get a developer to build you a custom-designed site. 
An important feature of ecommerce is payment processing. Once your website is up and running, you'll need to implement a way for customers to be able to pay you. 
There are several payment portals out there, but the most popular are PayPal and Stripe. Should you decide to set up your store on Shopify, you can take advantage of their internal payment portal. 
Do some research as to which payment provider offers the best rates, payment in the currency of your store, and smooth integration and functionality for customers. Remember that you want your customers to feel safe when buying from you, so stick to reputable financial facilitators.
After a customer makes a purchase, you must send the order to them. 
Decide what shipping options you want to offer. The usual ways to fulfill orders include courier, post, direct delivery (if you have trucks), or collect at the store (if you have a physical store).
Once you choose the delivery methods, you must decide what rates you'll charge the customer. Some options include free, flat, or variable shipping rates. Next, you'll need to set up shipping procedures and create shipping labels.  
The type of shipping you choose is one of the most critical factors for your store. Quick and efficient delivery is crucial for the success of any online business. Make sure that your fulfillment turnaround times match whatever you've promised in your shipping terms and conditions. 
If your business model allows it, then offer free delivery. Many customers base their purchasing decision on whether or not free shipping is available. 
I want to dispel some common misconceptions about the world of online selling. Even though basics of an ecommerce business are relatively straightforward concept, people have some skewed perceptions of ecommerce.
It's not an "if you build it, they will come" model. You'll need to work hard to create a website where people want to shop. Even after you start getting sales, you must never stop improving the site if you hope to grow. 
It's not a get-rich-quick scheme; it takes months and sometimes years to build a solid customer base with recurring sales.
It's also not an automated business. Unfortunately, some think an online store will function and run on auto-pilot once launched. Don't be fooled; many things need to happen behind the scenes to ensure that the order cycle runs smoothly.
Starting an online store is the same as starting any other type of business. It takes time, dedication, and a clever marketing strategy to stand out from your competitors.
Marketing basics of ecommerce store
Like any business, your online store needs a marketing strategy. Part of that is advertising and promotions, amongst other techniques. The smartest approach to initial advertising is using Google Ads. We offer several videos to help you as a beginner get started with Google Ads.
A correctly set up Google Ads and Google Merchant center account can mean the difference between getting large sales volumes and just a trickle. Google has made reaching your customer easier through its various campaign options. It also provides tools to help you scale up as your business grows.
eCommerce: The future of retail
eCommerce is the future of retail. More people have access to the digital world than ever before. So it may seem as though it's easy money. 
Getting started is simple, but growing your customer base is more challenging. An understanding of ecommerce business basics, together with sound business acumen, is the bare minimum you need if you want to succeed. Reliable ecommerce partners are also vital in giving your customers a smooth shopping experience.
If you're looking for more information on how to start and grow your ecommerce store, subscribe to your newsletter and YouTube channel.