Your domain name should be reflective of the type of business you're in, and it should be something memorable so that users will have no difficulty recalling it and finding your website. This article will center on how to get a custom domain name and how to purchase one for your Ecommerce store.
What is a Domain Name?
A domain name is basically the name of your website, and it's how anyone using the Internet will find your site. Individual computers all have IP addresses, which is a string of numbers that no one really would be able to remember. However, this problem is solved by creating a domain name which is equivalent to that IP address and which can be used to identify any website on the Internet. All domain names are used in conjunction with domain name extensions such as .com, .net, and others. Before any custom domain name can be used, it has to be registered and it must be unique from all other domain names. It will also need content and a hosting service which can store the files associated with your website, so it can be displayed to visitors.
The Best Place to Buy a Domain Name for your Online Store
A domain for an Ecommerce website can be purchased from a slew of online vendors. That means you won't have any trouble finding one. As a matter of fact, you may have trouble deciding between them since there are numerous domain registrars you can buy your custom domain name from. 
Below are some of the popular domain registrars you can get your domain name from:
Namecheap


One of the best places to shop for domain names is Namecheap. I've been using Namecheap for years now and I have bought dozens of domain names from their service both for my own stores and my client's. With Namecheap, you can register a domain name and establish your online brand. They offer an advanced domain name generator that assures you get your ideal domain name right away. Additionally, you can also transfer your domain if you already have a domain registered somewhere else. Check out their best deals and register your domain name with Namecheap.
Shopify 


Shopify domain registration offers a completely automated configuration and setup, and if you're not too computer-savvy, this may be important for you. When you buy Shopify domain, you can also use their website builder service and be entitled to a full-featured blog. If you buy a domain name Shopify, you can also enjoy unlimited bandwidth and your content can be search-engine optimized, all in one tidy transaction. 
GoDaddy


Another vendor which provides excellent customer service to purchasers of domain names is Godaddy. This company is one of the largest and most trusted domain registrars online, and they make it very easy to set up your custom domain name with their search tools. They offer a website builder service as well, and this can get you off to a great start in your Ecommerce business. You can also count on prompt customer support whenever you have an issue that you can't resolve on your own.
How to Get a Custom Domain Name – Step by Step Process
A custom domain name will be unique from all other domain names on the Internet, and it will be how Internet searchers are directed to your website, as opposed to any other site online. A custom domain is one which you own, rather than one which is owned by a vendor and issued to you as a sub-domain. A 'free' sub-domain might seem attractive, but if there's ever any disruption to your sub-domain site (and this is out of your control), you would risk losing your entire customer base because they can no longer find you on the Internet.
When you're ready to establish a domain for your business, all you'll have to do is contact a provider who is an Internet domain registrar and can set you up with a unique name. To do this, you would have to search the entire Internet to be sure there are no conflicts with the domain name you've chosen for your business. It will help if you can include some level of specificity in your domain name which serves to make it unique on the Internet. 
Here are the steps to get a custom domain name for you Ecommerce store:
STEP 1: Go to Namecheap.com and search for the desired domain name that you want to purchase. Namecheap will then give you a list of all available domain names you can choose from.

STEP 2: If you've already selected your domain name, just click the cart button to add your domain name to your cart and purchase it.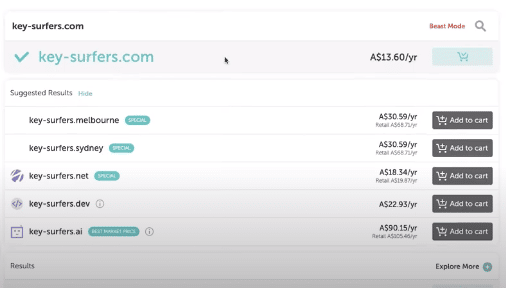 STEP 3: Proceed to Checkout.
STEP 4: Choose the validity of your domain name and set the other features before you Confirm your Order.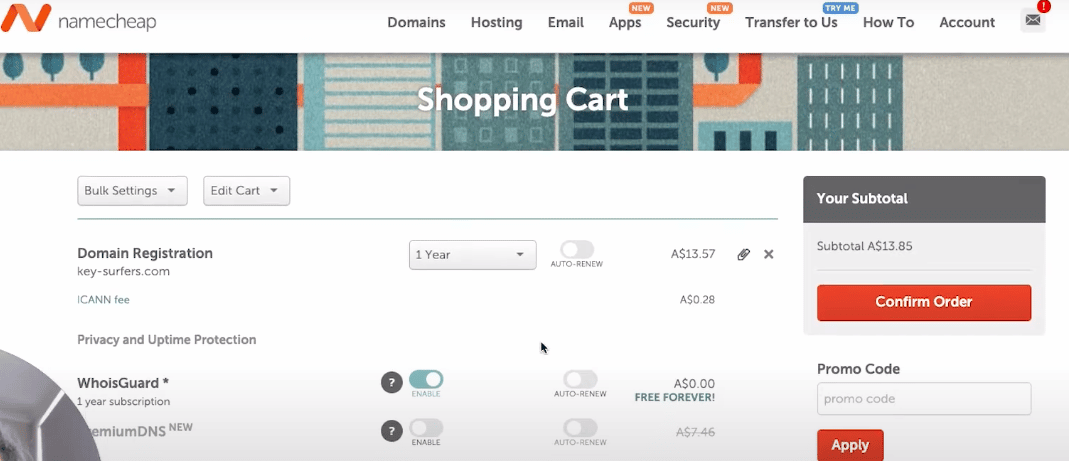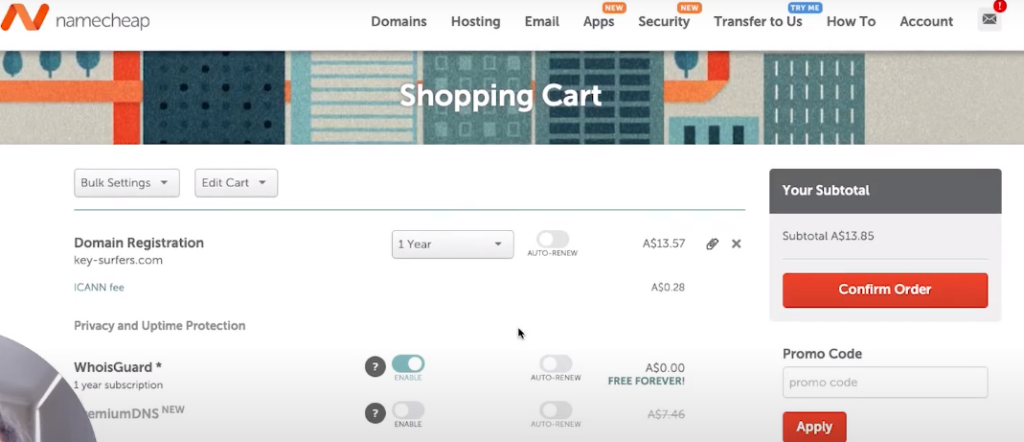 STEP 5: Put in your card details then click to Pay Now, then wait for your order to process.
STEP 6: After successfully processing your order, you will be directed to the "Thank You" page where you can now MANAGE your domain registration.

You will then be directed to your Namecheap dashboard where you can see your Domain List. You can then change the DNS settings to connect your Namecheap custom domain to your Shopify store. 
What if Your Domain Name is Already Taken?
You do have a few options if you discover that a domain name you had your heart set on has already been taken. One thing you can do is offer to buy that domain name from its current owner, although this doesn't usually work out well for both parties. You could also choose a different extension than the traditional .com, but that carries its own risks – your customers may actually go to the similar site and give up looking when they find out it's not your site. You could also just swallow hard, and go with a completely different domain name, even if it's not the ideal representation of your brand.  
Tips in Choosing a Domain Name for Your Ecommerce Store
First of all, you should stick with the most popular (by far) domain name extension, which is .com. This will make your site name easier to remember, and it will help more customers find your website. You should choose a name which is shorter rather than longer, is easy to remember and to type, and is easy to pronounce. You might also try to include specific keywords which are related to your business, because they can increase your SEO profile and garner more visitors for your site.
Be sure that the name you choose will be good for the long term, because it can be a huge hassle to change your site name at any point in the future, and you'll risk losing customers in the process. It goes without saying that you'll have to settle on a domain name which is not already in use, and if you're really stuck on trying to come up with a unique name, you can always revert to using a domain-name generator. 
Buying the Right Domain is Key to Success
Purchasing a domain name for your Ecommerce store should be a fairly simple matter for you, but that doesn't mean you should simply jump at the  first opportunity. Give some legitimate thought to a name, so it can be reflective of your business now and in the future and try to include some relevant keywords which make the site name memorable for potential customers. Then all you have to do is decide whom you wish to buy your domain name from.
Want to get more Ecommerce tips and tutorials just like this? Subscribe to my YouTube Channel and learn more about growing your Ecommerce store remotely.