Are you struggling to increase your website's traffic and sales? The key might be understanding user intent. User intent is the ultimate goal of every search query, and understanding it can help you create content that answers users' questions and satisfies their needs. It's what gets you in front of potential shoppers on the search engine results page (SERP).
In this article, we'll look in-depth into user intent and how it can help you improve your SEO strategy. Whether you're an experienced or new ecommerce business owner, understanding shopper intent is essential for attracting the right audience to your website and converting them into customers.
When a shopper searches on Google, the terms they use often reveal their current goal or search intent. Each word matters, signifying to Google what the shopper most wants to see.
Consider the different intents between these searches.
"Nike near me"
"Nike reviews"
"Nike contact number"
"Nike history"
"Nike coupon code"
For each, there are wholly different expectations of the information being looked for. Google's primary objective is to serve results that meet those expectations.
By studying the search terms that bring traffic to your site, you can also adapt to your shoppers' intent of search and improve your rankings, profitability, and sales.
First, let's categorize the common types of search intent…
There are two types of search intent:
Google recognizes two basic types of intent: a 'Know query' or a 'Know simple query.'
A 'Know query' is when a user searches for generic topical information. For example, they search for 'New York City.' 
A 'Know Simple query' is slightly different because the search is for specific information on a broad topic. If we use our example from above, the person might now search for 'New York City population figures 2020'. 
The above can further be segmented into three main categories. 
Informational queries are the most common type of search. These are early-stage queries where potential shoppers are looking for information to learn about a topic. They want to know to learn more about products or services to see if they can fulfill their needs.  
Common keywords:
How to

What

Who

Why

Best way to

Information

Guide

Tutorial

Ideas

Tips

Learn

Resource
Comparative or navigational search intent is the middle of the search funnel for shoppers. At this stage, shoppers search for specific websites or brands to help them decide what to do.
It can also be a branded search for "Nike shoes" or a product such as "iPhone 12 Pro Max," or it could be for a particular site such as "Reddit login" or "Titok."
Common keywords:
Brand names
Product name
Names of service
Website
Transactional or commercial intent is a typical 'do query.' It's when the shopper wants to perform a specific action and is ready to convert. 
Conversion actions include making a purchase or signing up for a service. The shopper could search terms such as "buy hiking boots" or "sign up for a gym membership." 
Common keywords:
Buy

Discount

Deal

Coupon

Order

Price

Pricing

CheapBest

Top

Review

Attributes of product (color, size)
Explicit location queries
Explicit location queries are important for online stores with physical shops or outlets. They are better known as "visit-in-person" or "user location" queries. These are search queries made by shoppers looking for products or services in a specific location. 
For example, someone may search for "pet store near me" or "Italian restaurant in downtown Los Angeles." These queries are becoming increasingly common as more and more shoppers turn to their mobile devices to search for businesses while on the go.
Common keywords:
Near me

Where

Town/region (Hairdresser Manhattan) 
Best practices for search intent-focused content
There is more to creating user intent-focused content than most people expect. It's more complex than coming up with a bunch of keywords and hoping they will match the exact ones that a potential shopper types into the search bar.
You also have to consider the goal of the person searching, and Google is dead-set on meeting user intent as much as possible.
The search intent often aligns with which stage of the funnel the shopper is at.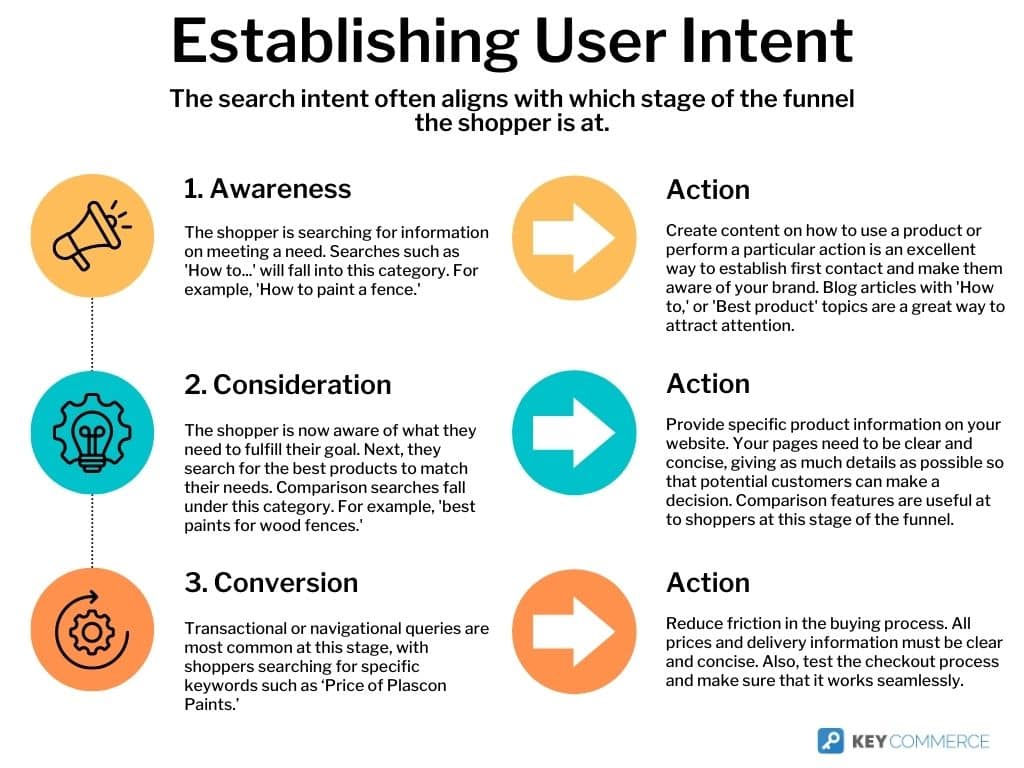 Multiple-user intent queries
Sometimes, people will not get the desired output on the search engine results page (SERP) because their input isn't clear enough. Other times they may need more than one type of information concerning a keyword or topic. This mixed search would fall under multiple-user intent queries.
Let's look at an example. Say someone types the word 'Toothbrush' into the search bar. It doesn't say much, does it? 
They could be looking for almost any information:
Where can I buy a toothbrush near me? (Location)

How many people use a toothbrush in the US? (Informational)

Top ten toothbrushes? (Commercial)

aquafresh.com (Navigational)
The above search intent relies purely on the strength of one keyword. If you have the keyword 'toothbrush' on your website, it may or may not meet the user intent since they aren't clear on what exactly they want. 
However, Google looks to meet the user's search goal as much as possible and considers several factors when showing results on the SERP. 
To establish the user intent, you can ask yourself the following:
When Google ranks sites on the SERP, it doesn't want people to scroll up and down looking for the correct information. They want the user to land on a page and get everything they need from that page. 
Therefore Google has strict ranking criteria to deliver the best user experience (UX) for people and meet their search intent. You'll rank higher on the results page if your website satisfies both criteria.
How can you provide an excellent UX? Here are a few tips:
Improve product and website content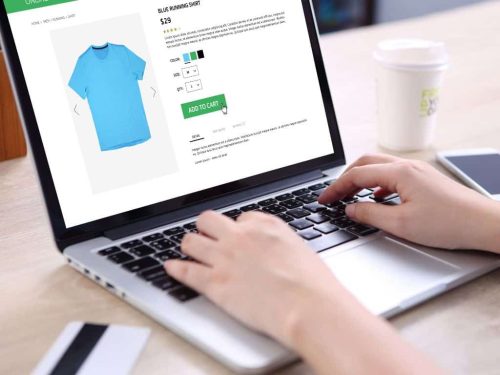 Optimizing existing content is the fastest way to increase organic traffic to your site and improve your rankings.
 Start by checking the number of backlinks your site has and on-page SEO, such as reading level and grammar. Ensure that the backlinks you place on your pages point to highly rated domains, and check that all your pages have at least one or two relevant links. 
Focus on the following pages when optimizing your content: 
The quality of a web page is a crucial factor in determining whether it can meet the needs of someone searching for information or content.
Google's search algorithms are designed to show web pages relevant to the user's search query and intent. In addition, it checks that the information will provide high-quality, valuable content. 
Pages that meet these criteria are more likely to satisfy the user's needs and deliver a positive user experience. Conversely, low-quality pages, lacking relevant content or failing to meet the user's needs, are less likely to appear on SERP or may be ranked lower.
Simply put, a high-quality web page that meets the user's needs is more likely to rank higher in search results, while a low-quality web page that does not meet the user's requirements is less likely to rank well or be visible in search results. 
eCommerce store owners need to focus on creating high-quality page content that meets the needs of their target shoppers. 
Google uses specific criteria to evaluate the quality of individual web pages and websites, including:
Relevance: The page's content should be highly relevant to the user's search query and intent.
Expertise: The page should demonstrate high levels of expertise, authority, and trustworthiness (E-A-T) on the subject matter.
User experience (UX): The page should provide a positive user experience, with fast loading times, easy navigation, and mobile-friendliness.
Content quality: The page should contain high-quality, valuable, and unique content relevant to the user's search query and intent.
Trustworthiness: The page should be trustworthy and free of malicious or deceptive content.
Links: The page should have high-quality inbound and outbound links from reputable sources.