Do you know why?
It's because video content format engages the brain, entertains, and is easy to digest. In fact, people watch over 1 billion hours of videos every day on YouTube.
Another significant trend to watch is that about 64% of consumers get compelled to purchase a product after watching a video about it.
Therefore, if you want exposure for your products, leads, and conversions, leveraging the art of advertising and storytelling, YouTube ads are no longer an option but a necessity.
Are you leveraging YouTube marketing for sales, leads, and business growth?
If not, perhaps you are fond of Facebook and Google ads because you think YouTube ads are expensive, complicated, and less profitable, right?
Someone is leaving lots of money on the table.
Stick to the end of this blog post to understand why you are getting it all wrong. 
What are YouTube Ads?
These are short promotional video clips that appear on videos that have been accepted into the YouTube partner program.
They can appear either in the beginning just before watching a video or in the middle. The primary aim is to compel a viewer to take a profitable action.
Here is an example of a YouTube ad from Namecheap: 
To launch YouTube ads, you need a Google Ads account. Google offers different campaign options. One of them is video ads.
Once you have created your marketing video ad, created a campaign on your account, and set your budget, your YouTube ads are ready to go live.
You will also need to undertake advanced targeting because spreading too thin might not make you move the needle.
Based on your bid, Google charges your account according to the number of views. You can pause campaigns anytime in your AdWords dashboard. 
Different types of YouTube ads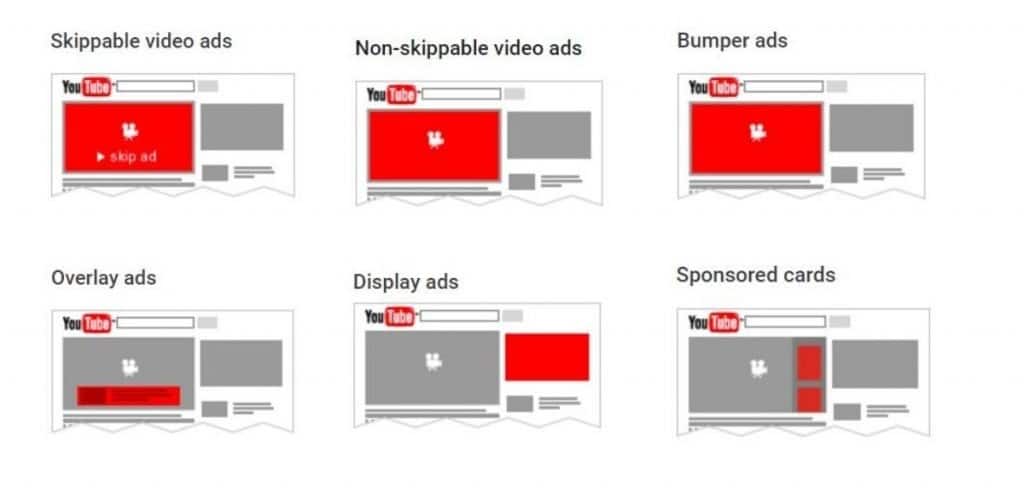 There are different YouTube video ads formats you can leverage on to meet your marketing goals. Each format has its cons and pros. Therefore, you should understand the best ad format that can give you excellent results based on your YouTube campaigns.
In general, there are three YouTube ad formats. Here is the difference between them:
Different from Preroll video ads, Trueview ads don't 'force' the viewer to watch. There are two types of Trueview ads based on where they appear on YouTube videos:
These kinds of ads play before a viewer watches a YouTube video. He will have the option of skipping the ad after 5 minutes.
As an advertiser, you will only pay when someone watches 30 minutes of the video, full video, or if he clicks on any CTA.
To retain interested viewers, you can customize your ads with different call-to-action buttons that lead to your landing page or e-commerce store.
However, the best way to achieve maximum ROI for your eCommerce products from in-stream ads is to leverage product data in your Merchant Centers. You can use that data to create up to six shopping cards to appear alongside your in-stream ads.
You can also allow overlay text below the playing video. Look at this from Mindvalley. The CTA 'watch now' is bold and demands action.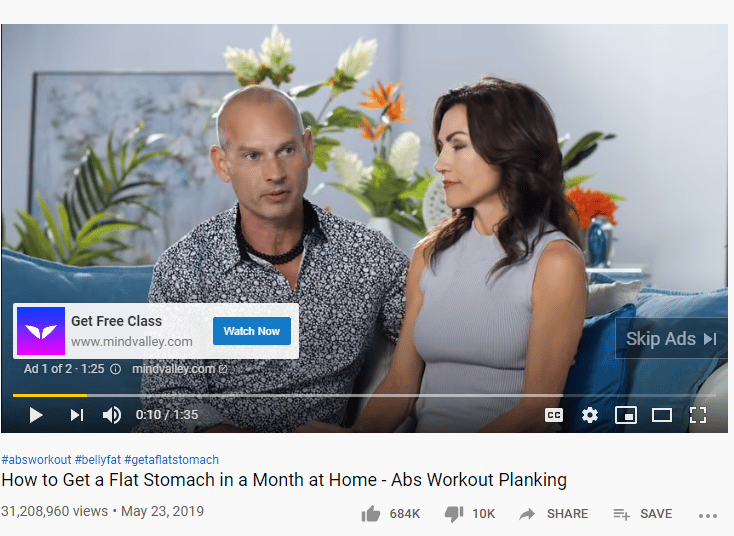 Best for: web traffic generation, selling discounted sales, and other standard e-commerce promotions.
Utilize the CTA button effectively since it should be arresting, bold, and include a strong CTA statement such as 'Get a FREE T-shirt' and not a mere 'place order' statement.
They are formerly called in-display ads. They appear in search result pages, YouTube homepage, and on related video pages.
They operate on a PPC model. That means you will only pay whenever a viewer clicks on your ad from the search results.
For better performance, ensure the headline of such a video ad is not more than 25 characters. The description should not also exceed 35 characters.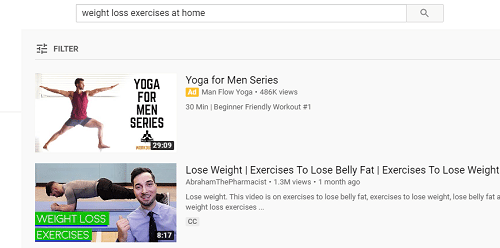 Best for: These kinds of ads are best for product and brand consideration, channel visibility, and value-packed offers such as other in-depth videos.
2. Non-skippable/Pre-roll ads
These YouTube ads format 'force' a viewer to watch for up to 15 or 20 seconds before the main video appears. They can appear in the beginning, middle, or after the main video. It's also important to note that pre-roll ads get better engagement rates.
Since the ads could feel a bit annoying to the viewer, target viewers already interested in your offer. The Intrusive nature of such ads made YouTube to ban pre-roll video ads longer than 20 seconds.
They operate on a PPC model. Which means you will only pay when someone clicks on your CTA. 
Best for: New product promotion and upcoming event promotion since you have a significant amount of time to attract, engage, and convince the viewer to click the CTA button.  
These kinds of ads are similar to pre-roll ads but are 6 seconds long. They also appear before, in the middle, or after a video and operate on a CPM model. That means you will pay for a thousand impressions on your ad. 
Here is an example of a bumper ad from **
Best for: Increasing product awareness and boosting brand reach since they are perfect for recall. In fact, YouTube found out that these ad formats increase recall by 56%. Therefore, they are great for bringing attention to your online store. 
Benefits of YouTube Ads for Ecommerce
Are YouTube ads effective for your eCommerce products? Yes, people are minting up to seven figures from drop shipping leveraging YouTube ads.
Here are several reasons why you need to begin investing in YouTube ads:
Contrary to what most people think, YouTube marketing is actually cost-effective for eCommerce compared to Google search cost. It also has a high ROI because video ads drive more engagements than image-based ads.
Let's do a simple calculation to understand this better:
YouTube operates on a pay per view model. That means whenever a viewer interacts with your ad, you will pay a certain amount of money.
On average, one YouTube view is between $0.03 and $0.06. Let's settle for $0.05 per view. Therefore, if your daily budget is $20, you will have about 400 viewers every day and 12,000 viewers a month.
You will have spent only about $600 and get a good ROI.  
When it comes to Google Ads, the average cost per click is about $1. So, with a daily budget of $20, you will only reach about 20 prospects per day and 600 per month.
So, have you now noted the most affordable option for your eCommerce products? YouTube ads.
Target people who will buy what you sell
Despite the large market base, your YouTube ads need to serve a defined domain of buyers. Otherwise, you will only waste your marketing resources, putting your marketing message in front of viewers who will not buy your products.
The more defined is your audience, the more the sales. Before you begin YouTube marketing, start by defining your audience.
Targeting improves your brand recognition, boosts customer loyalty since you will be solving their needs, and offers an opportunity to reach new markets.
The best thing about launching YouTube ads for your e-commerce products is the fact that it allows you to target a specific audience.
Before running a campaign, you have the option of targeting people based on:
Gender: Are you selling men's clothing? You have the option of letting YouTube show your ads to that specific cohort of buyers.
Age: There are products meant for the millennial, the baby boomers, and the generation Z. if your products are specifically for the tech-savvy generation, YouTube allows you to target them.
Geographic location: You also have the option of targeting customers from a specific country. If you are in the U.S. and want to target customers in that particular country (mostly happens with physical products), you can do so in your customization options.
Amount of income: If you are selling expensive products, you can choose to target high-end clients or medium-income earners if you are selling average products.  
You can also target based on the keywords. Search for profitable keywords using Google keyword planner and use them in your targeting efforts.
Offers rich insights for retargeting customers 
In January 2017, Google made significant changes in regards to YouTube marketing. It enables advertisers to retarget viewers based on their search history, viewing behavior, and keywords.
Retargeting is an act of placing a more customized ad in front of a viewer based on their interaction with your previous videos.
For that to happen, you need the following kind of data:
Who are the viewers?
Where do they come from?
What actions did they carry out on the channel?
Guess what! YouTube offers these rich insights. Leverage them to retarget your customers and ultimately reduce your marketing cost.
Retargeting also brings forth high-level engagements, boost brand recall, and maximize conversions because it's easy for a customer, who has had previous interaction with your brand, to purchase your products.
You can retarget the following segments of viewers:
Those who viewed a particular video
Those who subscribed to a channel
Those who visited a channel page
Those who added a video from a channel to their playlist
With these segmented lists, it's easy for a customer to purchase your products since he has already interacted with your ads.
Remember, you can only create these segmented lists for your retargeting efforts if you are not running bumper ads.
Has a massive market base for products
Whichever the products you are selling, you will often find prospects on YouTube. From health products, coaching courses, construction products, fashion, and SaaS, the market is broad.
YouTube has about 2 billion account holders and other unregistered users. In fact, the Millennial (those between the ages of 18 to 40 years) like to spend more time watching YouTube videos than watching television.
You shouldn't also ignore the fact that smart T.V.s are slowly penetrating the market. People watching YouTube videos on their television sets are on the rise. They can watch the news and log into YouTube while sitting on a couch.
Since it's the second-largest search engine after Google, top brands leverage the massive business potential it harbors to drive traffic, launch brand outreach campaigns, boost leads, and sales.
Therefore, don't underestimate this platform. Create a compelling marketing video ad, launch your campaigns, and watch sales trickle.
You can maximize profits by launching different campaigns after profiling and segmenting your customers. Personalized YouTube ads perform best because they will most likely trigger the emotions of the customers hence prompting them to purchase your products.  
That's the best way to maximize YouTube with its vast market base. 
How to make YouTube Ads work well for eCommerce
Would you want to achieve high ROI from your YouTube marketing efforts? Here are great tips to consider:
Before you begin any campaign, set goals. What target do you want to hit at the end of your campaign? You don't merely launch a campaign, do you? No.
The goals need to be SMART, in any case. They should be:
Specific: your goals need to be specific. Specific goals set the tone for your eCommerce store, keep you accountable, and communicate priority.
A specific goal can be aiming to get 100,000 product views or getting a 15% CTR. You can also go for a goal such as 'launching in-stream YouTube ads to grow my list to at least 10,000 prospects.'
Whichever the case, your goals need to be specific.   
Measurable: Instead of merely having a goal to get profits from your YouTube ads, why not specify the amount of profit you are targeting? You can set a goal to increase lead conversion by 50%. That goal is measurable, right?
You need the right key performance indicators (KPIs) to measure goals.
Achievable: If you aim to increase YouTube ads conversion rates by 50%, that goal is possible with an excellent marketing video and correct ad placement.
Realistic: Don't set unrealistic goals. Unless you are planning to use unorthodox means to hit your goals, set goals, and KPIs with actual time-sensitive expectations.
Time-bound: Most YouTube ads run for a day, a week, or a month. They have a time frame. Set goals that are achievable within that period.
The more specific are your YouTube marketing goals, the faster it will be to hit them. It will also enable you to structure your ads based on the language and device you want your ads to appear in.
How would you even begin creating a marketing video without understanding your ideal customers? That should come first because it will determine the kind of words to use in your video script.
Therefore, YouTube ads will only work well if you create a customer profile of your eCommerce customers. You will then learn to target them based on their persona.
Effective targeting will boost your ROI since you know the customer you are targeting, improves customer lifetime value, and gets you referrals from satisfied customers.
To enable you to understand how to target your ideal customers, here is a template you can use from ringDNA.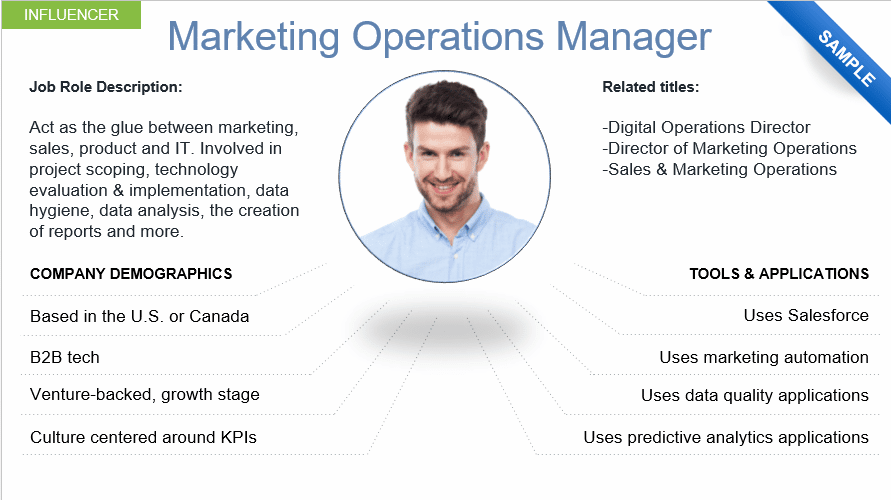 Here are also step-by-step instructions on how to optimize your Google Ads account to reach your ideal customer.
You will need a compelling, high-quality video clip. Upload it into your YouTube channel. You can then search for it or simply paste the video URL, and Google will lift it from your channel.
You can then choose how your YouTube ad will appear. It can be either before other videos or on the YouTube homepage.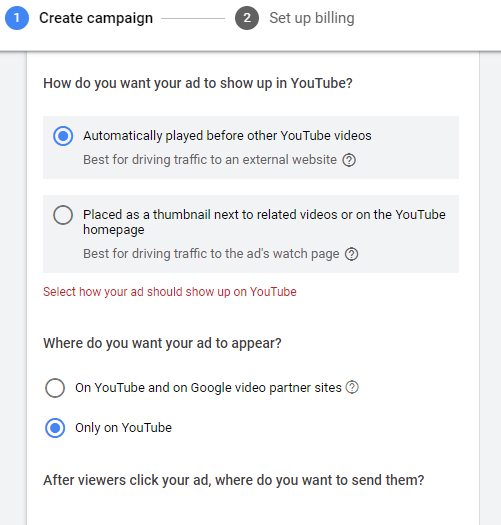 Choose your ad to appear only on YouTube in the next section and not on other Google video partner sites. You will also check the preview of your ad on desktop and mobile, so you know precisely the suitable spot.
Set the location to where your target customers are. You can target a country, a smaller region, or even a city. What languages do your customers speak? If they speak more than one language, ensure you add that in the language targeting.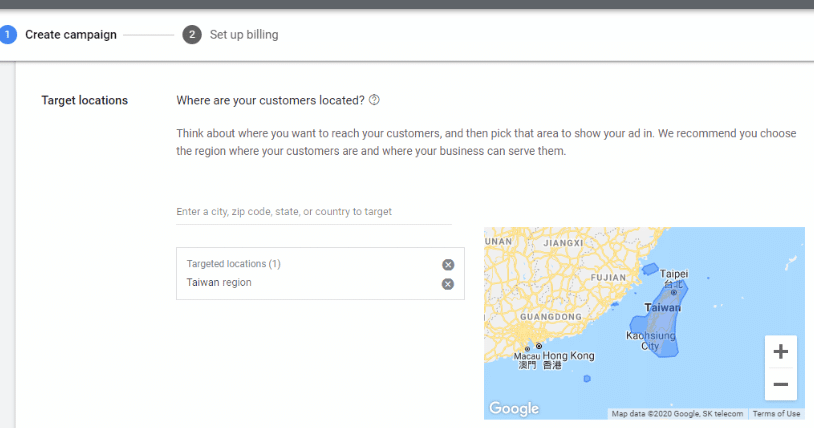 Choose to target either males, females, and set their age and parental status. That will enable you to sell your products to the right audience.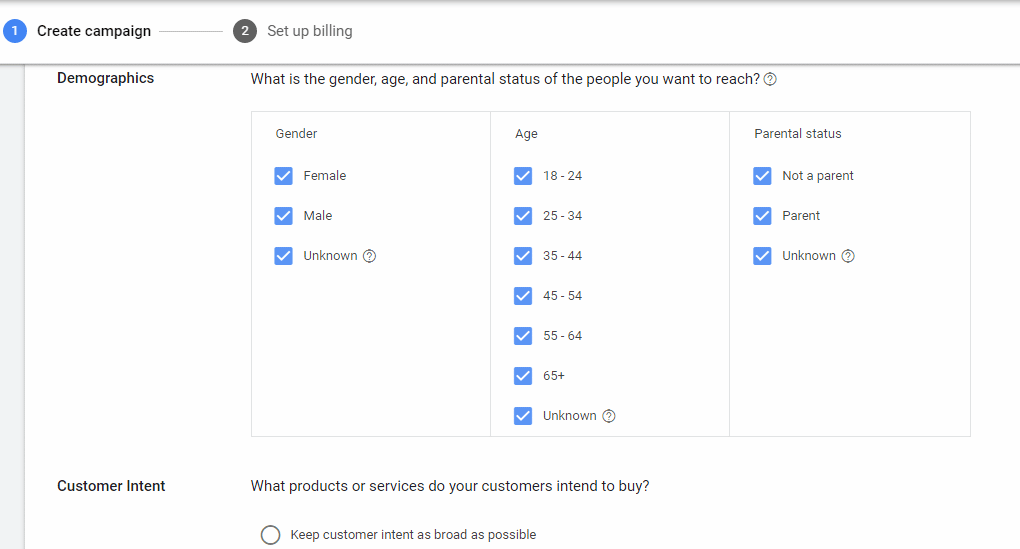 On customer intent, choose to reach people who actually want to buy your products and services. You can narrow down to exactly the kind of buyers you want to reach.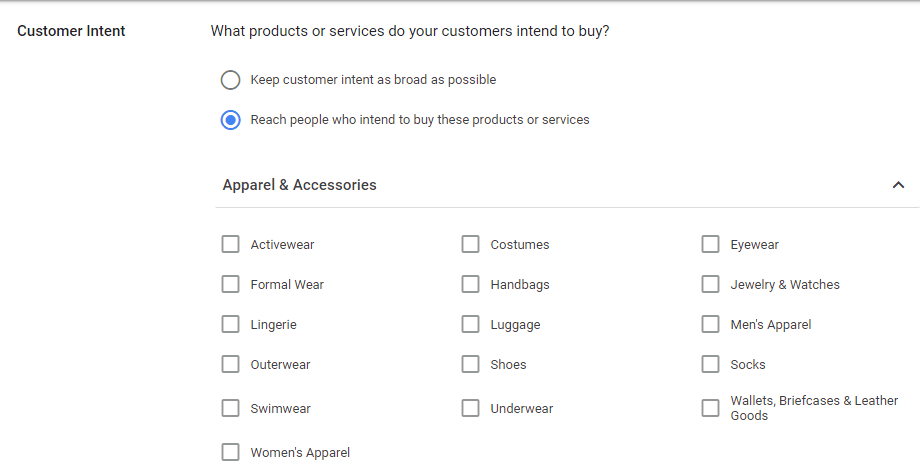 Once done, click save and continue to set your budget.
Have different targeted campaigns to cater to all your segmented groups of customers.
Depending on your YouTube marketing goals, you might often want to attract as many buyers as you can into your Funnel.
How can you do this?
Well, create a FREE offer and invite your ideal buyers via YouTube ads to consume in exchange for their emails.
An email is the primary most valuable customer data you can have. Since the customer has entrusted you with their emails, don't spam them. Add value to their businesses and retarget them with better offers.
What's a high-quality offer? It's one that has the value that exceeds the purchase cost. It can be an eBook, a webinar, a template, or a course that tackles a challenge your buyer is facing. Here is how to create an irresistible offer:
Bundle the offer properly:  your customers want value for their money. Therefore, don't think they will merely spend their hard-earned coin on a poorly packed offer. Take, for example, someone selling a Pencil and an eraser for $10.
Instead of selling them as an '$8 pencil and a $2 eraser', have it as 'buy a $10 pencil and get a FREE eraser.' 
Proper pricing: If you have bought some of ClickFunnel's products, you will notice how appropriately priced their digital products are. Your offer needs to be discounted. Let your customer feel he is smart by purchasing your product.
Great ads should not aim to make the marketer feel smart but the customer.
Should be a low-risk offer: Have a money-back guarantee option, let the buyer see the results before purchasing, and issue a warranty for your products. Low-risked offers attract many buyers.
You may target the right people, get lots of views, but get a low click-through rate and hence fewer sales. Do you know what happens? Your video quality might be poor.
You need a compelling video that can attract the attention of your audience, prevent them from clicking the 'skip ad' button, engage them, and make them click your call to action (CTA).
Begin by writing a short, compelling, and concise script. Consider balancing the message and the sale to make the ad appear less salesy.
Use the A.I.D.A formula to create the script. Here is what it means:
Attention: the first thing is always to attract the attention of your customers. Let the first sentence in your script stop the viewer in his tracks. A question always works.
Therefore, have something like, "When was the last time you hit $10,000 in profit running YouTube ads?"
Since the person is interested in running YouTube ads for his eCommerce products, he will most often watch the full ad and click the CTA.
Interest: Give a reason to keep your viewer glued to your ad. Tell them about how the challenge they are facing is affecting their lives.
Introduce storytelling here because it connects better with your buyers. Make it personal because it makes a buyer feel you know what you are talking about exactly.
Desire: Let your prospect desire to get out of that situation. Present to them the logical steps you can help them. Show them how your product will solve their challenges. Introduce a USP to differentiate your product from those of your competitors.
Action: Ask the viewer to subscribe, download, or order your product.
Alternatively, if you don't want to incur video creation costs, you can simply shoot a video using your smartphone. However, a professional explainer video is commendable since it will boost your brand's reputation.
YouTube has a tool specifically for creating compelling ads. You will choose the theme to work with, create a script, record your ad, and upload. There is also a guide for each section. Therefore, you will have a great video ad in the end.
Optimize for higher conversions
As with any other marketing campaign, you will need to keep checking the performance of your YouTube ads and optimize them for higher conversions.
As campaigns run, you will often notice one of these results:
Many viewers might be skipping your ads
Low or high view rate
Low or high click-through rate
With any negative results, you will often know what to fix. A low view rate will imply either of these:
The headline is not compelling enough
Less eye-catching thumbnail
A less-compelling description that doesn't encourage CTR
A low CTR might imply that you are targeting the wrong audience. Therefore, you need to observe the analytics properly and optimize for higher conversion.  
YouTube marketing is slowly becoming a trend since this digital channel is growing fast. Consumers also like video content. Therefore, the better you leverage this platform to generate leads and sales for your e-commerce products, the better.
Don't jump the gun, however, because it might be costly. Learn about the various types of YouTube ads, how to target the right people, and how to effectively optimize your already running campaigns to boost conversions.