It is like shooting balls everywhere and missing the hoop. No matter how hard you shoot, if it won't make it to the ring, then you won't score a thing.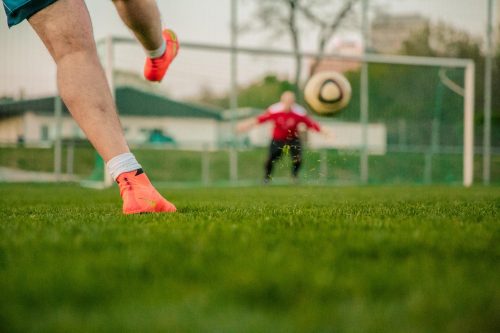 However, if you know the interest, habits, lifestyle, activities, demographics of certain Audiences, even if they are not your target market, then you can use that information to create new customers on top of your current customers.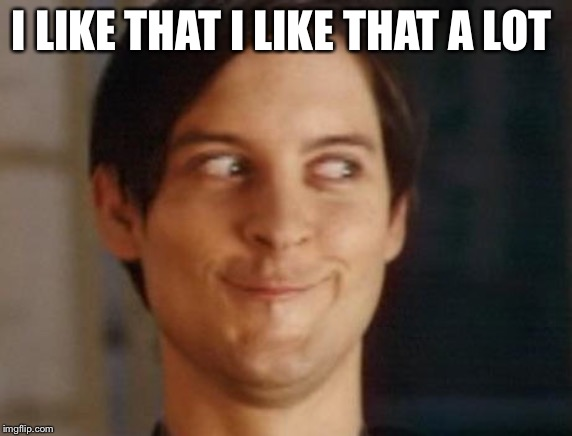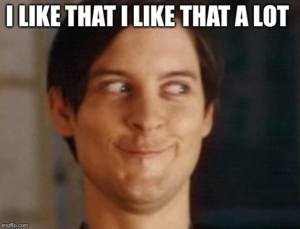 Fortunately, with the power of the internet, there are tons of resources and information for online sellers and search marketers to know more about their audience. 
You just need to know where to look.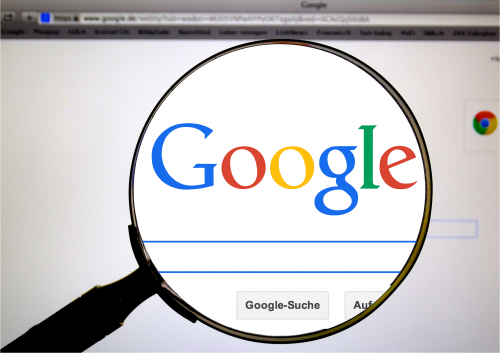 If you are using Google Ads, you can analyse each of your audience to know their behavior, demographics, interests, among others. Once you get the hold of these insights, it will be easy to create campaigns that are relevant to your audience which can then boost your campaign performance. 
Easy right?
So the next thing you need to know and understand is Google Ads Audiences. 
What are Google Audiences?
Audiences are groups of people with specific interests, intents, and demographics, as estimated by Google. There is a wide range of Google Audience categories such as sports fans, travel enthusiasts, car shoppers, or specific people that have visited your site, among others.
With Google Audiences, advertisers and marketers can target their potential customers and target markets better. 
Google Audiences is a powerful and valuable tool that can help PPC marketers to navigate well the massive Search, Display, YouTube, and Gmail markets.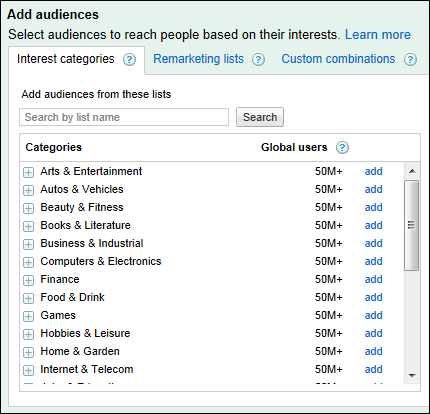 Different Types of Audiences 
There are different types of Google Audiences. With this, marketers will be able to boost their campaigns performance as they will be reaching specific audiences. 
There are a lot of Google Audience types. And they can be overwhelming. So I will only list down some of the most commonly used list types and how they can help you with your eCommerce store. 
Affinity Audience
This audience type is categorised based on their buying habits, lifestyles, and interests. For example, a user has been reading fashion magazines, following fashion trends and personalities, among others, then this person can be under the affinity Fashion or Lifestyle. With the affinity audience, you can go for people whose interests are related to your product or offerings. 
Custom Affinity
If your goal is to increase brand awareness and reach, as well as promote content tailored to specific people, then you can use custom affinity audience. 
Custom affinity targeting is based on user preferences like what kinds of media they consume or the products and services they are interested in. Advertisers choose interests they'd like to target and Google applies its algorithm to define the audience for you.
Custom Affinity gives advertisers more control over their targeting options on the Display network. The only limitation of using custom affinity is that it can force brands to box their audiences into categories that sometimes don't quite fit. 
Here's an example of someone creating a custom affinity audience targeting first-time moms. In this case, the advertiser is attempting to reach new moms by running an awareness campaign that will display ads on websites related to motherhood.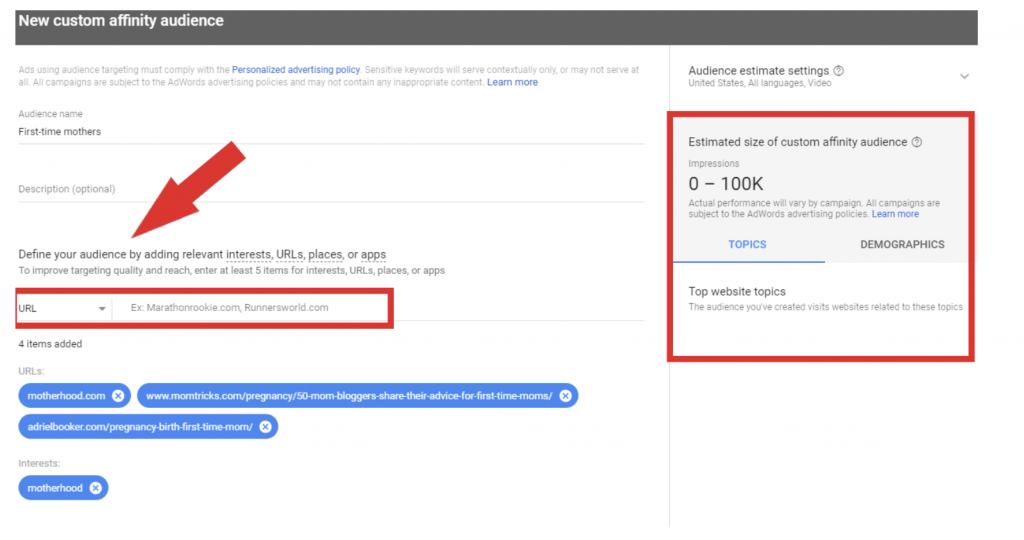 In-market
In-market audiences are people who are actively searching for products and services that are the same as what you are offering. They are users that are close to completing a purchase. So it is easy to sell and make a conversion with this kind of audience given the right ad campaign.
Custom Intent
This type of audience allows marketers to target people who are currently researching specific products, topics, or solutions in the search network, as well as on YouTube or a display partner's site.
Custom intent audiences do take some time to set up, but they provide some really powerful benefits. They allow you to market to your competitor's buyers by targeting top-selling products and high-traffic pages. 
Advertisers can target both keywords and URLs to build their audience; as you can see here, you'll start the process by naming your audience and then adding in the terms and pages you'd like to target.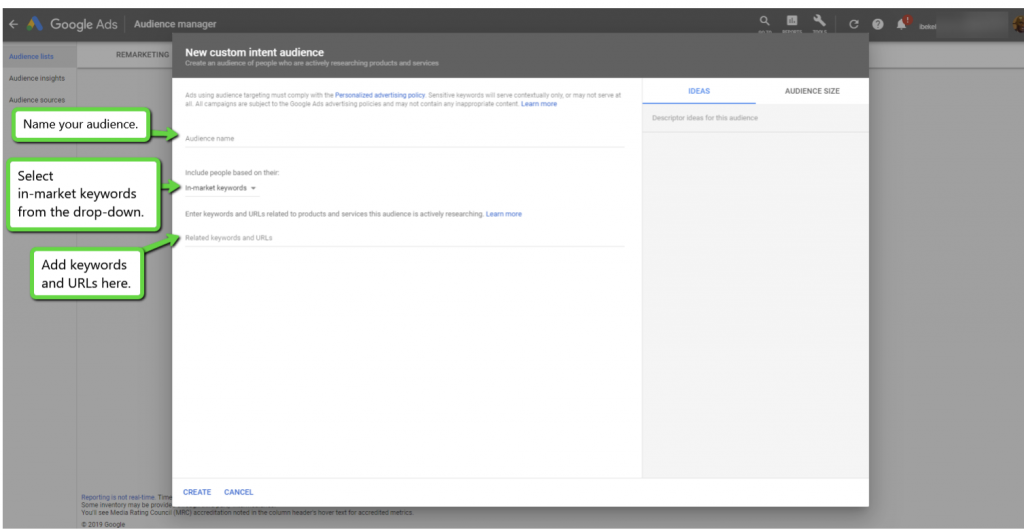 In this example, a small online pet store can target visitors to the URLs of major brands like Chewy and Petco, with their own ads displayed next time those users search for dog treats.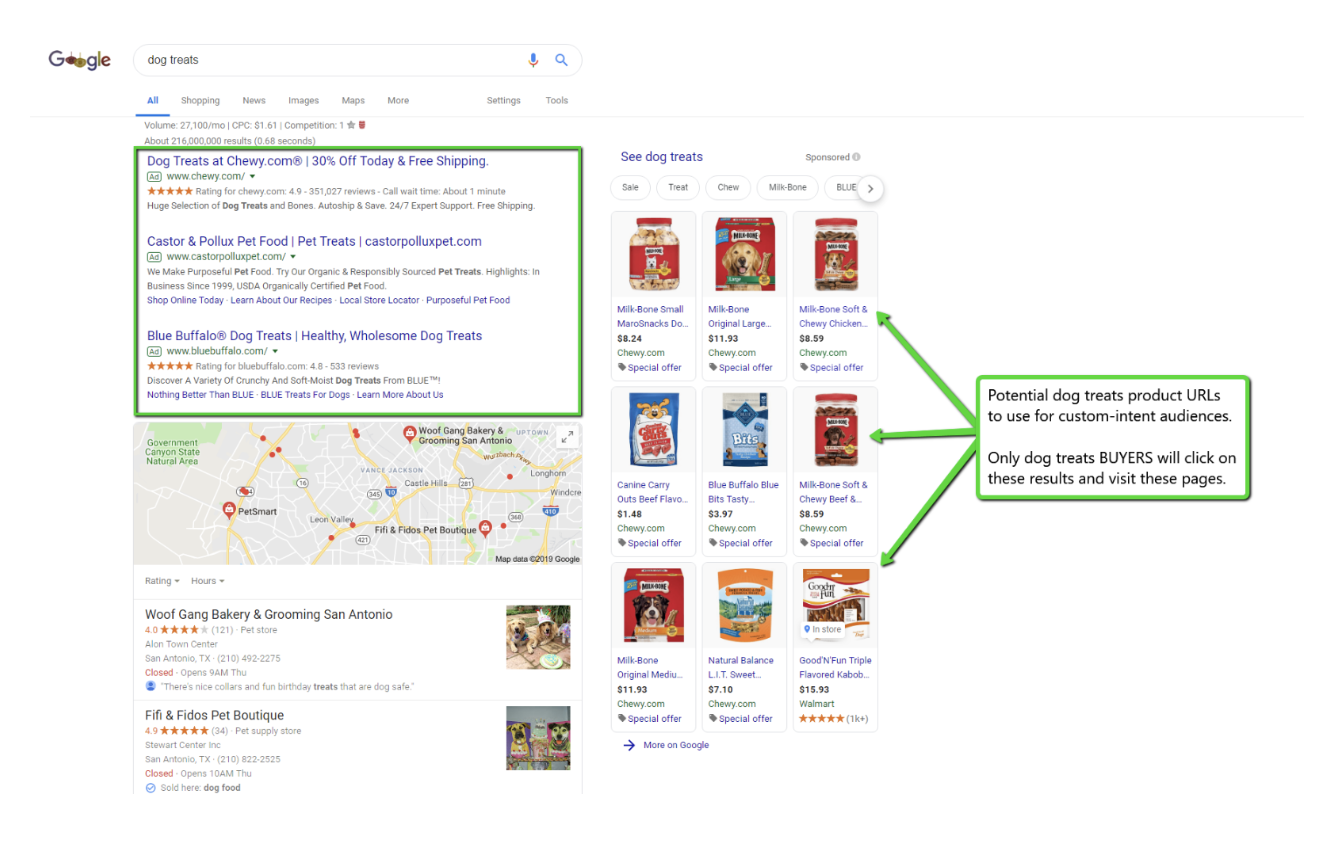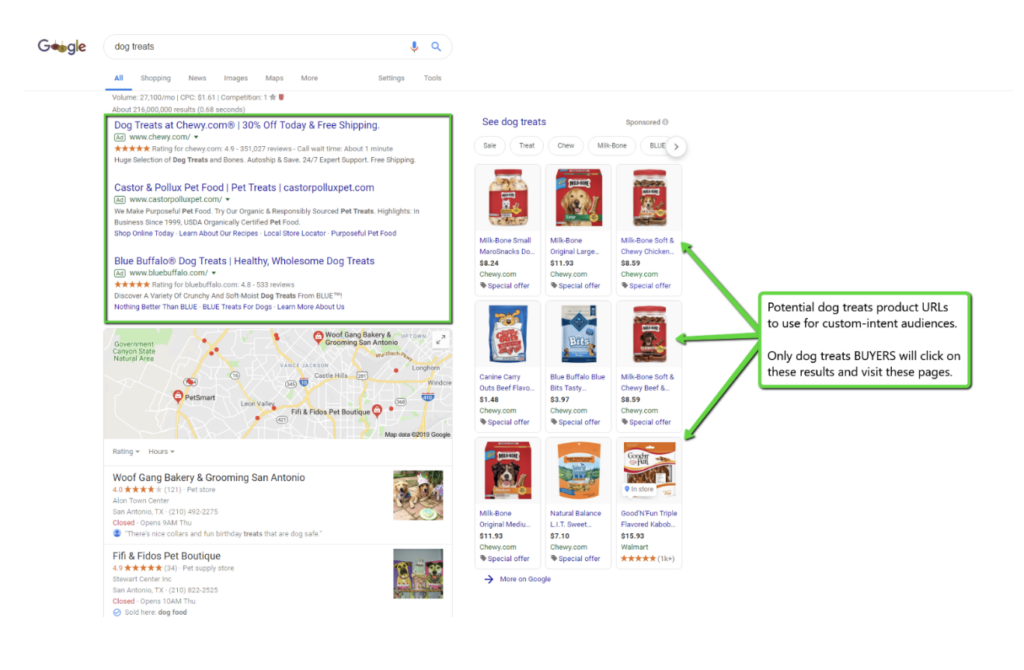 Remarketing
These are people who have previously visited or have taken action in your site or app. This audience type has already shown interest with your site and product, which means, they are closer to making a conversion. 
For e-commerce brands, remarketing is a great way to encourage repeat visits from people who abandoned their shopping cart or bought something a while back.
Detailed Demographics
This type of Audience allow you to reach certain segments of the population that share traits such as college students, professionals, homeowners, married couples, or new parents. 
This report allows you to understand the demographic breakdown and interests of your audience.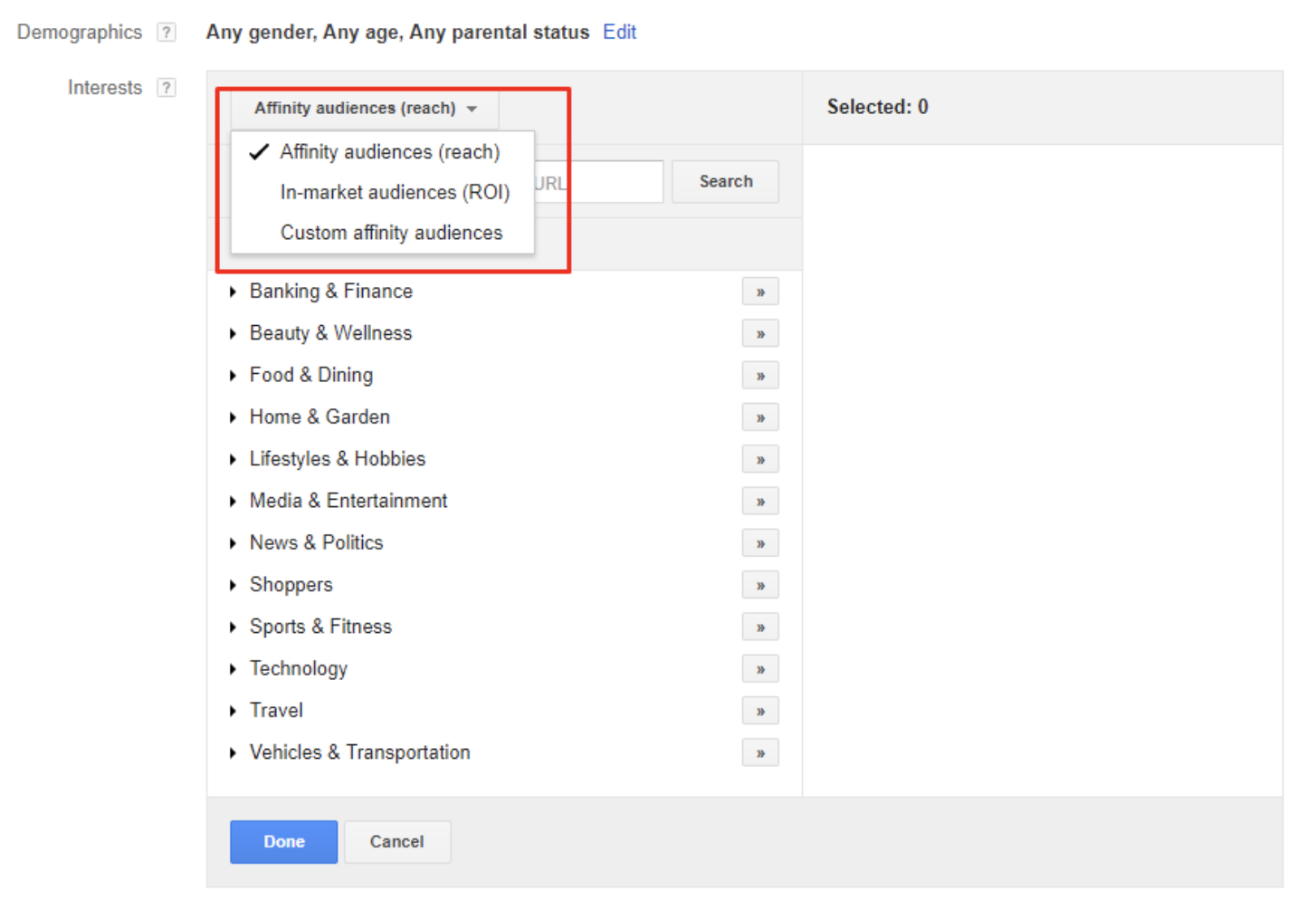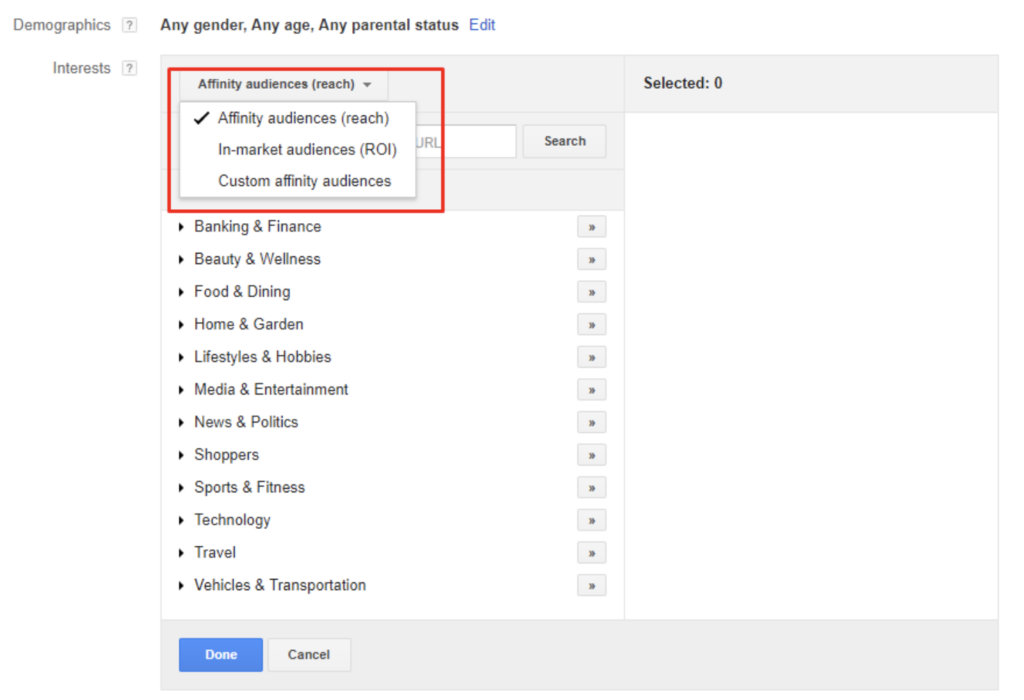 With using this audience, you can exclude certain groups if they prove to be "low-value users" or don't qualify for your service. For example, you run a female-only spa, you can exclude male searchers from your campaign. 
Beware in excluding or leaving out groups that might not match your exact target demographics. Leaning on stereotypes and assumptions about users can mean losing out on conversions.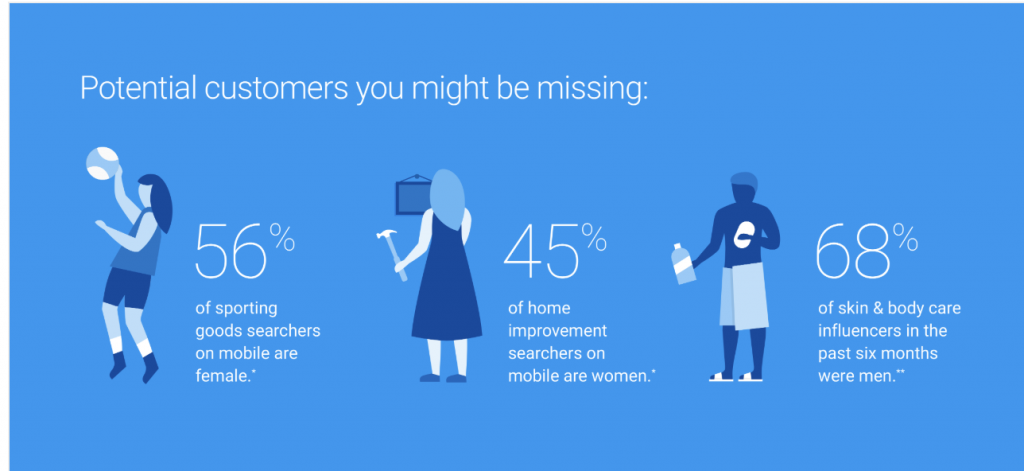 Life Events
These are audiences that are experiencing important life milestones like marriage, graduation, buying a new house, among others. You can use this audience type to create ads that appeal to their milestones. For example, your product can be a great gift to people who just graduated or just got married. Also, if you are selling furniture, you can use the audience that has bought a new house to target. 
Website visitors
This refers to people who previously visited your site. You can be more specific with this audience by setting criteria like visitors of a certain page. This will help you know how your website and web pages perform with specific visitors. 
YouTube Users
This is basically users who view your video ads. This can mean that people who watched your videos may show interest in your product. So once they see your product, they might consider checking your product and decide to making a purchase.
App Users
These are users who downloaded or installed your app on their device. They downloaded your app which means they needed it. So you can use this audience to create a campaign that offers your other products or services.  
Customer Match
These are users that are generated based on user contact info (e.g. email or phone) that you have collected over time. This list is different from the others, as you need to manually input the customer info into Google Ads before they can become an eligible list. 
Custom Combination
This is the list where you manually combine two or more existing remarketing lists. 
Similar Audiences
Google creates a brand new list that is similar to your existing list. This is a good Audience list as it gives you potential new customers.
What you need to know with all these audience types is that they are not created equal and should be approached uniquely and individually. Some of them need a lot of work like the custom match list. Also, some needs Google Ads remarketing tags, while others don't. There are also those that are not compatible with Search campaigns. 
Whichever audiences you are planning to create and use, you need to analyse the pros and cons of using that audience, before creating a campaign strategy. 
It is also good to know your marketing goals. Are you after brand awareness? Web traffic? Increase sales? Some of the audience types can help you achieve specific marketing goals. 
According to Google's Support blog, these are the campaigns and audience types that can be used together.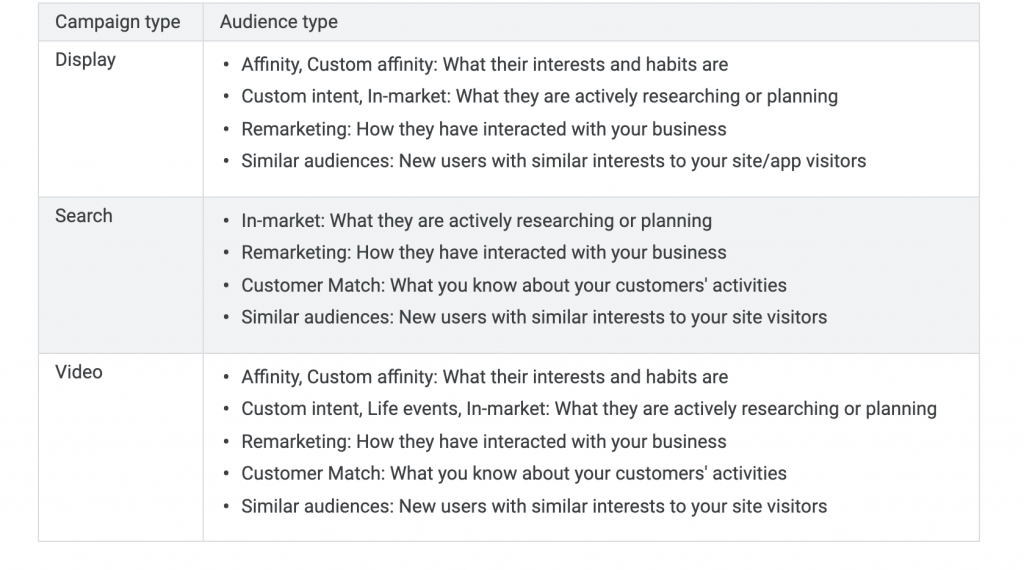 You need to remember that display campaigns are typically focused on reaching new customers or remarketing to old ones. With this, affinity and remarketing audiences work best, because you want people to remember your brand. 
On the other hand, Search can be used to reach new audiences, but you can capitalise on high-intent shoppers by targeting in-market audiences actively looking up similar products and services. 
Where to find Google Audience
If you want to make the most out of Google Audiences, you need to know where to find them first. 
Here's how:
Log into your Google Ads account. 
Click the tools icon in the top right corner of your screen. 
Select "Shared Library" and choose Audience Manager from the drop-down menu.
Once you're in, you'll see three sections: 

In here, you can find your Audiences. Google automatically creates some basic remarketing lists for you. You will also find what type of audience it is. 
You will also see the size of each list. The size of each list is based on which network that list is compatible with. 
Search, Display, YouTube, and Gmail, are the four networks that Google allows us to use audiences. 
Remember, not every audience list is compatible with each network. So make sure to check first which network is compatible to which list before you build your strategy. (You may check our table above to refer which audiences are compatible with each network).
Audience Sources
An audience source is a first-party data source you can use to create remarketing lists in Google Ads. You can set up an audience source to reach people who've visited your website, used your app, watched your video, or shared their information with you.
Here are some examples of how you can do that:
1. Google Ads Tag
With Google Ads Tag, you can use data from your website to inform remarketing lists and conversion tracking.
2. Google Analytics
Google Analytics is a great audience source to get insights about people who are visiting your store or website. For this to work, you need to link Google Analytics with your Google Ads account. 
3. Customer Data
Advertisers can add data from their website, email lists, Facebook, or other external sources, which can then be used in PPC campaigns.  
3. YouTube
The good thing about using YouTube is that you can remarket to people who watch your YouTube videos. The best way to remarket is to track what users do after watching your video and experiment with CTA overlays to drive traffic. 
Audience Lists
Once you have established your audience source, you are now ready to organise them into a list. Your Audience Lists may include website visitors, YouTube users, customer lists, and custom lists based on your audience habits, interests, and demographics. 
If you need to combine two or more audience sources into one Audience List and add them to ad groups using the tab below. As you can see here, when you select a list (or two) Google gives you a breakdown of projected reach and price: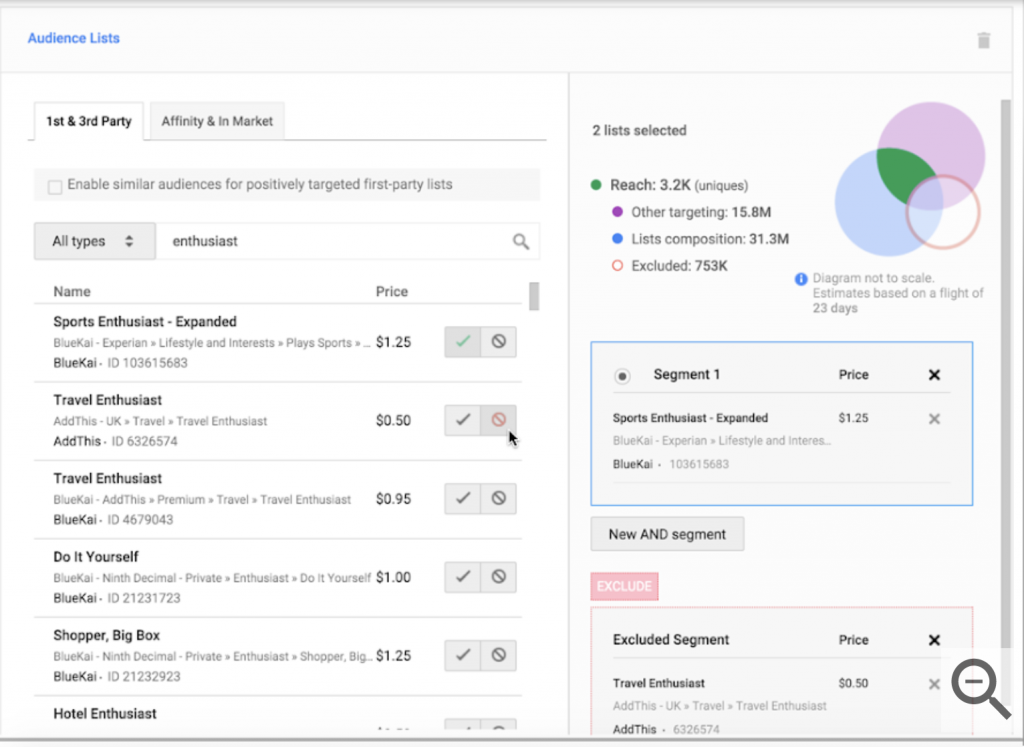 Audience Insights 
Once you have your audience lists, a report will be generated about your audiences. This report is called Audience Insights. It aims to uncover new opportunities and highlights information related to your remarketing lists. 
Here's how you can access Audience Insights:
Click the tools icon in the top right corner of your screen.
Under "Shared library" click Audience manager.
From the page menu on the left click Audience insights.
The Audience Insights report is organized into two sections: in-market audiences and affinity audiences, which were discussed above. (See different types of audiences)
What are the benefits?
Now that we know more about Google Audiences and Google Paid Search Audiences, the next question is, how important are these in marketing our store? Moreover, how can we use these to help us make our ad campaigns perform well?
Here are some benefits that can help all advertisers and marketers out there when it comes to using Google Audiences:
1. Expand ad group targeting
With reports from your Audience insights, it can give you new and relevant audiences to expand your ad group targeting. And when you have expanded relevant audiences, you increase your chances of conversion. 
2. Understand your audience better
Audience insights allow you to discover your audience demographics, locations, devices, and interests. With this information, you get to understand your audience better and create better remarketing ad campaigns.
3. Make informed decisions
Knowing more about your Audiences, it would be easy for you to make marketing decisions especially on how to target your ads better, on what bids to set, and a lot more. Making the right decision and strategy on your ad campaigns help you to avoid wasting a lot of your marketing budget. 
4. Drive more sales and conversions
You can reach and meet new customers who typically visited or taken action to your store (remarketing). This then can result in an increase in your store's sales. And when you focus on in-market audiences, these audiences are already searching products that are the same with what you are offering, and targeting them can help you secure conversion. 
5. Better benchmarking
You will be able to have a better benchmark strategy for your audience in your remarketing lists to compare against the general population. And if you have a better benchmark strategy, it will help you organise your audience list and get better insights out of this. 
How to set your Google Audiences up
Google Ads have preconfigured audiences that advertisers and marketers can already use. But if you don't want to use that, you can create new audiences from scratch. You can also import any of your existing segments to us as the basis for your new audiences. 
Once you are done creating and developing an audience, it will be available on the accounts you selected and can be used right away for your campaigns. 
How to create an audience
To create an audience, you need the Edit permission for the property in which you want to create the audience. Also, note that there is a limit of 2000 audiences per property. 
To create an audience, follow these steps. 
1. Sign in to Google Analytics.
2. Go to Admin (located at the bottom left, below the list of reports in the reports navigation), and navigate to the property in which you want to create the audience.
3. In the Property column, click Audience Definitions > Audiences.
4. Click + New Audience.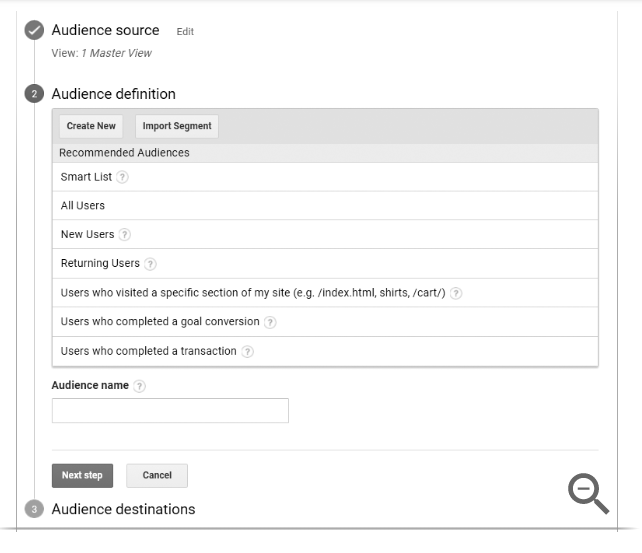 5. By default, your new audience is based on data from the current reporting view. Any users filtered from the view you use will also be filtered from the audience.
And if you want to change the view, you need to click Edit. Select a New View. Then click Next Step. 
6. In defining your audience, you can use Google's Analytics preconfigured audience definitions. And here they are:
Smart List – With Smart List, you let Google manage the audience for you. 
All Users – This refers to all the users to your site or app who already have the necessary advertising cookies or mobile-advertising IDs. 
New Users – This refers to users who have conducted only one session on your site or app. 
Users who visited specific section of your site/app
Users who completed a goal conversion
Users who completed a transaction
7. For membership duration, set the value to any number from 1 to 540. This will determine the number of days a user remains in the audience. 
8. Enter a name for your audience, then click Next step.
9. Under Audience destinations, use the + Add destinations menu to select the accounts in which you want to use the audience.
10. Click OK, then click Publish.
Things that you need to remember when creating a new audience.
To edit or upload a segment, you may refer to Google Analytics Help here. 
How you can apply the audiences to your Google Ads campaigns 
We've discussed the different types of audiences and how it can help us with marketing our site, but how can we really use audiences to improve the performance of our ad campaigns?
Well, here's how:
1. Classic retargeting campaigns on the display network
You can create retargeting campaigns on the display network by splitting up the audience based on their behaviour on the site to show them the exact product they were looking at. With this, you can focus on using the custom intent and the in-market audience. 
Moreover, you can also use remarketing audience. Remember, the remarketing audience are users who have previously interacted with your business. You can use dynamic remarketing campaigns to hook into your merchant center feed to show products from shopping campaigns but on the display network to people who have viewed that product. 
2. RLSA campaigns for retargeting to people on the search network
From the name itself, Remarketing Lists for Search Ads (RSLA), you can use remarketing audience to create ads to target to past visitors on the Search Network. You can target and customize ads designed to reach these visitors in the SERPs or on Google Search Partner sites. To know more about RLSA, click here. 
3. Creating campaigns using Customer Match
You can create retargeted ad campaigns using the customer match list. Since you upload a list of customers details on your Google ads, you can display ads to them when they are logged into a Google account like YouTube, Gmail, or Chrome. Since they are already a customer or have interacted with your store previously, it will be easy for this type of audience to think about your product when making a purchase or a repeat purchase. 
4. Testing and experimenting on different audience types using demographics
Demographics are good insights that you can use to know your audience better. You can use the information on demographics to test out some campaigns that work best on different audiences before targetting them. 
Wrapping Up
For your Ecommerce store, if you want to stand out in the competition, you need to have the ability to target custom audiences with high buying intent. 
This article just gave you some valuable information about how you can tap Google Audiences and use it to make your ad campaigns perform well. There are still a lot of ways on how to tap Google Audiences to make it work for you. 
But if you need help with it and don't know how to get started, we are here to help you leverage. 
We help e-commerce stores grow by taking advantage of PPC opportunities that bring the right traffic to your site. This means building audiences primed to buy and apply the tactics that promise the most bang for your buck.