I love to welcome the morning with a newspaper in my hand and a coffee in the other. I love to know what's happening around me while waiting for the effects of coffee to kick in and actually start my day. 
But smartphones came… and from the cat above, I am now this…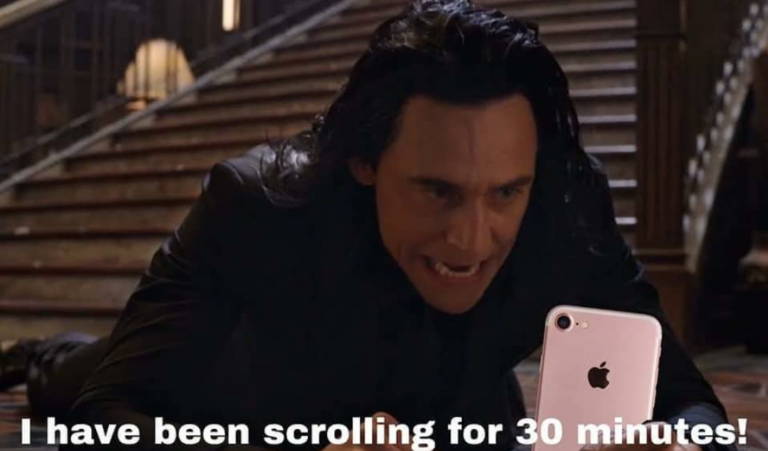 I now read the news through my phone. It is more convenient, handy and I've been reading a lot of articles and content that I really like, which is really amazing!
Well, that is thanks to Google Discover. 
The what?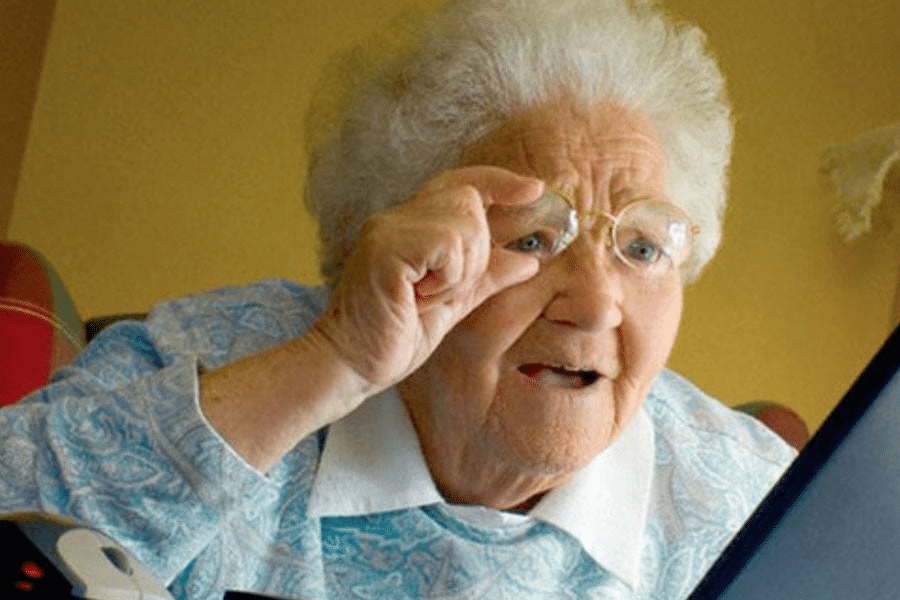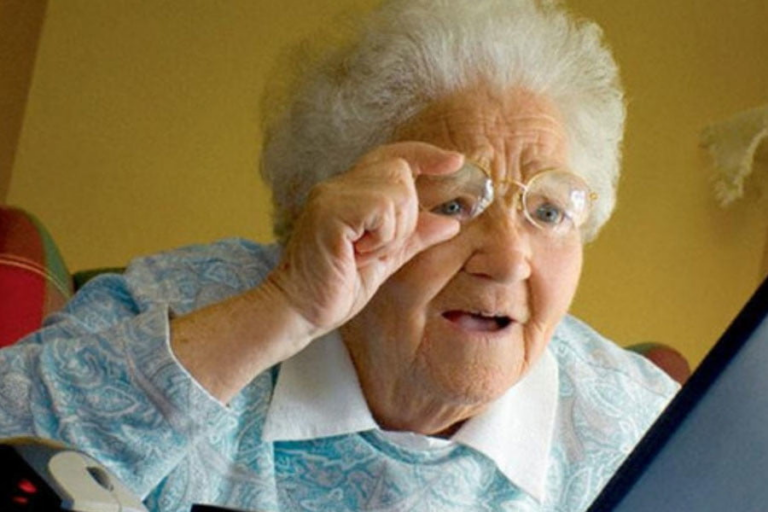 Formerly known as Google Feed, Google Discover is a feed that appears on the homepage of the Google app for iOS and Android. It also appears in the google.com homepage on mobile. It is the same feed you see on your social media account. You can customise the content you want to see on Google Discover based on your interest. 
This is how it looks.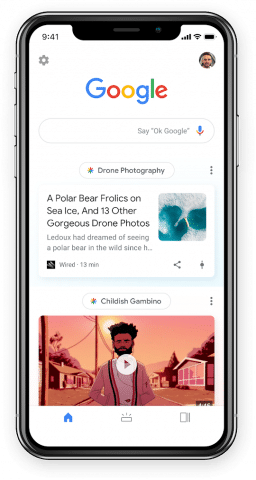 However, since you don't have friends or people to follow, Google curates the content on your Google feed with news, evergreen content, and local events that you might be interested in. Now this curation of content that Google might think you are interested in is based on your past browsing history or YouTube behaviours. 
Unlike Google Search where it aims to answer specific queries, Google Discover, on the other hand, aims to provide answers even before you ask the question. Well, this is not magic. It is actually Artificial Intelligence (AI) that makes this possible.
As you continue to browse and search on Google, Google AI is able to learn about your activity. With this, Google can tailor your newsfeed with content based on your preferences. 
Interestingly, over the past year or so, Google started infusing a bit of ad on its Google Discover feed, giving more opportunities to advertisers to market their brands and products. 
And this became Google Discovery ads.
Discovery ads, what are they?
Discovery ads are immersive and interactive ads that appear in Google Discover and other places in Google ecosphere. It is a good advertising strategy as it shows users tangible images and tells visual stories about their product. 
It has the same ability as the Google Discover feature wherein advertisers can show targeted ads to users who might be interested with their brand or product, based on the user's search history.
With the Google Discover feature, advertisers are able to show customers something they want before they even know they want it. 
This is a good strategy in generating demands instead of responding to a pre-existing demand. 
This is how a Discovery ad looks like on Discover feed.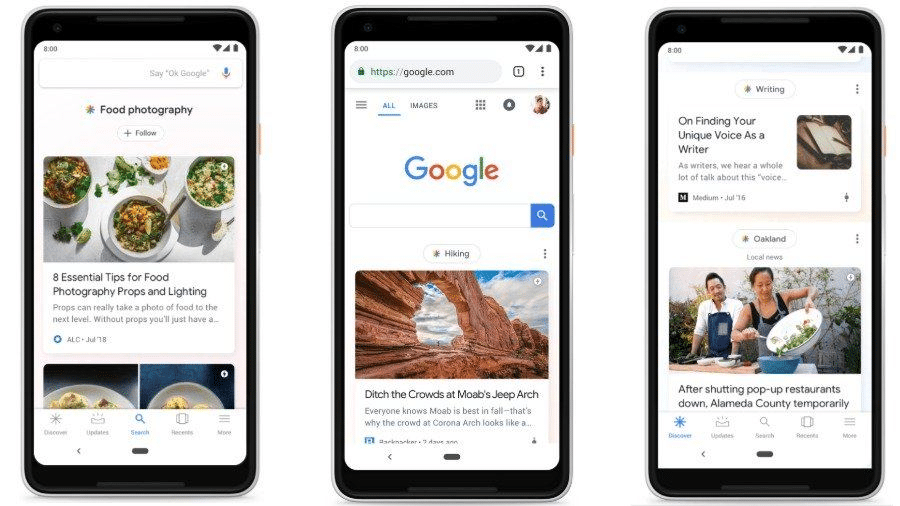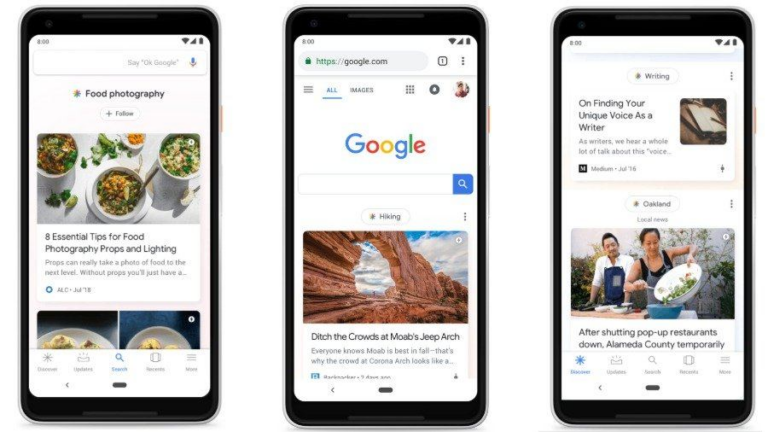 Places You Can Advertise Using Discovery Ads
With Google's AI and flexible environment, Discovery Ads can be seen in a lot of places in the Google ecosphere. As long as you are using Google products, you are more likely to bump into one. With this being said, there are a lot of opportunities for advertisers to promote their products. 
If you have an eCommerce store and are planning to use Discovery ads, here are the places where you can put your ads to target your audience as well as how your ads will look like. 
As mentioned, Discovery ads are a common view on Google Discover Feed. However, Discovery Ads on the Discover feed are not just limited to one photo per ad. Advertisers have the option to display one or more images that showcase their product or services in a slideshow format on the Discover feed. If you've seen a Facebook Carousel Ads, this type of Discover ad is the same as that.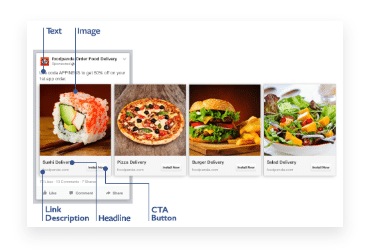 2. YouTube's mobile home feed
You can reach your potential customer on YouTube's mobile home feed, displaying as native in-feed ads with a thumbnail image, up to three lines of copy, and a call-to-action banner.
Discovery ads on YouTube will be shown to users who might be interested in your brand based on viewing habits and interests running alongside the search results. 
Once the user clicks the ad, he/she will be redirected to the YouTube watch or channel page to watch the video.
As mentioned, it also has a call to action banner that advertisers can use to land on a particular landing page. 
With Discovery ads on YouTube mobile home feed, you are tapping YouTube's 2.8 billion users per month. 
Discovery ads on YouTube's mobile home feed look like this: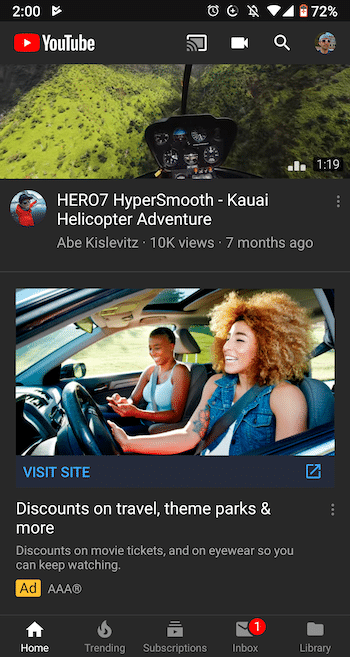 With over a whopping 1.5 billion monthly users, almost all advertisers would want to advertise using Gmail. But commercially produced emails can end up on the spam or junk folder. Good thing, we have Discovery ads. You don't have to create emails to infiltrate your customer's Gmail inbox. With Discovery ads, you can have your ad landing on Gmail's social and promotions tab, looking and functioning similar to a regular Gmail sponsored ads.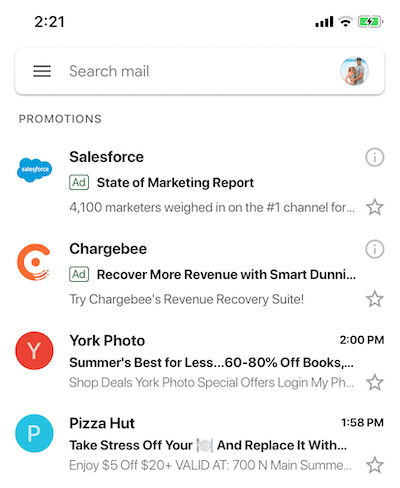 These are just some of the places you may bump into a Discovery ad. 
But why in these places?
Well, these places, Discover, YouTube, and Gmail, are three specific places users go when they are in learning and discovery mode. And ads that are on these locations are expected to perform well. 
Why? 
That is because according to a study, 76% of consumers enjoy making unexpected discoveries when shopping while 85% take product-related action (buying or add to cart) within hours of discovering a product.
That's amazing right?!
But just like any other ads, Discovery ads, no matter where locations you place it, are charged on a cost-per-click basis.  Furthermore, since Discovery Ads are in large format, visually engaging ads that look much like Facebook's Carousel ads, they are also centered around the same basic set of goals. 
Thus, you might want to create Discovery ads based on these objectives.  Promoting an event Explaining product features and benefits Telling your brand's story Showing off a line of products Remember, you should create Discovery ads based on intent.
You want your audience to feel like they are discovering something, instead of pushing something to them that they don't need. This is kind of annoying and nobody likes that. 
What are the benefits of Using Discovery Ads to eCommerce?
Discovery Ads create new opportunities for advertisers to promote their eCommerce stores aside from the traditional keyword-search-query-focused strategy. 
With Discovery ads, Google's AI will do the work for you by offering your ad to users who are likely to be interested in your brand or product just by knowing their search and browser history. 
We still don't have data on how to demonstrate the ROI of Discovery ads at this point, however, with captivating large images showcasing products in action are a surefire selling tool. 
But in essence, how will Discovery Ads be beneficial to advertisers especially when it comes to promoting an eCommerce store?
Let's look at these benefits.
Discovery ads offer a different way of expanding reach and getting in front of a potentially more engaged audience. 
Moreover, since Audiences are more targeted, advertisers get to reach people who are most likely to buy their products.
Even though there is still no way to track ROI using Discovery Ads, we already know that large images showing products in action are a potent selling tool.
Furthermore, not every potential customer knows that they are a potential customer unless they see an ad that compliments their interests.
So if you are after increasing your eCommerce store's sales, you better try using Discovery Ads.
There is less competition in using Display Ads since your ads will only display on places with users that you choose. Moreover, with less competition, you also get to pay less but at the same time getting the quality traffic that you need.
4. Attract qualified traffic
Discovery ads are a great way to nudge passive browsers into paying customers. Remember, reaching people when they are open to discovering something new is just as important as targeting them when they are looking or searching for something.
Discovery ads are based on Google Audiences. 
If you are wondering where Google Audiences is, you'll find it in the Audiences manager tab in your shared library.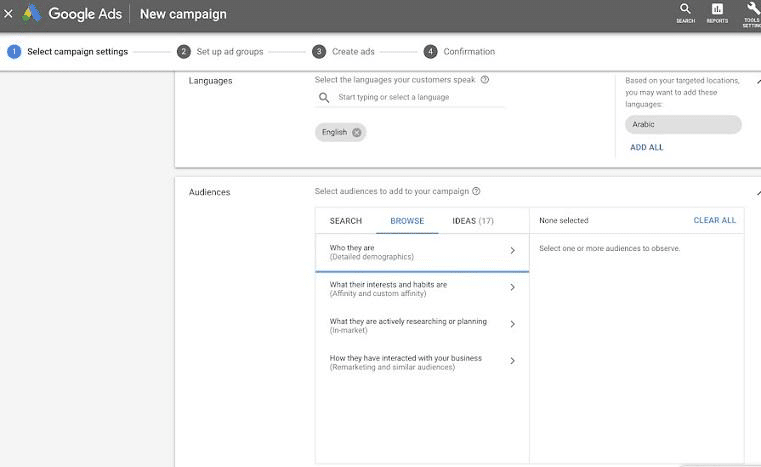 Google is using AI to identify users interests and preferences based on what users watch on YouTube, what they are searching for or which apps they downloaded on Play Store, among others. 
That is how Google Audiences are developed. 
With Google custom intent audiences you can target people based on certain custom criteria to ensure that your ads will only be displayed to your target audience. With this kind of audience customisation, you are most likely to generate conversions. 
Moreover, Google is also automatically creating audiences behind the scenes, which is like this: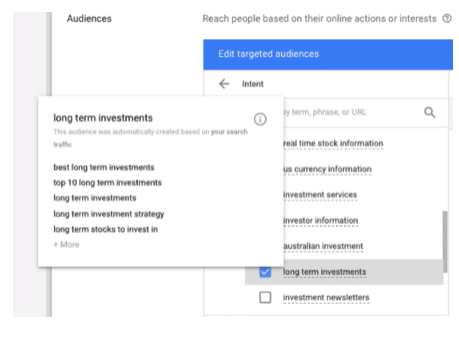 To display your ads to users, you need to create audience lists based on custom intent, affinity, and in-market behaviour. 
Let's run through them one by one:
Custom intent is using keywords to target users who show interest in a product, activity, hobby or content that aligns to what you are selling. Like for example, if you are selling gardening ornaments, you might want to target keywords that people use when they are searching about gardening furniture. 
If you still don't have an idea on how to build an Audience using custom intent, you can start on people searching for your competitors, best selling products or top converting search queries. 
By tapping on these, you are either targeting people who are aware of your competitors but might not know about you yet or people who have searched for you in the past. 
Affinity list comes from people who are passionate about a category of interest. Google AI is looking at how we spend most of our time online and categorizes us based on what affinity groups we belong to. For example, a user spends a lot of time looking at dresses, fashion, trends, etc. Then, he/she belongs to the fashionista category. He/she can also be associated with luxury shoppers affinity. 
It is good to dig deep through the different lists as Google does not always group affinity audiences in a way that makes sense. For example, Fashionistas is in the Lifestyle & Hobbies category, even though there is also a Shopper category which they can belong to as well. 
In-market these are people who are directly searching a new product to purchase. There are 19 in-market categories to choose from. And from each category, there are subcategories that you can pick from. 
For example, if you choose the Apparel & Accessories category, you will also reach people who are researching Jewelry & Watch, Luggage, Men's Apparel, Shoes, or even Swimwear among others, as these are the subcategories of Apparel & Accessories.
Discovery Ads won't be triggered by direct intent to buy. However, since you are targeting people on the discovery or research phase, your product is more likely to be considered by the user since he/she keeps seeing you on places he/she often visits. 
How to setup Discovery ads
New ad format for Discovery ads has not yet been released. But according to this screenshot snag by Search Engine Land for creating Discovery campaigns, you get started by entering a landing page URL, a logo, and at least one landscape image.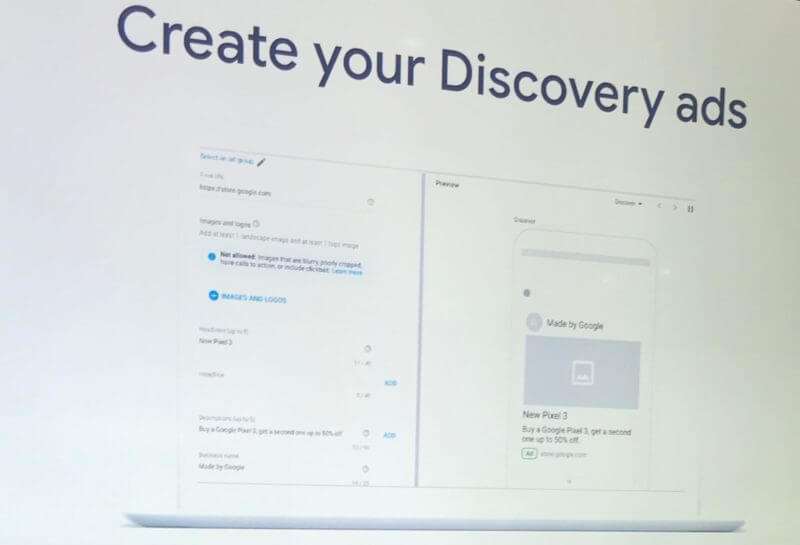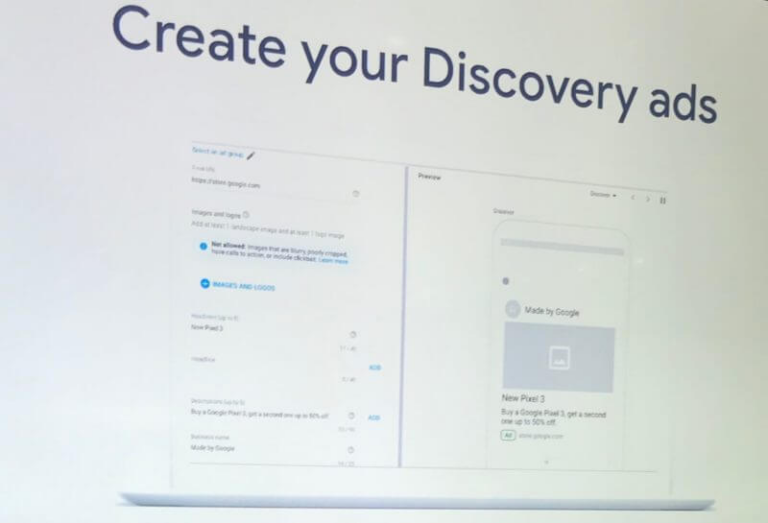 Furthermore, as per Google guidelines, images should be clear and have at least 1200 px wide. You may also use Facebook's carousel ad format for reference. Well, Google and Facebook don't have the same guidelines but the goals of multi-image creative style are quite similar.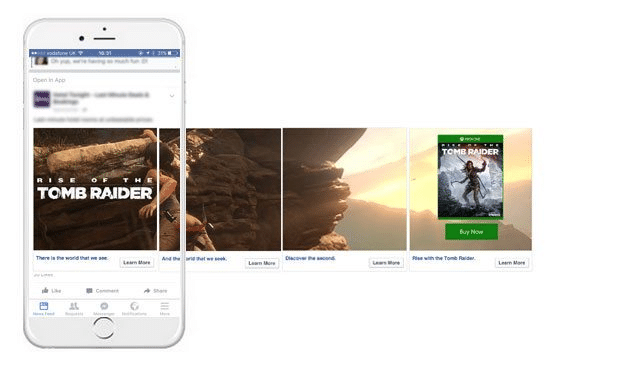 You also may enter up to five (5) headlines and up to five (5) descriptions for testing and a preview will show you how the ad will look as you enter all the elements. 
Just like any Google ads, Discovery campaigns must also adhere to Google Ads policy guidelines and personalised advertising guidelines. 
According to Google Ads Help, Discovery ads must meet these requirements:
1. Call-to-action element in images
Images that include CTA elements like clickable text or buttons or elements that mimic them, even if they are not clickable are not allowed. If your image is like this, you need to upload a different image that complies with the policy if you want your ad to be approved. 
2. Misleading content
The copy that you will use on your content should be accurate and descriptive of what you are advertising. Misleading copies that trick users into interacting with the advertisers are not allowed. 
3. Image quality
Avoid using a low quality image. Low-quality images include gimmicky text, provocative content,  negative or disturbing themes, graphic illustrations, poorly cropped images and 'selfies'.
How to Monitor the Success of your Campaign
Whatever campaign you are running, it is always important to track your campaign's performance to see if it is working or not and to make necessary adjustments. And so, just like any other ads, Discovery ads need to be monitored.
Monitoring Discovery ads are just the same as how you monitor your other Google ads. 
If you want to view your Discovery ads performance, sign in to your Google Ads account and from the page menu on the left, click Ads & Extensions. 
To know how your ads are performing, refer to the Status, CTR, and average CPC column under the Ads & Extensions dashboard.
1. Status
This column shows if your ad is running. If your ad is tagged "Eligible" then that means your ads may be served. You may check all the list of statuses here. 
2. Click-Through-Rate (CTR)
CTR is one of the main indicators if your Discovery ads and other ads are doing well. It shows how often people click your ad after seeing it. If your ads' CTR is under 1% it means that your ads aren't targeted to a relevant audience. This means you need to make adjustments. Google Ads Help is suggesting these ad tips to help you improve your CTR. 
3. Average cost-per-click (CPC)
Average CPC is different from Max CPC. Average CPC is the average amount you pay each time someone clicks your ad. It is determined by totaling the cost of all clicks and dividing it by the number of clicks. 
Conclusion
Discovery ads are a game-changer in the PPC industry. From search to intent, it has the power to turn a regular user who browses for specific stuff into a paying customer. It helps every eCommerce store owner to expand their inventory by placing ads in front of people before they even know they want the product or service. 
Google AI watching our every move may seem a little creepy. But this can actually help users to have a smooth learning and discovery phase and at the same time helping advertisers to meet their customers. It is a win-win situation. 
Discovery ads are just one of the many exciting things that are happening in the PPC industry. We know that it can be overwhelming for some advertisers, that is why we, at Key PPC, are here to help you navigate into all of these amazing changes. 
So make sure to get in touch and we love to do the work for you.