Continue reading below to learn about the simple process for a streamlined installation of Google Analytics for Shopify.
Step by Step Guide to Install Google Analytics for Shopify
Before anything else, make sure that you don't already have Google Analytics enabled for your Shopify store because that will cause inaccurate data to be generated. Go to your Shopify Admin dashboard and navigate to Online Store and Preferences to be sure about this. In the section for Google Analytics, ensure that the only text you see is "Paste your code from Google here".
If you don't already have a Google Account set up, you need to do that before using Google Analytics. If you have Gmail or Google Ads, you already have a Google account, and you don't have to set one up.
STEP 1: Enable Google Analytics
Open your Google Analytics account and navigate to the Admin tab in the right bottom corner of the page. Then go to the Ecommerce Settings tab and turn on the Enable Ecommerce and Enable Enhanced Ecommerce Reporting buttons. Click Save.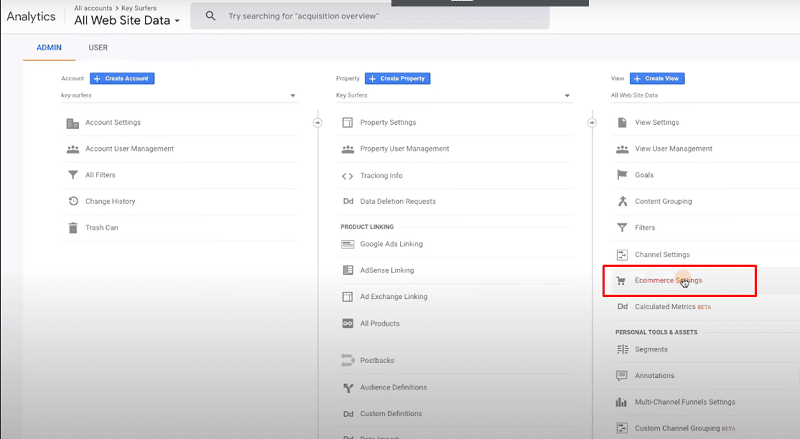 STEP 2: Get the Website Tracking Code
Go back to the Admin tab, navigate to the Tracking Info tab, then click Tracking Code. Copy the website tracking code.

.


STEP 3: Paste the Website Tracking Code in your Shopify Website
On your Shopify website, navigate to Online Store, click Preferences, then scroll down to the Google Analytics box. You can paste the code you've copied from Google Analytics in this box. Then click Save and make sure that Use Enhance Ecommerce is checked 🗹.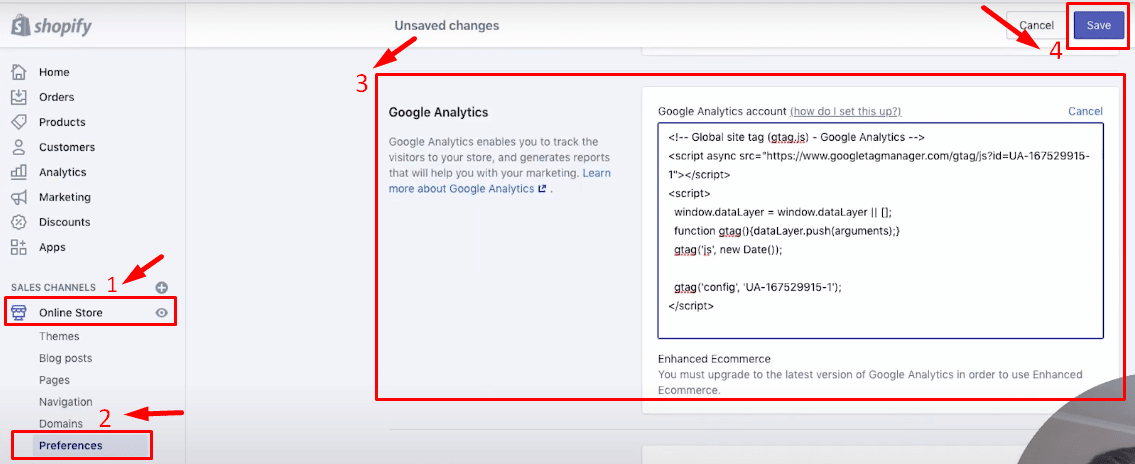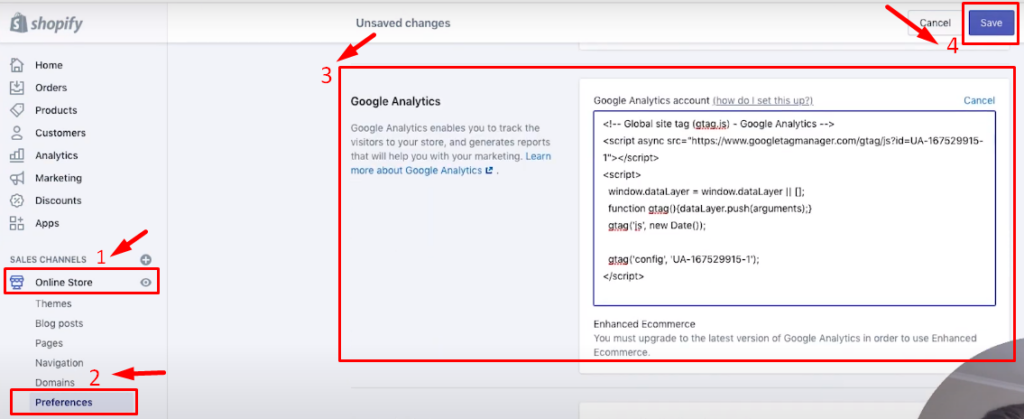 STEP 4: Check if your Google Analytics code is working.
There are two ways to check if Google Analytics was successfully installed in your Shopify store.
1. You can open your website in a new tab then go back to your Google Analytics account. You should see that there is already an activity under Status.



2. You can also check the Realtime report, and you should see how many users are viewing your website.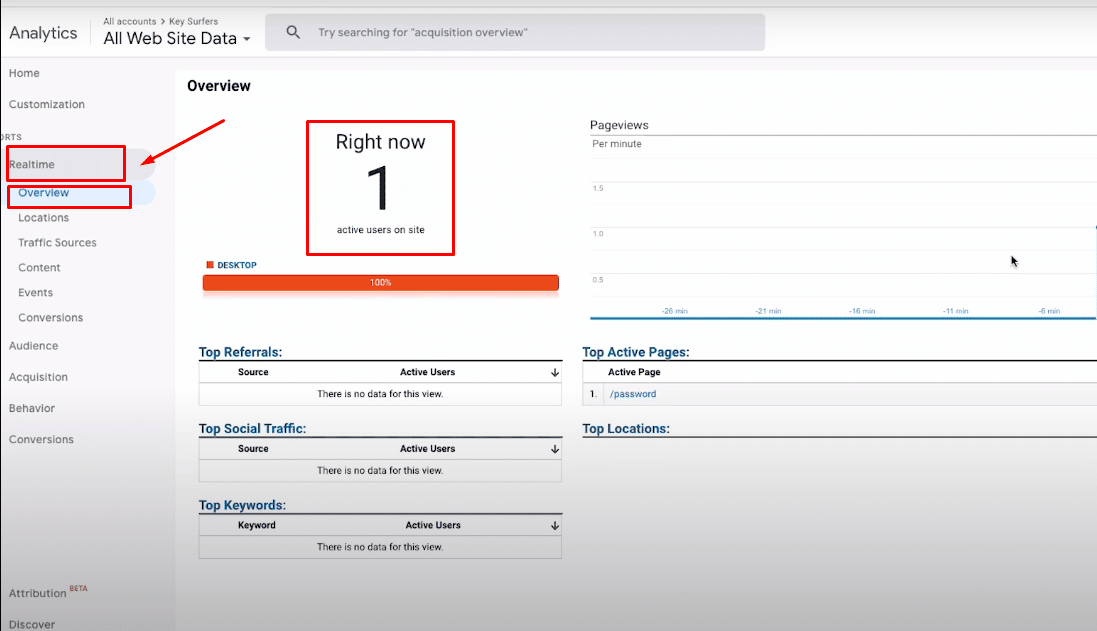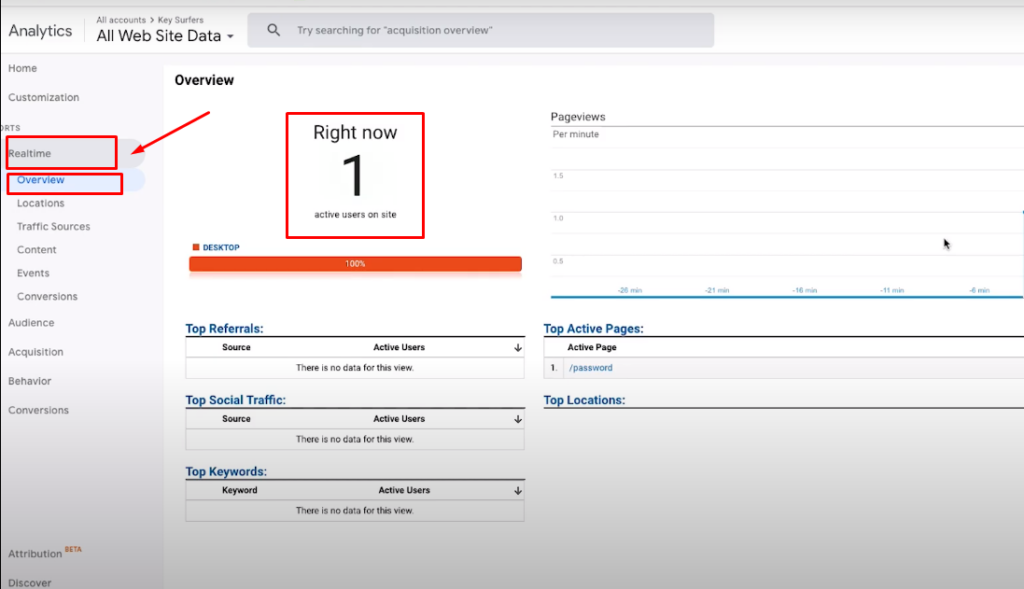 YES! You've successfully installed Google Analytics on Shopify, and you can now start tracking all conversions activities on your Ecommerce website. To view this, go to Conversions under Reports, then click Ecommerce > Overview.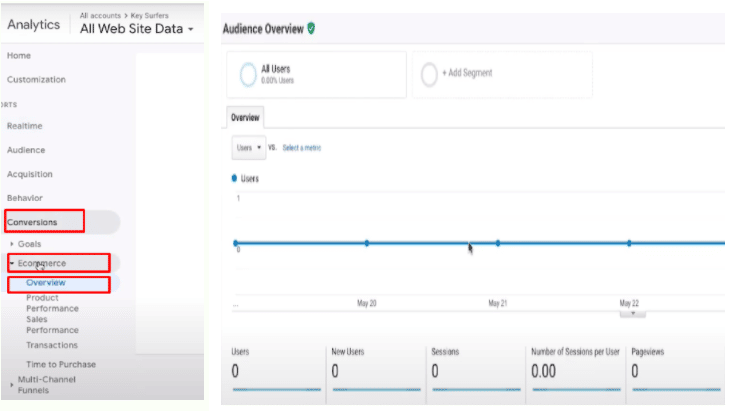 What is Google Analytics and Why Do You Need It?
Google Analytics is an entirely FREE tool provided by Google that helps you analyze traffic to your website. That makes your Ecommerce store the best vehicle for providing a holistic view of the effectiveness of all your online campaigns.
Google Analytics is a tool that can provide a wealth of information about your digital marketing effectiveness. This, in turn, can help you tweak your processes to make them even better.
The Basics of Google Analytics
Google Analytics places a few lines of tracking code in the existing code on your website to accomplish all the tracking and monitoring it does. This code tracks the activities of your users whenever they visit your website and records information such as user age, gender, and general interests. When the user leaves your website, all that information stored is then sent to the Google Analytics server. At some point, all your specific information is collected either by user level, session level, page view level, or event level.
As you might guess, there's literally a ton of information provided by Google Analytics, and mastering all this information can be tricky, even if you're an experienced marketer. While there is an endless number of reports you might be able to generate using the statistical data gathered by Analytics, there are several reports which stand out from the rest in terms of importance and relevance to your business.
Mobile Performance Report – This report details how your mobile operations are performing.
Traffic Acquisition Report – This report will give you valuable insights in terms of identifying information about website traffic.
Content Efficiency Report – This is an essential report for your business to know how effective your site's content is.
Before developing your own custom reports, you should understand the canned reports available in Google Analytics because many of these are extremely valuable in pointing up various aspects of your site's performance.
There's no doubt about the tremendous value that Google Analytics provides to your Ecommerce store. This is undoubtedly one of the best tools that will help you gauge the performance of many aspects of your business. When used in conjunction with your Shopify store, Google Analytics can tell you a great deal about how your store is performing and where you might need to make adjustments to improve the overall performance of your campaigns and your website.