They started to recognize underused and underrated features such as remarketing lists for search ads (RLSA).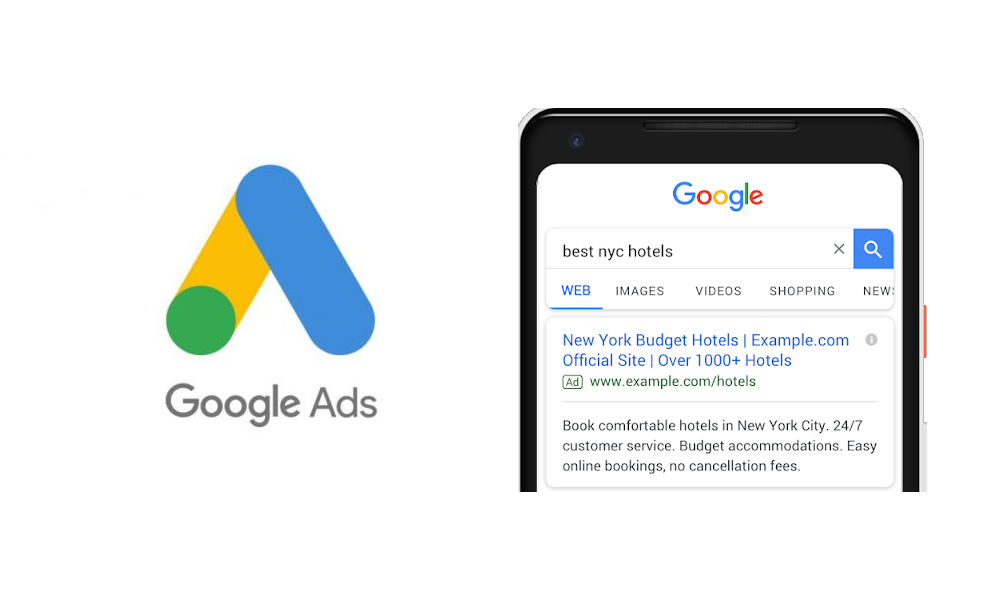 In this article, we will explain what RLSA is and why considering the campaign is a smart choice for your e-commerce brand. 
What is the RLSA Campaign?
Remarketing Lists for Search Ads is a Google search feature that allows you to personalize your campaigns based on the preference of your past site visitors. The campaign is a more profitable and cheaper advertisement since it does not cover building brand awareness anymore. It specifically targets the audience whom your company has had an engagement with before. Chances are, they already know about your products. All that's left for you to do is persuade them more. 
RLSA campaigns deviate from traditional display marketing. The only similarity the two strategies have is the use of cookies to track users to add them to the advertiser's target list. Other than that, they are different. The former is more complex than the latter. Traditional display marketing only shows ads to users when they are surfing or browsing on Google Network, whereas RLSA is not automatic. Users see your advertisement as they actively search on google. An RLSA campaign heavily relies on keywords bids. 
To make it clearer, here are some of the RLSA campaigns that you can perform if you make use of the feature. The list also debunks the practices of many companies. Such a campaign does not only work by arranging the best keywords possible. This is how search ads RLSA campaigns are maximized. 
RLSA Campaign 1: Coordinate or send your message across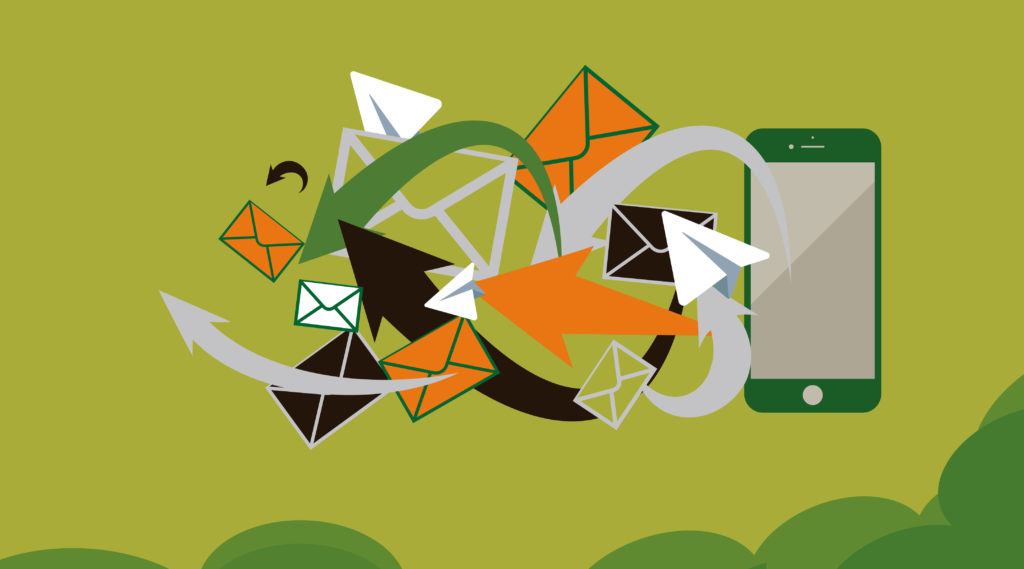 Do you want to know why? Because you tailor your bid based on what each of your potential customers wants and relates to. 
This means you can drive more conversions with this approach.
Here are the things that you should do to coordinate your message now that we have gotten your attention. 
First things first. You would have to create a remarketing tag for particular traffic behaviors.
Of course, add bid modifiers in your ad group to guarantee it matches the tag's behavior.
If you're having a hard time imagining, here's an example of how message coordination works with RLSA. 
Say you're a jewelry store owner and a potential buyer searches for diamond rings. What you can do is create an RLSA campaign that shows the benefits of such a type of ring. Similarly, you can also put forward promotional ads displaying discounted diamond ring price offers if you have one. When you approach e-commerce like this, it can bring more revenues to your company. 
Shoe manufacturer Clarks is a good case in point. Its RLSA campaigns boosted its revenue as the ads generated £6 for every £1 invested. The company was also able to show impressive results with a 15 percent generic conversion rate. Thanks to the traffic driven by such a retargeting campaign.
RLSA Campaign 2: Targeting the demographics of potential shoppers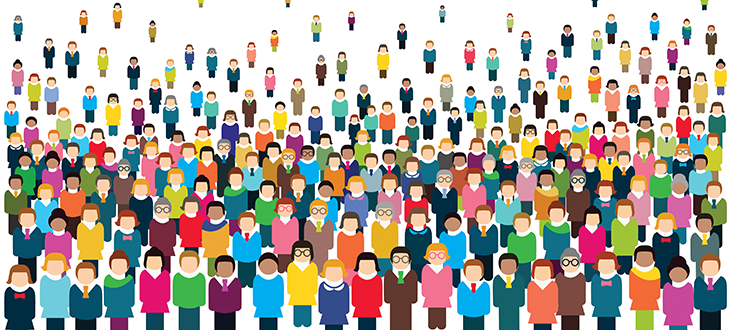 Perhaps, you are already familiar with demographics targeting since it is widely used by all types of businesses. However, you might not be aware of what more you can do with it. We are here to help you extract the full potential of demographics targeting. It lies within the combination of such a targeting approach and remarketing campaigns. This is how the merged concept works if it is fresh and new to you.
Say you sell a product that appeals to a particular gender or age (or any other demographics), you can curate your RLSA campaigns in a way that matches the preference of your target customers or past visitors that express your selected demographics. You can put out products or promotion search ads based on it. 
RLSA Campaign 3: Stir up some healthy competition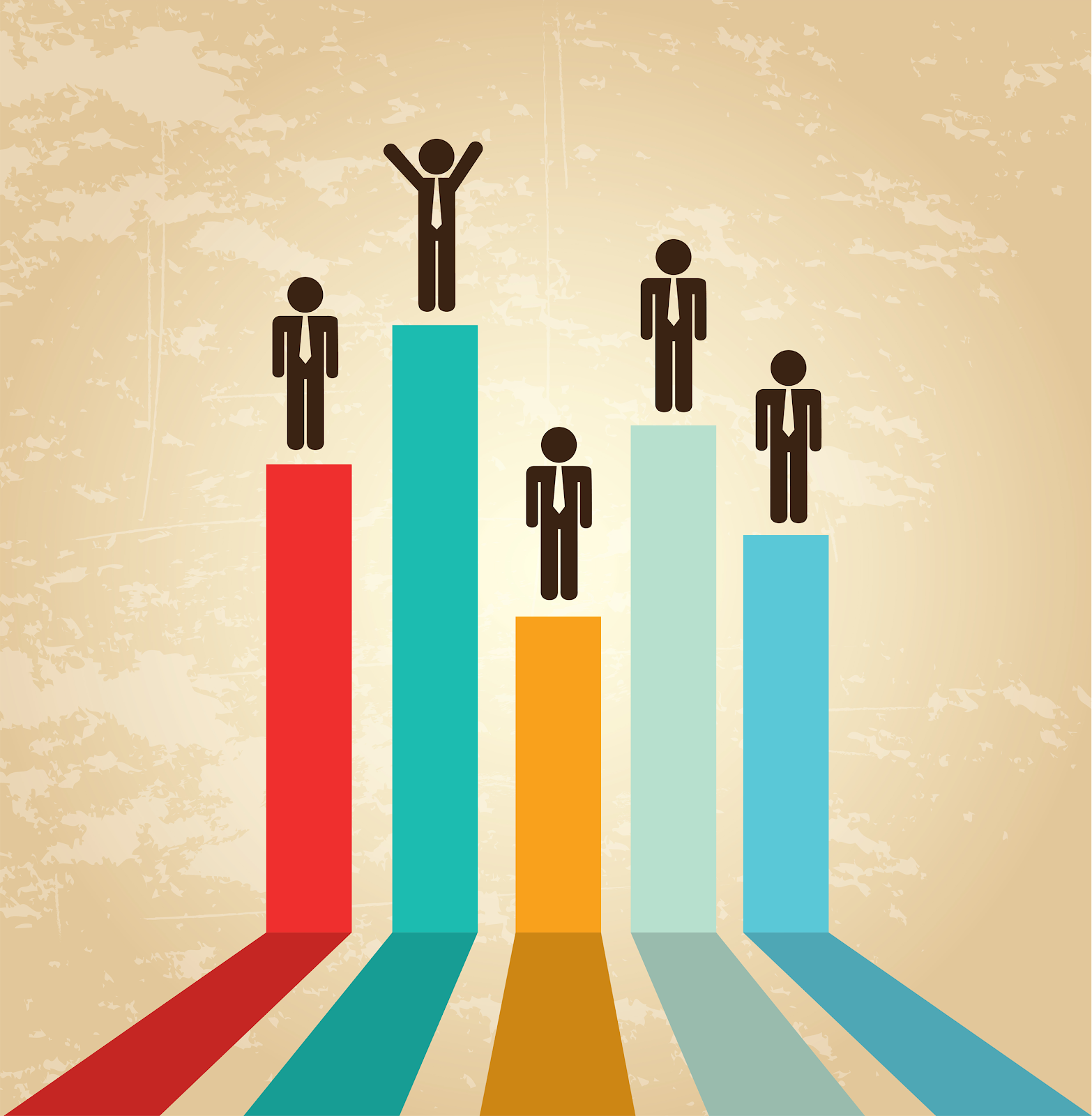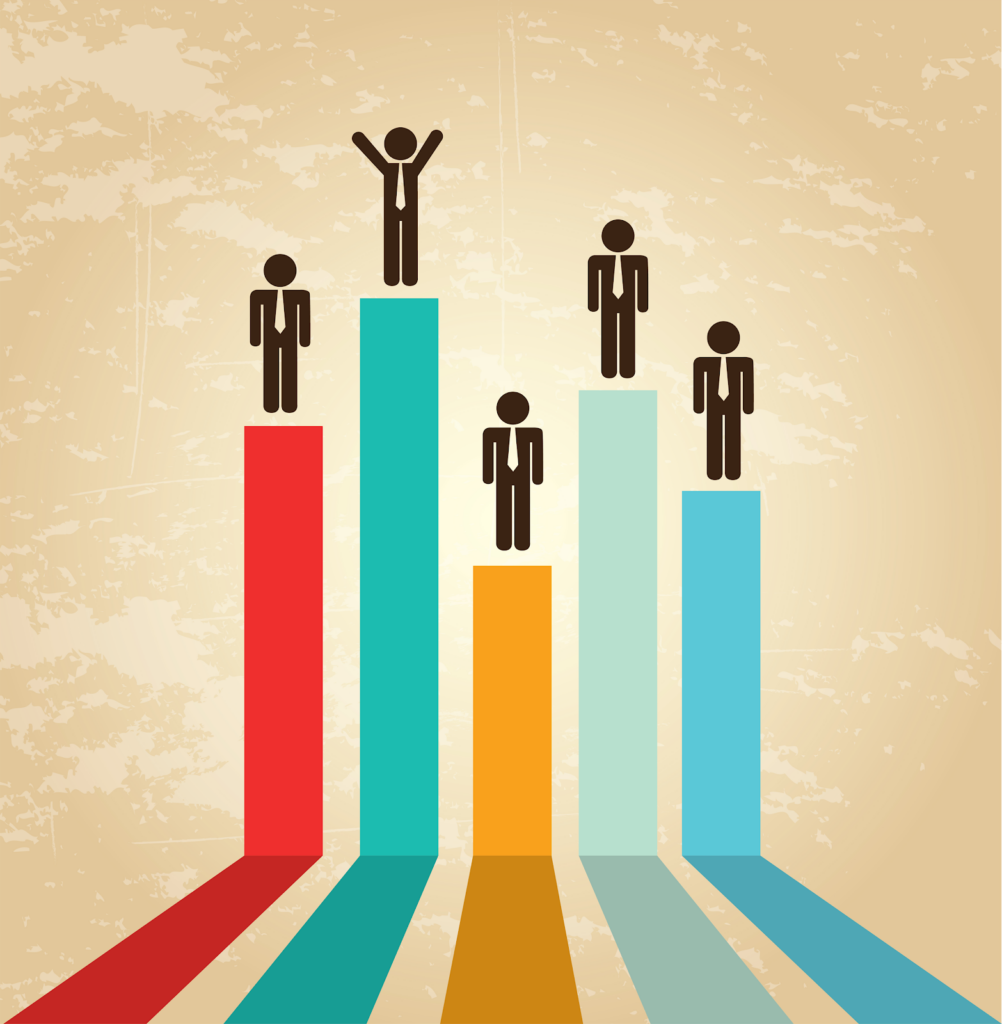 Business is business. One way or another, you would need to engage in a competition to lead your way to the top. As long as it is healthy, there's nothing wrong with it. One of the competitions for e-commerce brands is your remarketing or retargeting campaigns. How you re-engage with your past customers dictate how much conversions you can add to your business. 
You can use keywords including that of your competitors' brand when you use RLSA campaigns. Displaying such a tag to your potential customers can help you boost your sales and productivity since they would certainly be placing themselves in a comparison shopping. 
Keep this in mind!
Maximize the use of your brand name and do not settle with it being on remarketing campaigns only. You can target it also. Such a strategy will assist you in connecting with people who have seen your brand awareness campaigns on any other platform. Into the bargain, it can help your business in cases where your competitors bid on your brand name. 
RLSA Campaign 4: Saving abandoned carts!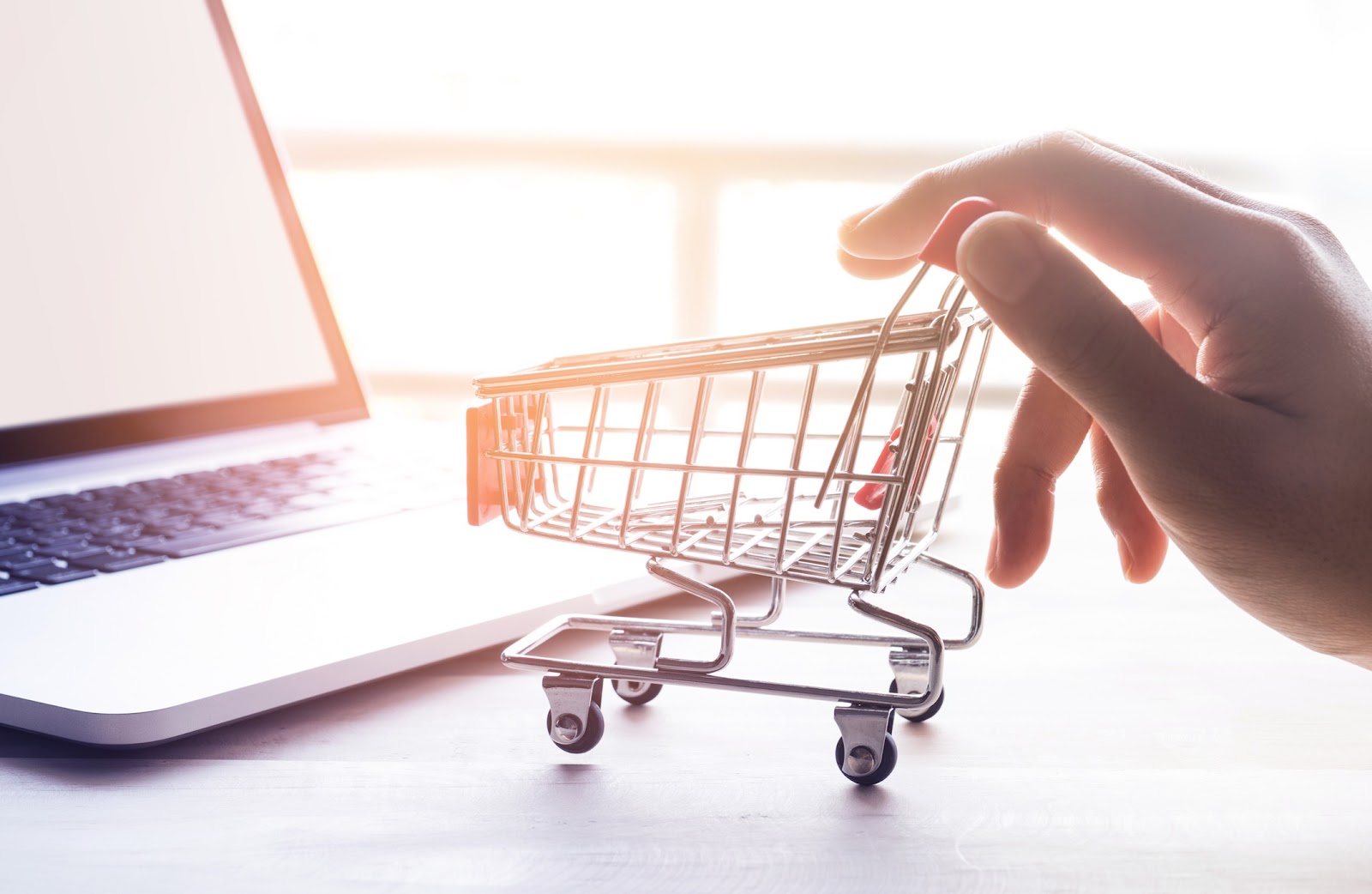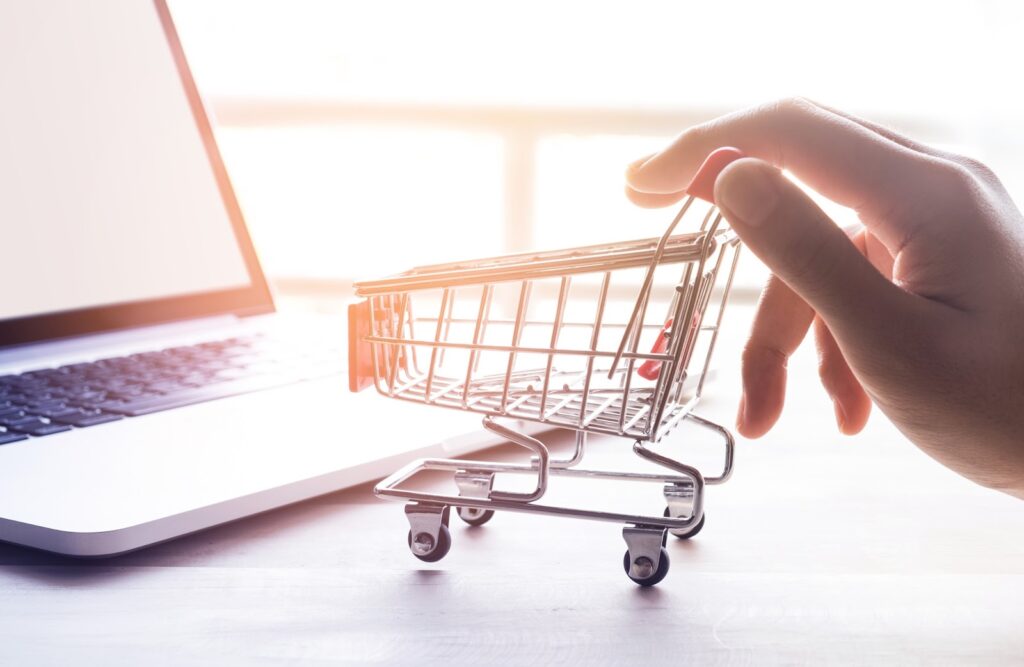 Like what's been mentioned multiple times in this article, the good thing about RLSA is it allows you to target potential customers that are already aware of your brand. Moreover, it re-engages you with shoppers that, most of the time, have higher buying intent than any other customers. For that reason, the use of RLSA campaigns can be highly profitable. Saving abandoned carts is a good case in point. You can boost your products by adding them to shopping ad groups. 
If you wish to know how to do it, here is the step-by-step guide that we arranged just for you.
You can either create a new shopping campaign or choose an existing one and an ad group.
Once you are done, click Audiences from the page menu along the left. 
Look for the pencil icon and click it. 
You would then need to select a campaign or ad group under the Add to tab. 
Select the remarking list that you wish to use.
Explore your options and select what best fits your plan. 
Click Save after. 
Add the snippets of your remarketing event on your site. 
RLSA Campaign 5: Combined RLSA and DSA
One of the most underrated RLSA campaign examples is the combination of RLSA and DSA (Dynamic Search Ads). Nonetheless, it can be extremely effective. Did you know that Retailer Grainger had nearly a 1000 percent increase in conversions, return on investments (ROIs), and CTRs when the company used RLSA and DSA at the same time? You can achieve such a milestone too. 
If you use RLSA in your DSA, it only means that you use the power of dynamic ads on your remarketing campaign as well. With such a combination, you can reach more customers and increase your sales.
First time to hear about Dynamic Search Ads? Don't worry! We are here to fill your curiosity. 
DSA is a feature that specifically targets relevant search queries. They help fill keyword gaps to ensure a better return on investment. They also help companies create a smoother and easier campaign creation workflow. Imagine using that while enjoying the benefits of RLSA. 
Benefits of RLSA Campaigns on E-commerce
E-commerce brands can benefit from RLSA campaigns more than they realize. Most of the time, RLSA is only ineffective when not used properly. But if a company is well-aware of how it should be employed, it can bring their businesses to greater heights. Here are some of the perks of using RLSAs. 
Re-establish connections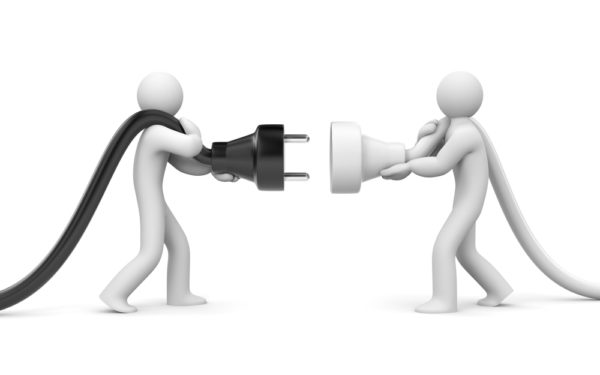 RLSA campaigns can help e-commerce brands like you to get in touch with your past customers or site visitors. Re-engaging with your market base is a good way to boost sales. They already know your brand and if they have had a great purchasing experience before, chances are, they would buy again. You can display products similar to that of their past purchases. 
Since you have interacted with them before, RLSA can help you make use of their purchasing patterns before and capitalize on it. 
Filter products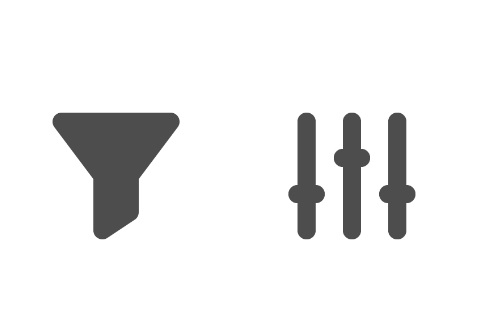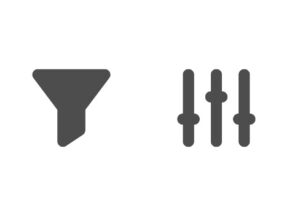 Source: Entavo
Of course, customers who see the same products they have purchased from you before are likely not to buy the items anymore. When you do that, you miss an opportunity of selling other items that they might like instead. This is where RLSA comes in. It can help you filter products so potential shoppers see your best offers. This strategy can help your e-commerce brand boost its sales. 
Disadvantages of RLSA Campaigns on E-commerce
RLSA campaigns can drive conversions or help you produce greater revenues. Needless to say, it has some disadvantages or challenges that can be vexing sometimes. Here are some of them. 
A Set Threshold of 1,000 Members
Although RLSA is a paid search marketing, you cannot effectively use it right away. You still have to meet some requirements before you can maximize it. One of the most challenging demands of RLSA is reaching the threshold of 1,000 members on the remarketing list. It might seem to be a small number but it is not since only unique site visitors are counted. 
In other words, repeated visits from the same person only correspond to one membership. For that reason, fresh advertisers do not get as many benefits as Pay-per-click (PPC) veterans. With inadequate member count, the data they work on is very limited. Nonetheless, you can do so much when you reach the minimum. 
Audience Limits Volume
This is one of the biggest issues of RLSA. Indeed, the campaign can help you generate a high Return on Ad Spend (ROAS) but it often lies at the costs of volume. RLSA helps you get in touch with your past customers or site visitors but it does not target those who are unfamiliar with your brand. A low volume search can hinder your brand growth. Hence, you should work your way around it if you wish to subscribe to RLSA. 
Maximize available resources and platforms such as social networking sites to drive more traffic to your website. That is one way to resolve it! 
Reliance on Initial Traffic
Your e-commerce brand initial traffic will dictate your conversion rate. If it does not start well, RLSA campaigns cannot drive a good number of conversions or increased revenue in your company. Hence, the use of remarketing lists is quite risky. 
Why is RLSA One of the Biggest Gold Nuggets of E-commerce? 
E-commerce grows more successfully with the help of remarketing lists for search ads and here are some of the reasons why. 
Cost and Delivery
Your company can enjoy the benefits of RLSA for a very cheap price. Since your target customers are already familiar with your brand, you do not have to spend so much anymore on brand awareness building. But more than that, deciding to use RLSA is a wise choice because it delivers insanely high ROAS for a price within your reach.
Increased Keyword Bids
Again, RLSA targets a smaller group or those who have had an engagement with you before. Thus, it allows you to optimize your bids on keywords. With increased bidding, you can reach more people on your remarketing list. Apart from that, you can also employ terrible keywords but only bid on them when a potential buyer already clicks on your brand. 
Remarketing Goes Beyond One Platform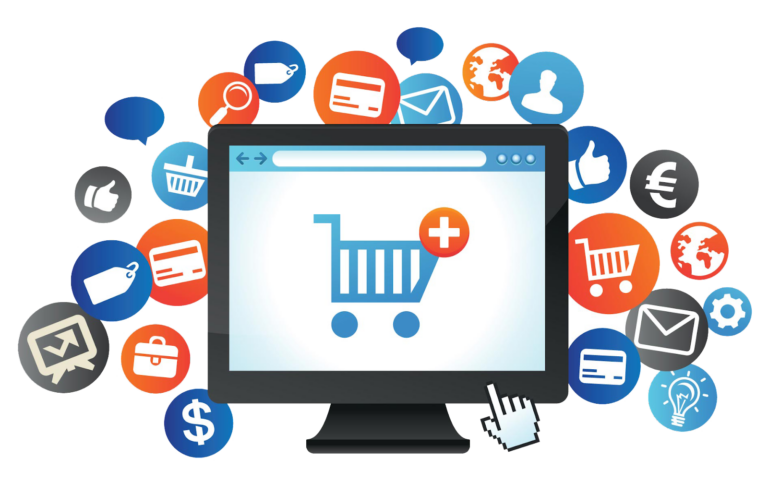 Source: Delnext
Of course, your company can maximize your conversions and revenues when you display your brand in more than just one platform. It provides you with a wider reach. With RLSA, remarketing goes beyond a single platform. You can retarget potential shoppers that have seen your brand elsewhere. 
Let's assume some of your potential customers know you from sites like Facebook, Bing, and other possible websites. It is great because now they already have an idea of what products you offer. So when they search in Google to seek more details about your offers, RLSA helps you match it. 
You can curate an RLSA campaign that works in their preference and display a cheap ad. And voila! Your brand is now right in front of a potential customer because other companies would not dare post such advertisements. It is usually a terrible keyword and offers a low conversion rate but can be made otherwise when used this way.
Effective Strategies for E-commerce
Here are some of the effective remarketing strategies you can consider for your e-commerce brand to operate more successfully. 
Split up ad groups
Perhaps, you have already heard about building your content based on what customers like. If yes, then splitting up ad groups work with the same concept as its baseline. You should separate your ad groups depending on how your audiences interact on your site. Not all shoppers engage with stores in the same way. You should establish a pattern and merge those that are the same. 
After you are done splitting them up, that is when you display campaigns that each of the ad groups can best relate to. 
Display the Same Product Ads
Showing the same product ads depending on the items that your potential customers have viewed is how you should do the targeting strategy. This approach can help you produce more revenues since you trigger the customers' buying intent. They viewed the products for a reason so why not capitalize on it. 
Don't be afraid to go broad with your keywords!
Producing broad keywords have been deemed ineffective when using other remarketing features. But with RLSA, you can go as broad as possible to bring your brand across potential customers. Your remarketing list is only composed of qualified buyers or those who have had interaction with your company before. Hence, you do not have to worry about losses. 
Doing otherwise or producing too specific keywords will limit the number of people who can see your products. Thus, it poses a bigger financial threat than investing in broad keywords. Don't be afraid to go broad so it can reach a wider audience. 
Here are two ways to do it.
If you are a beginner, this strategy is more fitting. Start with lower bids and increase your big modifiers when more traffic is driven in your site to create a broad match campaign. 
If you have been using RLSA for quite some time now, try this instead. What you need to do is clone your exact broad match campaigns and add RLSA targeting. It lets you connect not only with a larger market base but also with people who have higher buying intent.
Final Thoughts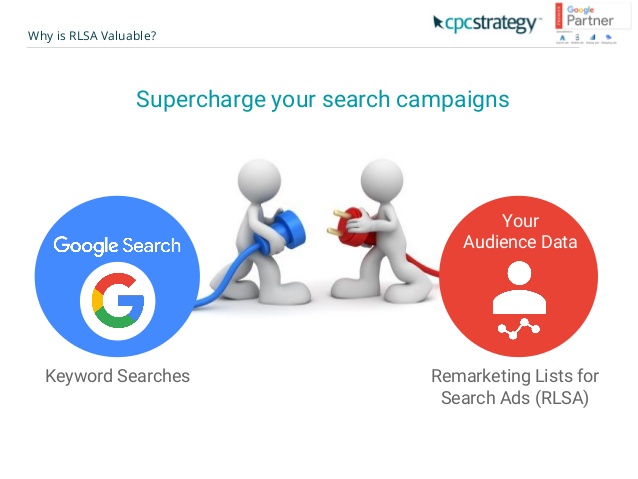 Source: Slideshare
RLSA may be more challenging due to its complexity but it can bring your e-commerce brand in better business status. Make sure to keep in mind the best strategies to apply when using the remarketing feature to guarantee your company a maximized potential. 
The RLSA Campaign guide for Ecommerce Google Ads
After learning a great deal about e-commerce, Ella decided it was time to give it a trial. Her focus was on electronics (audio and video devices and Televisions accessories).
Since she wanted to increase her market base, she resolved to build an e-commerce site. She also took HD photos of her products, uploaded them to the site, and wrote compelling descriptions.
Lucas is interested in a home theatre system. He logs into his computer and type 'best home theatre system' and hit 'enter.'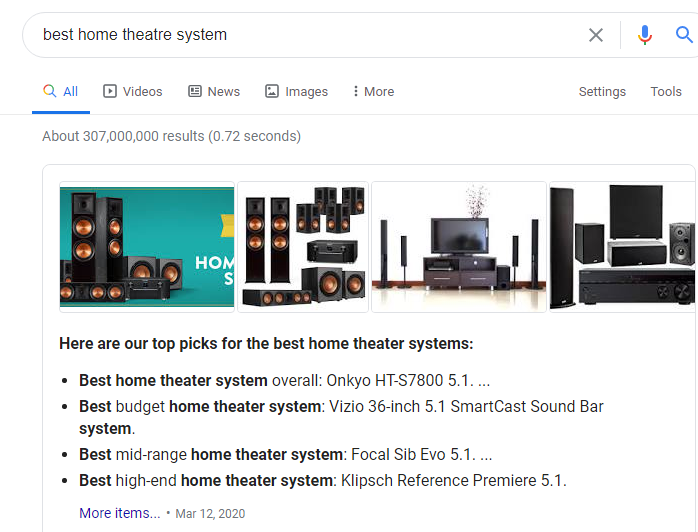 Ella's store was among those in the search results. Lucas visited the site, clicked on one item displayed, and checked the details before closing the tab after some time. He decided to buy the home theatre a few days to his birthday party.
What digital strategy could Ella use to attract, engage, and delight Lucas when his party is impending, and he needs a home theatre system?
How can she create an irresistible offer that compels Lucas to purchase the specific home theatre system he checked out last time?
That's what this guide is all about. Therefore, read to the last word.
What are RLSAs campaigns?
Most advertisers are still stuck with Google Display Network when it comes to remarketing. It's also another form of remarketing like any other and delivers results if undertaken effectively. Nevertheless, you will realize that this method is slowly losing taste.
You see, people don't really like ads because of their intrusive nature. They have gotten used to the banners. Most of them simply ignore them on the display site.
The ad blockers are not lenient either. About 30% of internet users in the world are currently using them. Imagine losing 30% of your customer base.
Not pleasing, right?
Don't worry, however, because RLSA came in to change the game.
With RLSA campaigns, Google Ads allows you – as an advertiser – to run customized remarketing campaigns targeting people who had already been to your e-commerce site.
With reduced costs and a high-intent audience, this form of remarketing is much better than conventional remarketing campaigns.   
Here is a simple illustration to help you understand better.
In our earlier case, Lucas, who has been on Ella's site searching for the best home theatre system, failed to purchase it. However, he still has an interest in the item.
Ella, having known what Lucas wants, will go the RLSA way since it's the most profitable. When Lucas searches for the same keyword again, Ella's site will show up with increased bids and a customized offer for Lucas.
The end result is that Lucas will most likely land on Ella's site and purchase.  
Different Targeting settings for RLSA
There are two options for remarketing using RLSA:
Increase bid amount: You can choose to increase your bid on the keywords that attracted the people on your list. That can increase the chances of getting their clicks and bringing them back to your site. For example, you can increase the bid amount for 'best women perfumes' by 50% after realizing the potential it has.
Bid on new keywords: The people in your RLSA will always search using other related terms that you are not targeting. Thus, the second option is to target those people by bidding on broad or shorter terms.
Benefits of RLSA campaigns for e-commerce stores
RLSA campaigns deliver insanely high ROI for most e-commerce businesses because of the following reasons:
1. You are remarketing to people already familiar with your products
Once a customer lands on your site from Google or any other digital channel, he becomes familiar with your site and the products you sell. He will then enter into your specific remarketing list based on his actions on your website. 
After some time, when he searches for the same products on Google and land on your site, he will most likely buy because he is already familiar with the website.
That's the beauty of RLSA campaigns. Instead of targeting new customers who, obviously, wouldn't buy from you the first time, you will be targeting a warm audience and get a high ROI. Returning customers are two times more likely to buy than new customers.
The intent-driven events on your site could be:
Pages visited by a specific customer
Time spent on a specific page
Time spent on the site
Products they viewed
You can leverage Google Analytics and AdWords for these insights before launching RLSA campaigns.
2. Cheap with a high ROI
RLSA campaigns have high click-through and conversion rates because the audience is highly targeted. The cost is also low since the audience is small.  
Once you have the segmented lists of people who have interacted with your site, it becomes easy to personalize each ad based on their behaviour on your website.
You can even create a sub-segmented list of people who visited a specific sales page but didn't purchase products. If you figure it out, they may have thought that the price is a little high for them.
Create an ad that offers a discount of about 20% to that specific list and bid on a 15% lower rate than the earlier cost of acquisition. In fact, you can decrease your bid by up to 90%.
Since the customer will now feel they have a better offer, they will most likely buy your product the next time they search and land on your site.
Alternatively, you can choose to increase your bids to attract clicks based on the number of pages a visitor visits on your site.
For the homepage only, increase bid modifiers by 20%
For the homepage and sales page, increase by 30%
For the homepage, sales page, and checkout page increase by 40%
That will allow you to prioritize spending and target those customers with high chances of purchasing. This option is still cheaper because the audience is reduced but super defined.
3. You can bid on generic terms
The problem with bidding on generic keywords in search marketing is that they tend to generate fewer conversion, yet they are expensive. That's why most marketers don't like using them.
That's not the case with RLSA. Since the audience is qualified, the risk is low. You can even test on several generic terms that other advertisers are not using, fearing that they are vague.
You need to create separate campaigns for each specific generic keyword. That will allow you to have control over their cost and performance. They will also have less impact on your existing RLSA campaigns.
Use the 'targeting' option in the new AdWords interface to avoid getting clicks from people outside your list. 
4. Allows for competitor name bidding
Sometimes, a customer will visit your site and check out the products. But before he checkout, he will think, 'Wait! Why don't I check out other sites tomorrow before buying?'
Therefore, he will abandon the search, return a few days later, and search for the same product. Since he is already in your RLSA campaign list, it's easy to 'steal' them from your competitors by bidding on the competitor's names.
Such that, if a customer searches on your competitor name, your ad will show up in the search results. Since your ad presents them customized offers, they will most often buy from you.  
Isn't that awesome?
Check out how Jambo Shop has bidden on 'Amazon' keyword and took most of the clicks since it came first for that keyword.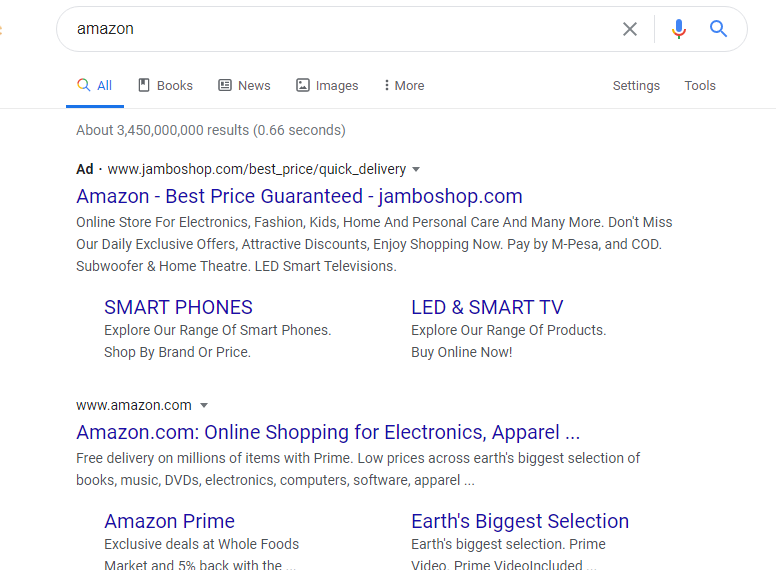 5. Remarketing traffic is not limited to Google alone
The 1,000 members required to create a remarketing list isn't limited to traffic from Google alone. It can be from any other digital channel. It can be Facebook, Twitter, or even Quora.
As long as someone landed on your site, he must have had an interest in what you sell. Even though there can be strayed traffic sometimes, most people landing on your website and spending some time on it are potential customers.
Actually, the best way to gain initial traffic for your remarketing list is through Facebook marketing since it's cheaper compared to Google AdSense. Once you have a defined audience, build a remarketing list.
What about the cons?
Yes, but only manageable ones. Here are some of them:
1. You need at least 1,000 active cookies on your site  
That doesn't work well with someone merely getting their feet wet in marketing, right?
It takes time to get that amount of targeted traffic to your site.
For example, if a remarketing list consists of people who visited a specific page, it becomes a daunting task to get a remarketing since a few people go up to the checkout page when the site is new. 
However, it's better off to start somewhere. So, create a remarketing list of those who landed on the homepage before you target other specific pages.
As your traffic grows, you can begin narrowing down your remarketing segments to sales pages, checkout page, and time spent on a specific web page.
2. Relies heavily on initial traffic
RLSA campaign success depends a great deal on your initial traffic. If it's less defined, you might likely get fewer conversions when remarketing to them.
Therefore, you need to optimize your first marketing campaign to target the right audience. An RLSA campaign is merely offering better offers to people who landed on your site from the initial marketing campaign.
Based on the behaviour they exhibited on specific pages on your site, they will most often convert when presented with better offers.   
Otherwise, if your initial traffic was junk, you will end up getting clicks but zero conversions.
3. Limited audience
Since you are only remarketing to people who previously visited your site, the audience is limited. If your site had 2,000 visits before launching RLSA campaigns, your ad would only reach those 2,000 people.
The advantage you have here is that it's a warm audience, which already knows what you sell. Thus, you will be getting high-quality traffic that highly converts.
Best RLSA strategies to make it big in e-commerce
You can't apply all these RLSA strategies at once when remarketing, but it's worth learning them. Here are several you can leverage when launching RLSAs for your e-commerce site.
Use Facebook ads to attract initial traffic
Since RLSAs only focus on people who have been on your site and disregard new prospects, spend the better part of your initial campaign driving targeted traffic before launching RLSA.
You need to target the right people in your initial campaign. Target people who are willing to buy your products. Otherwise, your RLSA campaigns will be ineffective.  
There are different channels you can obtain targeted traffic to increase your remarketing pool and boost conversions. One of the best is social traffic from Facebook.  
The average CPC on Facebook across all niches is $1.72. Travel and hospitality niches have the lowest CPC.
For example, a landscaping company launched cheap Facebook ads to attract targeted people who are interested in their services. They had 10,000 visits within one month after spending about $9,000 on Facebook ads. While some of that traffic converted, that wasn't the primary goal. They wanted broad segmented remarketing lists.
When they launched RLSA campaigns, they achieved higher conversion rates than the Facebook campaigns since the audience is now much more defined.
So, the key is to find a primary source of targeted traffic before launching the RLSA campaign
Target abandoned cart for shopping campaigns
How can you maximize the value of the site visitors since not all of them will buy the first time? The trick is to use the data at hand and optimize your offers to boost conversions.
Generally, only about 2.86% of e-commerce traffic converts into sales. Cart abandonment rates stand at a whopping 67.91%.
That sounds disappointing, right?
Not until you can retarget the people who abandon the cart with better offers. Generally, RLSAs are 76% more likely to get clicks than display ads.
Therefore, you can redeem prospects by offering them better and discounted products. Just create a remarketing list of those who abandoned a specific product and launch a RLSA campaign targeting them.
This idea can be lucrative with brands such as Ulmart – A leading Russian private online retailer – achieving up to 13% conversion rates from some campaigns.
Isn't that huge?
You can check out their approach, goals, and the results of their RLSA campaigns.
You are not limited to retargeting only people who visited your site. You can also retarget a segment of site visitors based on age or gender.
The key here is to customize your ad to be as specific as possible to the person you are retargeting. The most personalized it is, the higher the conversion rates.
If, for example, you are selling feminine products, you can choose to increase your remarketing bid on a particular age cohort of females, such as those between 20 to 45 years.  At the same time, negative bid the gender you don't need.
The result is a purified and well-defined audience.
Blend RLSA with ad customization
Don't show the same ad copy to all the people in your segmented remarketing lists because you might not achieve the desired conversion rates.
You need to match your remarketing ad copy to searchers based on their segmented list of behaviour on your site.
To do that, create different remarketing tags such as 'those who visited the checkout page' and add bid modifiers to ensure the copy matches that list.
You can even choose to launch a RLSA campaign that shows more benefits of the product to target those who visited a specific product page. The trick is to personalize your RLSAs as much as you can.
This strategy can see you amassing about a 1,000 % increase in click-through rate, conversions, and ROI if you undertake it effectively.
Dynamic Search Ads (DSAs) match the content on your site with what the user inputs into the search bar. So, when someone types 'web hosting', in the search bar, your ads will appear on the first page.
Check out this screenshot of how Namecheap's DSA pulled up after inputting 'web hosting.'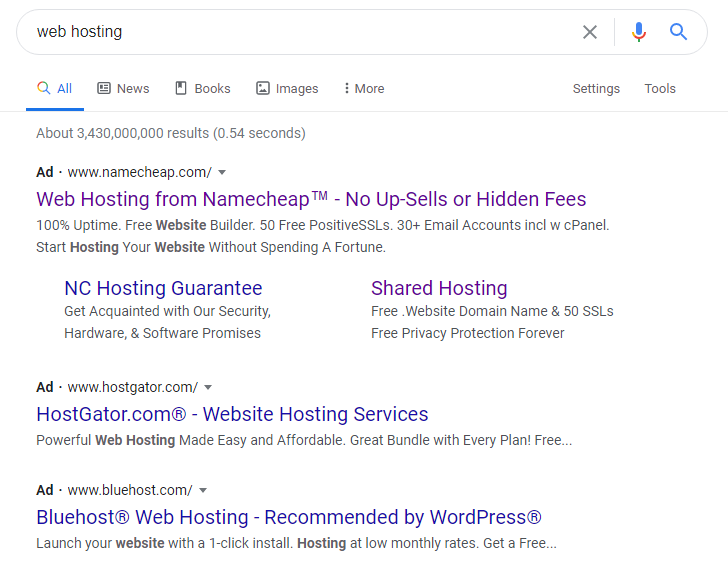 Since it's a web hosting company and has web content related to web hosting, the ad will show up in the search results.
Imagine combining DNS with RLSA. That will allow you to target a highly defined group of prospects who will buy your products fast because they need them.
To do that, launch DNS campaigns to attract your initial customers before generating segmented lists based on their activity on your site. You can use these lists for your RLSA campaigns.  
Exclude those who converted
You don't have to remarket a product to someone who has already bought the same product from you. Would that make sense? It won't.
Let's put it this way:
Suppose you purchased a phone from an electronic site and are happy with it. Would you want a second phone any time soon?
No.
What you would probably need would be a phone cover to protect your phone.
So, the best thing you can do when it comes to such is having a negative list of customers who bought from you in the past.
You will then create an RLSA campaign and target people not on that list but had once been on your site.
Maximize your negative list by launching RLSA campaigns for supplementary products. For example, if you are selling high-quality smartphones, remarket phone covers to that list like in the case above. 
RLSA will allow you to retarget all those highly defined segments.
Conclusion
Most e-commerce site owners are not launching RLSA campaigns for their products. However, the sooner you realize you are leaving money on the table by not utilizing RLSAs, the better.
You will only need a few clicks to have your remarketing list ready. Begin today and achieve those high-conversion rates most e-commerce sites are getting.
Hopefully, this post has answered most of the questions you had about RLSA campaigns.