"3 out of 4" people are inspired to visit an ecommerce site if they find products that they are looking for on the search ads.
So imagine not being able to optimize your Google shopping campaign then you'll lose the opportunity to show your products to the potential customers who are looking for your products.
Some marketers find Google shopping optimization complex or overwhelming to deal with since Google shopping campaigns don't use keyword targeting. This process makes the campaign challenging, but here's the thing: Google Shopping is a great tool to increase revenue, ROI and profits of an ecommerce brand.
About  75% of all ecommerce PPC clicks were made through Google Shopping in 2017, and it has become extensive ever since. This percentage shows that Google shopping campaigns are not going to waste and is great for increasing traffic to their ecommerce sites and boosting conversions.
While the ecommerce industry has been using Google shopping for their businesses, and it's a shame if they are not utilizing the tool to its full potential. Marketers just have to be savvy enough to optimize a Google shopping campaign as often as they can.
Optimization of Google Shopping can be tricky, but once you're able to learn the ropes, it'll be the best thing that you can do for your ecommerce brand for the results will be rewarding in the long run.
Google Shopping: What is it?
Google Shopping is like a product catalogue online where people can browse products, compare prices and check ecommerce brands out based on their ads. It's the online version of window shopping, and Google helps you keep your products visible through the search engine.
Google shopping is also known as Comparison Shopping Engine or CSE. For shoppers, they have the option to compare prices which gives them plenty of freedom in their purchasing decisions. While on the other hand for ecommerce brands or online retailers this means that there's a cut-throat competition online.
Google shopping ads are image-based products, so it's the first thing that they'll see along with the vital information like price and link of your ecommerce brand.
For example, a potential customer is looking for a black dress, and your ecommerce store is selling fashionable black dresses. With Google Shopping campaigns, your products can easily be seen by the customer, eventually leading to a conversion.
Google shopping is all about the images that show the products to your potential customers locally or internationally. It's one way to increase the reach of your brand.
Google Shopping campaigns don't depend on keywords, and it functions differently from the standard search campaigns. This system means for marketers they don't have control over which search queries trigger their shopping ads. It all boils down on your website content and the optimization of your Google shopping feed.
Don't worry it's not all unfamiliar since  Google shopping is also similar to SEO, and advertisers will be providing relevant and high content to gain traffic as long as it is appropriate to what potential customers are searching for.
Ecommerce brands who sell hundreds or thousand products need to make sure that their store and merchandise are optimized. For the Google crawlers or algorithms can scan their sites effectively after all advertisers have to make sure that they are following the Google policies on advertising to avoid getting penalized in the process.
Google shopping advertisers should know what the benchmarks of Google Ads to know if their campaigns are running correctly and efficiently. Such as Average Click-through rate or CTR, Average CPC or Cost per Click, Average Cost per Action or CPA, or the Average Monthly budget for Google Ads since these metrics will be your guide in running your campaigns effectively.
Why optimize shopping campaigns?
Think of it this way optimization is like a fuel to a car. The car is your campaign running down the road. 
You need to fuel your campaigns so that it can last and endure long drives. That's how important and essential optimization of shopping campaigns is. If you neglect this part, then the campaigns can't function well, and you'll lose thousands of potential shoppers looking for your products online.
You want to put your ecommerce brand's best foot forward for your potential shoppers, and the last thing that you want to do is make a wrong impression towards them. Optimization of your Google shopping campaigns will help your ecommerce brand have leverage in the industry.
Google's Merchant Center: What Is It?
Since Google shopping optimization is often overlooked, and the Google Merchant Center is not included in the Adwords interface, this makes marketers challenged by the setup process.
The essence of Google Merchant center is this is where your product data feed is located. If you're wondering what a product data feed is, it's the list of all products that you sell with the unique format and many attributes that describe your products like a spreadsheet.
Here are the key attributes of your product data list:
1. ID- This is the identification of your product.
2. Product Title- Titles that Google shows the shoppers when ads are up and running.
3. Product Description- Describes your product on your ads campaign.
4. Product Category- Categorizes your product on your shopping campaign.
5. Product Type- Helps shoppers know the product type of what your ecommerce brand sells.
6. Link of the item on your site- For the shoppers to click the link when the ads are up.
7. Availability Status-  This indicated whether a product is out of stock or available.
8. Price- Shows the cost to the shopper so they can weigh and compare prices online.
Other functions of the Merchant Center:
1. Provide essential details about your ecommerce brand
2. Ensuring your website's legitimacy and verifying it's content and site
3. With the products feed, it tells Google what type of products your ecommerce brand sells, making it easier for people to find you.
How to set up a Merchant Center?
It's easy to set up a Merchant Center; you can set it up in 5 minutes or less!  If you're new, then All you need is a Google account to be able to sign up for Merchant Center. 
Then provide the necessary information it requires like contact information, and location then click agree to the Terms of Services. After that, set up your user rules then add other business information about your ecommerce brand. The next step is to verify your business website's URL. Check it your website begins with "Http://" or "https://".
Don't forget to follow the Merchant Center guidelines. Google is strict with their policies! Then after doing all these steps, you already have a Merchant Account, and you're good to go!
Deciding on your Google shopping campaign structure
Now that you know how important it is to optimize your Google Shopping campaigns before jumping right in the optimization part. You might want to check if you have a well structured Google shopping campaign structure. 
The goal here is for your ecommerce brand is to gain an increase in traffic and conversions. One way to do that is by making sure that you choose the right structure for your Google shopping campaigns.
There are many questions to ask yourself, such as, How am I supposed to optimize my shopping product feed with thousands of products? Should I use one campaign or divide product groups?
Remember that every choice that you make for your ecommerce brand can make a difference in the optimization of your Google shopping campaigns, so it's better to take the time in learning the ropes and planning things out.
After all, Google shopping optimization doesn't work overnight, and it can take weeks or longer than that before you finally see results kicking in.  It might take time, but as the adage says Good things take time and you'll be able to see the wonders of an optimized Google shopping campaign right before your eyes.
Kinds of Google Shopping Campaign Structure
1. One shopping campaign with one ad group
So let's assume that it's your first time to create or set up a Google shopping campaign and creating one campaign is one of the first things that you can do. And add one Ad group then dividing your product groups by product group attributes such as brand, category and price. It is easy to set up and requires you less time to manage.
However, for newbies, this setup can be challenging since some products will not get exposure or clicks and not be able to boost bids. It's also hard to see which keywords are triggering clicks on your products.
2. Two campaigns
Creating two campaigns can allow you to manage the search terms that your products show for. You can do this by using the campaign priority setting and negative keyword lists. It's also easy to set up like the basic campaign and offers you more control. However, you can't control search queries at the SKU level.
3. Three campaigns with three Ad groups
Using three-tiered priority shopping campaigns will give you more control of how much you bid on brand terms, generic terms or other high intent product search queries such as multi-buys.
Here's something you should remember the more campaigns, the more ability to control how much you bid on terms and product search queries like multi-buys.  
You have to manage three campaigns all at once. You can segment generic terms, branded terms together and add higher intent attributes such as size and product name.
4. Profit Margins
This type of campaign structure requires dividing your campaigns based on the profit margins of your products; this means that each campaign will have one group of products. 
You can control your bids based on the highest margins. You'll have more top conversion opportunities. For ecommerce brands with many products in store, this type of setup can be time-consuming.
Now that we're done with all of the basic stuff about Google Shopping campaigns, let's jump into the list of optimisation strategies for  Google Shopping Campaigns.
You can choose any strategies that you think will work well for you and your ecommerce brand. It's best to plan things out and test the waters when it comes to trying out these strategies.
So here's the  list!
Optimisation Best Practices That You Can Do
1.Regularly check your Google Shopping campaigns for errors.
I know this seems redundant, but Google is not playing around when it comes to its policies. Once you upload your feed, Google will run through your feed and check for errors.
The very first thing Google does once your feed is uploaded is to check for basic product data correctness. If issues are found, they will provide you with a brief report summarizing the errors. Therefore we recommend you to regularly check the attribute details and other relevant information for shopping campaigns.
If you get lazy on this part, then every delay on your shopping campaigns caused by the disapproval is a wasted opportunity to boost traffic and raise conversions. As the adage says prevention is better than cure and you need to resolve the issues beforehand to avoid account suspension.
Once Google runs through your Shopping Ads account and sees some errors, it will notify you on the errors it finds. We broke down the three types of Google Merchant Center errors or red flags below so you know which ones require your attention the most..
Three types of Red flags of Google Merchant Center you should know:
Notifications– Notifications are gentle reminders of Google to you that you should optimize your product information as soon as you can. Google wouldn't impede your products from showing; however, your product data is average. 
And ecommerce brands like you don't want to be mediocre since the competition is cut-throat. It's best for you to immediately resolve this issue and correct the product information to avoid any delays in the future.
Warnings– Warnings are your next-level kind of trouble, Google can suspend your account or item disapproval once you receive this message. 
With Google warnings, it can affect the performance of your product listing ads. Warnings should be taken seriously since the negative performance of a product listing ads is as good as not having optimization as well.
Errors– Errors means one thing that you're now seriously in trouble. It means that there's an item approval or account suspension. This type of notification is the time when errors will be preventing products in Google Shopping searches. 
You really have to check your product feed thoroughly!
Google shopping optimization is a great way to fuel your shopping campaigns, but it can also be your biggest nightmare, especially if you're not doing it right. Start with the most comfortable thing that your team can do, and that is by checking for errors manually before letting Google take over.
2 .Bid strategically
Bidding is crucial for optimizing your Google Shopping campaign, and one of the best strategies that you can do is increase your bids since it leads to a significant increase in impressions and conversions.
You have to continually test bids to find the perfect balance since the Google shopping network is volatile. Once you've set up your Shopping campaigns and your campaign structure, the next thing that you should do is find the right level of your maximum cost per click or CPC.
You have to set it high enough to get more clicks but not too much that your profitability is at stake. This task can be challenging and throw marketers off their guard. One of the main reasons why marketers increase bids is because they want to gain more traffic among shoppers. Identify your ecommerce brands' highest converting items then you should place your money with that product or list of products. It's one way for you to boost the sales of those products and boost traffic and conversions.
Once you already increase your bids, you can expect conversions to at least start knocking in! Here, are the types of converters or online shoppers which lead to conversions that you should be aware of. They are the type of online shoppers that you must target with ads the most. 
There are three types of converters
1. One-Off converters- For one-off converters, you have to be cautious since a product may show a high conversion rate, but when you look at your sales, it's low. It's best not to increase your ads at this time of products, but if you want to do so only choose the products that are profitable and implement a cost threshold. One-off converters are quite common in online shopping.
2. Mid-range converters–  For Mid-range converters and Top converters, you should be aggressively increasing your bids for these types since your conversions and sales can increase as well.
3.Top converters– Advertisers can apply repeat conversions filter same as mid-range converters to create a stacking effect. The stacking helps the advertisers capitalize if done correctly. The top converters, for example, products with the highest ROAS.
3. Query-level bidding strategy
With query-level bidding, you can segment your audience into different categories from generic, branded and product-level using the campaign priorities and negative keyword lists. 
This strategy makes marketers split the shopping traffic into various campaigns based on the key queries and then set their bids according to their value. This strategy may take a while, but it does give you high traffic and increase in conversions.
If you're not yet familiar with this strategy, then it can be confusing since there are numerous steps to complete this, but here's an easy to follow step-by-step process of query level bidding.
STEP 1:  Create a new shopping campaign
1.1 For those who don't have an existing Google Shopping campaign
⦁ You need to set the name to Shopping – Widgets – NB – US
⦁ Then after setting the name change the Campaign Priority to "High"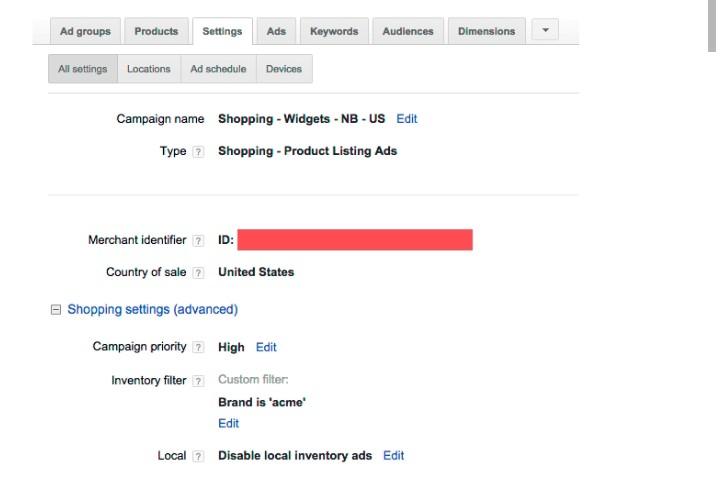 ⦁ Don't forget to set the Merchant identifier to the correct Merchant Center account.
⦁ You have to create a custom inventory filter to only find the products for the specific brand in this campaign.
⦁ Set ad groups in your campaign
⦁  Decide how to break out your products in your campaign for this brand and be cautious on how you break out your products.
⦁ You can copy the entire campaign, so you have two versions of this campaign setup. It's better to have two copies to see things thoroughly.
⦁ Customize and set the campaign same as the other Google Ads
⦁ Don't forget to save your new campaign.
1.2 For those who already have Google shopping campaigns. Here's the steps that you can follow:
⦁ Open the existing account that you have then go to the search query report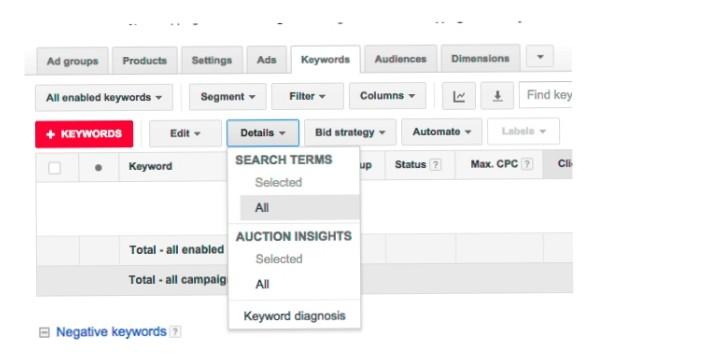 ⦁ You need to filter the most common 'brand" term
⦁ After filtering brand terms you need to compare the view that "contains" brand and that "does not contain" brand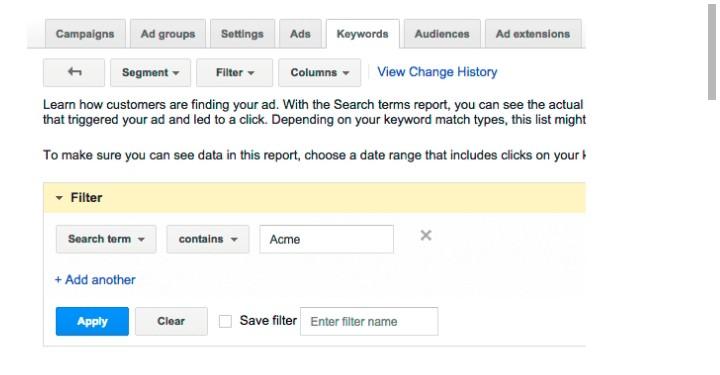 ⦁ Then go through the steps just like without the no existing Google shopping campaigns
1.3 After setting filters on the brand terms then it's time for you to set up a budget right after creating campaigns
⦁ Go to to the Shared library tab and navigate it and on the bottom left of the Adwords UI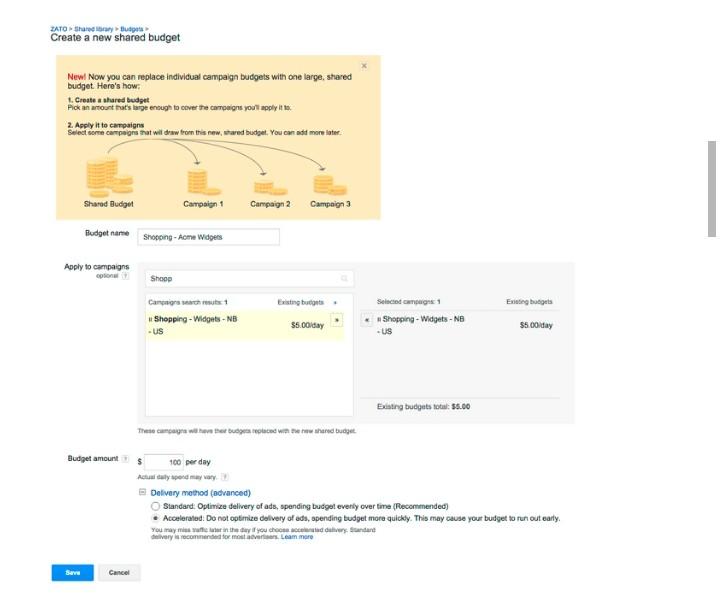 ⦁ Create  a name for your budget then select the correct campaign after doing that you can set the budget and save it.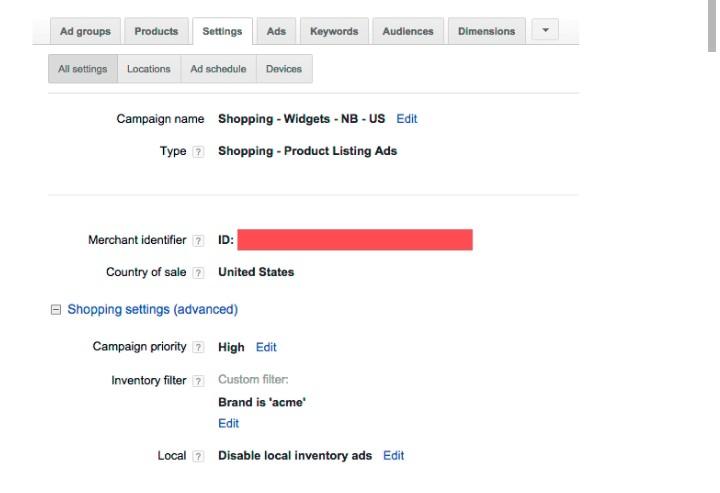 1.4 Right after setting up the campaigns and budget, you need to set up negative keywords for Query-level bidding. 
You need to add negative keywords since it's crucial for optimizing your shopping campaigns.
Negative keywords are crucial to your Google Shopping campaigns so your ads don't appear for costly or irrelevant search terms. It's best if you'll create a detailed list of negative keywords and don't rely on search terms reports in Adwords.
You can use Google Analytics to monitor and add negative keywords. Don't just mindlessly exclude negative keywords. Also, consider using long-tail keywords since those are great for shopping campaigns.
⦁Go to the Keywords tab in your campaign.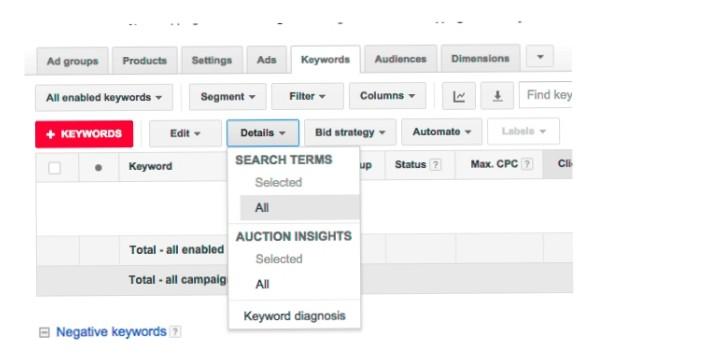 ⦁ Add "all" possible brand term variations and SKU, keep in mind that you don't want these terms to show on your ads since your bids are low.

⦁ Adjust Bidding
⦁ Then select the Ad group, after that  navigate to the Product groups tab
⦁ Go ahead and select all products, and bid them as low as you need it to be
STEP 2: Set up your brand campaign
The process of setting up no-brand and brand campaigns is 100 percent identical except for the bids and priority level. 
Ensure negative keywords setup to avoid defeating the purpose of the bidding.
Your non-brand should have all brand names as negative keywords than for the product names as negative keywords. 
While for your brand campaign, it should have product names as negative keywords too, and your product campaign shouldn't hinder anything. For universal negative keywords, it should be applied to all campaigns.
For non-brand campaign settings, low bids are significant since you'll avoid wasting money on irrelevant general queries. While for brands campaigns, setting higher bids means your ads will be relevant and target match queries.
For your brand campaign, you want to set slightly higher bids especially on your negative keywords list. Here's how you can add negative keywords without having to do.it one by one.
STEPS ON HOW TO ADD NEGATIVE KEYWORDS IN BULK:
Navigate to the Products tab in your campaign
Highlight all of the products listed there
Open Excel, then paste the products into Excel. It makes the data organized and easy to review.
Then you can simply copy the "Item ID" column from this Excel file. After that, you can add directly as campaign level negatives
STEP 3: Set Up Your SKU Query Level Campaign
⦁ 1st: Copy & Paste the Non-Brand Campaign In The AdWords UI
⦁ 2nd: Select the Shopping – Widgets – NB – US campaign, Copy and Paste it (see it's that easy)
⦁ 3d: Open the campaign settings tab
⦁ 4h: Change the name to Shopping – Widgets – SKU – US
⦁ 5th: Set the Campaign Priority to Low
⦁ 6th: Check if the Shared Shopping Budget is still Applied and it must be if it isn't
Woo! That was tough isn't it?
If you think Query- level bidding is worth the shot then by all means try it. 
But I got a list of other strategies that you can try out and here's another one.
You can try bidding on a product- level and see if this bidding strategy works for your shopping campaigns than the other bidding strategy.
4. Bid on a product level
This kind of bidding allows marketers to check the performance level of the products that are low-performing or high-performing and then bid on its level. 
If you'll regularly check the product level of your products, then your shopping campaigns have a higher chance to boost ROI and optimization.
STEPS ON HOW TO DO PRODUCT-LEVEL BIDDING
STEP 1: Separate bids solely for your best-sellers
You want to prioritize products from your ecommerce brands that are best-sellers or top-converters. You have to bid more on those products since it can increase traffic. It's a win-win strategy since people love your best-selling products, and you'll be giving these loved products a boost.
But first, you have to know what your best-selling products are, and you can utilize the Dimensions tab in Adwords.
If you set your View to Shopping > Item ID, then it will show you all performance data per product. After reviewing the performance data, you can create a filter to identify your Best Sellers.

You can sort things out on :
Conversions
Conversion Value
CPA

STEP  2. Remove Unprofitable Products from your feed immediately
Don't waste time and effort on products that are low-performing or bring you no profit at all.You can create a filter to get rid of these unprofitable products from your campaigns.

Identify those unprofitable products and exclude them from your shopping campaign, feed and other shopping channels as well.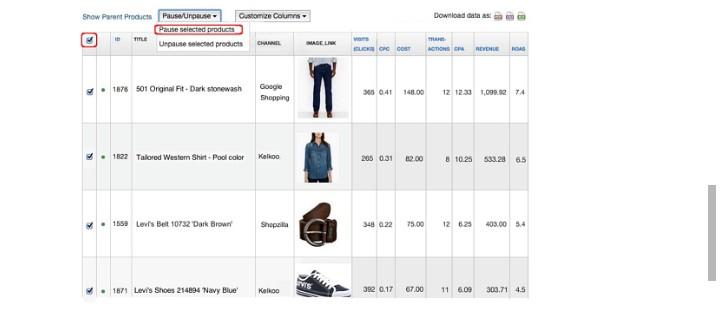 STEP 3. Review your data on the Parent level
The Google Merchant with variants need two views:
1. Performance for each variant
2. Aggregated performance

We went through two bidding strategies which are best  for optimising Google Shopping campaigns yet there's a lot of bidding strategies that you still haven't tried out!
Here are other bidding strategies that you can do if ever Query-level bidding and Product- level bidding didn't work out for your campaigns.
In doing a bidding strategy, you have to plan it well and have a solid reason why you have to increase or decrease the max CPC's for a specific product in a particular campaign. You can do the following:
Manual bidding– With manual bidding it's the Do it yourself bidding, you have to do the nitty-gritty work of setting bids, checking metrics, and you have control over what you do.
Automated bidding– This bidding lets you leave the bidding process to Google if you want to use this type of bidding. Be reminded that Google is an AI and that it's focusing on for you to spend more. The last thing that you need is to lose profits due to misuse of automated bidding.
Manual CPC– Manual CPC is a type of bidding strategy that you can set your cost per click ads. It gives brands more control over your PPC or ad spending. 
What makes this bidding strategy different is that you set the maximum amount you could pay for each click on your ads, pretty cool, right?
Target ROAS– This is an automated bidding strategy, and it also takes time since Google will have to process any changes you placed on the campaigns.

With Target ROAS, you can set a target return on ad spend. With this bidding strategy, you can set a conversion value that you would like to achieve on your campaigns. You can do 50 conversions in the last 30 days before you activate this method.
Enhanced CPC– The enhanced CPC is similar to Manual CPC. Still, the difference is that Google has the ability to raise the max CPC that you indicated notably if the algorithm thinks a specific link will lead to a sale.

Google Ads let you do at least 200 clicks in each product group of your campaign before you do this strategy. This bidding strategy can also work well once the Manual CPC has brought enough traffic to your ecommerce brand.
Maximize Clicks– With this strategy, you're letting Google take full control and the algorithm will set CPC's to get the maximum possible clicks, but you'll still set the target amount.

Google will also shift your budget based on the cheapest products and links. You can use this automated strategy if you're a startup ecommerce brand wanting to boost traffic and sales.
Enough of Bidding strategies and let go through other optimisation strategies. Did you know that you can incorporate RLSA into your shopping campaigns? 
Yes, you can and it'll surely bring in targeted results and high-performing shopping campaigns.
GOOGLE SHOPPING CAMPAIGNS OPTIMISATION AND RLSA
Query -level bidding can bring in great results for your ecommerce brand, and if you want to take it to another level, then Remarketing lists for search ads or RLSA are great bidding options for you to try. The only challenge that you'll have to deal with this bidding strategy is not using any negative keyword list.
We went through the major strategies that you can do. But there's still a lot more to see when it comes to optimisation strategies, you'll never run out of options to choose from! 
Here are the other optimisation strategies of Google Shopping Campaigns that you can try.
Optimize product titles
Product titles are essential to optimizing your Google shopping feed. You have to pick a target keyword that is relevant and close to your product title. You need to be as specific as possible with your product titles since using keywords can have a significant impact on your click-through rate or CTR.
Utilize your search terms report or Google Analytics to know the popular queries in your product titles. One of the benefits of optimizing your product titles is that it can complement your SEO strategy.
You have three options to make a change /optimize your product titles:
Change the product titles  in your back-end.
Change the product titles in your feed app
Use a reliable data feed management tool to make changes in bulk
Competitive prices
Keep an eye on your competitor's prices to achieve leverage. Remember that low click-through rates mean that your offer or pricing is less attractive to your potential shoppers. 
A lower price improves the quality of your product feed and for your customers. While for Google, it means that more people will click your ads. Be transparent when it comes to the prices such as the full price and other costs like shipping fee or more.
Photo optimization
You need to make sure that your product photos are clear and minimalistic. Think of white background and just the product on focus. But make it stand out by showing different angles so that the shoppers can check the product more intensively.
If you have new products, then you need to do a product photoshoot in-house of your ecommerce brand. 
It's advisable to update product images of your old product to make it optimized and to avoid Google penalizing you for not complying with its policies. You can test what photos work well for showcasing your products to your shoppers.
Improve product descriptions
Product descriptions are just as crucial as product titles and product images for Google shopping campaigns optimization. You have to incorporate SEO keywords within your product descriptions to be optimized. 
Don't let the product descriptions consume you too much since it can waste your time, but then it's an excellent optimization trick to do.
Custom label
You can set bids that are customized and separate product categories, and it's more of an advanced bidding strategy that you can do to optimize your shopping campaigns. It's one of the simple yet effective ways to segment your catalogue and prioritize those top converters or high performing keywords and ads.
KPI's and Adwords fillers
One of the best ways to monitor your progress on your shopping campaigns is to check your metrics, and those are the Key Performance Indicators (KPIs) and AdWords Filters since they genuinely go hand-in-hand.
The important metrics that you should focus on are as follows:
Zero impressions- You can check the diagnostics for your feed in the Merchant center then start increasing bids incrementally. See if this is working for you and it's one way to optimize your shopping campaigns.
Low click-through rate– For low-click through rate, you should focus on your product titles. Since your ads may be image-based but your titles or descriptions can be lousy. Remember that your feed should be accurate for Google shopping campaigns optimization.
Limit networks
Switch off the checkboxes of Search partners such as Youtube and Discover on the Display network. The reason is that those are default networks that Google sets up.
 Once you take control of these little things, then it can make a significant impact on the optimization of your shopping campaigns since it'll increase the quality of the shoppers that see your ads.  You want them to go directly to your ads and avoid any missed opportunities.
Add product reviews to your listing
You can do this by gathering the reviews you need to complete a form to sign up for Product Ratings. Then once it's accepted, you have to submit product reviews to Google Shopping. 
Then If the review feed comes from your website, you can upload it to your Google Merchant Center account. This optimization strategy can add a boost to your ecommerce brand, which can lead to more traffic and shoppers.
Enable Conversion Tracking
For you to set up Google Ads conversion tracking, First you need to create a conversion action then install the global site tag,  after that add the event snippet. 
If you're tracking purchases, then you also need to edit the event snippet to adjust the value of the conversion based on the purchase amount. This tracker can help you track your conversions coming in from your shopping campaigns. It can also help optimize your Google shopping campaigns.
Add Structured Data to Shopping Pages
If you want your products to be automatically shown on the surfaces across Google, then you need to add structured data to your shopping pages. The reason for this is to make it easier and organized for Google to understand your content, and the scanning or checking process of Google won't take ages.
SPAGs
You can set up large ad groups for your Google shopping campaign, and it's one the fastest way to drain your ad budget, and you don't want to do that. 
I highly recommend SPAGs or Single product ad groups which are the shopping equivalent of SKAG's to allow you to focus on one product then matching landing pages and ads with intensity. This feature is one way for you to optimize your shopping campaigns without going broke.
CONCLUSION
Now that you know how crucial it is to optimize your Google shopping campaigns for a boost in conversions, ROI and profits. You have to make sure that you continuously tweak your shopping campaigns by optimizing it regularly.
There are many other optimization tricks that you can test out for your ecommerce brand. Remember that Google is always innovating itself, and you need to keep up with its pace since your ecommerce brand has to be top-notch and presentable on your Google shopping campaigns for your shoppers.
 Might as well follow Google's policies and make sure that you're not sleeping on the enormous benefits of optimization so that you'll have leverage and edge in the ecommerce industry. You can use these tricks and tips for your Google shopping optimization.