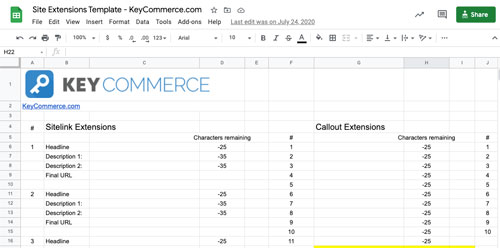 Get the Search Extensions Template Now!
Easily build Google Search Extensions for your ad campaigns with our easy-to-use extensions template.
But what if we tell you there is one way to give your target customers MORE REASONS TO CLICK YOUR ADS?
In this article, I want to talk about one of the most effective ways to give your campaigns a better chance succeeding and not sending your PPC budget to the trash can. I will show you how you can leverage the potential of your Google Ads campaigns to rake in more clicks, leads, and conversions.
I'm talking about increasing the effectiveness of your PPC ads by using the best Google Adwords Ad Extensions. But what's more interesting is that we will give you access to the template we use in setting up ads extensions for FREE.
What are Google Ad Extensions?
Ad extensions are Google Ads features that give you the ability to add extra bits of business information with your ad, like a phone number, store address, store rating, and other web page links.
Using AdWords ad extensions, you can make your ads way longer and take more space in searches to get more attention from customers when they search for your products online. If your competitor comes in, then you'll show up for most of the screen while they get a tiny bit at the bottom.
There are different types of ad extensions and each type do different things. Some allows you to add a call button or showcase reviews. While others, you can add promotions or other business information like your address and phone number.
Google Ads Extensions are the main reason why you see sponsored results that look different from each other.
Look at these Google ad extensions examples: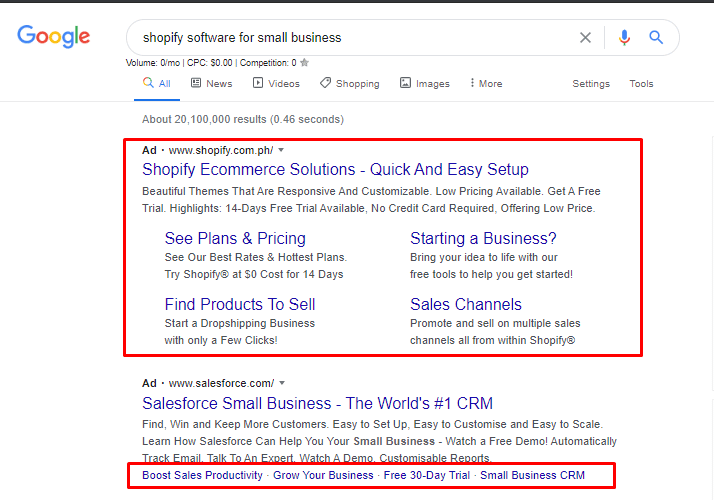 And these…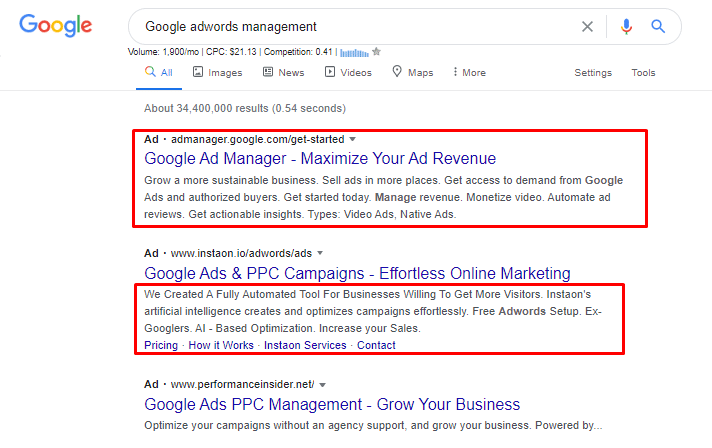 Did you see the difference? Some of them are really killing it, while others not so. Look how the first example is so expanded and occupies more space compared to the ad below it. You want these for your Google Search Ads. We all do! We want to be on top of the search results and be the first that our customers see and click!
Now, how to do that?
4 Google Ad Extensions You  Should Be Using
Sitelink Extensions
This first one you should know about is the Google Ads sitelink extensions. This ad extension allows you to add additional links that goes under your primary result link. Your Google Search Ads will look like this using the sitelink ad extension.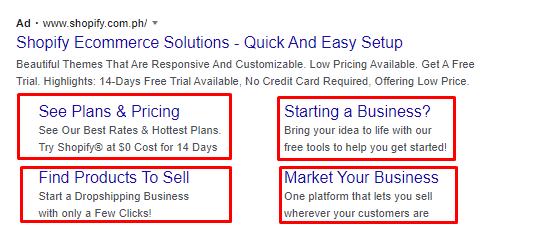 Sitelink extensions are the best way to provide your customers the best shopping experience. Make all information available to your customers by segmenting your website and adding direct links to specific pages. They might want to go to your blog page, the pricing page, or the review page. You can make all those pages available to them right there in your ad with sitelink extensions.
Callout Extentions
The second one is Google Ads Callout Extensions. Unlike sitelink extensions, callout extensions aren't clickable. There are small snippets or bullet points of additional information about your ad to entice more customers.
Using callout extensions, you can add descriptive texts and specific attribute about your store or products that will show below your ad on Google search results.

Structured Snippets
The structured snippet extension offers you the opportunity to tell searchers what products you sell. You want to solve their problem right away and you do that by telling them you have what they are looking for.
Customers type for the product they need and you show on their search result page. The truth is they don't who you are, what you offer, and if you can help them. When done correctly, the structure snippet extensions can help you introduce your business to prospects and turn them into happy customers.
Look how this only ticketing company took advantage of structured snippets to tell travelers the destinations they offer.

Price Extensions
Price is one of the most important factors that affect the buying decisions of your customer. Therefore, adding this information up front can generate more clicks especially if your offer is within the range of what your target customers are looking for.
With Google Ads price extensions, you can include the prices of your products directly to your ad. And what makes this ad extensions more amazing is that it's clickable and you can use it to direct your customers to the landing page where they can read more about the product and possibly make a purchase.