Finding dropshipping suppliers for your store is one of the critical steps you need to take to succeed in the dropshipping industry. Therefore, it is important that you choose a supplier that can provide high-quality products that your store deserves.
But how do you do this? Sure you can find hundreds of suppliers for dropshipping in Google, Alibaba and Aliexpress. But how do you choose one that's best for your kind of business, one that you can build a sustainable relationship with?
Call them! Talk to potential suppliers who you think can provide you with the products you need to grow and scale your store. Picking up the phone and talking to suppliers might be nerve-wracking at first, but it's one of the most effective ways to tell the suppliers that you are serious about making log-term business with them.
If you call dropshipping suppliers directly, you can get better deals and sell products that no one else has. An this gives you big edge over other dropshipping stores. You need to understand that setting up sustainable relationships with dropshipping suppliers can help you build a valuable brand, which is way better than just one-month of quick sales.
That's why you're here. You want to learn how to contact dropshipping suppliers. Well you came to the right place because in this article, I will give you the email template and exact call script I use when reaching out to suppliers FOR FREE! I will also discuss here the simple steps you need to follow in finding and calling the best dropshipping suppliers for your store.
Step-by-Step Guide to Contact Dropshipping Suppliers
Find a niche where you think you can add value
This is the foundation of an incredibly successful eCom store. Choosing and understanding a specific niche will allow you to understand your target audience better. By creating a niche store, you can narrow down your search and makes finding a supplier much easier. Furthermore, with a specific niche, you're able to target a specific audience, speak directly to them, and sell them products that solve their biggest problems.
Create a list of 30 suppliers in that niche
This is the data collection part of the process. You need to go to Google and find all the stores and suppliers that are selling the product that you need and put them into a sheet or any data organizer you have.
Quck Tip: You can get your virtual asisstant (VA) to build this list for you if you want to dedicate your time to more important tasks
But as promised, I will make things easier for you and I've given you you FREE access to the CRM I use when collecting dropshipping supplier details. Just type your email in the big yellow box at the top of this article to get the link to the FREE CRM template.
Email them all to start the relationship
After building your list, the next step is sending of emails. Start by emailing them so you can start the relationship and have something to refer to when you call them. You will get some responses to your emails but these suppliers get emails from a lot of marketers and other dropshippers who also want to make business with them.
Therefore, you need to craft an email that will really grab their attention. Make sure that you use a killer subject line that will interest them to open and read your email. You also want to sound as casual as possible to establish a friendly tone, while maintaining a professional approach .
Got no time to create an email? Just enter your email in the big yellow box at the top of this article to get a FREE email template that you can simply edit with your details and send to dropshipping suppliers.
Call them and speak to their supply or distribution department
Now, the fun part!
Many eCom business owners are not very comfortable to speak to suppliers over the phone. The first time is going to be tough but trust me, it only gets easier! Your main goal of calling suppliers are as follows:
You want to make contact with the company's decision maker. It's common that you won't be able to get a hold of the owner, especially during your first call. However, your goal is to speak to someone from the company who can accommodate your concern and give you direct answers to your questions, for example the supply or distribution manager.
You want to know if they are open to supplying for your dropshipping business. No more running around the bush and immediately get down to business. Express your interest of making them your supplier and ask if they are open to supplying.
If they already have a supply program, ask for the details.
Confirm the specific details of the relationship (in the next section).
To get the EXACT SCRIPT I follow when calling suppliers for my dropshippings store, just enter your email below and you will get the link to the FREE script!
Confirm supplier details and agreement
 Before drafting out your agreement with a supplier, there are just a couple things you need to confirm either on the call, in follow up calls, or in emails:
Cost of the products
Shipping cost. Make sure you get this by location – some suppliers will have a shipping matrix that has the cost to ship to all locations that they deliver to.
Shipping schedule
Returns and damages policy – Confirm with them what happens when a customer receives a damaged product.
Payment terms
Stock levels and stock feed. Confirm if you can get a stock feed setup with the supplier. This is a good idea because you can be sure that you're not selling products that are out of stock, which would mean you would need to refund a lot of orders and deal with all that customer service stuff.
Here are useful tips that can sweeten the deal for the supplier:
Let them know you would like to trial out the relationship for 3 months of sales.
Let the suppliers know that you would like to prepay for stock in the future. The benefit here is that the supplier locks in their sales, but you can have them ship out the stock immediately and you know you always have stocks reserved.
Upload products to your website
Once you agree to the terms and you know how much your products will cost, make sure you do the math, work out your pricing and then upload the products to your website.
Start selling!
You've called suppliers and built a relationship with them. Now you can start selling their products scale your dropshipping store!
This is how you grow your Shopify dropshipping store to a 7- or 8-figure eCom business. So start picking up the phone and let's find the best dropshipping suppliers!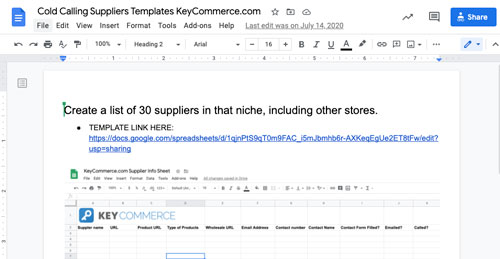 Download the Cold Calling Suppliers Template now!
Download the exact template (and Google Sheet list) we use to cold call suppliers when starting a new dropshopping store.