Steps to Link Your Google Merchant Center Account and Google Ads Account 
Here are the steps you need to take in order to link your Google Merchant Center with Google Ads:
Step 1: Open your Google Merchant Center account and go to Settings. Select Linked Accounts.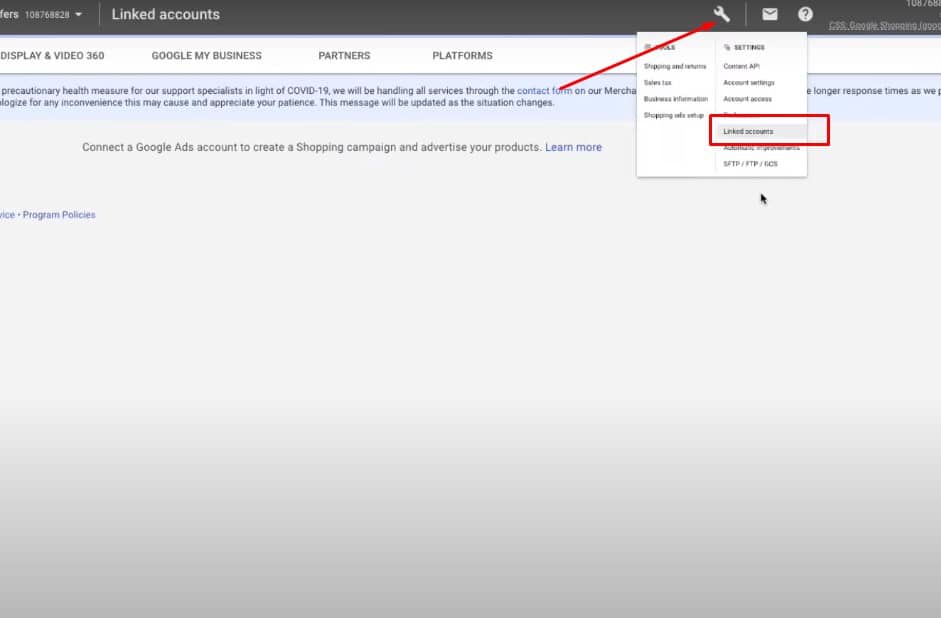 Step 2: When the next screen pops up, you'll see Google Ads at the top, so just scroll down to Link Account
Step 3: In order to actually link the Merchant Center to Adwords, you'll need to enter your Google Ads ID, so copy it from your Google Ads account and paste it into the space provided for it. Your ID will be the number at the top right of your Google Ads screen.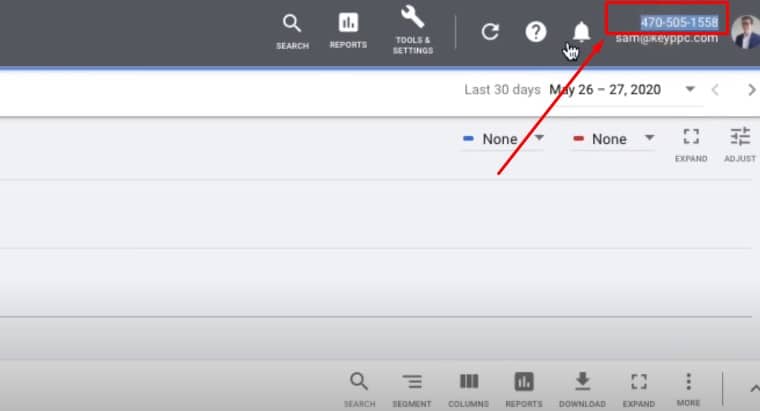 Step 4: Once you've entered the ID, go back to your Google Ads account and confirm the request
Step 5: Your link is now active between Merchant Center and Google Ads.
Advantages of Linking Your Google Merchant Center and Google AdWords Accounts
There are several advantages to having your Merchant Center account linked to your Google Adwords account. These include the following:
Allowing data to flow from Merchant Center to Google Ads. You can then use that data for your Google Ads campaigns. You'll be able to create Shopping Campaigns which will advertise your various products, and you'll be able to use dynamic remarketing techniques to display previously viewed products to your visitors
You'll be able to link as many as 100 Google Ads accounts to Merchant Center, so you can build an entire network of accounts which you'll be able to feed from Merchant Center. 
Once these two accounts are linked, you'll see statistics from Google Ads (for instance, the number of clicks) appearing in your Merchant Center, and the product info contained in Merchant Center will be available for use in any linked Google Ads account. 
The beauty of linking Google Merchant Center to Google Product Listing Ads  is that neither party can make changes to the other. It means Merchant Center cannot change Google Ads account data, and Google Ads cannot modify Merchant Center data. Therefore,  you have collaboration without interference.
Manage Links Between Merchant Center and Google Ads
You'll always have the option of changing any Merchant Center links within your Google Ads account. You can simply do this by making use of the Google Ads user interface so you can approve or reject any link request. 
Aside linking your Merchant Center from Google Ads accounts, you can also do the following once you've linked Merchant Center and Google Ads accounts:
Retrieve all your Merchant Center links by requesting to fetch objects from MerchantCenterLink.
Find the status of any specific MerchantCenterLink object by inspecting the MerchantCenterLinkStatus field.
Approve a pending link by setting the MerchantCenterLinkStatus field to ENABLED
Reject a pending link by deleting the MerchantCenterLink object.
Unlink an object which has already been ENABLED by deleting the MerchantCenterLink object.
Want to get more Ecommerce tips and tutorials just like this? Subscribe to my YouTube Channel and learn more about growing your Ecommerce store remotely.