And if you're already running your Ecommerce brand, one of the key performance indicators or KPI that you should be looking into is customer lifetime value.
In this article, we are going to guide you in learning how to calculate the CLV and expose the reasons why your Ecommerce business should take advantage of this valuable metric. To get better visuals on this topic, you can watch the full tutorial video below.
Understanding Customer Lifetime Value
Ecommerce Customer Lifetime Value is a metric that most ecommerce brands mostly use to calculate the amount of value that a customer brings throughout the lifetime of the relationship that he or she has with your brand.
Think of it this way; just like any relationship, there's value and investment that two parties are sharing, and it's the concept of Customer lifetime value.
Think of the ecommerce giants nowadays such as Amazon and eBay, how do you think they have managed to establish their reputation as a brand? Aside from selling high-quality products, of course, they ensure top-notch customer service. Prioritizing to build great relationships with your customers helps propel your business forward.
Maintaining and continuously fostering your relationship with your existing customers is one of the crucial factors for making your ecommerce brand grow. Therefore conducting CLV analysis can help you know who to focus on developing further customer satisfaction in the long run.
According to Michael Scrage , research fellow at  MIT Sloan School's Center for Digital Business said, "For managers and marketers alike, the power to calculate what customers might be worth is alluring, and that's what makes customer lifetime value so popular in so many industries."
For Ecommerce brands like yours, you want to know how profitable your relationship with your customers can be, and by using the customer lifetime value metric, you'll be able to do that.
By knowing the customers who are buying your products often and who is not, then you'll be able to focus on investing in your old customers rather than acquiring new ones. 
This is the part where you have to know how to calculate customer lifetime value. If you run Shopify, it'll be easier for you to know the Shopify customer lifetime value, too! And in this blog, I'll walk you through the step-by-step process. 
Take note that you need to have existing customers who have already purchased from your store to conduct CLV analysis.
Why is Customer Lifetime Value important to your Ecommerce Store?
What is the importance of Customer Lifetime Value, and why should ecommerce store owners like you learn how to calculate it?
The answer is simple. CLV plays a vital role in knowing your customers more and adding value to your relationship with them.
Provide better customer service
Customer satisfaction is important in the ecommerce industry. The golden rule is happy customers means more sales. And you'll be able to continually make them happy by using the customer lifetime value formula in your calculation.
Strengthen customer loyalty program
Calculating CLV can help you know how to retain loyal customers and focus on them. You'll be able to think of new ways on how to engage them even more. 
It's a great incentive for your existing customers, if you offer them products that are valuable to them and optimize their shopping experience with your brand then it will make a difference.
If you are being attentive to your existing loyal customers is crucial since it will help you grow your customer base over time.
Scale your Ecommerce business
Most Ecommerce stores use CLV analysis not only to identify ways to make their customers happy but to also scale their Ecommerce business. Since the majority of Shopify sellers are aware of the importance of customer lifetime value they use it to their advantage to optimize their campaigns. Once you'll be able to implement CLV well, then you'll gain leverage.
It's important for Ecom store owners like you to stay relevant and sharp. With CLV, you'll be able to improve your products and add more value to your customers.  It's not only good for your business in the long run but also establishes your brand to your customers.
Save money and acquisition costs
They say that running a successful  Ecom business depends on the amount of  profits and ROI you're getting. This is sad because it means not all merchants are taking advantage of other metrics that will help them make more profits. Once  learn how to calculate the average customer lifetime value of your customers, you will see more opportunities to grow your business.
Knowing your CLV will help you identify profitable ways to make your customers happy while saving money and acquisition costs. You will be able to focus more on your existing  customers which is a win-win situation for you and your customers.
Understand analytics and industry trends better
Knowing how to use the CLV as a metric for your business will lead you to getting more useful insights and analytics to segment customers efficiently.
With that type of data, maximizing profit can be easy for you to implement.
Steps to Calculate CLV for your Ecommerce Store
Step 1. Download all orders from your Shopify or ecommerce platform as a plain CSV file. Make sure that you have these two fields:
order value

email of customer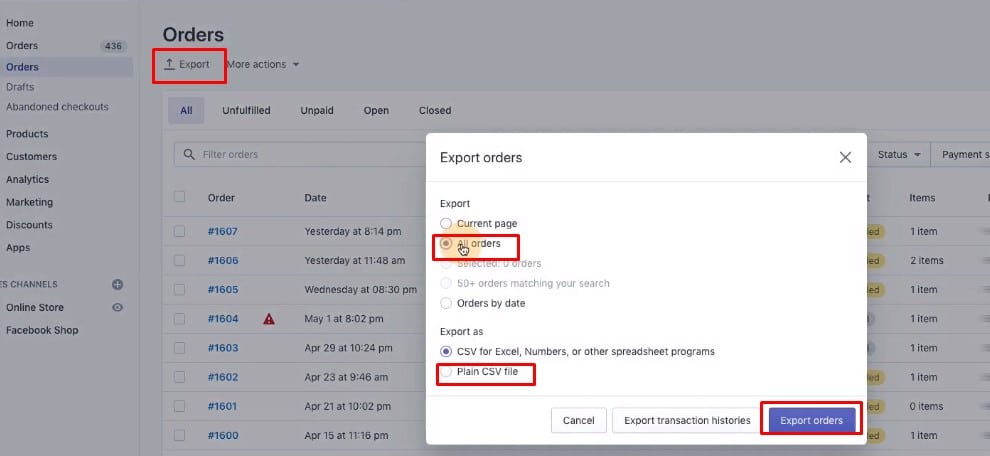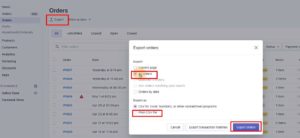 Step 2. You will then receive an email from Shopify with the link to the downloadable CSV.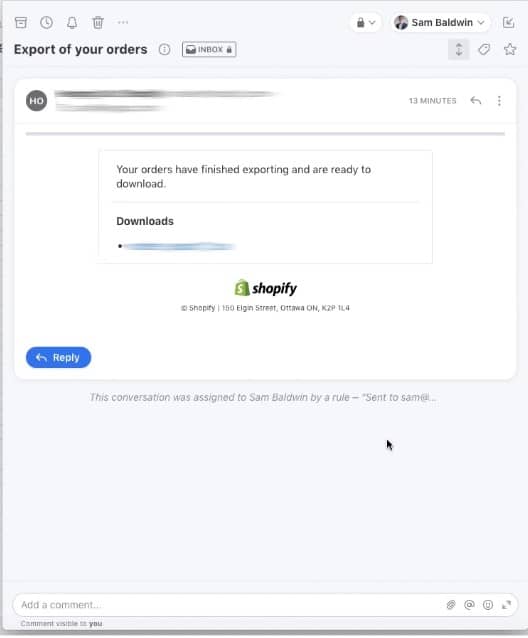 Once downloaded, copy and paste all the data from the CSV file into Google Sheets.
Step 3. Create a new tab in that same Google Sheet. This is where you will perform the calculations.
Step 4. Extract all "unique" emails from the list. To do this, you need to use the UNIQUE formula to filters out recurring customers in the list: =unique(Sheet Name!Column:Column). Just type or copy the formula below:
=unique(Sheet1!B:B)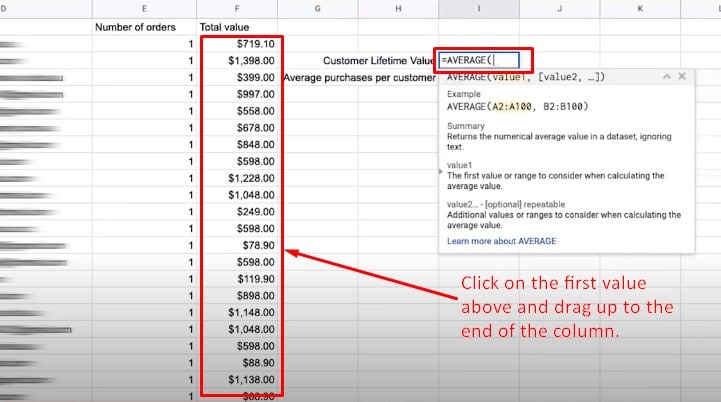 Step 5. Get the total number of orders per customer. To do this, you need to use the COUNTIF FORMULA: =countif(range, criterion). Just type or copy the formula below:
=countif(Sheet1!B:B, D2)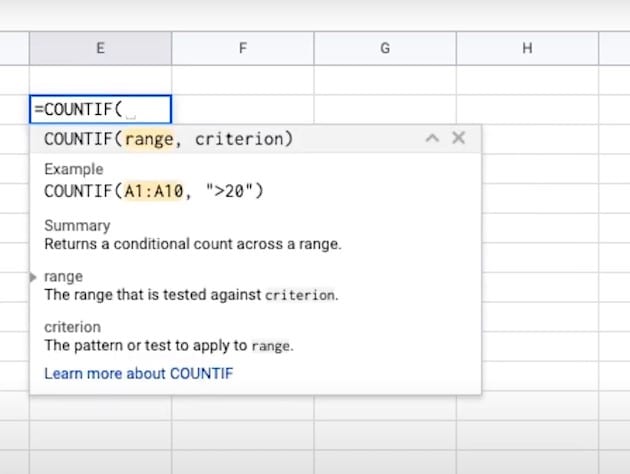 Step 6. Calculate the total purchase value of the orders per customer. To do this, you need to use the SUMIF formula: =sumif(range, criterion, [sum range]). Copy and past the formula below:
=sumif(Sheet1!B:B, D2, Sheet1!L:L)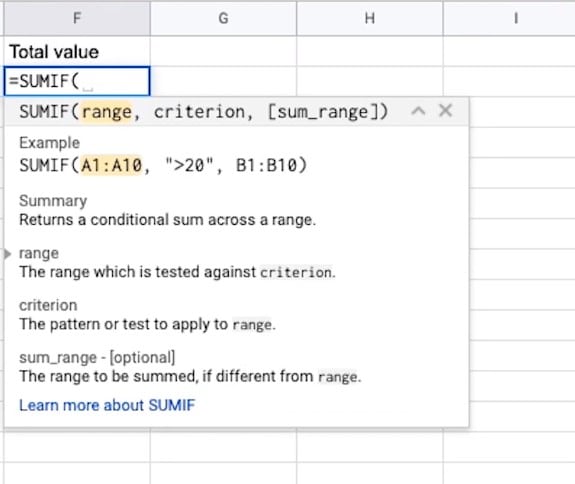 Step 7. Once you have all those values, you can then calculate the average customer lifetime value and average purchase value per customer.
Use the AVERAGE formula to calculate CLV:
=average(value1:value_)
Extract the "value" from the data under the "Total Value" column.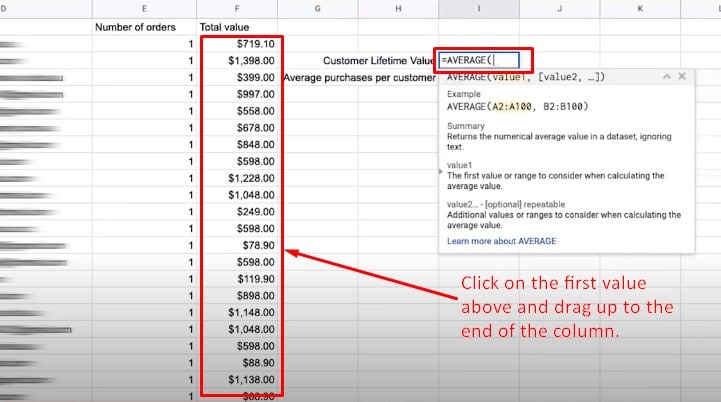 The same formula will be used to get the average purchase value per customer, but this time you will extract the values under the "Number of orders" column.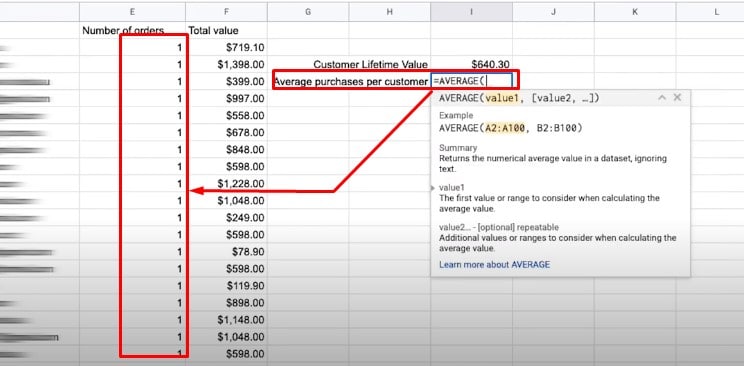 Watch the full CLV calculation tutorial here! 
How to Improve and Increase CLV for Ecommerce Store
There are two factors or parts in increasing your customer lifetime value. You can improve either of the two elements in reaching your goal of increasing CLV.
The size of the order when someone buys from you.
The number of times that someone buys from you.
The technique here is to get more people buying products from your store. The more times that they buy from you, the better since it will increase your customer lifetime value.
Ways to improve and increase your store's average order value
Free shipping threshold
Free shipping is one of the techniques that you can do as an incentive for your customers to buy products from you. It depends on you if you want to do free shipping across the whole store. Or over a specific amount purchased. 
For example, a product plus free shipping. The people will think that free shipping is open even though you included the fee into the actual price of the product.
Discounts overspend threshold
It is similar to the free shipping technique, and you can offer discounts to your customers once they order a certain amount like a 5-10 percent discount. You can calculate your average order value and then set a goal to increase your average order over time.
Bundle deals – buy one, get 50% off
This is a  standard thing that you can do to increase your average orders. Usually, customers love buying bundle deals.
Gift card if over the threshold
You can give it. Free gift to complement the order that your customer has ordered, and it can be related or not. It's also one of the great ways to increase your average order and customer lifetime value. People in general love to receive free things and an effective way to act as an incentive to buy high priced products from your ecommerce store.
Cross-sells and upsells
For cross-sell, you can suggest or show your customers much pricey yet better products than the one there actually looking for. While for upsell, you can also suggest products before customer checkout and therefore add value to their buying experience and also boost your average order in the process.
Repeat orders are the holy grail for your business to boost profitability and customer lifetime value. You want people to buy from you again and again, but to encourage customers to order from your store again, you have to offer them high-quality products that add value to their lives.
You also need to provide excellent customer service and reliable communication channels so customers can easily contact you.
The Key to Customer Satisfaction and Customer Retention
The key to building a fruitful and trustworthy relationship with your customers is through the value of your products. Always make sure that you provide the best product and services that you have to offer your customers that is irresistible for them. You can do subscription box or service products or on a niche.
As an Ecommerce store, give your best when it comes to providing a  great buying experience for your customers. You can also do retargeting to increase your average order. There's plenty of ways to do retargeting, either email marketing or ads marketing. Usually, retargeting ads can take 30 days, and you have to do market research.
Building a brand and a following of your store is great for your Ecommerce business. And it's called brand loyalty. 
One of the best examples of a brand that has extreme brand loyalty is none other than Apple. It's like they built a cult who buys their products again and again. Apple has a lot of repeat customers and continuously increases its customer lifetime value repeatedly. This is the dream of every eCommerce store to have fans of their brand. 
According to statistics about 84% of U.S. adults are loyal to retailers, 82% are loyal to product-brands and 65% of a company's business comes from existing customers.
These statistics show that a massive amount of customers are loyal to brands, and you want to gain followers too. By calculating the customer lifetime value (CLV), you'll be able to focus on existing customers that are doing repeat orders from you. 
You want your customers to turn into fans who will go to war for your products and brand. They will be defending your brand and showing off your store to the world, and they're doing it for free! 
It takes time for a brand to gain the trust of customers and transform them into loyal ones and have numerous social proof all at once.
Ecommerce stores may be having a hard time achieving this goal, but it is attainable. All you have to do is ensure that you offer your customers great value that makes them want more.
You can't build that fan base in an instant, and it requires tons of hard work. You have to develop a system on how to win over your customers.
With the numerous steps or techniques that you can do to increase your average order in this blog post. I hope you know now how to calculate the customer lifetime value. And its importance to. You can use CLV analysis efficiently to scale your business along with your customers.