Don't worry because here is a video that shows you how to conduct an e-commerce Google AdWords audit with an aim to maximize revenue from your campaigns. Watch the insights and set yourself up for success in your Google advertising.
It's not a walk in the park to get a bang on your buck when advertising on Google. If you are just getting started, the dashboard could seem a little overwhelming and complicated. That is not until you get used to it.  
Since there are many aspects to consider when launching a campaign, sometimes even celebrated digital marketers miss the details. Guess what? They end up spending money and getting a low ROI. Yes, even the smallest of the mistakes, such as not setting your location correctly, can drain your marketing budget and reduce profit margins. 
That shouldn't be the case because you need to maximize profits and minimize marketing costs. That's where Google ads audit comes in place.
Here is why you need to do an e-commerce Google ads audit right now:
You can locate new opportunities
A PPC audit involves finding what works and dropping what does not works. In the process, you will identify fresh opportunities. You will know the keywords that are performing well and increase your bid on them.
You will not have a massive ROI from your e-commerce Google ads if you don't always look for new opportunities. Don't run campaigns that aren't improving. If you initially began with $10k, aim for $15 after testing the waters and optimizing your existing campaigns.
We don't always make huge returns from the first few campaigns we run for our clients. But after getting the data, we identify opportunities and boost conversions by half or more.
If your campaigns are not performing at your desired pace, try checking for leakages. It may be that the landing page sucks, the CTA is not aligned with your marketing goal, or you are bidding on broad terms. That can end up attracting tons of traffic to your site but fewer conversions because it's poorly defined. No one wants to lose money, right? Check out for leakages, then.  
You see, the keyword you are bidding on now, may fail to be effective next month. Prospects could have changed their search intent. That's why you need to weed out keywords that are performing poorly. By doing this, you will not only be saving money but also directing them to other meaningful and profitable ventures. 
You need to keep improving your campaign management processes. Don't stick with one while you can apply new and relevant PPC management processes.   
Several ways came with the introduction of machine learning and AI. These help a great deal to significantly automate the Google ads campaign setting process and ultimately boost the ROI.
Look for ways to modify your e-commerce Google shopping campaigns efforts, and save time.
You will make more fact-based decisions
If you make a decision devoid of data, it would most likely be less profitable because the risk is high. Take, for example, bidding on a keyword 'dining table' without knowing how many people are searching for this keyword nor the competitors.
Will you place a high bid on it? Probably not. But suppose you have the data and insight, isn't that awesome? 
That's the same thing with analyzing and auditing your Google ads account. It's rich with real-time data and metrics. With multiple charts, reports, and graphs, you will be able to check out for trends that have grown over long stretches of time.
These insights can help you to refine not only your single marketing campaigns but also the whole marketing strategy.
How do you know when your Google Ads account needs an audit?
Now that you know the pros of carrying out a PPC audit, when should you do this? The main goal is to get positive results. Therefore, work towards identifying the flows and mend them.
One of the reasons we undertake a Google ads audit when we take over a client's Google account is to review their overall account structure for leaks and opportunities.
If we find out that you are making way less than what you should actually be getting, we will devise new goals and strategies for you. Thus, with the routine audits, we can continually improve the performance of your ads.    
You will also know your account needs an audit if you are getting tons of traffic but fewer conversions. Most probably, your landing page isn't conversion-optimized; it doesn't talk, walks, or sells.
Similarly, your location settings could be wrong. You could be attracting the right customers with that search intent in mind, but of a different country or region.
If there are fewer conversions, it means your profit margin is significantly reduced. Any of these signs should tell you that your Google ads account needs an audit.
Google AdWords Audit Checklist
These steps will enable you to access your campaign performance and identify areas that need critical analysis. If you fix the flaws, you will save your marketing resources and increase your profit margin.
Follow these steps in your e-commerce Google AdWords audit. You can even use a Google ads audit template to make work easier.
Account Settings
There are settings that you need to make at the account level. Some marketers ignore this part, yet it can affect your entire PPC campaign. You need to ensure it's appropriately organized for flexibility.
Ensure you link the account with Google Analytics. If you have multiple accounts, find a simple way to manage the whole process. Sometimes, when handling various client's accounts, we will always create well-structured plans to manage them effectively.
You also need to ensure your conversion goals are in place. If you aimed to get traffic through launching Google ads, align the whole campaign to that one goal. You can also ask your client if their goals have changed before restructuring the entire campaign.
The account settings need to give a broad picture of what to expect from your Google shopping campaigns.

Conversion Tracking
Ensure you are tracking your conversions accurately. Search Engine Journal did an AdWords audit on 2000 accounts and found out that only about 29% of accounts are tracking their conversions effectively.
That means most accounts are at the 71% cohort. You shouldn't be in that category because it means you can't basically gauge the success of your marketing efforts.
But what exactly do you need to do to track your conversions?
Begin by linking your Google ads account to your Google Analytics such that you are tracking conversions from there.
In this video screenshot, you can see that the source of the tracking actions is from Google Analytics.


There were no recent conversions from the campaigns because we only set them up for demonstration purposes. You need a strategy to get high conversions rates.
You also need to change the attribution model from 'last click' to 'position based.' People can click different ads before they convert. You also needn't be counting clicks to your landing page as conversions because someone might land on your page and not purchase.
The best place to track your conversion is placing the tracking code on your 'thank you' page. The page represents a segment of customers that have already purchased your product.

3.  Campaign Targeting Settings

You can apply different settings to your campaigns. Most marketers still rely on Google default settings. Just because Google recommends any kind of setting doesn't mean you should use it. You need to set your campaigns to be as specific as possible.
Apply these settings:
There are two options when selecting the type of networks. Choose either the search or the display network. You can also advertise on both.


As you can see, the first option allows Google to display your ad whenever someone searches for the keywords you are targeting. That means the search network is more defined and attracts high buying intent customers.
The display network option allows Google to show your ads on YouTube videos, partner blogs, and apps.
Instead of spreading too thin and draining your marketing budget, choose one network, and stick with that. Choose the search network because it attracts clicks with a high buying intent.
Another major mistake e-commerce marketers make is to target people in or show interest in their targeted location. Actually, that's what Google recommends, but it shouldn't be your choice since you don't want to target people with low commercial intent.


Sometimes, someone could just be searching for 'best wigs in New York,' whereas he is not actually in the US and doesn't have any intention of purchasing your wigs. Or, he may want to buy them, but you don't ship your wigs outside.
Go past network and location targeting and target people based on devices. You see, people use devices differently. They will use their phones to socialize and connect with friends and family. They will also do a light search on things that matter to them. Most use a laptop for in-depth research.
Most people ignore advertising on mobile devices, whereas some marketers reported getting remarkable results in mobile advertising. That's an opportunity for you.
4.  Bidding Method
There are different Google ads bidding strategies. The default bidding method is 'maximize conversions.' Don't go with that option at first. Wait until you have at least 50 conversions per month before you can make the shift.
The first option is simple because all you have to do is set a daily budget. The second is more flexible and allows you to set your preferred maximum CPC bid, placements, and keywords.
As time goes, you will find profitable keywords and ad placements and resolve to maximize the conversion option.
Ad Group Structure
Most people confuse ad groups as a group of keywords, whereas it's a group of ads. You can have different ad groups in one campaign and several ads in one ad group. They all need to be structured properly to maximize conversions.  
Even though the type of campaign and marketing goal will determine the number of ads in one ad group, you need more than one ad to test and optimize for higher conversions. You shouldn't have too many ads, however, because you may end up slitting your traffic too much and get poor results.
Actually, Google recommends 3 to 4 ads per ad group.  You can even include the 'responsive search ad' option to allow Google to match the ad formats with user's search queries.
With insights from the campaigns, you can find both performing and underperforming ads. The structure of your ad groups is a critical element to consider in your e-commerce Google AdWords audit.
6.  Keywords
The keywords are essential since it's what your prospects input into Google. The problem most marketers make is including many keywords in one ad group.
If you check the screenshot below, there are less than 15 keywords in that campaign with different match types. It's either a broad, exact, or phrase match.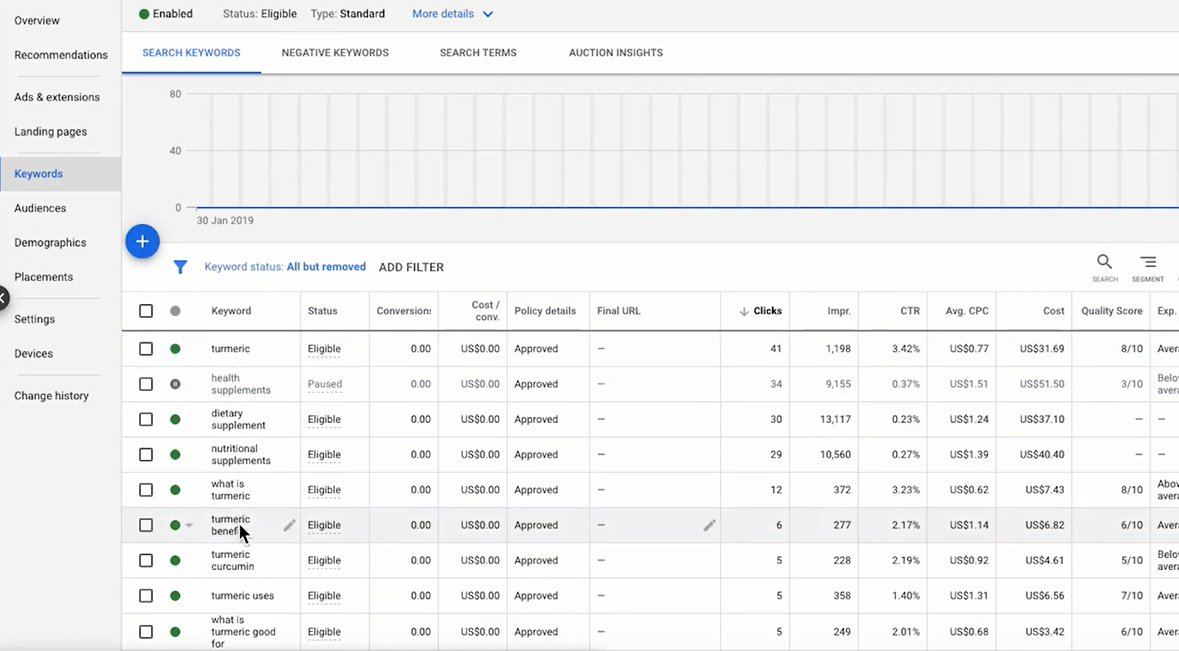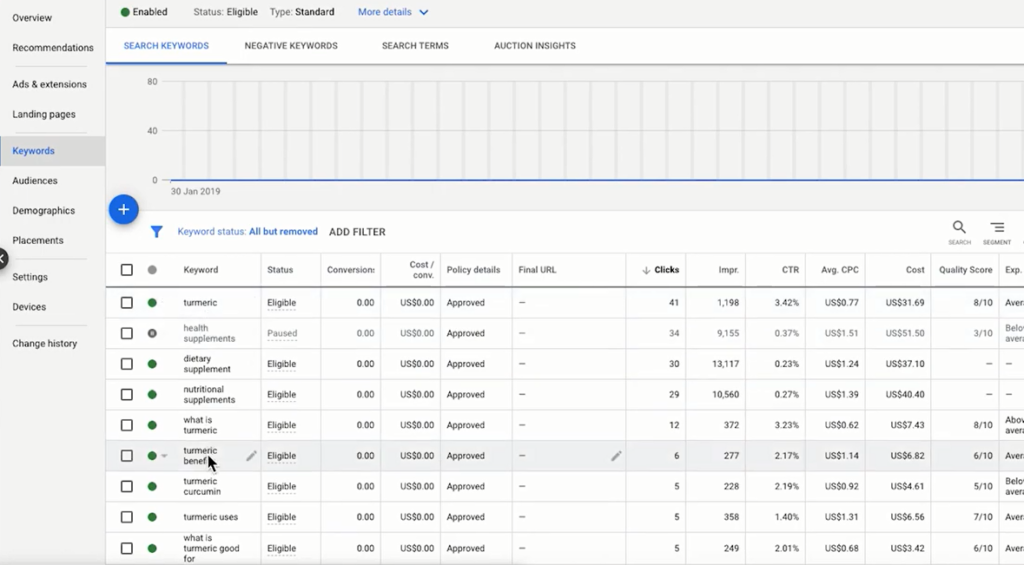 Avoid bidding on broad match keywords if you are looking for sales. 'Turmeric' has lots of impressions and clicks, but low conversion rates and sales. That means people searching for that keyword have a little purchasing intent.
In your Google ads audit, identify broad match keywords, and avoid using them since they may attract people into your e-commerce store but don't always lead to sales. Include negative keywords, as well. These are meant to tell Google to avoid showing your ads to people who search for those terms.    
You should also bid on your brand's keyword. Don't let competitors deprive you of these low hanging fruits that can convert easily.
7. Ad Copy
Your copy needs to attract and compel prospects to enter your funnel. You can even test the copy with a friend and ask him if he finds the copy compelling as part of your Google ads audit.
This is what to look out for in an ad copy:
Includes keywords:

include at least one keyword in the heading and description of your ad copy. If it doesn't include the keyword, it can make the prospect to think the ad is talking about something else.

Clear:

Avoid fluff words. You are limited to the number of characters to include in the description. Ensure you utilize them effectively.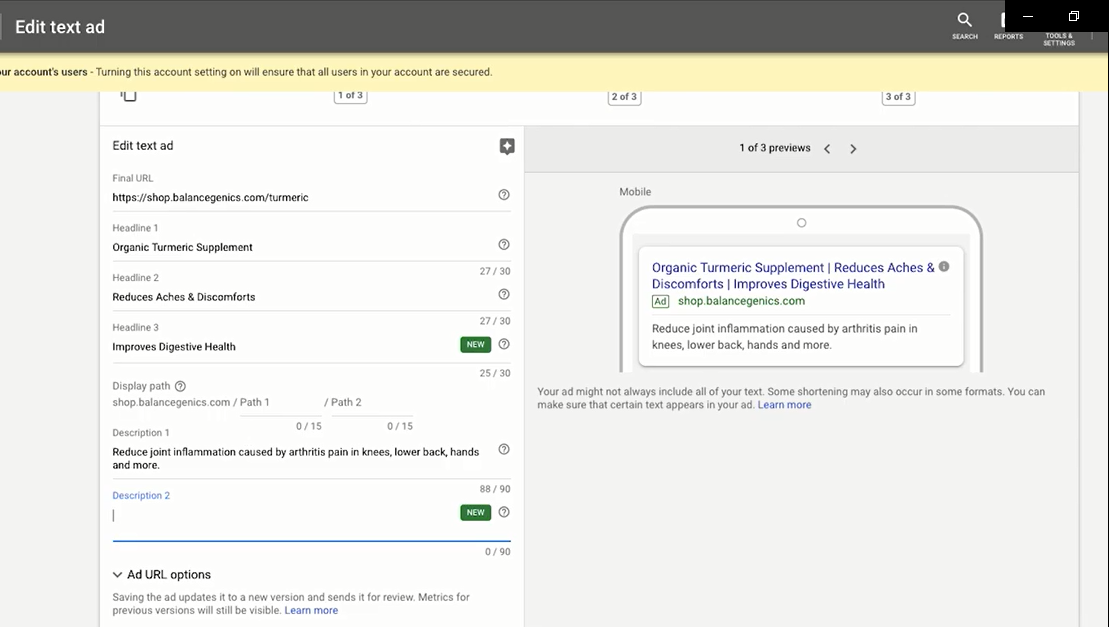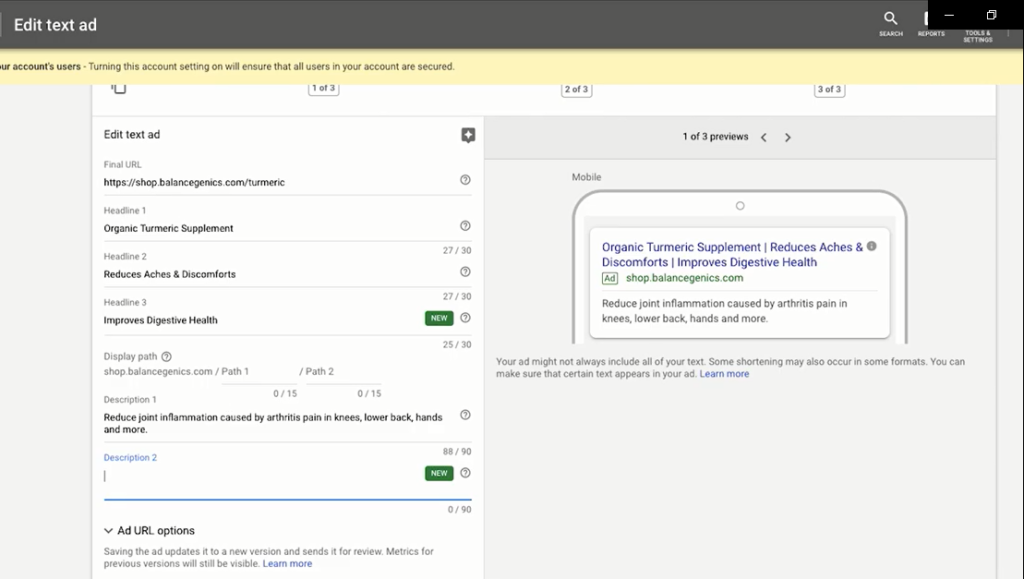 As you can see in the screenshot, you are limited to 90 characters in your ad description.
Compelling CTA:

Instead of merely including a 'contact us' CTA, why not include 'contact us to get a 50% off'? Try out different CTAs to see which works best.

It should speak value:

No one will click your ads if they don't see value in it. Give people a reason to click your ads. That comes along with having a strong, unique selling proposition.
If you find out that your ad copy lacks one of these elements, morph up the copy content and create a simple, concise, and compelling ad copy.
Google Ads Management: Your Action Plan
Once the audit is over and you have documented your notes, what do you need to do? Just sit around waiting for money to trickle in? Hmm! Not quite an approach. You need to highlight the steps you will take based on your audit results.
You see, maximum Google ads results stem from constant ad optimization. The simple tweaks you are making on your PPC audit count big towards achieving a high ROI. So, just follow the steps above and leave nothing to chance.   
Begin with your account structure. Apply the right settings based on your goals and metrics. Are you tracking your conversions accurately? Ensure you connect your account with Google analytics. Set the network to search and target people in the right location.
Once you have applied all the settings based on your Google ads audit, you should begin seeing significant positive results. Keep checking the performance of your campaigns after some time and make adjustments. 
Don't miss any detail, thinking it doesn't matter in your Google ads audit. Most people fail to maximize their profits from Google ads because they don't take time to audit their accounts, identify flaws, and fill them. Don't let that be you because you deserve a higher ROI from your Google campaigns.