Now, you might be wondering how the successful entrepreneurs are doing it? How do they skyrocket their success and still stay sane despite the pressure? There's no secret sauce, just a simple solution that when executed properly works wonders for your business. 
I have created all the templates you will need to start hiring your Ecom VA. Just add your email address below to get access to the Job Post template, Interview Questions, and Trial Task template.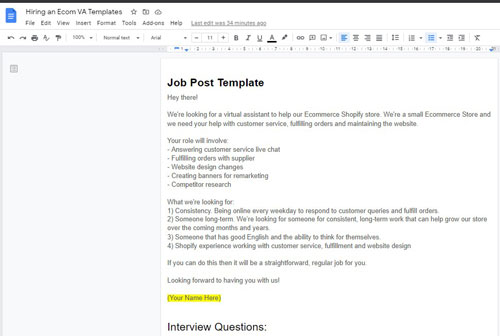 Download the full Ecom VA Template Now!
Get access to the full job posting template and trial template we use to consistently hire quality virtual assistants, saving time and money.
Delegate tasks, achieve more than your expectations, and work on the areas of your business that truly matter! In short, hire an expert virtual assistant for your Ecommerce store.
No idea how and where to start? I got you covered here!
Steps to hire an Ecommerce VA Rock Star
 I've been hiring virtual assistants for years and years, and I've actually posted 53 jobs in Upwork in my lifetime, which I think is a lot of jobs to post. I know how difficult and time-consuming the process could be, and I've experienced firsthand the struggle of finding the right people because finding a sham could really destroy your store!
So I've made it easier for you and set up this whole system that you can simply follow and the templates that you can just copy and paste.
Create a job post looking for your Ecommerce or Shopify virtual assistant.

Shortlist 10 to 15 candidates.

Invite freelancers to the job.

Check those that responded to your job post.

Send them Calendly to book a time in your calendar.

Prepare your interview questions (interview 5 to 7 candidates).

Give them a paid trial.

Review trials.

Hire the candidate that stands out.

Tell others you'll keep them on file if there's an opportunity.
STEP 1. Create a job post looking for your Ecommerce or Shopify virtual assistant.
 Writing a job post is almost like writing and ad copy. You want your job post to be CLEAR and STRAIGHTFORWARD. Highlight what the role is, as well as the skills you are looking for. You want to attract the right person to this job so you need to craft the job description for the people who are really searching for the job that you are offering.  
So the first step is to write the job post, then post it in Upwork or in any platform you want.
STEP 2. Shortlist 10 to 15 candidates
 Once your job is posted, you must expect to receive a lot of applications, which is really awesome but here's where it could get tricky. You have to go through all these applications and check the profiles of all these applicants to see if they really do have what it takes to get the job done. 
Quick tip: Find the people that look like absolute rock stars!
STEP 3. Invite freelancers to the job.
 In Upwork, you can directly send an invite to freelancers who you wish to apply to your job post. To do this, you can search for specific terms or titles that you are looking for. For example, you can search for "VA," "virtual assistant," or "shopify VA" in the search bar and filter your search by category, location, talent type, hourly rate, job success, English level, etc..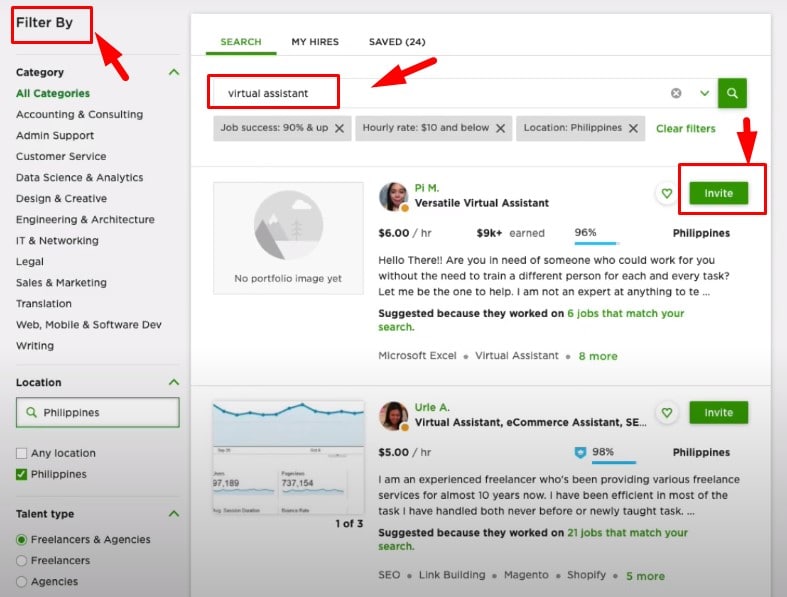 STEP 4. Check those that responded to your job post.
 After posting the job and inviting freelancers, wait two to three days then check back to see who responds. You will get these proposals from a number of freelancers who saw your post and some form those you've invited. 
These proposals can range from short straightforward to very long application letters. Some might even send you a customized video introducing themselves and their skills, while some might just copy and paste previous applications they have sent. 
Customized applications and videos are really great and would mean that the applicant really took the time to craft their cover letters and all, but copied and pasted applications are not a sign of incompetence; it only says how much these people really want the job. And besides, you can always check out their profiles to see what previous employers say about them and if they have done similar jobs before.
STEP 5
. Send them Calendly to book a time in your calendar
 Calendly is a software that you can connect to your Google calendar or whatever online calendar you are using. It has a free version and it allows you to choose dates and times where you can take calls and interviews. 
You can send a Calendy link to shortlisted candidates where they can choose a time slot for their interview, and what's great about this software is that it syncs your schedule and will automatically close the time slot once it's been chosen by another applicant to avoid double booking. 
Sign up for calendy here.
STEP 6. Prepare your interview questions (interview 5 – 7 candidates)
 Now your week is booked with interviews. The next step is to prepare the set of interview questions that you want to ask during the interview and choose the software or program where you want to have the call; I recommend zoom.
So when crafting the questions, you want to think about the goal of the interview. With these virtual assistants, you really want to figure how capable they are to do the job. 
Do they have the experience and the skills? You want to really gauge their capabilities but you also want to know if they are a good person and are culturally fit. This is very important so you know that the person you're hiring can do the job, but you also want to work with someone who is competent, consistent, conscientious, and industrious.
The interview could usually run about 45 to 60 minutes, and after that you'll get a really good idea who among the candidates will proceed to the next phase of the hiring process.
STEP 7. Give them a paid trial 
 The trial is definitely optional. If you think the interview already gave you a clear picture of the person you really want to hire, then you can definitely proceed to closing the deal with that applicant. 
However, if you want to really gauge their skills, you can send them a trial task. I personally prefer a paid trial because I respect the time and effort they will take in completing the trial, but it's really up to you if you want to pay them or not. 
In the paid trial sample I have provided in the templates, I've created 3 TASKS for the applicants to complete. I've also included CLEAR instructions as well as video instructions to make sure that the applicants know what they need to accomplish. The deadline for each task is also indicated in the sheet. 

STEP 8. Review all completed trials.
 The sad truth is that not all applicants will complete the trial. Some might not even think twice and just forget about the job position. But those who really want the job will be persistent and complete everything you asked for in the trial task.
Review all of them and assess who among these candidates went above and beyond your expectations.  Then proceed to the next phase.
STEP 9. Hire the candidate that stands out.
 There will be times where you will get two or three rocks tar applications. However, you can only HIRE ONE! Therefore, you really need to think about it hard and choose the one that really stands out.
Choosing a VA could either make or break your business. Yes, you can supervise and micromanage for a couple of days, but what you need is someone who needs little to no supervision, one who has the initiative to get the job done without you asking them, and one who sees your business like it's theirs!
STEP 10. Tell others you'll keep them on file if there's an opportunity.
Telling other applicants that they didn't make it could be one of the most difficult steps in this process, especially if you know that they did an amazing job too. So what you could do is give them your kindest feedback and let them know that you will keep them on file and contact them as soon as an opportunity comes up. 
The Bottomline 
Having a virtual assistant for your Ecommerce store allows you to focus your time and attention on areas in your business (and life in general) that truly matter. 
Assess the different processes in your Ecommerce business and identify the tasks that need your direct attention. For other administrative and mundane tasks, you can delegate these to your VA and get those done in no time. 
Now that your job post is up, your interview questions are hot and ready, hire the Ecommerce virtual assistant  that will literally add more productive hours to your day and help grow and scale your business.