When your products get disapproved in Merchant Center, it an cause undue stress and loss of sales. Even though it may seem like the end of the world, it's fixable. You just have to persevere and you'll find the solution to fix disapproved products in Google Merchant Center.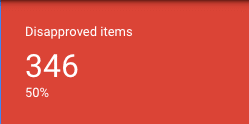 In this article, we will talk about the most common Merchant Center errors that every Ecom store owner has experienced (and probably are still experiencing), dive deep into the reasons why you experience these issues, and look into the solutions to fix these errors and prevent them from ever happening again.
Why do disapprovals occur in Merchant Center?
You see, Shopping Ads are different from regular Google Ads. First, you need to create a Google Merchant Center account, upload your product feed or connect it with Shopify or any e-commerce platform, and wait for your products to be approved before they go into the Google Shopping network.
Apart from those steps, you also need to make sure that you format your Merchant Center feed using a set of product data specifications. Submitting your product data feed using the correct format is crucial for setting up successful ads and getting your products approved. 
But with all these steps, specification, and requirements, it's no question why most Google sellers fail to get their products past the Merchant Center. But you don't have to worry, because these issues are common when creating and submitting your feed and everyone has experienced this, especially the newbies. 
The good news is you can easily find the information and solutions you need in Google to fix disapproved products in Merchant Center. 
And guess what? You can even call AdWords Support when you are entirely stuck with the process and don't understand how to fix an issue. You can call the Google AdWords Support team from different countries in different time zones any time of the day to get help in resolving product disapprovals and Google Ads account suspension. Get the full list of Google Ads contact numbers here. 
Quick Tip: You don't, however, have to wait for all the products to be approved to begin running your Shopping Ads. Begin with a few approved products and get the data, leads, and conversions. 
Shopping Ads. Begin with a few approved products and get the data, leads, and conversions. 
Types of Google Merchant Feed Errors
Before we delve into the 'why', you need to know first the different types of feed issues that you may encounter when submitting your product data feed in Google Merchant Centre. Google categorizes each type based on the severity of the issue.
Knowing these types of feed errors will help you identify high-impact and high-priority issues that need your immediate attention and so you can prioritize these issues right away to avoid Google Ads account suspension.

Notifications (Blue icon)
Notifications are Google's way to give you recommendations and suggestions to boost the performance of your ads. It may include suggestions to optimize your product data feed like updating your product descriptions. Though this type of issue may not impede your Ads from showing, it's still best that you take the time to go over these recommendations to make your ads perform better.
Warnings (Yellow Icon)
You can say that this is the second-most important issue. Warnings are not a sign of product disapproval or your Merchant Center account getting suspended, but it also doesn't mean that your account is performing at its best. Ignoring these yellow icons for long will eventually lead to reduced feed quality, therefore, decreasing the performance of specific products in your Google Shopping campaigns.
One example is "poor quality image." When the main image associated with your product is of low quality, Google would flag that as an error and will send you a warning to replace the image and make sure that it goes by the standards of Google.
Errors (Red Icon)
Errors are the most serious type of flag in Merchant Center. When you see red, stop what you are doing and drop everything you're holding! You need to fix all these errors because code red could only mean disapproved products or a suspended Google Merchant Center account. Errors disrupt not only all your marketing campaigns but also the whole account.
Invalid GTIN value and Missing Shipping Information are just two of the issues that are flagged red in Merchant Center.
Why do these issues occur and lead to product disapprovals?
You see, for any retailer who wants to sell products online, Google Shopping Campaigns is a powerful channel to leverage because consumers are increasingly becoming attracted to image and price ads in their search results. 
As more people flock to the site to create their Google Merchants account, Google had to ensure it sets firm guidelines to maintain the integrity of their search listings. They review every account and ensure that they are presenting the best products to their users.
The end product is the customer. Every company always wants to give the best to their customers. Google is no better.  So, for most people learning the ropes – even PPC marketers – get confused when their products get disapproved.
However, as you fix each issue one by one, you will learn the process and spend less time correcting the errors next time.  
Check out these common Google Merchant Center feed errors:
1.  Incorrect product availability
Google needs to know if your products are available or out of stock. You also need to indicate if your customers have to pre-order.
Imagine ordering a product from your favorite store and being told that it's out of stock when you have already placed your order. That could be disappointing, right?
Therefore, your site needs to indicate the product availability. Someone needn't waste time ordering unavailable products because it can ruin their experience with your store. Neither do you have to pay for clicks when your products are out of stock.   
So, to ensure merchants adhere to this, Google will check out for this status. If you submit your feed and indicate the product is in stock and Google finds out that it's out of stock on your site, your products will be disapproved.
Tip: Use predefined values for item availability. Don't submit available/unavailable, either. The best way to input this attribute if you aren't sure of a product's availability is to use conditional statements in the 'quantity' input field. 
2.  Invalid images
Have you ever visited a site and barely made out the type of products they are selling because the images are of poor quality? Would you want the same for your customer?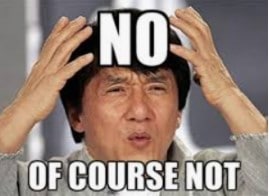 So is Google. Poor quality, irrelevant, and invalid images are always a no-no when creating your product data feed.
You always have to use high-quality images which should be about 1000 PX by 1,000 PX and above. To get to that quality, take photos of your products with a white background. You also need to input an additional image link attribute if you have multiple images.
Take images from different angles to match the taste of your consumers. By being unique, you can beat your competitors easily. Also, don't add a logo or text on the image because it won't work.
In Shopify, you can go to shopify.com/admin/settings/files and upload a new image that meets Google's standards and replace the old link with the new one. It doesn't have to be an image on your product page (that's a great hack right there).
Google also disapprove most products when the link provided points to a website, whereas it should point to the actual image. So, take note of that!    
3.  Incorrect price
Suppose you are selling women's shoes that are averagely between $30 and $50. In the process, you mistakenly type $500 as the price of your product in the Merchant Center when you update your feed.
When the Google shopping team is reviewing your products, they will note that the price you submitted is not similar to the price in your e-commerce store. They will include that as an error and disapprove the product.
Even a small mistake of using the wrong currency can cause your products to be disapproved. Pretty harsh, right? Don't worry. It's easy to fix. Just input the right price, refresh the diagnostic page, and you are good to go.
4.  Incorrect landing page URL
Incorrect landing page URL is a very common error that leads to product disapprovals in Merchant Center. Sometimes, the link you provide in your Google shopping feed doesn't lead to the correct landing page of the product, shows error 404, or a blank page.   
Ensure that all links leading to the landing page are valid, such that when customers click on your Google ads, they will be directed to the correct landing page to purchase the product.
If the issue persists, create another product page and replace the old link.
5.  Problems with your MPN or GTIN
MPN and GTIN are used in conjunction with brands. They are a series of numerical digits assigned to a product to identify and recognize it among other products from the same or different brands.
Global Trade Item Number (GTIN) is a value assigned to a product to identify it worldwide. That means GTIN is used on a global scale. Manufacturer Part Number (MPN), on the other hand, is a value assigned to products from the same manufacturer.
For example, a camera manufacturer would want to identify every camera he produces to keep records. What he needs is a unique identifier. You will often see these values in almost all the electronics.
But why exactly would you want it in your Merchant Center? Here are a few reasons:
Visibility: You see, Google will use a UPI to give your product higher visibility in search results, which increases the chances of getting sales.
As search becomes essential, a unique product identifier will help you to place the right product in front of the right people because it matches their search intent.
Actually, a 2016 Google Merchant Center update concluded that adhering to the set Google GTIN guidelines will lead to a 20% increase in conversion rates. 
Recognition: Google needs that UPI to compare your products with those of other merchants in Google Shopping and to match it with the customer's search queries.
The end result is that your product will appear in Google listings, which increases engagements and conversions.  
Even though it's essential to use GTIN, we sometimes recommend using an MPN and brand as UPIs. You can actually get a custom GTIN if you like.
Using a similar GTIN as other merchants will allow the positive reviews of the same products to be shown on your ads. The downside to this, however, is it won't be cool if it was your product that's having such positive reviews. You don't want other merchants to steal your hard-earned reputation, do you?   
That said, how do you include unique product identifiers (UPIs) in your product data?
If you want to fix your Google Merchant Center disapproved products, simply download a CSV file of all issues. Filter out until you get an issue with a title "missing identifiers (GTIN, MPN, and brand).
Go through the report and ensure each product has either the right GTIN attribute or the right MPN and brand attribute. Double-check everything before you upload it and wait for the results in the diagnostic center. You can refresh it after some time.
There is much that goes into the GTIN Google shopping and MPN issue. To ensure you get it all, here is a complete guide that walks you through.
6.  Missing shipping and tax information
Google requires you to provide the correct shipping rates for your products; otherwise, you will get an error; that applies to any merchant or retailer offering free shipping.
Also, if you want to ship outside the country you are targeting, ensure the type of service you are offering is clear, and the price is in the right order. The tax information also needs to be there and set correctly.
For US citizens, indicate your state and the amount of tax you owe; different states have different tax rates in the US.
How to set Google shopping shipping settings for Merchant Center?
Step 1. Log into your Google Merchant Center account and locate the 'shipping services' tab, which is under the 'tools' section. Click the plus button once you select that option.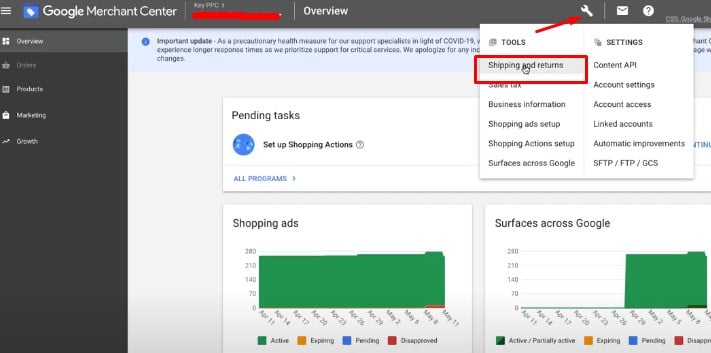 Step 2. Begin by naming the services since there are different shipping services and select the area you will be operating. It should basically be the target country you selected when you submitted your feed.
Step 3. Set your delivery time and indicate the time when you need your customers to place orders. You can also group products based on different delivery times – some products are perishable.
Step 4. You can add your shipping rates and click continue to save your new Google shopping shipping setting.
The bottom line is to ensure your shipping settings match what you are shipping. Here is a video that explains all about setting your shipping and tax information.
Prohibited or Restricted products
You probably might already know this; Google doesn't accept all harmful products into its network. Submitting them is a Google shopping policy violation. Here is a list of dangerous products, that won't make it to your Google AdWords because of shopping ads policies:
Google won't accept products such as weapons, ammunition, explosive materials, drugs or drugs information, tobacco, or any information regarding this and other harmful products.
Imagine if Google could be selling all these. What could be the reputation of the company?
Some brands sell counterfeit products. These are products having the trademark and logo of the original product and want to leverage that reputation to generate sales. Google does not encourage the sale or promotion of such products.
Here is a video that talks about this in detail.
How to Fix Google Merchant Center disapproved products
You already know the types of errors in Google Merchant Center, how they are categorized based on severity, and the easy fixes you can do to solve the issue.  Now let's go over the steps to fix disapproved products on the account level.
Log into your merchant account and locate the diagnostic page. This is where you will find all issues that pertain to your product.

If you don't understand an issue, use the 'learn more' option beside it.

Depending on the type of error you received, apply the right guidelines discussed here to fix your Google Merchant Center disapproved products.

Double-check your information to avoid submitting the wrong data to the Google shopping ads management team. You also need to implement a long-term plan to prevent these errors from happening in the future. 

Submit your products feed again and wait for Google to review it. After some time –you don't have to wait for the whole day – refresh the page again and see if the previous errors are still there. 
The best way to prevent all these errors is to be keen on what you submit to your Google Merchant Center account. Google has firm rules geared towards offering the best shopping experiences for their users. So, the only way to avoid product disapprovals and account suspensions is to abide by their guidelines.
Google will send you an email to notify you of any disapproval or errors but it is best to check your Merchant Center account at least once per week so you can go over these issues right away. You see, once these products are disapproved, your ads are stopped, and your sales will dwindle. Otherwise, you can use this guide as a checklist to ensure you fix any issue that may arise.