You can always manually update your Google Merchant Center product data feed, but this can be time-consuming and prone to human error, especially if you have 10 or more products in your Ecommerce store. Fortunately, Google has launched Google Merchant Center Automatic Item Updates to help store owners and marketers in syncing their store updates to their Google Merchant Center feed.
Steps to Set Up Automatic Item Updates
To set up Google Merchant Center automatic updates, you need to make sure that your web pages follow a valid data markup. Without this, Google cannot apply automatic item updates, and it may lead to getting your products disapproved, or worse your account getting suspended.
With a valid data markup for Google to crawl through, you are now ready to set up automatic improvements in your Google Merchant Center account.
Step 1 - Click on Automatic Improvements
On your Merchant Center dashboard, go to Settings and click on Automatic Improvements.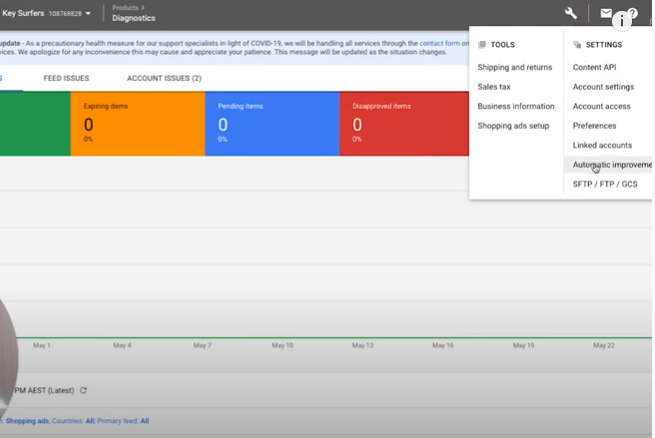 Step 2 - Enable Automatic Item Updates
On the next page, make sure the "Enable Automatic item updates" is turned on and the tick box at the bottom is checked.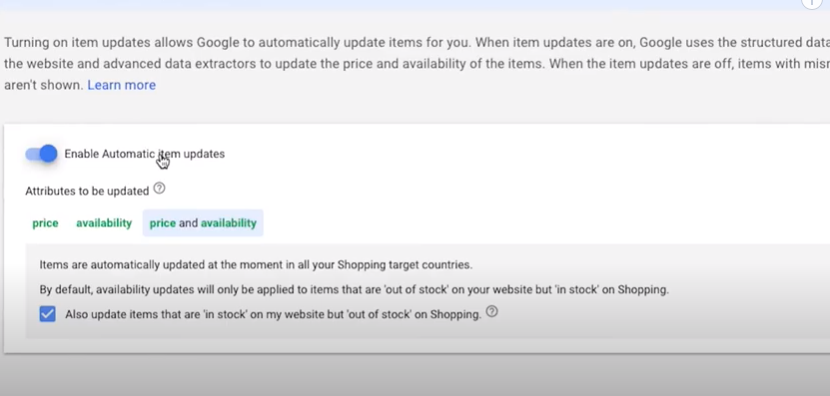 You have three options on the attributes that you want to be automatically updated:
Price only
Availability only
Price and availability
Choose the "Price and Availability" option so whenever the product price and availability on your Ecommerce store will automatically be applied on your Google Merchant Account product feed.
If you choose "Price only", products that are no longer available on your website, will still show on your Google account, which can cause confusion for users. That is why you need to choose the "Price and Availability" option.
Step 3 - Automatic Image Improvements
Aside from item updates, there are also Automatic Image Improvements that you can apply to your product images.
Remember that Google has product image policies and requirements that you need to abide by so your products don't get disapproved. These policies include not adding any promotional overlays, watermarks, texts, and other extra details on your product images. You can check out the complete Google image requirements here.
When you enable Automatic Image Improvements, it means you are allowing Google to make their own edits and improve the product image based on their requirements. If you want to test this out for your products, you can just turn on the "Enable automatic image improvements" and Google will automatically update images that it thinks need to be improved. 

How does Google Merchant Center Automatic Updates work?
Google applies automatic item updates using schema markup that's in your Shopify product page. When Google notices a difference between your site's microdata and Merchant Center product data, Google takes the information on your store's data markup and syncs that to your Google Merchant Center account.
That is why it is important that your web pages follow a valid data markup.
Benefits of Enabling Automatic Item Updates
Enabling automatic improvements is really a game-changer when it comes to managing your Google Shopping ads and your Google Merchant Center product feed. Below are some of the benefits that will convince you to enable Google Merchant Center automatic items updates.
1. Improve user experience
If shoppers see a mismatch on the price on your Google ads to your website, shoppers will be confused and will leave your site immediately. Moreover, if they clicked it but was pointed to an empty or unavailable item, you wasted a valuable impression that could have been a conversion. But if your Google ads match what is on your product page, then, you are creating a very good user experience which can result in more traffic on your shopping ads and higher conversion rates.
2. Minimize the number of mismatches
With automatic improvements enabled, Google will automatically update your product data using your website's microdata minimizing the number of mismatches between your website and shopping ads. This can minimize any chances of getting your products disapproved or your account getting banned.
3. Increase traffic and conversion
Since updates are being made on your shopping ads based on what you update on your website, you can continue showing your ads to customers without interruption. Moreover, your customers are clicking on what they expect to see and get, which is very important if you want to increase your conversion.
4. Saves you a lot of time
With the automatic improvements in Google Merchant Center, you save a lot of time manually updating everything, especially if you are updating a lot of items. Moreover, manual updating is prone to errors. But with the automatic item updates, you are confident that everything is accurate and matches what you have on your store.
Automatic improvements in Google Merchant Center is really a great help for store owners and marketers, especially if you need to update your products every now and then. It saves you a lot of time, effort, and money. Moreover, it helps improve user experience and protect your Google Merchant Center account from getting suspended.