With 74% of consumers planning their holiday shopping well in advance, optimizing marketing efforts for profitable sales is essential. Even more so due to global consumer spending pressure from inflation.
This holiday season is unique due to AI-powered tools revolutionizing business operations. These tools enable faster movement, deeper customer insight, and novel engagement strategies powered by Google AI. 
Google introduced innovative features that provide insights and capabilities to enhance your performance.
Here's what they had to say:
Delight customers across shopping channels
The traditional path to purchase across the web, applications, and physical stores has changed. 61% of holiday shoppers use five or more channels over two days for shopping. You can use this opportunity to position yourself within their journey and expand your customer base.
For Performance Max campaigns focused on online sales, the New Customer Acquisition with High-Value optimization lets you tap into high-value newcomers and average-value customers while engaging existing ones.
As an aftermath of the pandemic, it's evident that local shopping now begins online. Google already saw an increase in this trend in 2022. Online searches preceded 96% of in-store holiday shopping.
To support this trend, the following changes have been made:
Available for merchants without a local inventory feed, enhancing customer convenience.
Businesses using Performance Max for store goals now have broader access to the Search top slot ad format. This interactive format showcases essential business details, such as operating hours. It triggers appropriate actions for customers who have indicated specific local shopping intent (such as using "near me" in their search), such as providing directions or enabling calls.
The average onboarding time for local inventory ads has been significantly reduced, while a new ad format for local store units is now available. This innovative format seamlessly integrates the available inventory data from your local product feeds with imagery and information from your business profile, providing potential customers with a comprehensive view of your store.
Unveiling fresh holiday and product insights
Early holiday season engagement is crucial. Many U.S. consumers are shopping early for the holidays, with as much intensity and across as many categories as they do during cyber week. 
Google has enhanced the product page experience in Ads. It now offers more details about product-related matters, such as out-of-stock inventory, ambitious bidding targets, or missing feed information.

The upgraded Performance Tab in Merchant Center simplifies access to insights on product, pricing, and competitive performance metrics. Identify best-selling products and potential click-magnet items. You can use these to compare pricing and visibility with competitors.

Proactive testing and iteration provide valuable early insights into campaign and bidding strategies. For brick-and-mortar businesses, A/B experiments test online-only bidding versus Smart Bidding for both store visits and sales.

One-click experiments allow A/B testing between Standard Shopping and Performance Max campaigns for advertisers. Transitioning saw an average 25% surge in conversion value, maintaining a similar ROAS.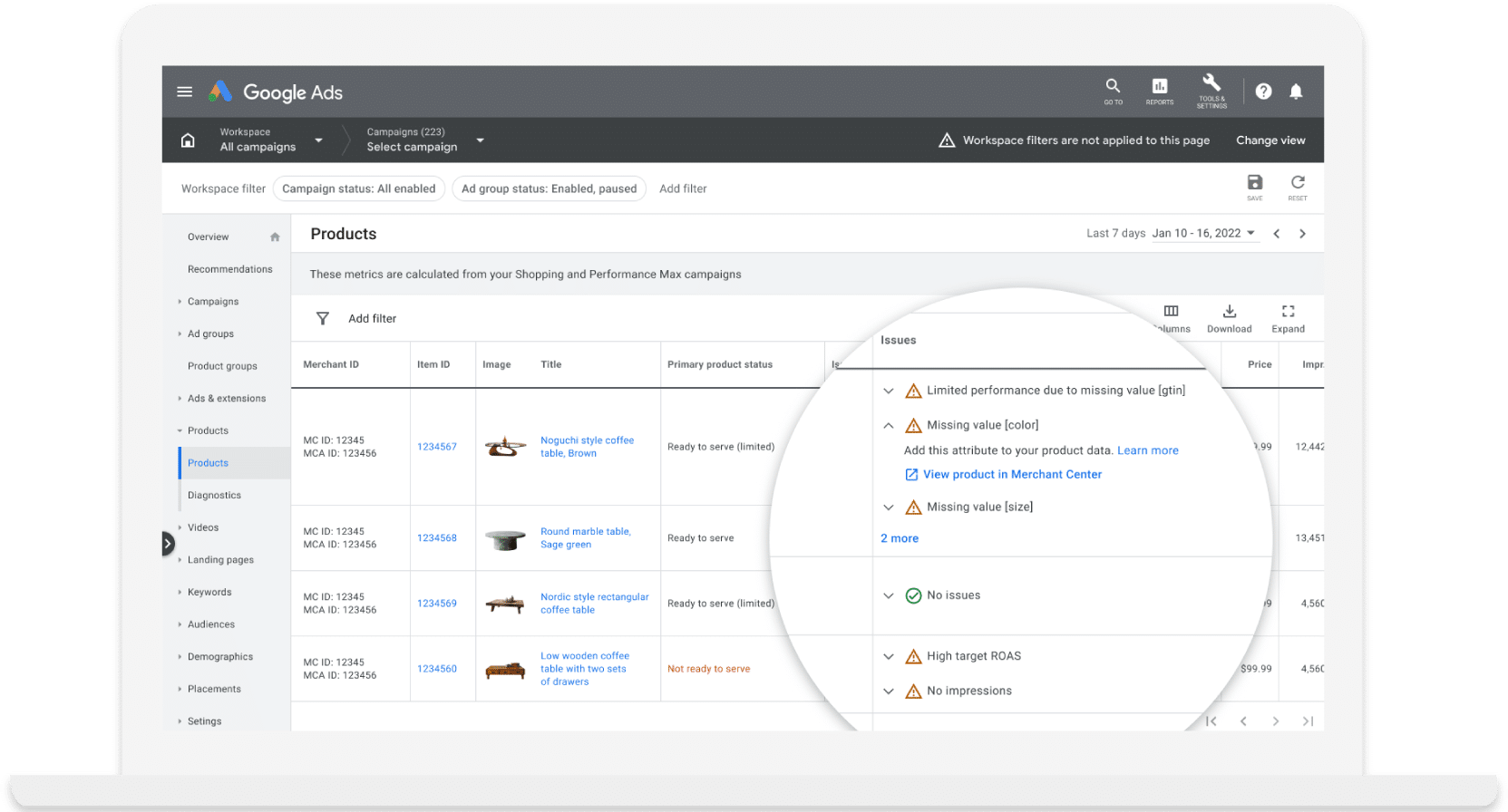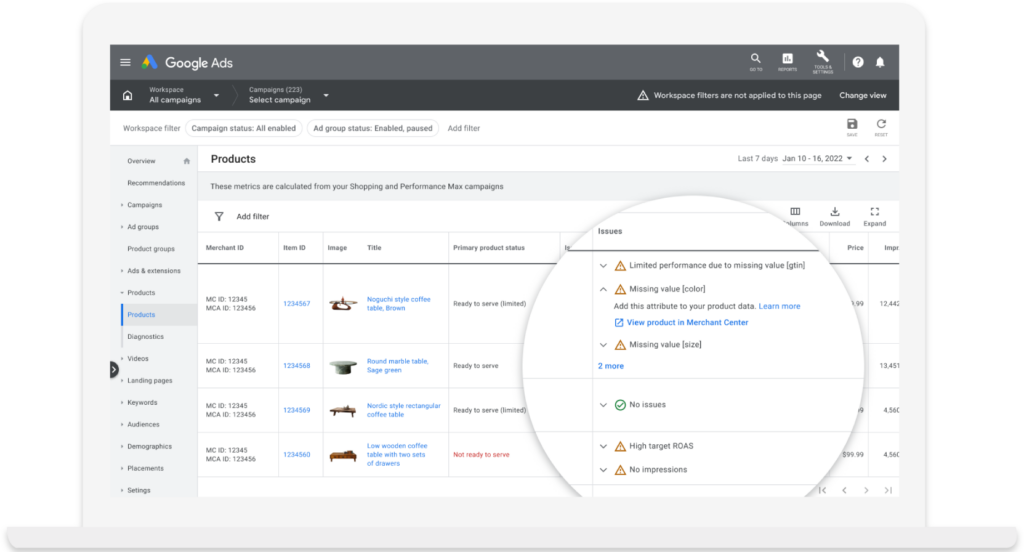 Updated insights column within the product page on Google Ads
People are taking longer to decide on the right holiday gift at the right price. According to reports, 87% of shoppers use Google properties (such as Maps, Search, and YouTube) as a resource when shopping. 65% turn to social media platforms, and 59% buy from top online marketplaces.
To stand out, convey product attributes like fulfillment speed, cost, color, or size. Enhancements to deals and shipping annotations on Shopping ads and free listings provide heightened visibility and personalization. Same-day delivery and return information will further enhance the product experience.

Product Studio, an AI-powered suite of tools, lets you diversify product imagery, available through Merchant Center Next and the Google & YouTube App on Shopify. Using multiple images in offers sees a 76% average surge in impressions and a 32% upswing in clicks.

You also want to use videos in your marketing to share gift guides and draw attention to your products. According to Google, advertisers saw an average increase of 12% in total additional conversions when they included at least one video in Performance Max campaigns. 

Last year, Google also brought 3D visuals to Search, allowing people to spin and zoom in on 3D images of products like sneakers and home goods while shopping on Google.
Users engage with 3D images almost 50% more than static ones. Now, through Merchant Center, you can provide these 3D image assets to be displayed in Search through your free listings. If you don't have these 3D assets, you can create them using a handful of 2D images by uploading them to Manufacturer Center.
An early gift from Google
If you're struggling with getting organized, don't fret, Google has also created a handy retail holiday checklist. It includes a best practices guide for Merchant Center and app solutions to help you further maximize your holiday performance this year.