Human errors happen all the time, but then the case is different when you're running ads campaigns online and you want to  ensure that you lessen and troubleshoot these errors immediately.
Here's the thing you can keep an eye on your account for errors, red flags, and mismanagement by doing a regular audit on your account, and that's a good thing. The last thing that you want to do is slack off once your ecommerce brand is skyrocketing online, or your ads campaigns are racking in numerous conversions and profits.
The trick here is not being complacent and continuously making sure that your account is seamless and follows Google policies. The key is consistency and taking time in doing an audit or routine checks of the overall health of your account.
Not only it'll give you an idea of what you're missing out, but you'll be able to optimize efforts even more by doing at least a minimum of an hour of a thorough audit. Some may take days or weeks of doing an intensive inspection.
In this blog post, I'll enlighten you on everything about ecommerce audit, why you should do it, and what are the best practices that you can do to ensure a useful and productive review on your account.
What is an audit, and why should you do it?
An account audit is a routine check that you do on your PPC account to find errors, weak spots, and things to improve on. The reason why you're doing an audit is to figure out the status of your Google account.
 It's useful to do a check because it helps you navigate Google ads system or platform since there are many factors to consider, such as tools, channels, ad formats, and policies to keep in mind.
According to a survey, 97 percent of Google Ads campaigns fail without Google  Analytics. This percentage shows that checking Google analytics is essential for a successful campaign. 
You can use the data or information that you get from the tool to leverage your ecommerce brand, improve your website, and check on the high performing metrics.
So why won't you use this intensive tool to help you with auditing your account?
Not to mention the amount of time, effort, and money you're spending in the Google ads campaign to run a successful campaign for your ecommerce brand. There's no schedule or time that you can do an audit. It is best to do inspections regularly and often as much as you can. 
To keep track of your account progress and weak points as you go on. Think of it as a regular appointment check up to the doctors. You want to make sure that your PPC account is healthy. You want to dig deeper into the surface and see all of the errors that you missed and troubleshoot them.
Who should perform the audit?
You can hire an agency to do the audit if you're too busy running the audit. Or make sure that you have an employee that is reliable and efficient in doing an effective audit and troubleshooting.
Make sure you know your goals and metrics.
Before jumping in straight to doing an audit, you have to ask yourself what your goals are in doing an audit. Keep in mind that successful ad campaigns happen with clear goals and vision in doing so. 
Make sure that the goals are aligned with your business and marketing goals. You have to ask yourself when to stop the campaign all together or revamp a failed campaign drive. You have to be ready to ask yourself the hard questions when seeing the results of your audit. It can help you grow your ecommerce brand even more.
Metrics That Matter In A Google Ads Audit
ROI/ROAS
You have to know how much is your return on investment and ask yourself how much money are you putting in for the marketing efforts? Have you got your ROI yet? How long is your projected time for the ROI to kick in?
For the Return on Ad Spend or ROAS, what's your breakeven? Do you know how to calculate it? It's a rookie mistake if you don't know how to do so. Money is essential when it comes to doing digital marketing campaigns.
You need to check your PPC campaigns' efficiency and the number of traffic and conversions you're getting from the ads campaign, including the ROI and ROAS when doing an audit. Decide if you have to reduce your CPA or optimize your efforts.
Conversion Volume
Conversions are everything for ecommerce brands, and it means a potential customer has bought an item or acquired your services. It's the icing on the icing on top of the cake, and you want to get that. 
Check how many conversions you're getting daily or in a month. See the impressions, volume, and rate when doing an audit. It'll give you a clear idea of the number of conversions you're getting and how to increase it even more.
Cost Per Conversion
There are two things that you want to do when checking your Cost per conversion:
First, check if the Cost per conversion is too high, and if it is then, it means your Google Ads campaign is not sustainable.
Second is to remove waste and spend as much as possible.
Keep an eye on search terms that are really working and use this metric when doing an audit.
Vanity Metrics
Vanity metrics can mean something or nothing at all for marketers. 
Since vanity metrics look good on screen or in numbers, but it can be empty and not leading to conversions or produce ROI at all. It's best to keep in mind this metric but don't entirely focus on this one.
CTR (Click-Through-Rate)
Here's the most common metric that you'll hear in the marketing world. Click-through-rate or CTR is the number of clicks that your ads get from potential customers. 
Every ecommerce brand or online retail is competitive in getting a high CTR since it means getting more traffic and conversions too in the process. You can also check the quality score when doing an audit.
CPC / Max Bid
The trick here is if your CPC is too high, then you need to tone down it with tools. Keep in mind that bids and CPC are the majority dependent on the keywords that you are bidding. So it's best to understand the balance and level once you do your audit.
Average Positions
It's okay if you're not always leading or in the top position. Being in the average position is not a bad thing, but be cautious if your position is somewhere lower than 3 or 4, then you have to increase your efforts and gain more conversions at a better CPA.
HERE ARE THE 25  BEST PRACTICES THAT YOU CAN DO FOR AN ACCOUNT AUDIT:
Auditing an Account structure helps you figure out how an ecommerce brand handles their account. How many campaigns are they running?  Do the campaigns provide a roll-up reporting for the ad groups within them? The number of keywords they have? What about their search query and product category?
When you do an audit for ecommerce brands, there's a lot of data to see, and you'll have an idea of what's wrong with your account. You can do a quick run through the account structure and get a gist of it. But it's better if, of course, you'll go thoroughly on the auditing. It takes lots of planning and designing; for instance, your campaign structure should closely be aligned to the website structure to be able to tie ad groups against specialized landing pages. You can improve many aspects of your account with this kind of hierarchy.
There are two types of account structures just in case you're not aware.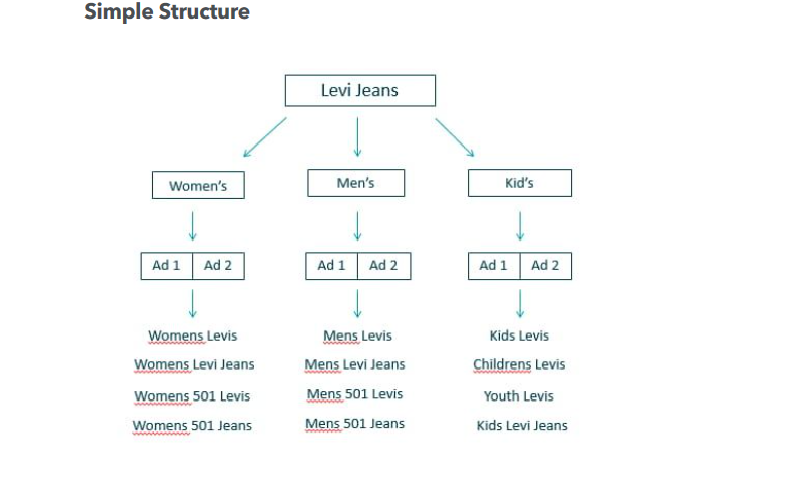 The simple structure is easy to digest and navigate through, therefore auditors can quickly run through the structure and see the number of ad groups, products and segmentation, and other information in the account.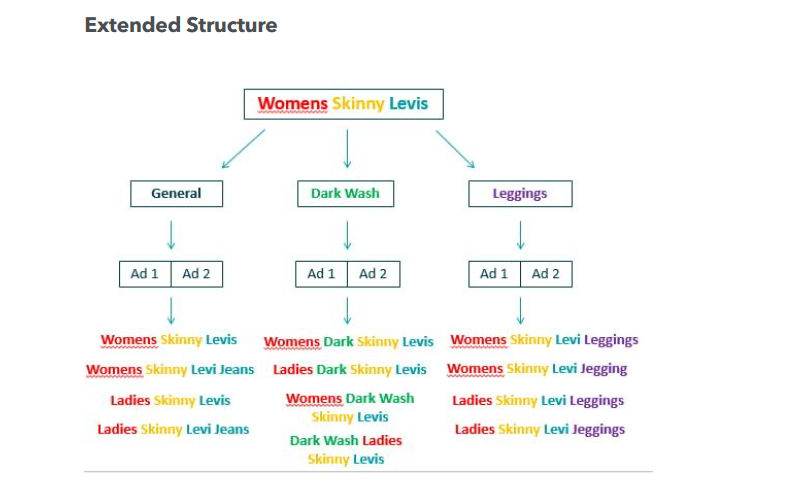 The extended structure is excellent for ecommerce brands with a broad range of specific products. The downside is that it's hard to segment too specifically, the result can be more work to optimize, and many products might not get traffic. 
Balance is the key when it comes to keeping an account highly relevant and manageable. An extended structure is mostly used if you have many products and want to segment with more detail.
With an organized and easy to manage structure, you'll be having full control on the granular details of management, budget, ads, and bids. 
The more organized your structure will be, the more power you can wield to fix or enhance things, especially when you're doing an audit.
Here are the ways you can structure or organize your structure.
⦁ Logical business objectives.
⦁ Service lines.
⦁ Subject matter.
⦁ Persona targets.
⦁ Product lines.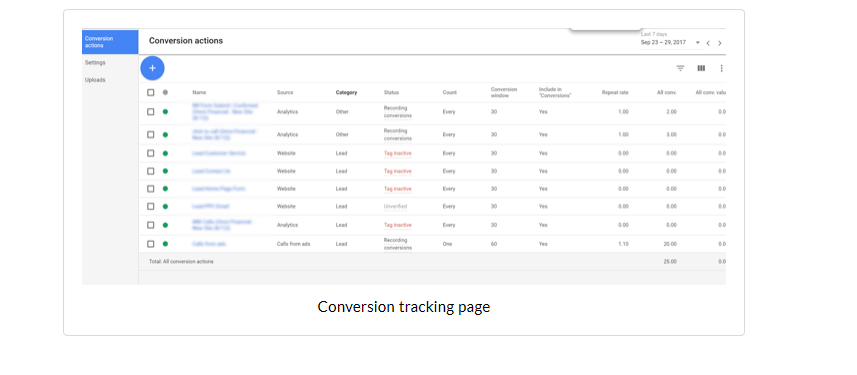 Conversion traction helps you know how to generate more revenue and profit from your campaign. Since it'll show you those website visitors that have taken steps for conversion, you can analyze how many conversions you're getting daily, weekly, or monthly.
But, a recent study found that only 29% of Google Ads accounts track conversions accurately. Meaning 71% of accounts don't have their conversion tracking set up correctly or even at all.
This study shows how ecommerce brands are not tracking their conversions correctly, and it's time for you to change that!
Conversions are important for ecommerce brands like you. Doing an audit can help you figure out how to increase your conversions if you're not hitting any conversions for this month or what are the next steps you can do to take your high conversions rate to the next level?
The tracking code should be implemented correctly, and you should start doing it now.
Don't make this common mistake of importing Goals from Google Analytics into your Google Ads account and tracking the same thing using Google Ads conversion tracking code.
If you want to see the page, your tracking code is placed here are the steps
⦁ Go to your  Google Ads account.
⦁ Select the name of the conversion action
⦁ Click WEBPAGES
Once you see more than one conversion action happening on the same page, then you're in trouble. One tracking code should be placed on one webpage.
You have to check the conversion repeat rate thoroughly since the last thing you want to do is overcount conversions due to multiple conversion actions. Make sure to track conversion actions that have value and meet your goal. One of the best tracking systems that you can utilize is Google Analytics. 
It's accurate and top-notch, and it can provide you with comprehensive data on your tracking activities. One of the mistakes that ecommerce brands do is placing the tracking tags on their landing pages and homepages. And it's not a conversion at all but just a visit.
3. CAMPAIGN SETTINGS
Others just swiftly scan the campaign settings and move on, but reviewing campaign structure or settings is essential too. You need to ask the right questions when doing an audit on the campaign settings. 
Either way, you'll have to review the campaign settings and make adjustments right after making changes on the other part of your audit. To run a successful campaign, it needs segmentation and granularity to interpret the data and make the necessary changes to the campaigns.
It should be granulated based on the following:
⦁ Theme
⦁ location
⦁ services
⦁ goals
Here are the questions you need to ask yourself when auditing campaign settings
⦁ Is the geographic targeting appropriate and accurate?
⦁ Is device targeting appropriate?
⦁ Are you sure you have the advanced location settings configured exactly as you want for your audience?
⦁ Are the bid strategy, budget, and ad delivery methods as you desire?
⦁ Do you have the right dayparting in place
⦁ Are the location settings correct?
Google can be sneaky, therefore always check if the "people in my targeted location." have a check to avoid unnecessary targeting of the wrong location. You'll also find the device bidding and ad scheduling under the campaign settings.
4. LOCATION SETTINGS
You have to check if your location settings are correct. Make sure your ads are targeting the right countries, states, or cities. 
Does your business serve the right places? You need to structure your campaigns at a country or continent level for you to have granular control. 
You also have to exclude particular areas where you don't serve your products or services.

Check your account if you have a double campaign structure for tight Geolocation with broad keywords and targeting tight keywords with a broad Geolocation.
Expand the following bar and settings:
⦁ "Locations" bar
⦁ "Locations "options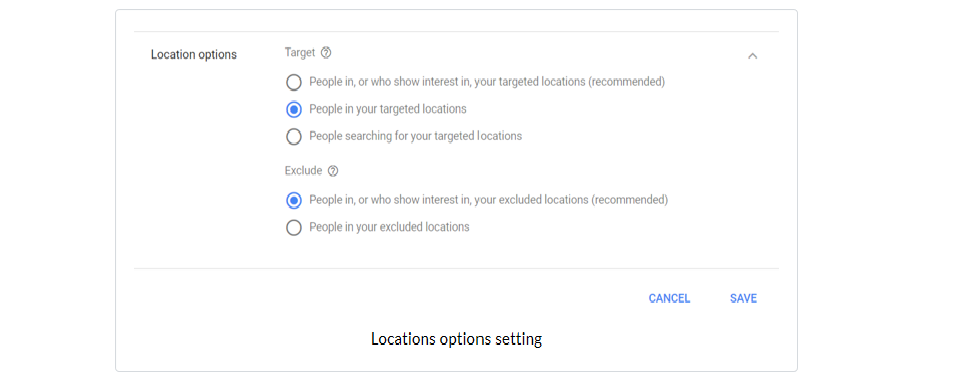 Google will show your ads to" People "in, or those who show interest, your targeted locations (recommended)."
5. TARGETING
When you're doing auditing, you have to make sure that you're targeting the right people, and your targeting settings are correct. The accuracy of your targeting will impact the performance of your ads. 
Check if the targeting is aligned with your business goals as an ecommerce brand. Use the data that you got from doing the audit and fix it as soon as possible. 
The information that you got from doing reviews will help you target the right people with online advertising campaigns.
6. DEVICE BID ADJUSTMENTS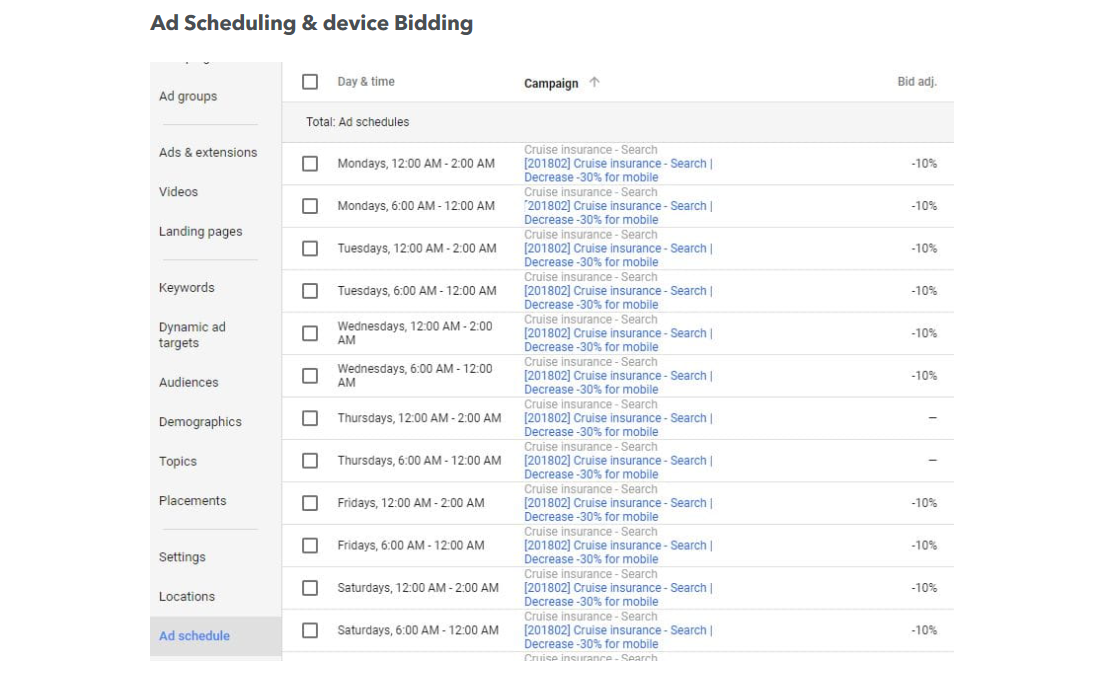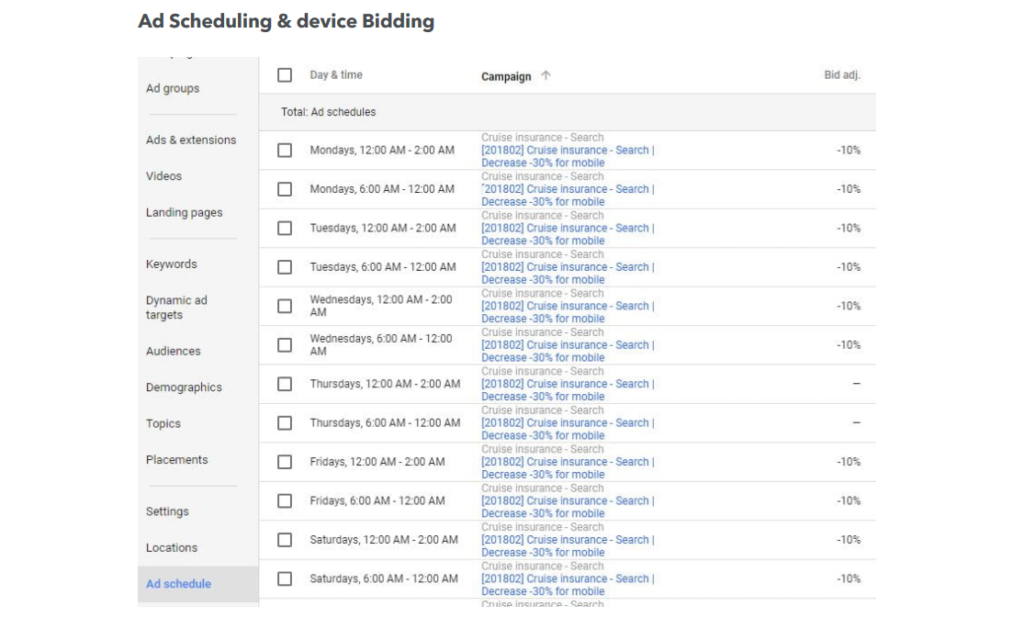 Your potential online shoppers don't only use one device to do online queries or shopping. When you do your audit, keep in mind that you also have to make bids that devices are included. 
You may be receiving traffic and conversions from other devices such as mobile phones, laptops, and you're not getting all of it because you haven't made necessary adjustments.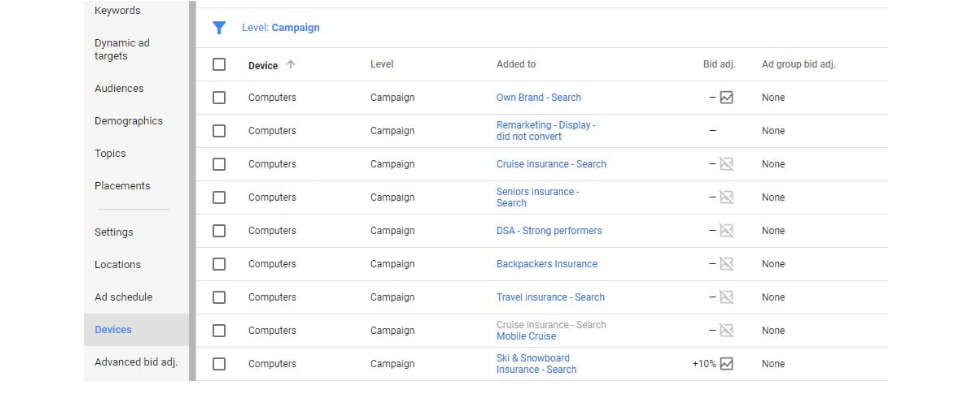 You have the option to target specific devices, whether it's a mobile or desktop. You need to control the ads and landing pages that your potential shoppers see per device. Check if what device you get most of your traffic and conversions then cater to that finding.
7. AD SCHEDULING
Review when your ads show up since you want to check if the schedules are being implemented on all campaigns. Check what time of the day? How long are the ads running? Figure out if you want to turn off ads during a specific hour?
But it's best for your ecommerce brand to run ads often to increase conversion rates. You don't want to overlook checking the ad scheduling of your account.
8. AD ROTATION SETTINGS
A/B testing should be your new best friend, and you should be doing testing so that you're sure that enough traffic is going to each variant of your ads. The point here is that you want to have good data to back up your deductions and analysis. 
Take control of this part to know which part you should be improved on.
You have to check your ad rotation setting in your campaigns is set to "Rotate Indefinitely" vs. "Optimized". Pick optimized so that Google will stop sending traffic to each variant before a huge amount of data is collected for making an important decision.
9. AD GROUPS
Here's the trick to Ad groups, the simpler, the better. If you want your ad group structure is easy to navigate and to update, then it has to be simple. Break down keywords that are more than 10 in a single ad group.
According to a CXL study, their CTR jumped 28.1% with a quality score, rising from 5.56 to 7.95 using specific ad groups.
See?
The simpler and organized ad groups offer better results for your campaigns. Once you do your audit, don't forget to do the nitty-gritty details of breaking keywords and creating specific ad groups for every product or service that you offer.
Here's what you can do:
⦁ Create SKAGs
⦁ Limit ad groups to five or less related keywords
SEARCH TERMS REPORT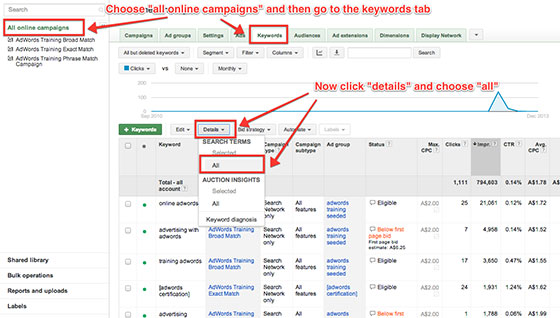 The search terms report is an important part of your account since it tells you what keywords or phrases you need to target with your ads. 
Your potential customers are typing in these keywords or phrases, and you want those words to trigger your ads. You don't want to target inappropriate words or phrases that waste your money and offer no conversion rate at all. The search terms report is located within a campaign, ad group, or keyword.
Steps to go to the search terms report:
⦁ Select the keywords tab
⦁ Click 'Search terms"
The search terms audit is important since you'll see relevant information that you need to make changes to your keywords targeting and marketing efforts.
⦁ how the keyword match type strategy is functioning
⦁ relevant keywords to your ads
⦁ which search terms are being triggered by which ad groups
⦁ what people are typing or searching
Here are some red flags to look for in your search terms report:
1. irrelevant search terms that are wasting your money
2. search terms with many clicks and few conversions
A recent study found that the average wasted ad spends on accounts with conversion tracking was 61%. The average Google Ads account wastes 76% of its budget on the wrong search terms."
You want to focus on the keywords or phrases that will increase your conversions and traffic. Remove all of the unnecessary stuff for a much manageable and optimized ad campaign.
10. NEGATIVE KEYWORDS
Negative Keywords is one of the redundant terms in online advertising, and there's a reason behind it. 
You can apply negative keywords at the campaign and ad group level and use it as a list to make sure that enough negative keywords are in your account. The essence of negative keywords is that they help you stray away from unnecessary clicks and impressions.  
Review the negative keywords lists across the account thoroughly and see if the terms that are triggering your ads. Set those that are irrelevant terms to negatives.
Don't forget to review the match types too!
11.NETWORKS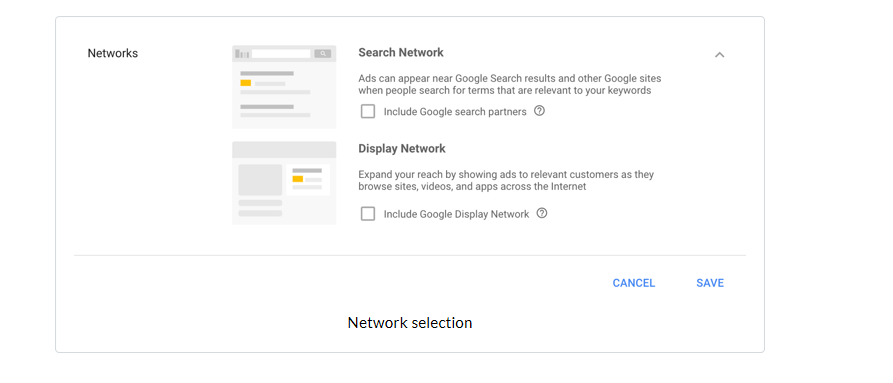 You have to check if your campaigns are targeting one network. Make sure that all campaigns are correctly separated. 
Google will automatically select 'Search & display select' as the default for any new campaign. Keep in mind that the audit that you follow will be dependent on the network you're targeting.
12. REVIEW CUSTOM LABELS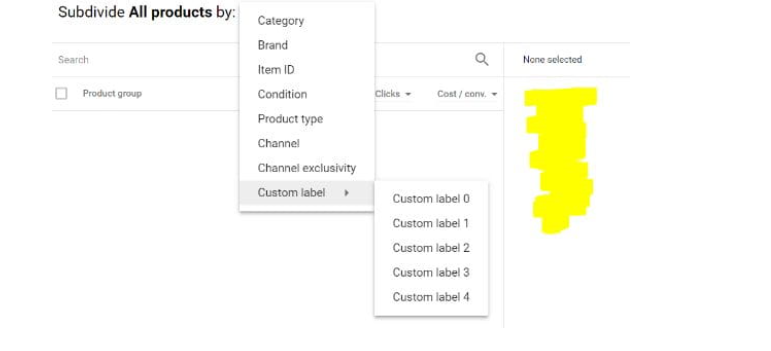 90% of the clients we onboard are not using custom labels and managing their feeds regularly. This percentage is bad news for those who are doing Google Shopping campaigns since they are not fully maximizing the capacity of their marketing efforts. The solution? Custom labels.
When you're doing an audit, make sure to review custom labels or should I say go directly to the Merchant center and see for errors and feed problems there. Review if custom labels have been set up for the feed.
To check if the custom label is enabled do this:
⦁ Go to any shopping campaign
⦁ click product groups
⦁ select edit on the highest level product group
⦁ See the 'best-seller" or "High-margin product" custom label there
13. AD COPY
Ensure that the ad copy that you're using on your ad or content is compelling and engaging for shoppers to click. Check if there's call-to-actions in the ads, especially at the end. Don't place it at the beginning; Google will penalize you for it. Check if there's Dynamic Keyword Insertion or DKI in the ads. 
Since it'll help your ads have search terms that are relevant and, at the same time, make it compelling and not just blah.
Here focus on your conversation and click-through-rates. Check for spelling and grammar errors in any copy that you're making. Remember, you don't want your online shoppers to cringe at your spelling or grammatical errors. 
You have to look credible and professional as an ecommerce brand for them to trust your brand and purchase your products or services. Once you run through your audit, check the ad copy and other errors too.
14. QUALITY SCORE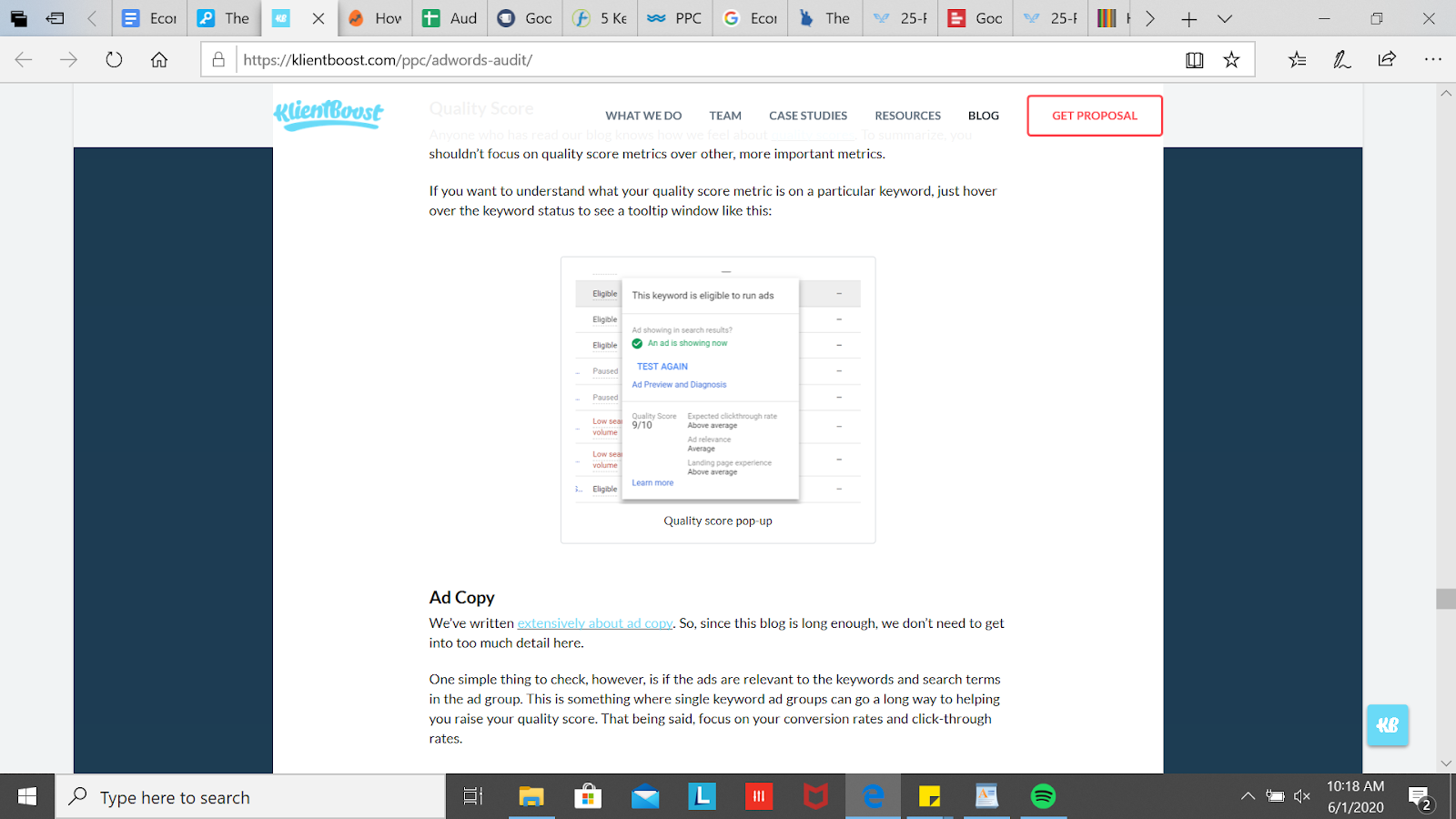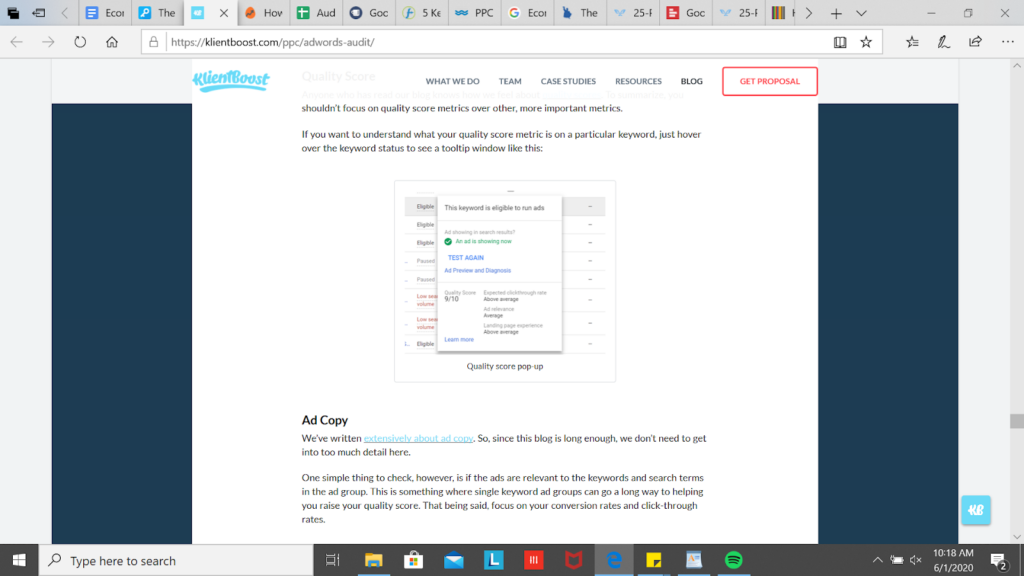 When doing a Google account audit for quality score, the first step that you should do is pull up key reports and start analyzing them. Once you're done reviewing, you'll realize that you have plenty, if not a few, mistakes that you should correct to improve the score.
There are other metrics that you can focus on, but it's best not to neglect quality scores as you edit: small things or parts like this impact the overall health of your Google account.
15. AD EXTENSIONS
According to Google, ad extensions can improve the average CTR of any given ad by 10-15%. so it's no brainer for you to check the ad extensions when doing a Google account audit. 
The key is the relevance of the ad extensions then remove extensions that are not doing well for your campaign. You should test every ad extension if it works well for your ecommerce brand marketing efforts. The ad extension is located on its own tab.
Here are the main key extensions that you want to review
⦁ Sitelinks
⦁ Callout extensions
⦁ price extensions
⦁ call extensions
Don't just focus on these extensions run through the other types of extensions if you're using other extensions.
16. BUDGET ALLOCATION
It's also important to check if you're using your budget wisely in doing ads or bidding keywords. 
You have to check if the keywords that you're bidding for are effective, or are your ads campaign strategies are worth the Cost? Check what are the high-performing ads and see if nothing is limiting it. Ensure that your budget allocation is also properly audited to keep you an overview of your ad spending.
17. BRANDED CAMPAIGNS
For branded campaigns audit, you have to check what are the most clicked branded queries? Where does your branded campaign traffic is coming from? Then identify the issues that arise from branded search. 
The majority of eCommerce brands or companies are bidding on their competitor's brand name to get ranked. You want to make sure that you get the top position despite this. 
So if you're doing an audit make sure to check the branded campaigns and check everything on branded searches and figure out problems to solve for an optimized ads campaign too.
18. CAMPAIGN URL SETTINGS
If you want to know more about your URL parameters, even custom parameters, you can enable auto-tagging. You can also track offline conversions and even pull up reports on your ad performance. 
All of these are important and necessary for your audit for your Google ads and overall health of your ecommerce brand online. Auto-tagging is highly recommended for optimization.
You can gather information about:
⦁ Device
⦁ keywords
⦁ ad group
⦁ target
Since Google Ads place the basic information on the URL, people click on, and it's in the new interface which you can find under your account settings.
For Auto-tagging, you have the option to do:
⦁ Google Analytics Tracking
⦁ Manual tagging
19. REMARKETING
As you know, remarketing is an effective and easy way to recapture or re-engage people who visited your site but didn't convert. For ecommerce brands, this marketing strategy is widely used. 
When doing an audit, make sure that you set up a Dynamic remarketing to boost products and services to the people who haven't converted.  With remarketing, all you have to do is sit tight and let Google do the magic. 
See if people are coming in unbothered with the retargeting ads that they keep seeing on the web. You also want to check if your retargeting/remarketing efforts still have limitations. And you are not starting to feel pesky to potential shoppers. Ensure that the remarketing strategy you're doing for your products or services is effective and creative.
20. BANNER SIZES
Banners should be creative, eye-catching, and also fit the Google ads policies. If your ecommerce brand is running display campaigns, having the right banner size is crucial for good impressions and possible conversions. 
Make sure that you know the necessary size and dimensions that you need for the banner. 
Check what your banner looks like on the web? Is it tacky? Is it too small? What can you improve on your banners? What is the other banner creator that you can use?
Google has a Google Ads responsive ad creator, and you may want to check it out and use it for your banner sizes too! So that you don't have to worry if your banner doesn't fit.
21. LANDING PAGE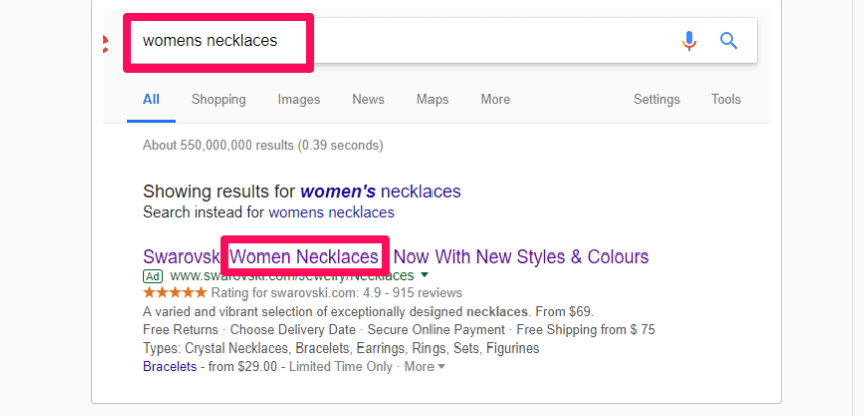 Landing Pages may not be a part of your Adwords setup, but it's important for a successful campaign. The majority of the people who are clicking ads will go to the landing page first. 
And you want to make sure that the landing pages are clear with call-to-actions and have great content to capture potential customers for conversions.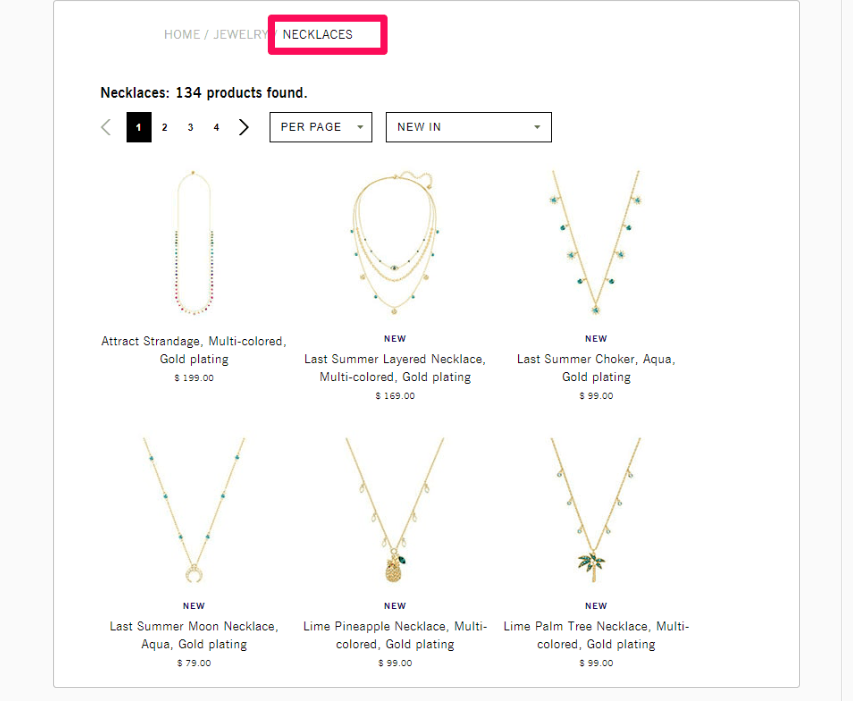 Check and review the overall messaging, ad copy, and keywords that match the Google policy and deliver a great user experience. 
Check how much traffic you are getting from your landing page. What are the things you need to improve on your landing page? Do you need to change the entire landing page content? Is your landing page SEO-friendly?
22. AUTOMATION
Automating your campaigns can be as simple as pre-programming bids and as sophisticated as custom Google Ads Scripts that fine-tune your secret sauce within the accounts you manage.
Automations are key for a fast and automated process of your Google ads campaign. And you want to make sure that you get the best out of it. You can use automated bids or processes of doing your ad campaigns like Google algorithm or search campaigns like Dynamic search ads. 
Check if the automated processes are up and running efficiently on your Google ads campaign. See how many automated processes you are already using and see what processes to cut down for expenses. Does automation make the ads campaign easier and manageable? If the answer is yes, then continue doing so; if not, then start considering other solutions or options as you do your audit.
23. IP EXCLUSIONS
You can add IP exclusions if you're worried that competitors or employees are clicking on your ads. Once you do your edit you can prevent this problem by adding IP exclusions to your ad campaigns. What's important is the right people who are potential customers are clicking and seeing your ads.
24. ACCOUNT ACTIVITY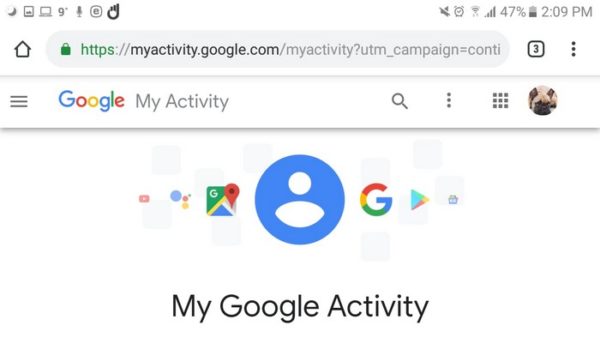 You might want to check or run over the account activity to check your account's history. Not only the account activity houses much information that can be useful, but it can also give you numerous data and ideas to work on.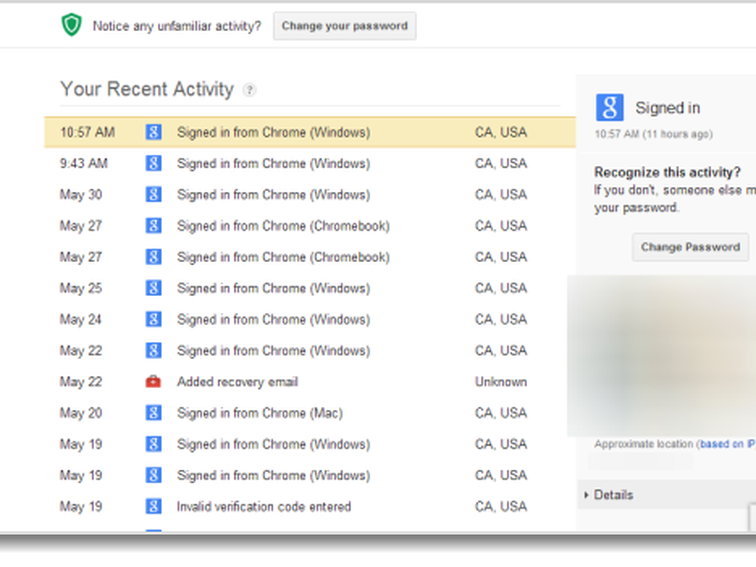 25. DISPLAY AUTOMATIC PLACEMENTS
You need to control your ads and where they show  up. You don't want your ads to be all over the place since it can leave a bad impression for your ecommerce brand .
Review the automatic placements by going straight to the  "Where Ads Showed" screen. Then on that section you'll see the number of clicks and impressions that your site is getting. 
Don't include mobile gaming clicks since it technically means nothing for your ecommerce brand. Once you reviewed the display automatic placements then your Google Account is good to go!
We're done with the checklist for your audit! Once you run through the checklist then your Google Account will be optimised and up and running.


PROS  OF DOING AN AUDIT
Technically doing an audit is good for your account but it's best to know the pros and cons when doing an audit so that you'll know what to expect.
⦁ Get informed- Doing an audit for your account is one of the best things that you can do for your business. Not only you'll be informed on the system and processes of your account, but you'll also learn to navigate through it easily over time. 
When doing an audit, you have to know what your goals are and what is the information or data that you need to interpret. Overall what do the metrics or results mean for you and your e-commerce business? Are you satisfied with the results of your audit?
⦁ Troubleshoot problems immediately– Doing an audit as often as you can is an excellent way to troubleshoot early signs of red flags and fix potential problems in the future. It'll save you major problems and resources in the future, and you'll thank yourself that you made this decision.
⦁ Beneficial for ecommerce business– Audit is essential for every business, and even more for the ecommerce industry. Your account is the engine to your marketing efforts online, and you want to ensure that it's doing great and well-fueled with necessary fixes and optimization.
CONS OF DOING AN AUDIT
Here are the cons of doing an audit
⦁ Time-consuming– Well, doing an audit can take time, and it should be since you're on the lookout for errors, and interpreting data of your account. You should not rush doing an audit, and before jumping right in the process, be prepared with a checklist and goals in mind.
⦁ Easy to mishandle– If you slack in doing the audit, then you're in big trouble. It's easy to mistreat an audit since there's a ton of things to do. But keep in mind that doing an audit can be overwhelming and challenging, but it has rewards for your eCommerce brand. If you mishandle or not take seriously performing an audit, then it is as good as not doing an audit at all.
⦁ It can be costly- Depending on the ecommerce brand's decision to outsource the auditing to PPC companies or do a manual audit. Better to allocate a budget for doing an audit since you want to get all of the details and solutions once the audit is done. Choose a reliable and trustworthy company to contract for auditing purposes.
CONCLUSION:
Doing an audit is essential for a well-performing account and a high performing ad campaign on Google. For ecommerce brands like you, it's best to keep an eye on rookie mistakes that can affect your business and reputation online. 
After all you might not notice the errors and mistakes you' have been making since you're too consumed with running ad campaigns online. It's more than just getting a boost in traffic or conversions, and you also have to check if your account is in good shape to run in the long run. 
Doing regular audits is some sort of an investment for your business, and It's better to prevent problems than to cure those, and you can start doing that now by doing a daily weekly or monthly audit as much as possible. The sky's the limit for you in doing an audit of your account.