KeyCommerce is a Google Ads agency that helps ecommerce stores make more profits from their Google Ad accounts. We do this by having a fully Google certified team of ecommerce marketing experts that grow your account based on best practices and experience.
We've packaged high expertise, great customer service and Google Ads-specific optimizations into an affordable monthly fee so that ecommerce stores can scale efficiently. In this guide, you'll find a full overview of how we do this.
If you have any questions, let us know. We look forward to working with you!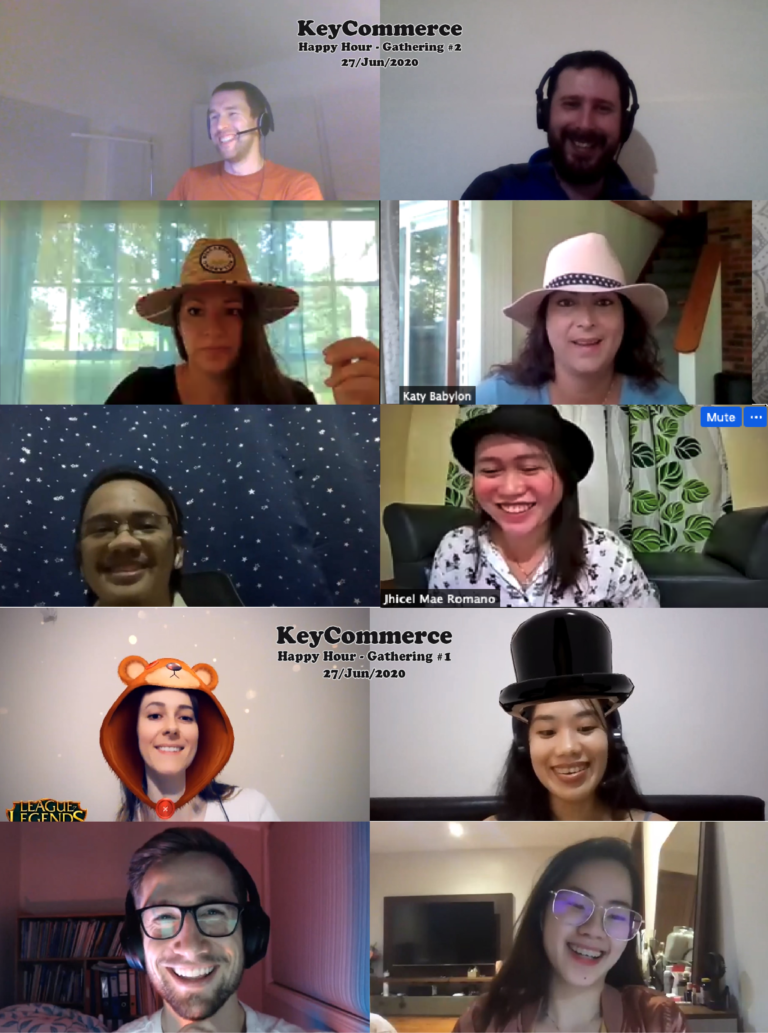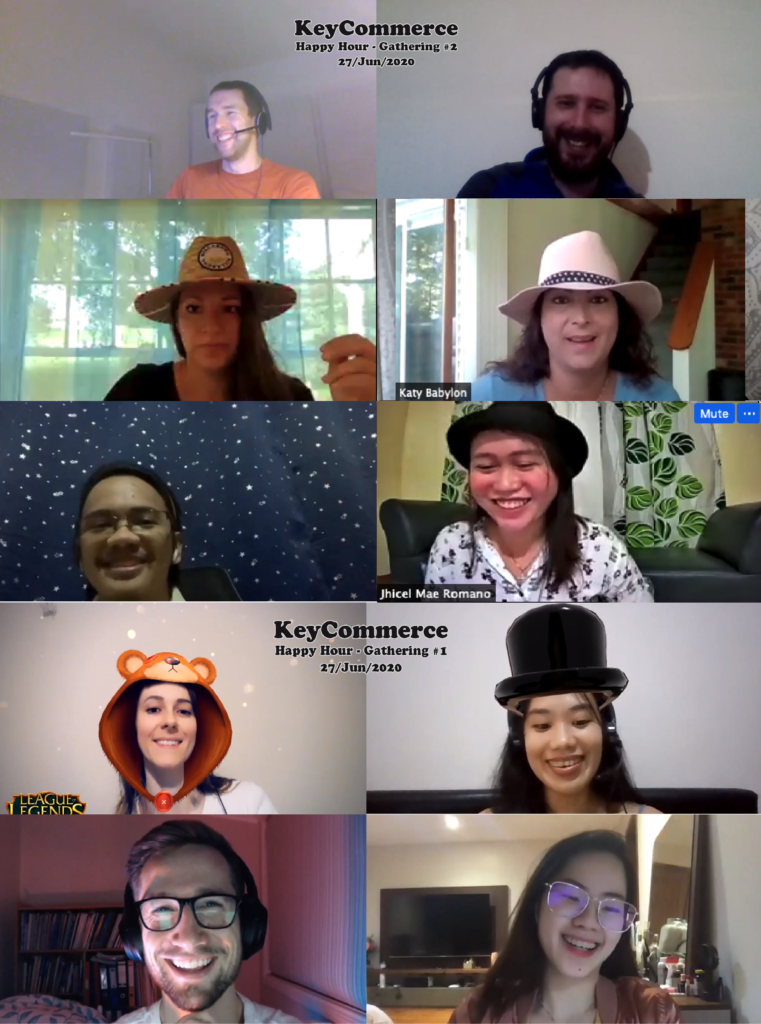 We build, optimize and scale Google Ads strategies for ecommerce stores. This includes:
Managing your Google Ad account
Managing your Google Merchant Center account
Installing conversion tracking & analytics
Banner designs for display & remarketing campaigns
In a nutshell, we set up your account to build a strong foundation for growth using our tools and expertise. We manage the account regularly and optimize it based on profitability towards more growth and profits for your store. Most importantly, we are continuously learning and testing new strategies to ensure you get the best results from the ads.
You'll get access to expert ecommerce marketers to grow your business including: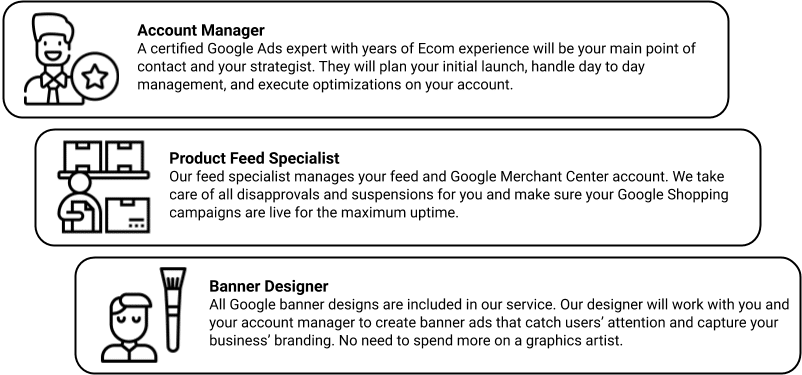 Why choose to work with us?
Full done-for-you PPC service – We take care of everything so you can get your time back and focus on growing your store. We take care of Google Ads & Google Merchant Center, campaign management (search, shopping, display), banner designs & feed management.
eCommerce-focused – We're ecommerce exclusive. This means we have tailored our processes to the specific marketing needs of an online store. By now, our team knows ecommerce like the back of our hands! We're inside dozens of successful stores and know what works and apply this knowledge to give your store the best chance of success.
Affordable fee – When you're getting your store off the ground, you need to invest all profits back into growth. Our fee is competitive and allows you to make more profits and grow faster. Having a global team allows us to not be weighed down by physical offices which keeps us efficient with time zones.
We're a dedicated PPC partner for growth.
We take care of everything related to your Google account
You will have a Google certified account manager, a project manager, a product feed specialist, a designer, and a conversion tracking expert working on your account. We take care of all parts of managing your Ads and Merchant Center accounts so you can focus on your store. A Slack channel will be made for you where you'll receive constant updates and easily communicate with us.
Our team only works with ecommerce. PPC for ecommerce is a special beast, different from all other verticals. We're constantly inside hundreds of Google Ads accounts and Shopify dashboards so we know what works across all stores. Because of this, we're seeing the good, the bad, and the ugly in ecommerce. We use these constant insights and learnings to build better strategies to grow your store in an ever changing climate.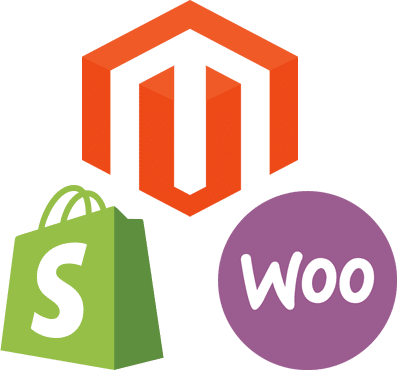 We're a Google Partner agency and every Account Manager is 100% Google certified. We live and breathe PPC for ecommerce, so you know you've got the best team for your store.
With an expert team of ecommerce marketers situated all over the world, we're able to remain cost-effective as we're not limited by a single time zone or physical office spaces. Your account manager will always have cross-over working hours with your own hours so we're always within reach when you need us!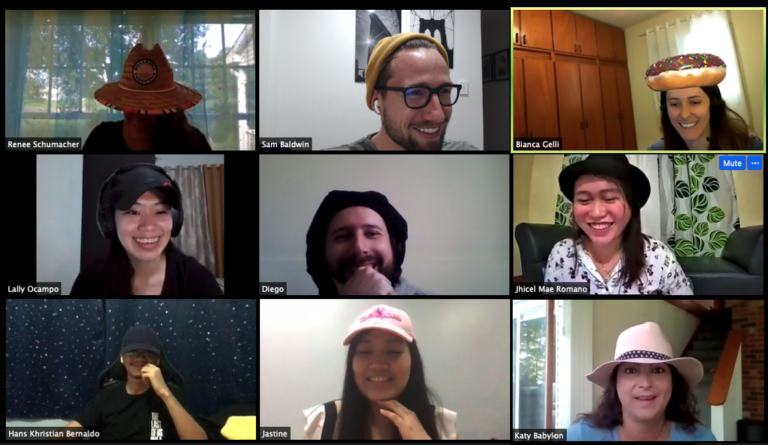 No long-term contracts – We have clients who have been with us for years but we also offer a standard monthly agreement with a 30-day notice period for termination. Our agreements have an initial 3 month term and then operate on a monthly basis thereafter. This is perfect for businesses who are just starting out and want to explore what Google Ads can bring to their business without the commitment of a 12 month contract that many agencies require.
Profit-driven optimization – Our goal is to breakeven on your ads ASAP. We use profit driven data to guide us in optimizing all parts of the account. On all our reports and updates, we will be updating you on how we're tracking towards maximum profitability.
Data-focused – The data never lies and we use it to guide us in all accounts.
Easy & consistent communication – We communicate with all clients via Slack. This allows for constant updates, communication, and making sure that everyone's in the loop with what's going on with our work.
High-touch account management – We don't overload our managers with too many clients so your strategist can spend more time growing your account.
What does our service include?
We'll manage your Google Account by creating, maintaining, and optimizing your account to grow and scale to generate more profits. Our strategies are tailored to your business, using the wealth of knowledge and experience we've gained through working with dozens of other ecommerce stores.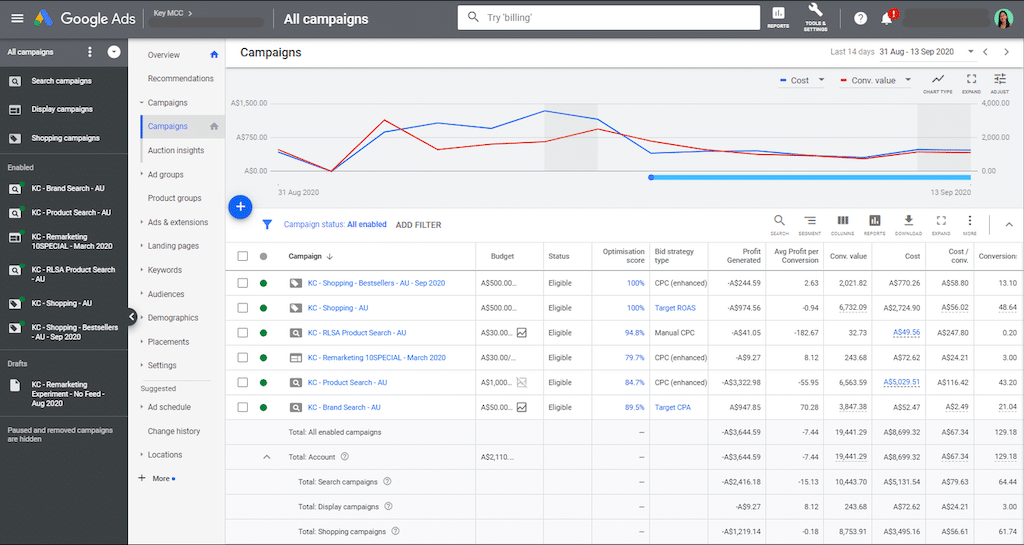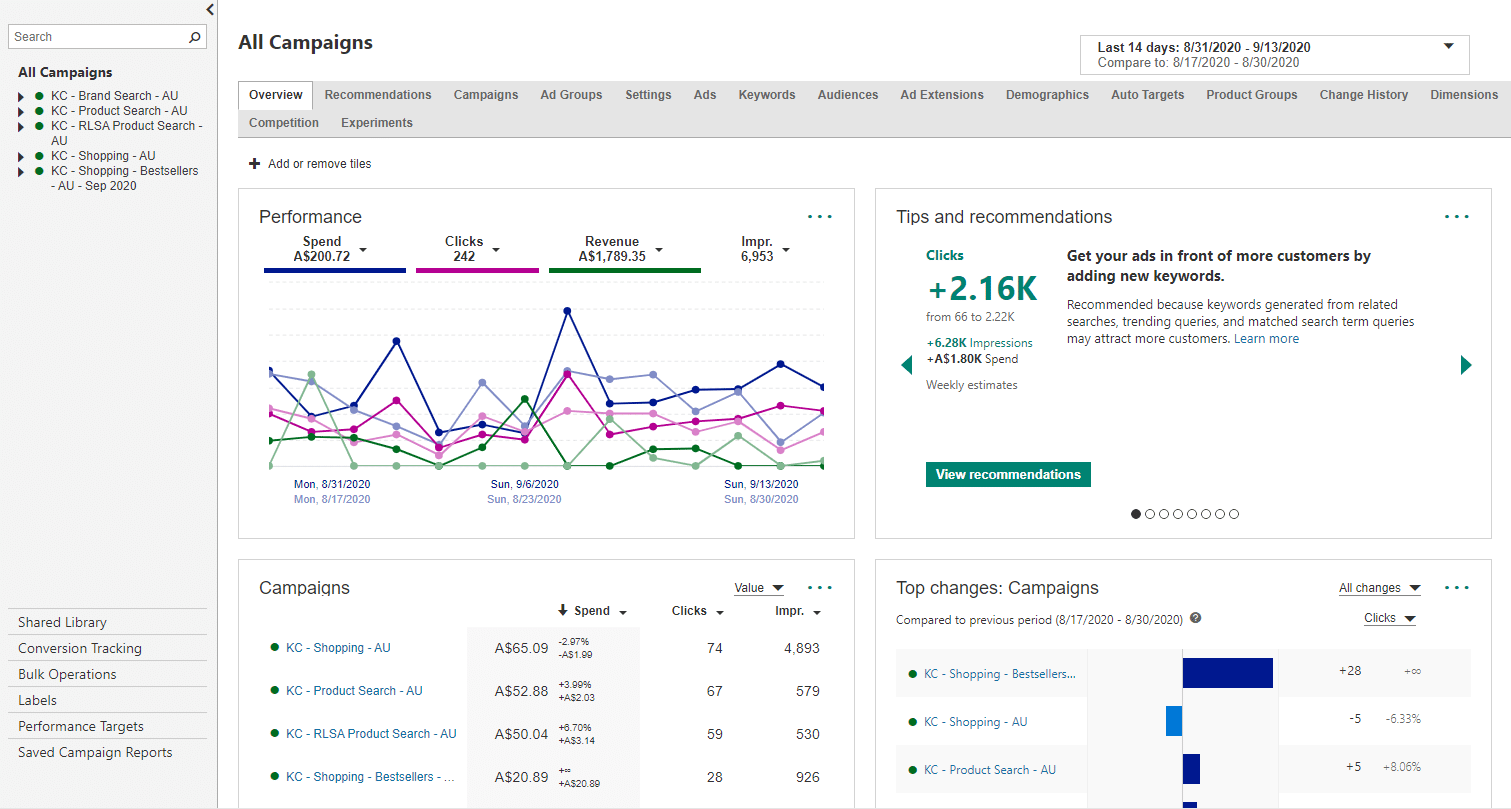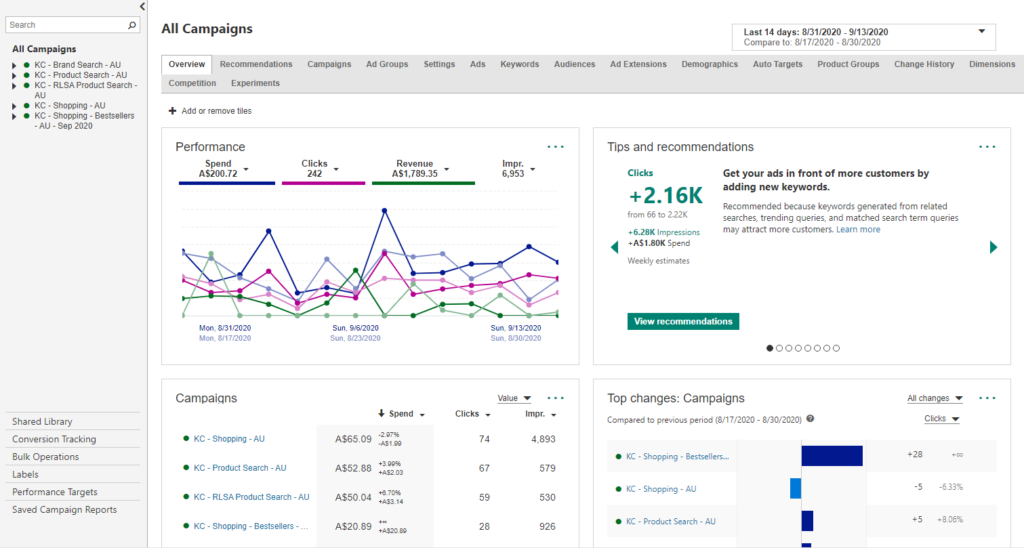 We manage your Google Merchant Center account
We'll manage your Merchant Center accounts to maintain your product feeds for your Shopping campaigns. This means fixing disapprovals as they arise, adding new products to the feed and preventing an account suspension.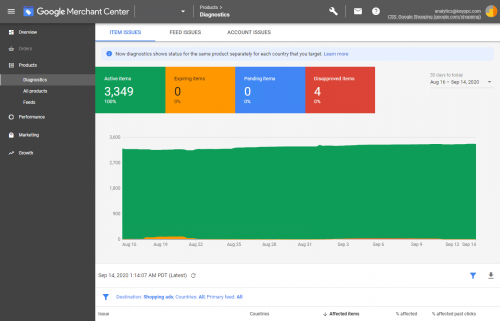 We design banners for remarketing
We'll design banners to run remarketing or display awareness campaigns for your store. Our designer will translate your brand and sales into beautiful banners to bring traffic back to your site to convert. We'll take care of the designs and you'll review them before we push them live.

We set up your conversion tracking
As part of our onboarding we'll confirm your conversion tracking with our conversion tracking specialist. We'll make sure analytics is set up properly and that conversions are accurately registering.

The onboarding phase is the initial phase of 1-2 weeks after you start working with us where we get to know your store and build out the strategies we implement to grow your account.

When you start with us, you'll fill out a questionnaire about your store and Google Ad account. This questionnaire shows you how to give us the right access as well as asks you a bunch of questions about your business. This process helps us better understand your customers and history and prepares us for creating your unique strategy. We don't start working on your account until you 100% complete this onboarding questionnaire.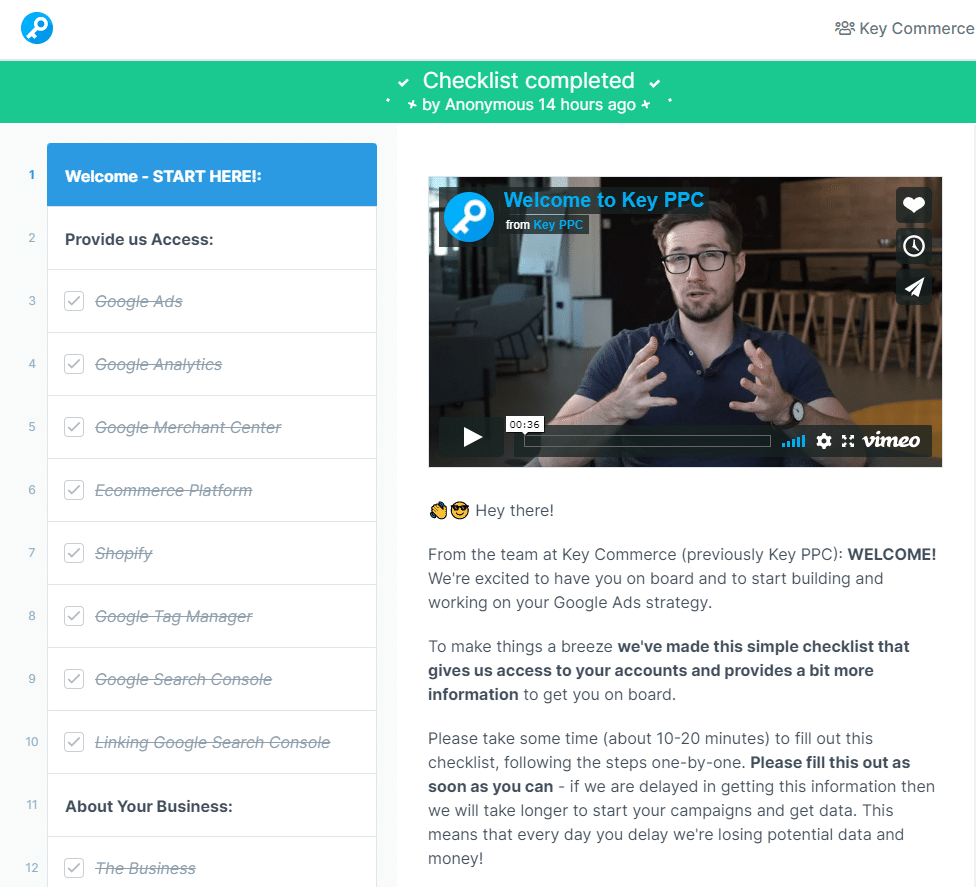 Communication during onboarding
During the onboarding process we'll have a few calls with you as well as keeping you updated throughout the whole process. We conduct all our communication in a shared slack channel for your business. In this Slack channel we'll update you regularly with our progress onboarding your account. We'll also conduct two Zoom calls during your onboarding. The first call will be the kickoff call which allows you to meet your Account Manager. This will happen a few days after you complete your onboarding questionnaire. Your second call will be your strategy call which is towards the end of the onboarding period and allows you to review our strategy before we launch. It's a great chance to provide some extra feedback before we finalize the campaigns.
How long does onboarding take?
Usually our onboarding process takes 1-2 weeks, depending on the size of the account and strategies required. This starts immediately after you finish the Onboarding Questionnaire. We'll gain access to your platforms and start our work on planning and building the strategy.

After our onboarding, we move into the growth and optimization phase. Here we'll be regularly working on your account to increase your sales profitably. We'll be implementing new strategies on top of ongoing optimizations to generate incremental improvements in performance.
Your account manager is a fully Google certified ecommerce marketing genius. They have tons of experience working with Google Ads for ecommerce stores and your account is in safe hands. We have a large arsenal of optimization techniques we use that largely depend on the performance of the account. Here's what you can expect (but our work is not limited to these):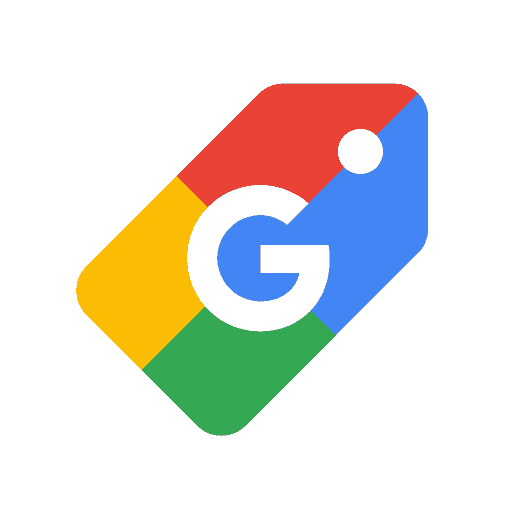 Google Shopping Management


Our focus on profitability
We manage all our accounts based on the profitability of your store. We'll use your profit margin to guide us in all the work we do in the account. With this metric we'll be able to see exactly what's performing and what's not. This allows us to make the incremental changes to grow and improve an account over time.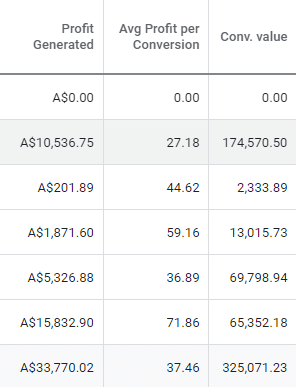 We're constantly testing new ads and ad copy for your store. We have our own internal review process to make sure that we create ads at a very high standard. You'll also be able to review new ads before we publish them.
Google Merchant Center management (usually $500/month)
As part of our service, we'll also manage your Google Merchant Center account. You'll have a dedicated Product Feed Specialist to check your account daily for disapprovals and errors and to rectify them for you. This is a crucial service for your Shopping campaigns. Leaving disapprovals in your account stop your ads from running and if left for too long will cause your whole account to be suspended. Disapprovals can be very difficult to fix and often require specific knowledge of Google and Merchant Center. We take care of this for you so you can focus on your store and business.
As we work on your account, you'll have full access to your account manager in Slack. Slack is a chat collaboration tool that allows us to talk with all our clients in one easy place. We'll be there to answer any questions. We also send through a weekly summary to show you what we're working on in your account, how the results are going, as well as get any approvals we need from you. We also hold a monthly strategy call to talk through any other aspects of the account. Sometimes this isn't necessary, sometimes it is, we play it by ear.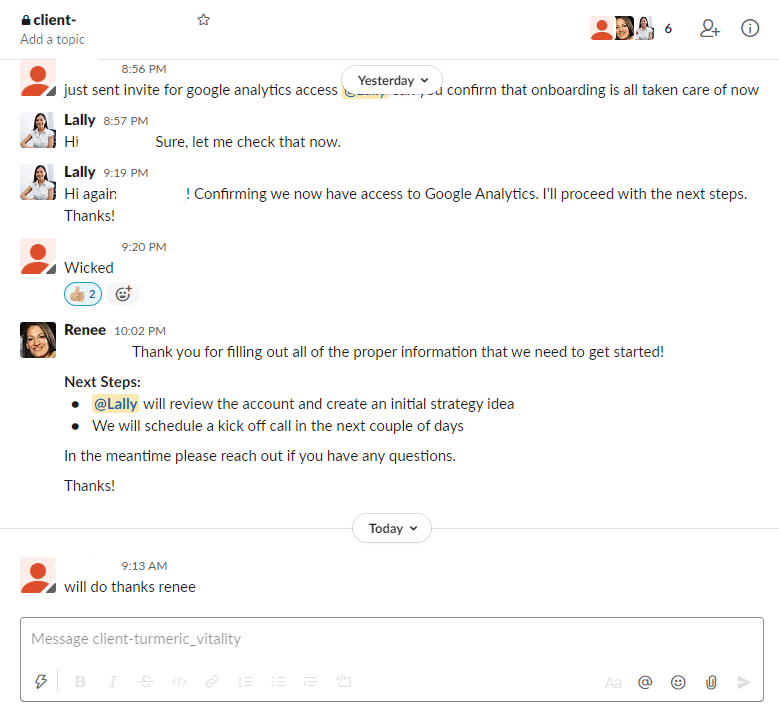 We keep all our communication in Slack – This keeps our work streamlined and allows us to spend more time working on your account. It also allows us to easily bring in other team members onto your account when we need banners designed, product feeds fixed and conversion tracking set up. You won't need to pay for this, and if you already have an existing Slack workspace then we can create a shared channel between both workspaces.
Weekly updates – We will also send through an update on your account every week. This allows you to get a birds-eye view of the work we're doing.
Meetings – We will have meetings once-per-month about your account to go over the past month's results and what we are planning for the next month. Every quarter, we have a meeting to deep dive into your analytics so that we can really see the changes and results that our services are influencing. Feel free to always ask questions in the slack channel and we'll respond within one business day. If you have any concerns we can jump on a call when needed. If not, we will keep doing our great work on the backend and we look forward to our next monthly call.

Office hours – We have a global team. If your Account Manager is in a different time zone then we'll make sure that their work hours cross over with your work hours.
Response times – We'll respond to your messages within 24 hours.
How long does it take to get results?
Google Ads is a long-term game. Generally we tell clients that:
It takes 2 weeks to onboard
2 weeks to get an idea of potential
1-2 months to breakeven and get profitable
2+ months onwards is optimizing and improving to generate more sales.
How quickly can we implement things?
If you'd like us to add any new strategies, new products, or new ads/campaigns, we can usually create and launch these within 3 business days. It's best to give us as much notice as possible to get this done. Your Account Manager has dedicated time for your account every single week.
Keep improving your business
We'll be gathering a lot of data about your customers and how they interact with your website. There will be times where we may provide feedback for improving your store. Remember that you should continuously be improving your own store and business and not rely on our team to save a failing store. Our work works the best when our clients are constantly improving their store and improving conversion rates. This makes the most of the quality traffic we send through and helps us get better and better results
We invoice and charge all clients through our payment processor (Stripe) at the start of each monthly billing period. When you start with us you will pay your fee for the coming month with your debit or credit card and then you will be automatically charged on that date of each month from that month onwards.
How to start working with us?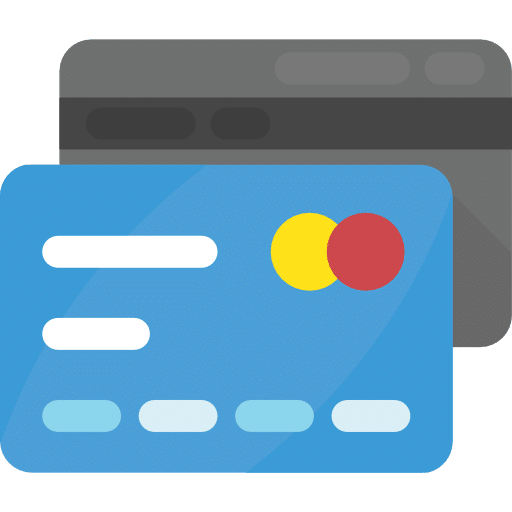 Let us know that you'd like to start and we'll send through the agreement and invoice link for you to sign on and pay your first month's fee.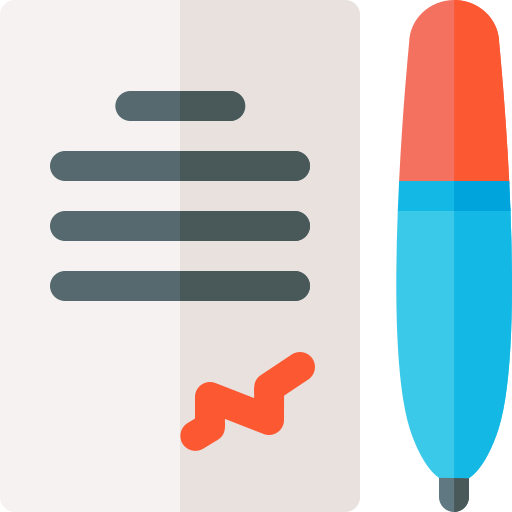 Sign your agreement and we can get started!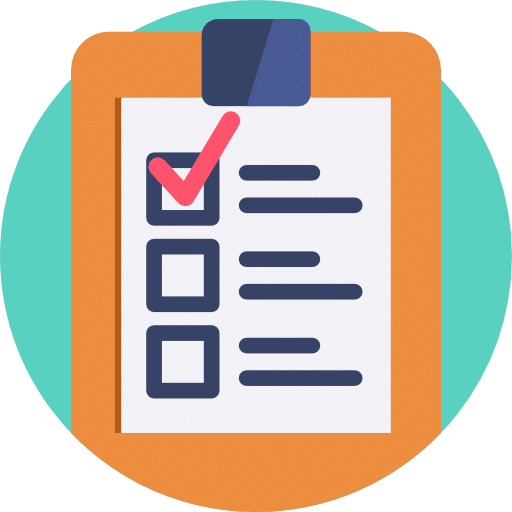 After signing, we'll send through our onboarding questionnaire.
This is a form shows you how to give us access to your marketing platforms as well as tell us a bit more about your business. We'll then get started on the full onboarding process. Sit back, let us take it from here!
Start working with us here
You can start right here on this page. Fill out the form below with your details. When you pay you will be charged and taken to your agreement for signing. 
Click here to see an example of what the agreement looks like before paying.
Once you pay, you will be redirected to the agreement where you can sign. Once signed, you will then be directed to your onboarding questionnaire.
This questionnaire guides you through giving us the right access to your marketing platforms (Google Ads, Google Merchant Center, Google Analytics, etc). It also asks you a few extra questions about your business so we can better understand your store in order to build our strategies.