Now. The juicy bit.
Building the product page to be the best it can be. How the best Ecommerce stores craft each product page pixel for success
Maybe you started this course thinking you would just get a top 10 list of product page tips to improve your conversion rate. 
You'll now see that the little things on your product page are just parts of the whole puzzle that makes up an effective Ecommerce store.
On my Youtube channel I try to teach my audience that building an Ecommerce store is more than just setting up a simple website and running traffic. 
Once you have the foundations and you understand how you are helping people and adding value with your product and store, you're able to have a clear direction. 
You can frame your product page in the best way possible and this is going to have a far greater impact on your conversion rate than just adding a few features here and there.
Why the Product Page is Important
Like we explored in the previous section, your product page is your Automatic Salesman. Every single person that buys a product from your Ecommerce store MUST go through your product page. Not only that, it's the location where the biggest jump in the buying journey happens. Often users will go to the product page when they are in the research stage of the buying journey. If they do end up converting and becoming a customer, then they'll proceed through the page by adding to the cart.
Your product page is also where you'll send a lot of your paid traffic. Google Shopping campaigns, for example, can only send traffic to product pages. We see Google Shopping campaigns generate 60% or more of the sales in Google Ads accounts, and they do so at a more profitable Cost Per Conversion than regular search campaigns.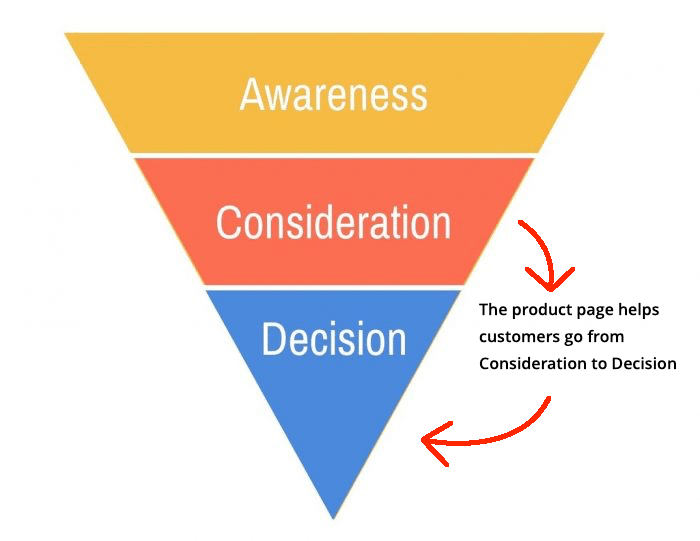 Page Layout
Something that is so crucial for your product page is to make best use of the space here. With the standard Shopify themes, they split the page into 2 columns and leave so much white space under the product images. This blows my mind as this is a HUGE amount of wasted space that could be used effectively to give more information to your customer. 25% of the page right there. Blank. It looks weird. Especially when you have added in a tonne of valuable content to the rest of the page. It makes the page look squashed to one side and is a bad user experience.
Few Shopify themes actually fix this and make use of this space. I recommend the Shopitimized theme to all my clients and we use it on our own stores too. It was recommended to me by my good friend Tristan Broughton who's an 8 figure dropshipper that's been in the game for almost a decade. Even though the Shoptimized theme costs a bit more than many other paid themes, it saves you over $3000 per year in plugins and apps, let alone the huge increase in your conversion rate.
Click here to get the Shoptimized Theme.
Now, you can still get by without fixing up this blank space. I just see this as a quick and easy win for your product page that you can make TODAY to see immediate results.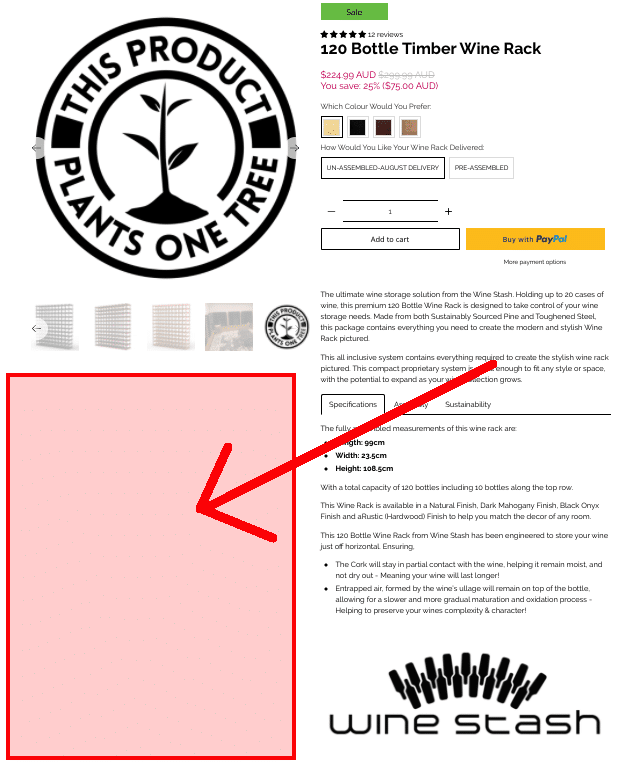 Now that we've fixed that huge mistake, here are the key elements we'll go through for optimizing your product page
High quality product images & videos

Incredible Description

Clear CTA

FAQ

Shipping & Returns info

Assembly & Use Instructions

Reviews & Trust

Stock levels

Overall page (mobile responsiveness, load speed ,etc)

Having a great product
As I go through these in more detail now, use all the information and insight you gathered in the first sections to think about how you would change your product page. There are some obvious fixes like making sure your product images aren't blurry. But there are also some very important fixes where you will need to really think about how you can apply it to your own niche and target audience. I wish I could hand you all the answers to create the best product page ever. Really, it varies for each store owner because everyone is selling to a different group of customers. Learning how to apply this information to your owns situation is going to be incredibly useful as you build and scale more stores after this one.
1. High quality product images & videos
Your product images are the first thing your customers see on your product page. Right there, top left and in their face. 
Your product images tell the story of your product. They need to convey the product experience to your customers. Think about how THEY would use it. Think about the problems you identified in section 2; how can you convey that your product solves these problems with your product image?
Use photos that show your target audience using them
Make sure that if you include people and things in your product images that relate to your target audience. A lot of people will just use the product images given to them by the supplier and this is a dead-giveaway to customers that you don't understand them. 
The product image will often be from the china-based factory with a representative or Chinese model using the product, with text in Mandarin on top of the image:
Nothing says "I don't understand my customers" than this.
If your customers are of this demographic and speak mandarin, it can work, but usually if you're reading this then you're selling to a different audience. Either way, the supplier images are usually terrible and over-photoshopped and edited so they look synthetic.
Make sure you use people and things in your product images that align with your demographic.
Here's a good example for a composter: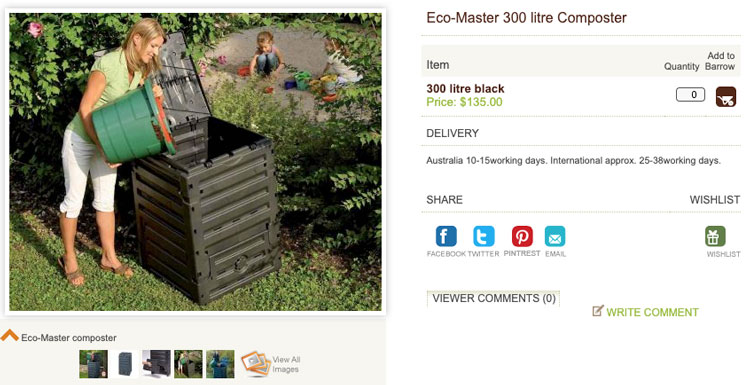 This product image for a composter shows the target demographic actually using the product – in the environment it's meant to be used in (the backyard of their family). This is a fantastic example of using product images well and works much better than only having a photo of the product on a white background (though, that's used as well).
You also want to make sure that you show the product being used in multiple ways. This depends on your product but if you are selling apparel you can show it on different models or in different settings. If you are selling garden tools then show it from different angles, used on different to plants, showing it with someone using it, with someone's hand, without the hand.
High quality images & not blurry
High quality and not blurry. This is incredibly important and a huge problem for many new stores. Make sure your product images are bit burry, pixelated, or low quality.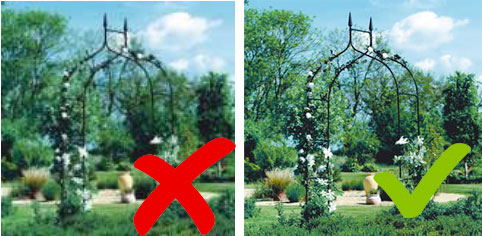 If you're store has photos like this, fix them up! 
Adding a zoom feature
This is a great way for customers to be able to look deeper at your product and get a closer eye on the details. It's a good feature to have and Shoptimized includes this automatically so you won't need to pay for an extra plugin to have this functionality.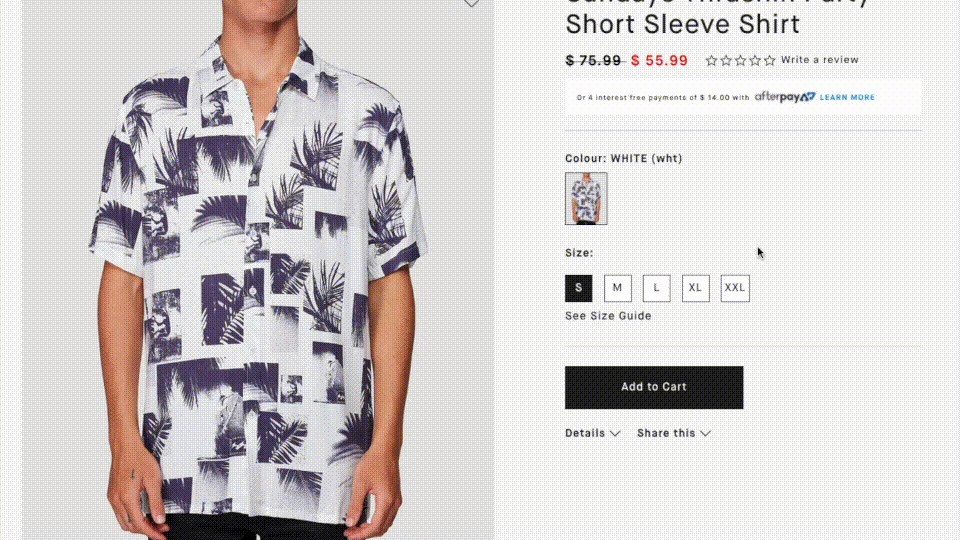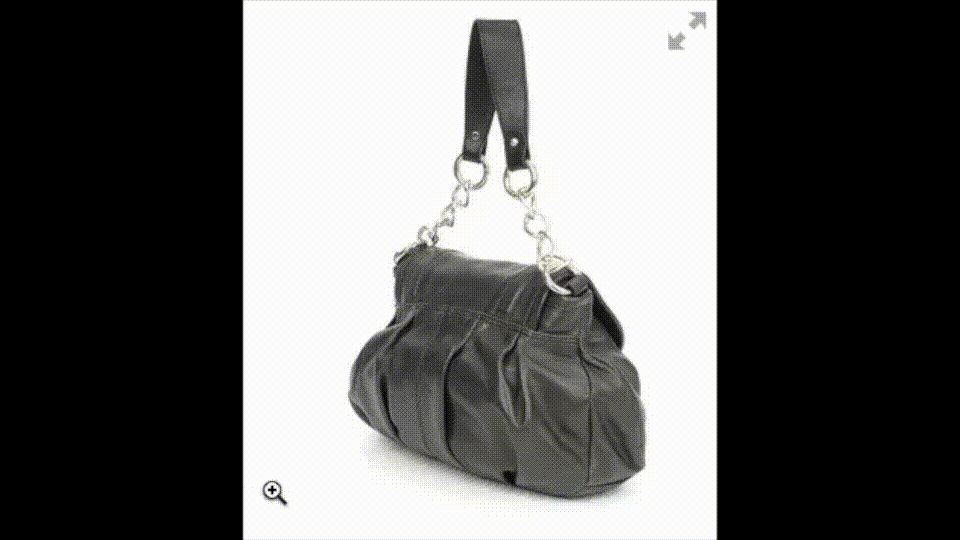 Bonus: Rotating image
This is an awesome bonus feature you can add to your page and does an even better job at showing people what the product is like.
Here the user can rotate the product themselves and see exactly what it looks like. This is similar to them being able to hold it in their hands in the store. Until we get convincing VR for Ecommerce, this is pretty dang good!
Product Videos tell the story of 1000 images
If people say that an image tells the story of a thousand words then a video tells the story of a thousand images. The problem is that most stores don't have them because they take a lot of effort to create. Honestly, you can get these done with extremely minimal effort and I'm going to show you how.
Watch this video where I show you my quick tip to getting product videos created easily and for FREE, even if you don't have a nice camera:
Types of product videos you can create
Testimonial videos from customers (UGC)
Influencer videos and unboxing videos
Review videos from other people and yourself
Product videos that show of the features and benefits
Simple Gifs that show the product being used, doesn't need to be a full 60 minute video – can just create a 3-5 second gif that shows the product in action and include this in your product description
2. Incredible Description
Your product description deserves a full bootcamp of its own. It's so important for communicating the value of your product, getting them excited and guiding them in their journey from product research to new customer. The sad thing is that most Ecom store owners neglect it, or worse, they just copy and paste the description from their manufacturer. You want your product description to communicate the pleasure they'll receive if they do purchase, and the pain and discomfort coming their way if they don't purchase.
Convert and educate your customers
Your product description has 2 main roles: educating your customers and converting them. By educating customers about the product, showing how your product solves their problems and answering their questions, you show them why your product is the best choice and this leads to the conversion. This is why the work we did in the past few sections is so crucial. Without doing those steps, how will you know exactly what to put here? You'll be guessing or using rudimentary information and you're going to lose a lot of potential customers that just needed a bit more information to get over the line and purchase.
Important for SEO
While we are crafting our product pages for our customers, also remember that the descriptions are the bulk of the unique content on the page so they are important for the SEO and organic rankings of your site. SEO is an incredible long-term traffic growth strategy that few Ecommerce store owners consider but it can generate millions in profitable sales. Keeping this in mind, making sure we have spent time on our product descriptions gives Google's crawlers more information about our product and helps us rank in the search engine.
Answer common questions within your copy.
As you write your description, spend some time thinking about the common questions people are asking as they learn about your product.
What is the product used for?
How does it work?
What sets it apart from other products and competitors?
Who is this product for?
Use the language of your customers
You should have a good idea of the lingo and the way that your customers communicate. Make sure to write your description with the same language and lingo. This is your opportunity to show customers that you understand them and that your products are made just for them.
The deeper into your niche that you are, the more jargon you can use. What do I mean by this? Well, some niches are very 'deep'. Meaning, if you're in the niche, you're in the niche. For example, people involved with first person view drones are often very committed to this hobby and understand, deeply, all the lingo and technical knowledge around it. Yes, you still have beginners joining the sport every day, and so you can also tailor the products that a beginner would be more likely to purchase by toning down the language. But especially for the high-level drones, only REAL fanatics are interested in these products. After spending 2 years in the sport they're exploring other products and so they already KNOW and SPEAK the lingo for drones. You can use this lingo in your descriptions, videos and the rest of your product page to really connect with these customers and give them exactly what they are looking for in the product.
Using language from testimonials
A fantastic tip is to keep a close eye on your reviews and the reviews of competitors and listen for the language that customers use while describing your products. This is golden. It's similar to getting inside their heads and their thought process. If you can take this language and use it in your own descriptions then that's going to create content that is far more relevant to buyers.
Use short sentences & Bullet points
Don't write long verbose descriptions that twist and wind and take the user on a 5,000 word journey. Add information where necessary. Each sentence you write should have a purpose. Trim the fat and keep things neat. We want to educate and convert but we don't want them to feel like they're wasting or their time. They shouldn't feel that they need to skim over redundant sections. A good tip is to use short sentences. This might go against much of what you've learned at school but short sentences area easier to read and better for sales. Also make use of bullet points to get out clear information. They are much easier to skim and great for providing the technical specs and major benefits of products.
Make it easy to read with good font
This is also part-and-parcel of your whole website. Don't make it hard to read by trying to use some kind of elaborate font or weird colors. This can destroy your conversion rate simply because people can't even read your description. Make sure it's easy to read your description by having an easy-to-read font and making sure the colors are contrasting. I.e black text on white background. Don't try to reinvent the wheel here or be out-of-the-box. Just use one of the Google Fonts or a font that comes with your Shopify store.

A clear CTA, a Call To Action, is crucial for getting viewers to become customers. A Call To Action is a request to your customers to make the next step. For our product page it's going to be a big button that says "Buy now" or "Add to cart" or whatever language you want to use to encourage your buyer to make the next step that leads to purchasing.
Position of the button
Where you place your button is just as important as what it says and what it looks like. You want your CTA to be above the fold and in a clear and prominent position. 
What does "Above the fold" mean? 
It means that when someone loads your product page, it's right there in front of them and they don't need to scroll down to see the CTA if it's further down the page. 
Why is this important? 
Because a lot of people will load your page and not everyone will scroll down further. So, when you are crafting your product page, you want to pay close attention to what shows up without scrolling. Getting the most valuable information onto this bit of the screen that people see is crucial. The Call To Action button is one of the most important parts of your product page so you want to have it up high and prominent.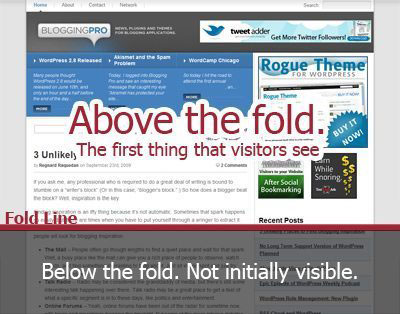 You don't need to just have one Call To Action. It's a good practice to have multiple buttons throughout the page.
For example, someone might read through the entire page and by the time they are at the bottom they decide to purchase. You can save them from having to scroll all the way back up again by enabling the floating add to cart button in Shoptimized.

This means that your CTA will always be there ready for someone to click as soon as they are ready.
Text of the button
This is what the button actually says. Like "Buy Now" or "Add to Cart" or "Add to basket". Depending on how you structure your website and who you are targeting, this might be different.
Different demographics use different language and expect different words to be used when they are buying online. For example, Amazon in the UK has "Add to Basket" as the Call to Action while Amazon in the US has "Add to Cart".
Think about your own customers and what they expect. You don't want to make them think and you want to make the process as seamless as possible. You can also check out other stores related to your niche and see what they're using. You're going to have to find what works best for your customers.
Color and other design
The color of your button requires some thought too. While it might be tempting to make it look similar to your logo and the rest of your design, make it stand out. Think about it. It's a CALL TO ACTION. You want people to do something. If you asked someone in real life to do something would you whisper it to them? Or would you call out to them and make it clear that it's a question or commandment? The same with the Call To Action, we want it to stand out on the page and really CALL people to purchase.
Choose a color that stands out from the rest of your page.
Look at the two screenshots below. Which one stands out and grabs your attention?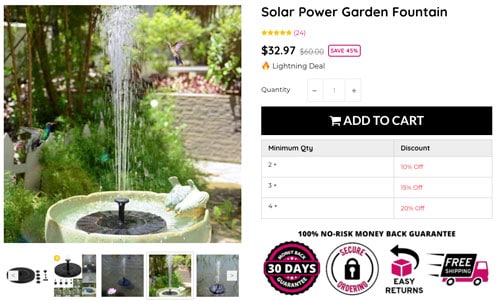 The Add To Cart button here is the same color as the theme (black).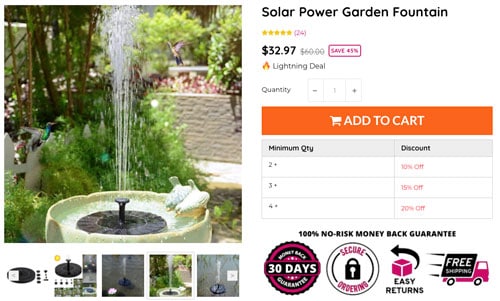 Here the Add To Cart Button sticks out like a sore thumb!! Bright and orange. This attracts more attention and leads to higher add-to-cart rates. Don't forget to test the color that works best for your store.
4. FAQ
A FAQ (Frequently Asked Questions) is a great way to answer customer objections and other questions that you don't answer in your regular description. Your FAQ should be dynamic. You should always be updating it with the questions and answers that you get from customer through your customer service channels. A good FAQ asks and answers the customer's questions in the language and way they would ask and want to receive the answer. Use their lingo and even pre-empt their next question with your answer.
This is pretty easy to setup and there's no magic here. You'll be able to find questions people often ask, in your niche, by looking at other Ecom sites in the niche, browsing forums, product reviews, and just knowing the niche on a deeper level.
Here's an example of a good FAQ: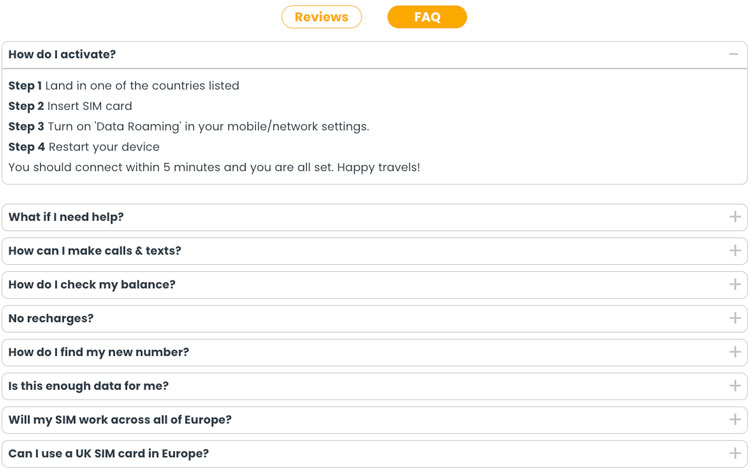 The FAQ not only answers common questions, it also acts as a marketing tool by pre-empting customer objections like "What if I need help?"
5. Shipping & Returns info
This is something that you need to have on your product pages, even if you have it elsewhere on your site on a separate page. You'll find that a big proportion of your customers questions are actually about how they can get the product into their hands (shipping). You want to make it really easy to understand. Show the timeframes for different delivery areas, how you deliver and what they can expect.
A bonus tip is adding in a shipping notification feature on the product page that tells customers that if they purchase within 3 hours (or whatever timeframe) that it will get delivered by a certain date. This is incredible for giving the customer a sense of urgency as they want to get the product as soon as they can and their current actions (delaying buying the product) affect when they actually receive it. It sounds obvious that this is the case but when your customers see that on the product page it causes a bump in conversion rates.
The Shoptimized theme includes this as a free feature. If you haven't installed it yet, 
go check it out here
.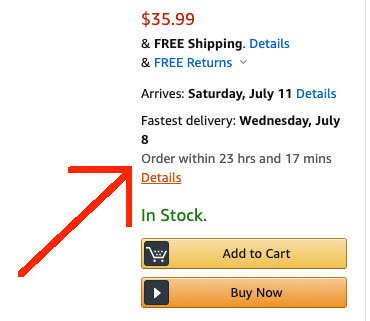 Amazon uses this feature too!
6. Assembly & Use Instructions
When you're selling products in Ecommerce, people know that they're getting the product shipped to them. Sometimes the product needs to be assembled or it's a technical product that requires a manual or a guide to use it. A fantastic way to enhance your product page is to include a tab that has the assembly instructions as well as a guide for using the product. Of course, you don't need this for a simple widget, so think about your own product. Would someone benefit if you were next to them helping them with the product? If so, there's a good chance that either of these guides would be useful.
I recommend adding in a small paragraph summarising the instructions. You can also add in a pdf or a video (or both) that has these instructions in an easily digestible format. This can be another great way to show the customer the product in use and what it's like to actually experience the product. This is something that few competitors will do and it will give you an easy edge and position your store well in your niche.
You can create your assembly and use instructions as a pdf download, a video, or even just have an image right there in the product description.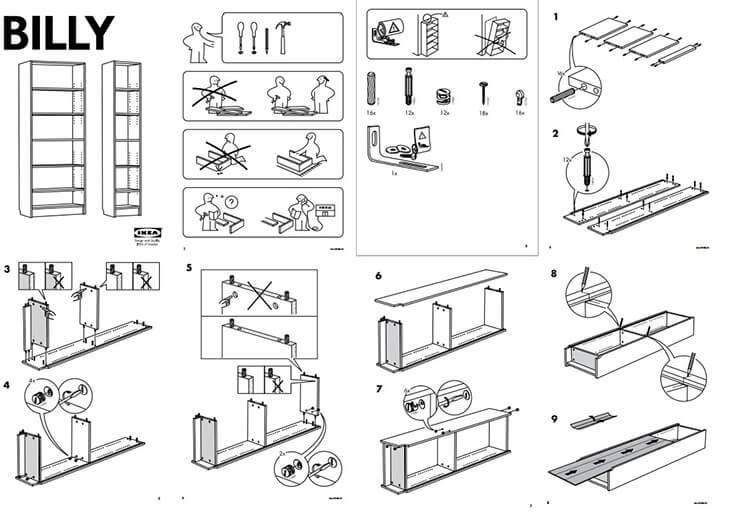 The infamous Ikea instructions… I'd rather have these hieroglyphs than nothing at all!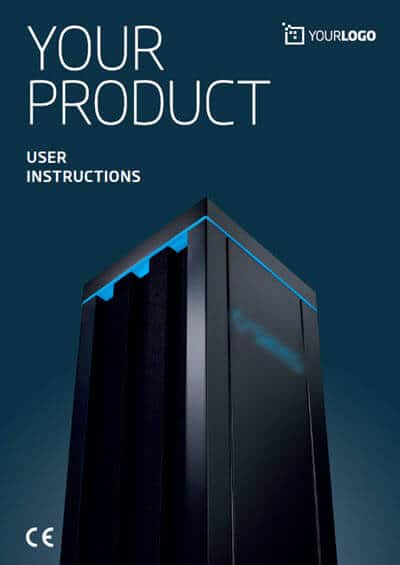 Example of an eBook user instructions download
7. Reviews & Trust
There are a bunch of other cool things you can do to promote social proof for your customers.
You may have seen this one on sites before:

This pop-up sales notification tells customers that other people are buying the products. This can be incredibly effective and is similar to seeing a line outside the apple store. We love to watch what other people do. When we see other people mass buying a product, our brains do a shortcut and think that the product is way more valuable than it is. "If other people want it then it must be great!". It's a mega-fallacy but something embedded so deeply in our biology because we're social creatures and we trust the mob because it's saved our butts thousands of years ago.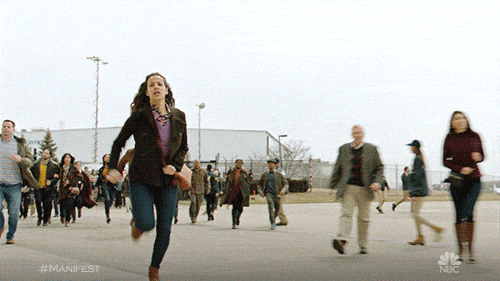 "Oh! All my friends are running from that big scary monster with sharp teeth! Maybe I should run too?"
Reviews are HUGE for this. They are extremely important and something that most Ecom store owners leave until last (if they do it at all). Reviews are a crucial element of converting customers but many stores don't even have them at all. They think it's too much effort or they don't even know where to start. You spent so much time getting your products and getting your store live, don't stop there! Set up a review collection email sequence. Sounds complicated but it's dead easy. Install an app like stamped.io that has a built in email sender. This app will collect reviews from you by automatically emailing the customer a request for a review after they have received and used the product.
Once you get this set up, it just runs on auto-pilot and you'll watch the reviews come in over time.
Want to expedite the process? I have three ways:
1. When a customer purchases, send them an email requesting the review and offer them a gift card if they send their feedback. This can be a great way to expedite the review collection process. I've done this a number of times to quickly get reviews on my store and it worked amazingly.
2. Get real reviews from real people, but outside of your store. How? I often recommend to get set up at some markets or to talk to your target audience in public. A fantastic strategy is to set up a stall somewhere (local markets, somewhere in public) and use it as a way to get feedback on your product. At the same time, if someone has positive feedback, get them to fill in a form with their feedback. You can then use this as a review of the product. Just upload it into stamped.io or whatever review program you are using.
3. A final way to get quick reviews, but you need to be careful with this one, is to get reviews from the supplier. It needs to be for that specific product but this is a way to quickly get social proof on your website and show that your products are high quality. Like I said, be very careful when you start going down this route as each country and location has different rules about reviews. In Australia, we need to be very careful with the reviews and testimonials for our brands because they can easily be used to deceive people. So this isn't legal advice! Make sure you understand what you're doing in your own jurisdiction and play by the rules. You don't want a big fine on your hands right when your store is just getting off the ground.
How to show reviews
I recommend showing your reviews in multiple ways on your product page (and website). Stamped.io is what I use because the app allows you to really easily add widgets all over your product page.
I recommend:
Product Reviews Under Title
Having product reviews under your title gets that social proof right at the top of the page, above the fold. They don't need to scroll down to know that it's a well-loved product by other customers.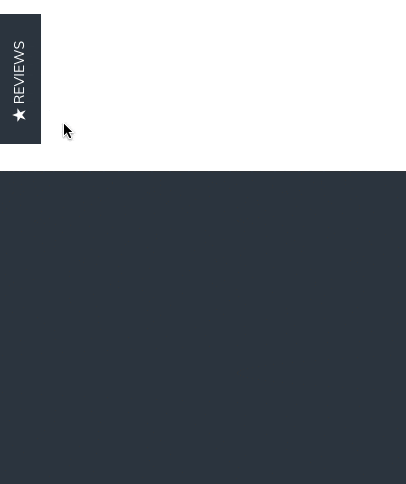 Product Reviews Sidebar
Having a sidebar widget like this one is great because it floats down the page. This means it can be accessed at any time and is a nice little bonus of social proof when the customer clicks it and it folds out.
Product Reviews Below the Description
Below the product description and info you can do a big embed of all the reviews. This is great because it allows someone to really get immersed in the reviews and go through all the photos and videos submitted by customers.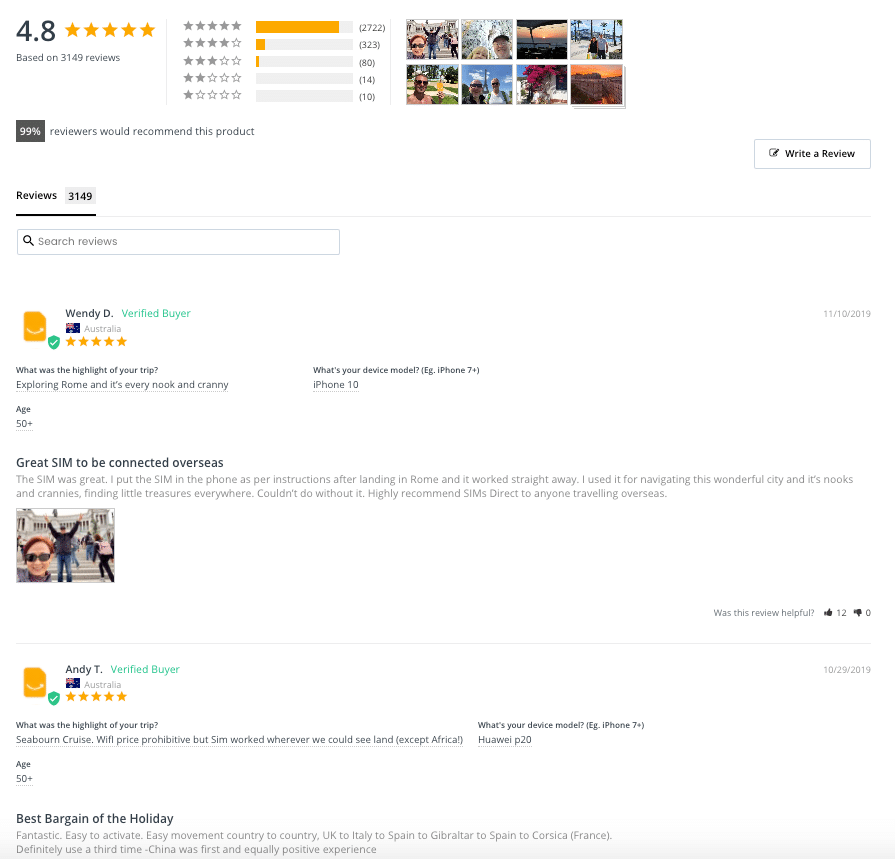 User Generated Content
UGC (or User Generated Content) are images and videos that your customers send in with their review. This sort of stuff is an absolute gold mine for your brand and business. You can use this a creative in your ads. What's even more powerful? It demonstrates MASSIVE social proof. You are showing your customers how the product is used by all these different people. People in your niche love seeing other people in their niche with your products. Why? Because they're going to relate much more with these people than they do with you. This is where social proof becomes a conversion generating machine. You are not longer trying to convince people to buy your products but all your past customers are telling new people looking at your site that they are in the best place to buy in your niche.
How do you get UGC? Reviews apps like Stamped.io have this built in so that it will automatically request the customers to submit UGC when they submit their review. I often like to kickstart the UGC collection process by sending out a batch of emails to past customers telling them we're running a new promotion to get feedback on our products. We tell them we're sending out gift cards to the past customers that submit a review and an even bigger gift card if they also attach an image. This is HUGE and we've been able to generate dozens of fresh, high-quality reviews within a few days. This always causes a bump in the conversion rate for the product page and entire store. A great tactic for increasing social proof!
EPIC tip for those coming from Amazon, eBay and Etsy
If you're starting (or you have started) your store after already selling on other platforms like Amazon, eBay or Etsy then take advantage of the reviews import function of your reviews app. Export or download all the reviews from your old platform and import them into your Shopify store. We did this for one of our clients and saw the conversion rate for her product page jump from 3.5% to 8% overnight. Yes, that much! Why? Because she was able to pull in 550 reviews which included a bunch of UGC as well. An extra 4.5% of all paid traffic were now converting. Imagine that! This just shows the raw power of adding social proof to the product page.
8. Stock levels
Stock levels are a great way to create urgency with your customers. If they see "only 2 left in stock" then that's going to create that sinking feeling in their stomach that:
The product is in demand and other people want and are already buying it
They have a limited amount of time and so they need to speed up their decision process
I recommend testing it out and watching how it improves conversion rates on your store. It's a simple thing that doesn't cause much friction on your page and can have a great effect. The Shoptimized theme has this built in so you won't need to pay $10 a month for any other app to do it for you.

Always keep your stock levels on your site updated. Nothing frustrates willing customers more than them purchasing an order and you having to tell them that it's actually out of stock. They've already emotionally committed to their purchase and you're just ripping it out of their hands. Keep your product page up to date. If it's out of stock, make sure your page says that.
9. Overall Page Optimizations
There are a few other things you should check over when you're optimizing your product page. These play a key role in the conversion rate even though you might not even know you have a problem here until you take a look.
Page load speed
Page load speed is a major killer for conversion rates. Studies consistently show that a faster page leads to much better conversion rates. This graph shows that effect right before your eyes: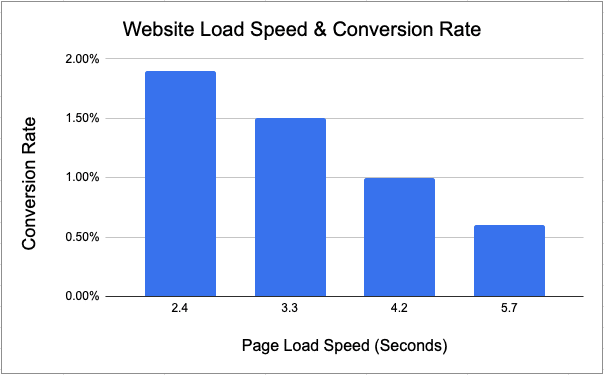 The slower your website, the more likely you'll see a drop in conversion rate.
Source: Cloudflare
If your store is on Shopify then there's not much you can do about the hosting speed – as Shopify is your host. But what you can control is the actual page design and theme. A lot of the free and standard themes on the Shopify theme store are absolutely terrible and make your store incredibly slow. These themes are not designed for performance, functionality or for getting more sales. They are designed to look cool so that people install them. I've recommended Shoptimized a number of times and I'll recommend them again. Their theme is as optimized as can be for page speed. Very efficient code because you don't need multiple apps to run all the features it provides. It's just one theme that includes over $3k worth of features so the code is more efficient as it works together. 
Click here to get the Shoptimized theme to speed up your Shopify site.
How else can you improve your page speed?
I always run my page through these 2 free tools and apply the recommendations
You'll get a tonne of recommendations for each, as well as a score. The Pagespeed Insights tool from Google crawls your code to create the list of optimizations while Pingdom actually loads your page to find out the page load time. Run both on your website and follow the recommendations for both desktop and mobile to improve your product page.
I always recommend high quality images on your product pages but also make sure you optimize them so that the file size isn't monstrously huge. You want them to look great but also not slow down your page. Here's the app I recommend. The free version let's you optimize your first 50 images would should be enough for many new stores. 
Check it out here: https://apps.shopify.com/imageoptimizer
Mobile Optimized
The next biggest thing you want to double check is to make sure that your page looks great on mobile and tablet devices. You can use Google Chrome Developer Tools to get this done and to check how it looks on different devices.
Watch this video where I show you how to check out how your website looks on multiple devices:
Mobile is being used more and more and customers are now more than happy to use their credit cards while on the go. Double checking your product pages on your phone can go a LONG way to improving your conversion rates for smaller devices. The Shoptimized theme looks great on mobile but I've worked with clients where we've actually redesigned their product pages from scratch just for mobile devices. This means that when someone is on their phone they will see a totally different product page than those on desktop. It still includes much of the information, of course, but we've really thought out how we can make the mobile experience as user-friendly as possible. It's almost like designing an app just for iPhones. This is more advanced but another thing you can try.
Font and colors are easy to read
Make sure that your customers can clearly read your website. Many first-time store creators will try to be unique by installing obscure custom fonts on to their website and add in different colors that match their brand but make it very hard to read the product page.
Yes, we want to align our design with our brand, but not at the cost of usability. Always make it really easy for your customers to understand and use your page so they don't have to think. This means they won't need to turn their head on an angle and squint just to read the shipping policy!
Read the "Don't make me think" book
I can't recommend this book enough. Steve Krug's book "Don't Make Me Think" will give you a mountain of ammo to improve your product pages and website. It will guide your entire mindset and how you approach our Ecommerce store because you'll be thinking about how you can totally maximize the customer's experience on your site and make it as seamless as possible. It's an easy read and very engaging too – it's a funny one. I recommend it to all of my team (and even clients) when we're working on improving conversion rates.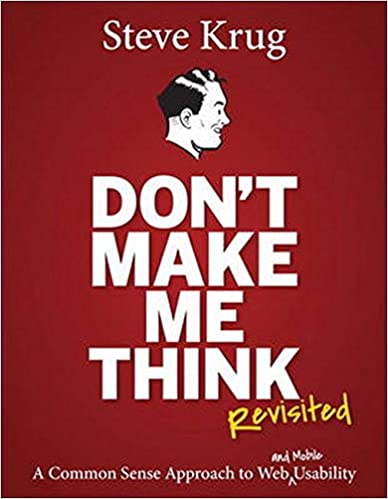 10. Having a great product
And lastly, don't forget to have a great product. You know the saying "you can't polish a turd". You can put a lot of time and energy into your product pages but if you're selling a product that sucks and doesn't solve your customer's problems then it's going to be much harder to get them off the ground. Good product pages really just sell the product without trying.. even though a lot of time and effort has been put into crafting that product page to mastery level. The product really is the focus of the product page so don't let gimmicks and special effects get in the way of that.
Just make sure that your product is at the center and all this conversion rate optimization work we're doing is the frame around the product that elevates it into the consciousness of our customers.
Conclusion
Phew! That was a lot for our product page. After going through that, you should have A LOT of ammo ready for you to give your product page the best makeover ever.